A 52-and two 40-story towers slated for Jersey City, Newark.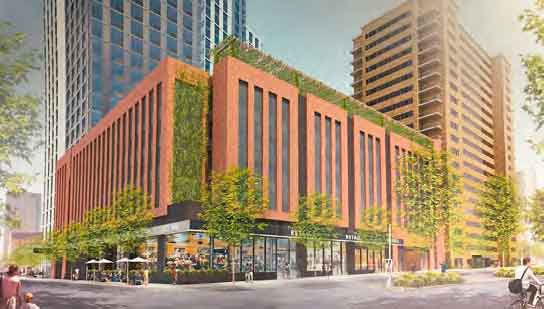 52-Story Residential Tower, a School and More for Jersey City
A plan to build a 52-story residential tower, 16,485 sq. ft. of retail and a public school at 25 Columbus Drive in Jersey City, New Jersey, has been approved by the Jersey City Planning Board, Jersey Digs reported. L+M Development Partners is behind the project, designed by New York-based Handel Architects. The tower will include 750 units, and be complemented by a 35,000-sq.-ft public school, lower-level buildings housing stores, approximately 400 parking spaces and a public plaza. L+M has also agreed to renovate an existing public housing complex nearby.
Newark Called Convenient to NYC as Pair of Towers Pitched
With Dave Minno, president of Minno & Wasko Architects and Planners, pointing out that Newark, New Jersey, is well connected to New York City (NYC) by public transit, an unnamed developer wants to build The Halo, a pair of 40-story towers connected by a five-story podium at 289-301 Washington Street in downtown Newark, New York YIMBY reported. Replacing a parking garage, the development would contain approximately 600 residential units of varying sizes, along with amenities such as onsite parking, a fitness center and sky lounges. If approved by local authorities, The Halo could be complete by 2021.
Madden Elevator Makes Publication's Fast 50 List
Madden Elevator Co., headquartered in Louisville, Kentucky, made Louisville Business First's Fast 50 list 2018, ranking fifth among the 50 fastest-growing area companies. Employees were honored during a luncheon in October. In presenting the honor, the publication observed Madden has had growth of 216.7%, with 2017 revenue reaching US$3.8 million. Louisville Business First stated:
"New construction has fueled growth for seven-year-old Madden Elevator Co. The increase in sales created demand for more workers. Madden grew from 12 to 34 employees in the past year. The company expanded its warehouse space from 1,600 to 3,000 sq. ft. and plans to build a 60,000-sq.-ft. facility in the near future."
Get more of Elevator World. Sign up for our free e-newsletter.