Otis delivers stunning elevators to OKO Towers, a pair of high rises in Moscow's booming building site.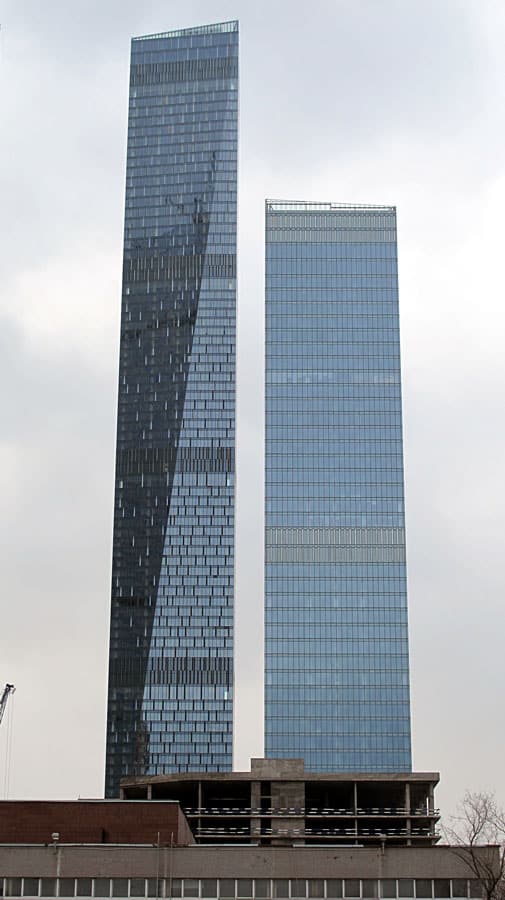 The OKO Towers, a pair of skyscrapers in the vibrant Moscow International Business Center — also known as the Moscow-City mixed-use district — have opened a new chapter in the history of Russian high-rise construction. The two towers, standing 85 and 49 stories, soar upward from a seven-story transparent crystalline base at 1 Krasnogvardeysky Drive. With a total area of 249,600 m2 and the taller tower 354 m tall, OKO Towers include the largest skyscrapers in Moscow and the tallest residential building in Europe.
Designed by Skidmore, Owings & Merrill (SOM), OKO's distinguishing feature is a light and elegant silhouette that boasts eye-catching, panoramic views of the Moskva River, the Kremlin, Sparrow Hill and the Moscow International Business Center skyscrapers. SOM is famed for such towers around as Burj Khalifa in Dubai, the Baccarat tower in NYC and the Arena Tower in London.

All this is equally true for the Moscow project developed by Capital Group, which has a long history in Russia. The OKO Towers became one of the major attractions of the Russian capital during the construction stage. They now bring a vibrant business and residential hub with luxury homes, premium office spaces, restaurants and bars, 24/7 services, a private cinema hall and more. The complex also has the biggest parking area in Moscow, with 15 levels and 3,500 parking spaces.

The interiors and lobbies of both the residential and office towers were designed by Massimo Iosa Ghini, who is renowned for his "visionary ability to blend disciplines, forms and dimensions crossing boundaries in art, design and architecture."[1] Otis elevators serving the buildings are also part of Iosa Ghini's design concept, featuring natural stone, mirrors, stainless-steel panels and designer lighting.

Praising the elevators, Oleg Tverdokhlebov, managing director of the OKO Multifunctional Complex, notes:

"Alongside spectacular design, OKO Towers' elevators, with the daily traffic of more than 8,000 people, offer an unparalleled level of comfort, ensuring that the vertical-transportation (VT) system meets our strict demands in terms of horizontal and vertical vibration levels. Residents and visitors of the building have repeatedly mentioned Otis elevators as one of OKO Towers' highlights, noting their speed and outstanding design."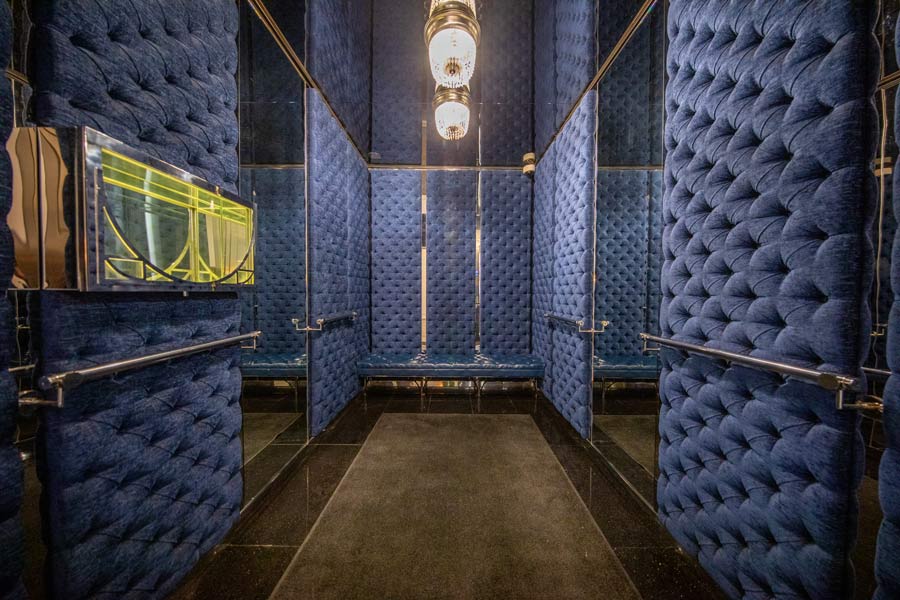 Transportation System Details
The OKO Multifunctional Complex's transportation system consists of 58 Otis elevators divided into 18 groups of SkyRise®, Gen2® and OH5000 passenger and service elevators. The 49-story office tower is equipped with 34 elevators with capacities of 1600-4000 kg and a speed range of 1-7 m/s. Door and cabin heights are 2.7 and 3 m for passenger elevators and 3 and 3.2 m for service elevators. The residential tower (85 stories) is equipped with 24 elevators with a carrying capacity of 900-4000 kg and a speed range of 1-7 m/s. Four escalators also enable quick and easy movement within the substructure.

Otis CompassPlus™ destination dispatching helps manage streams of people, organizing travel by grouping both passengers and stops. Passengers going to the same destination are assigned to the same elevator. CompassPlus also assigns elevators to serve a group of floors, or a zone.

The system is connected by Otis EMS Panorama™ 2.0, enabling the staff to monitor, report on and fulfill a wide range of operation-critical functions. Users can access Panorama 2.0 from any device with a standard web browser and proper security clearance. The system provides real-time data on equipment status and performance, operating conditions, traffic patterns, floor accessibility, and failures or breakdowns.
During the negotiation stage, Otis conducted traffic analysis using its Otis Plan simulation system. Based on that data, engineers estimated the expected quality and efficiency of the transportation system and calculated the average waiting time and capacity.

One of the major challenges of the project was to find an efficient solution to meet the client's strict requirements for ride quality, defined by maximum permissible noise levels. One cause of noise is the piston effect, which occurred in a service elevator, because the small dimensions of the hoistway obstructed airflow. To solve the problem, tailored aerodynamic caps were installed at the top and bottom of the cabin. Otis engineers and installers also had to meet the technical specifications needed for a building prone to strong tilt or sway in windy weather.
Another challenge involved installing the heaviest of the elevator machines inside a machine room. For the two speed-service elevators (3200 kg, 4 m/s), the machines were disassembled into three parts at an Otis factory in Japan. In Moscow, those parts were lifted by cranes to the roof, where they were reassembled under the supervision of the factory specialists. Then, the machine room was built around the machines.

The passenger elevator cabins were equipped with an "induction loop" system enabling hearing-impaired passengers to talk to the dispatcher using headphones. The company also designed a custom hoistway that accommodates two elevators with doors in their sides. In case of emergency, passengers trapped between floors can be evacuated from one elevator to the other.
The project was completed in July 2019.
Reference
[1] archdaily.com/800573/from-memphis-to-miami-the-message-and-work-of-italian-architect-and-designer-massimo-iosa-ghini