Brooklyn, Jersey City and Manhattan among hotspots.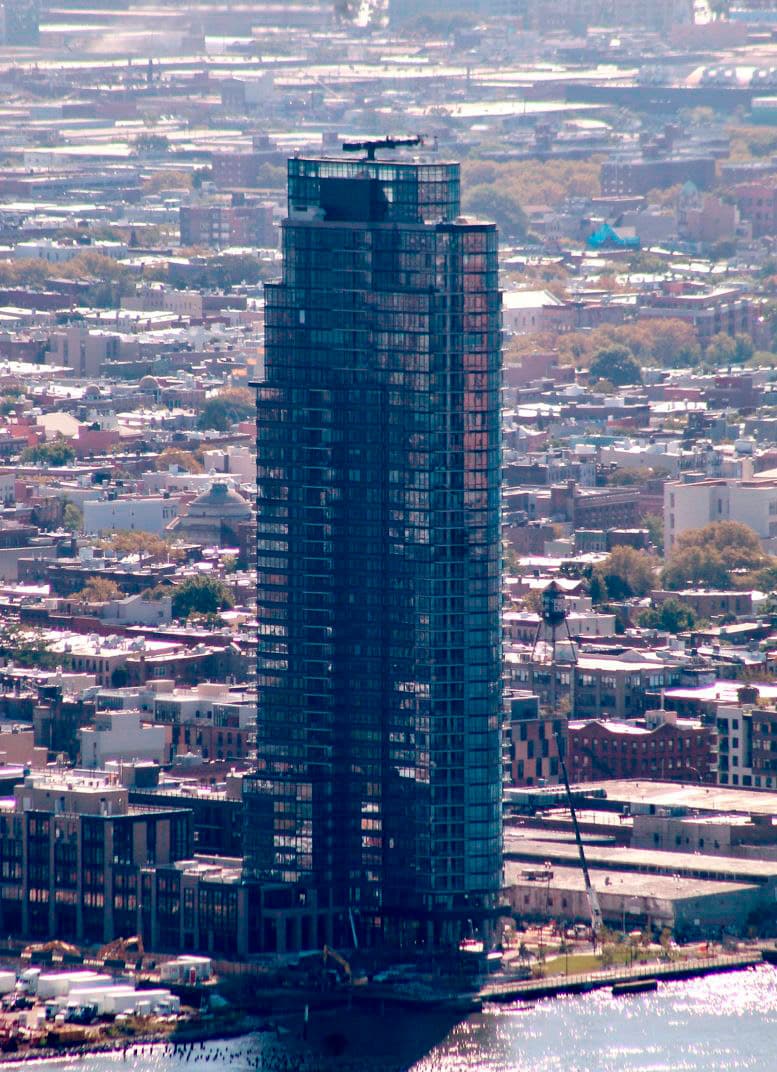 Jersey City Plan Features 68-Story Tower
Jersey Digs reported in October 2019 on plans by Plaza VIII & IX Associates LLC to build a 68-story building on a parking lot as part of the Harsimus Cove Redevelopment Plan in Downtown Jersey City, New Jersey. To be one of the tallest in the state, the 708-ft-tall high rise has been called "Harborside 8/9" and features 680 residential units with 18,662 ft2 of commercial space. A garage would hold 329 of a total 505 parking spaces. Two more adjacent buildings of similar height are noted on renderings.
The developer is a subsidiary of Mack-Cali's Roseland Residential Trust. Boston-based Elkus Manfredi Architects is listed as the architect of record. So far, Mack-Cali has been approved to subdivide the land, currently a large parking lot at 242 Hudson and 3 Second streets, and plans for the tower itself were submitted in October.
The Greenpoint Residential Tower Opens in Brooklyn
The Greenpoint (ELEVATOR WORLD, December 2016), a residential tower on the East River in the Greenpoint neighborhood of Brooklyn, NYC, is ready for move-in, New York YIMBY reported in November 2019. The 392-ft-tall tower, also known as 21 India Street, totals 95 units within its 454,502 ft2. The tower sports a glass, steel and brick façade and waterfront landscaping featuring rolling hills, shrubbery and seating with views of Midtown Manhattan. It was developed by Mack Real Estate Group and designed by Ismael Leyva Architects. Amenities include a concierge, laundry room, exercise room, meeting rooms, a common outdoor courtyard, a parking garage and more. Previous news reports said 63 of the units had been sold at a median price of about US$1.54 million.
Ground Broken on 38-Story Jersey City Residential Tower
Ground has been broken on the 38-story, primarily residential 351 Marin Boulevard in downtown Jersey City, New Jersey, New York YIMBY reported in October 2019. Designed by Hollwich Kushner in partnership with HLW International, the property will ofer 507 residential units, 8,000 ft2 of commercial space, approximately 200 parking spots and a 4,500-ft2 public plaza. Scheduled for delivery in 2021, it is being developed by KRE Group and Northwestern Mutual and is within close proximity of the Grove Street PATH station. Renderings show a sculptural, faceted podium and a freestanding pavilion that is part of a pedestrian plaza between First and Bay streets.
New Renderings for The Charlotte in Jersey City
A project under construction at 25 Christopher Columbus Drive in Jersey City, New Jersey, has a new name and rendering, New York YIMBY reported in November 2019. The 626-ft-tall, 57-story skyscraper, now called The Charlotte, will contain 750 apartments, a 35,000-ft2 privately funded school for pre-K through frst grade, 16,485 ft2 of retail space for four storefronts and a public plaza. Formwork has been lifted and placed into position. The Charlotte is being developed by Roseland Residential Trust and slated to be complete sometime in 2022.
NYCHA to Replace 148 Elevators in 10 Developments
The NYC Housing Authority (NYCHA) plans to use US$450 million in state funds to replace 148 elevators at 10 developments and boilers at 25 complexes, various news outlets, including Patch, reported in November 2019. The authority based priority on equipment age and reliability, with Queensbridge North in Long Island City having the most equipment to replace: 49 elevators dating to 1994. The source observed approximately 25% of residents there are seniors or people with mobility issues and that the cost of the work, scheduled for completion in 2024, is US$22 million. NYCHA contracted with Jacobs Management to handle the elevator replacements, part of the "Grant Disbursement Agreement Action Plan" approved by the authority watchdog in November 2019. Developments slated for elevator replacement include Mitchel Houses (20 elevators dating to 1994) and Butler Houses (18 elevators dating to 2000), both in the Bronx. A complete list can be found at nychamonitor.com.
Excavation Underway for Hotel Near One Penn Plaza
Excavation was expected to continue through year's end to make way for a 33-story, 330-room hotel at 255 West 34th Street across from One Penn Plaza in Midtown Manhattan, New York YIMBY reported in October 2019. The 155,594-ft2 tower is being developed by The Chetrit Group, with Stonehill & Taylor Architects as the architect of record. Renderings at the construction site reveal a setback atop the lower foors and a cantilever between the podium and hotel foors. The lower fve foors will include a ftness center, a library, an outdoor pool, a terrace, meeting rooms and a restaurant. A sign on the construction fence said completion is anticipated in summer 2021.
31 – Story Mixed-Use Building Planned in Kips Bay
Property owner Xiaocheng Zhou has fled permits to build a 31-story mixed-use building at 200 East 34th Street in the Kips Bay neighborhood of Manhattan, New York YIMBY reported in November 2019. Designed by CetraRuddy, the structure incorporates a multilevel podium topped by a curtain-glass- clad tower with dark metal panels ultimately rising to 388 ft. The plan includes 144 residences within 132,102 ft2, 2,992 ft2 of commercial space and a cellar. Above the last occupied foor at 328 ft, mechanical foors would be clad in a grille of metal strips. The source noted the tower's "inconspicuous height. . . should ft the architectural context of Kips Bay."
Get more of Elevator World. Sign up for our free e-newsletter.