CECA sets records as the group gathers for its 45th annual convention.
With a bit of pomp worthy of the National Capital Region, a humor-infused demonstration of sleight-of-hand and a nostalgic musical journey back to the Disco Era, the Canadian Elevator Contractors Association (CECA) pulled off its 45th Annual Convention on June 3-6, a four-day opportunity to learn, network and — for the record number of suppliers who set up booths for the accompanying exposition — make deals and find new prospects.
A roster of 245 delegates — also a record — showed up for the event, held at the Hilton Lac- Leamy Hotel and Casino in Gatineau, just across the river from Canada's capital, Ottawa. Together, the two cities form the heart of the National Capital Region.
Registration opened the afternoon of Monday, June 3, a lightly scheduled day during which the CECA Board of Directors met and the first three of nine educational sessions were held. The avid golfers among the group turned out early Tuesday for the golf tournament, held at Club de Golf Le Sorcier, a picturesque public course in Gatineau. This was also a day for the convention's 71 exhibitors to begin setting up their booths, more education sessions and the highlight of the day: the President's Reception, which took place that evening in the casino's Salon Royal.
Guests began slowly filling the salon for the reception, with old friends rushing to greet each other and new acquaintances cordially introducing themselves and quickly becoming friends. As bartenders busily poured wine and mixed cocktails, guests chatted, smiled and nibbled on an assortment of hors d'oeuvres and sweets. The murmur of conversation and laughter built to a booming crescendo as the room filled. Suddenly, a loud, clanging bell demanded the attention of all present, who fell silent as Daniel Richer Dit Laflêche, the official town crier of the National Capital Region, shouted out the traditional "Oyez! Oyez!" and, in a formal monotone reserved for royalty, dignitaries and all manner of VIPs, proceeded to introduce CECA President Pedro Oughourlian, whose brief welcoming comment was cause for applause, whistles and cheers. As the party progressed, the gathering was broken into teams to compete in "The Quest," a battle of wits, dexterity and skill with cosmetics.
Wednesday's Kickoff Breakfast featured traditional morning fare of eggs, bacon, sausage, fruit and cheeses, with coffee and orange juice to sip. After a few announcements and introductions of guests, the large gathering in the hotel's Grand Salon was treated to the illusions of master magician Michael Bourada, who, assisted by members of the audience, dazzled the crowd with levitation, card tricks and more, all accompanied by sharp-witted comedic banter and punctuated with "oohs," "ahhs" and more than one "How did he do that?"
AGM
Then, it was time to get down to business, as the board and voting delegates moved to a nearby room for the Annual General Meeting (AGM). Oughourlian welcomed the members and noted the convention's impressive statistics, with records set for attendance, number of booths and number of delegates. With a quorum confirmed, the meeting commenced with officers' reports.
First, Treasurer Doug Guderian said CECA had had a "good, successful year." He noted that the scholarship fund has grown, and said that dues would not increase for the coming year. He predicted that as much as CAD80,000 (US$61,000) of the Contingency Fund would be spent on upcoming initiatives.
Guderian also noted that money from the Legal & Lobbying fund was spent for several purposes: to hire lobbyists for the Reliable Elevator Act and Bill 8 in Ontario; to seek legal opinions in British Columbia; and on meetings with construction industry regulators in Quebec.
Membership Chair Don Sanchez said CECA currently has 241 members. Pointing out that some members have requested expansion of the hotel discount benefit, Sanchez urged members to contact Executive Director Catharine Bothwell about the benefits they would like to receive.
Nicolas Moore gave the Eastern Region report, noting a shortage of manpower and adding that fewer than half of the 40 students who enroll each year in an elevator trade school in Montreal graduate. He mentioned that matters were being addressed involving construction regulators and an industry association, as well as the government's workplace health and safety officials.
Phil Staite gave the Central Region report, discussing the work of various active committees. Topics included adjustable brakes, proposed adoption of the 2019 code, inspector training and safety. He said Durham College graduated its first class of the two-year diploma program, and Mohawk College is starting an Elevating Devices Mechanics Course. He said four provinces — Ontario, Quebec, Alberta and Nova Scotia — have apprenticeship programs, and one more is needed to receive the government's Red Seal Endorsement of standardized skills for tradespeople.
Rob Busch, reading the Western Region report, said that 800 hydraulic elevators in the province of Alberta had been identified as single-bottom cylinder design, and all but 20 had been upgraded.
Paul Pettener gave the committee report, updating the delegates on the Private Residence Division, Construction Hoist Committee, CECA's maintenance control program (MCP) (the board approved proceeding with the MCP Library), standard performance times and the annual scholarship program.
Oughourlian then recognized Brian Elliott of Delta Elevator with the President's Award, for "outstanding contributions to CECA." Elliott, a longtime CECA member, served as president from 2015-2017.
Because CECA will be participating in the United 2020 convention in September 2020, there will not be a separate CECA convention next spring. Instead, a golf classic will be held in the Toronto area during the normal convention dates. Regarding United, Alesa McArthur, executive director of the National Association of Elevator Contractors (NAEC), said the event will be held in Houston, and that hotel bookings would open in about a year. Julie Gilby of CKG Elevator then reported that CECA's 2021 convention has been confirmed for Halifax.
In another matter, the CECA leaders moved to add a board member, which led to questions of whether this could be done without the approval of the membership. Guderian explained that under CECA's constitution, the board can have 8-12 members, the number being at the discretion of the board. As CECA has expanded its initiatives, it was decided that another member was needed to share the workload. After nominations and a secret- ballot vote of qualified members in attendance, Trevor Doell of thyssenkrupp Canada was elected.
Oughourlian took the floor again to note that CECA funds are available for government lobbying if needed by any of the regions, and he reminded everyone that full-delegate attendees will receive discounts off next year's dues. It was also noted that the Elevator & Escalator Safety Foundation of Canada (EESFC) is unable to run its annual boat cruise, so if someone else is interested in hosting the event, CECA would hold the money raised until EESFC is back on sound footing.
The exhibitions officially opened, the hour coinciding with the Exhibit Lunch, a buffet-style spread of salads, sandwiches, hot dishes and dessert items. Hungry delegates staked out spots to enjoy the feast, some at tables set up in the ballroom near the exhibitors' booths, and others seated outside on a spacious patio next to the hotel's wooded nature trail. They then strolled among the booths, examining the products and services offered by the suppliers. For the second year, attendees were handed the "CECA Passport," a booklet listing the booths. As they stopped at each booth, they had each company stamp the book, which, when fully stamped, made the bearer eligible for prize drawings.
The afternoon also included more educational sessions and the Bridge Builders meeting, at which CECA board members met with representatives of other organizations to share information about issues facing the industry. In attendance were Guderian, Oughourlian, Staite and Bothwell of the CECA board; NAEC's McArthur and President Gary Schuette; Andrew Reistetter, executive director of the National Elevator & Escalator Association; and your author, representing Elevator World, Inc. A wide range of topics, from insurance to pensions, labor relations to association activities, were raised during a freewheeling, frank session.
Disco Dinner Dance
Once the business of the day was finished, attention turned to the evening's cocktail reception and Groovy Gala Disco Dinner Dance, an event built on a retro music theme for which attendees were encouraged to dress in their best '70s and '80s outfits. As guests arrived for the cocktail party in the foyer outside the Grand Salon, it was hard to tell what was more popular: polyester leisure suits or gold lamé blouses, stack shoes or 'fro hairdos. It didn't really matter, though, because the hardworking bartenders kept the libations flowing and everyone was into the spirit of the occasion.
Soon, the doors to the Grand Salon opened, and guests were greeted by an array of round tables elegantly decked in white tablecloths and tall, fluted vases topped with packaged candies as fun, edible centerpieces (a treat supplied by Mongrain Vertical Transport, Inc.). As quickly as the guests took their seats, smartly uniformed servers filled their glasses with a choice of red or white wine, then began serving a multicourse menu consisting of cream of mushroom soup with coconut and tarragon; tuna and watermelon tataki, creamy herb and green peppercorn sauce, cucumber and mint salsa; and the main course, Arôme-style surf and turf: beef strip loin, Cajun-style blackened jumbo shrimp, mashed potatoes with duck fat, and Jack Daniel's and green peppercorn sauce hazelnut dome. For a sweet finish, the dessert array included vanilla Bavarian cream, salted butterscotch sauce and an assortment of macarons.
The dinner began winding down, but the fun was just starting. Rebound, a razor-sharp covers band, kept the dance floor jumping with a repertoire that spanned disco, new wave, R&B and rock 'n' roll — from Chic to Michael Jackson, the Village People to Lynyrd Skynyrd and everything in-between. During a brief intermission, the CECA board was recognized, and Oughourlian, the outgoing president, was honored for his service. In a special presentation, longtime member and 1994-1997 President Bill Rogan was bestowed with the title "Honorary Member."
The final day opened with the Suppliers Breakfast, during which CECA leadership discussed matters of importance as the gathered vendor representatives enjoyed another traditional morning meal. The rest of the day was devoted primarily to exhibits and the final two educational sessions, and, after vendors took down their exhibits, many of the CECA guests gathered for an evening boat cruise on the Ottawa River. Nightcaps were offered in one last trip to the hotel's hospitality suite, and, with a nod of gratitude to host sponsors Adams Elevator Services, Inc. and Regional Elevator, the convention came to a successful close.
Educational Sessions Offer Guidance and Advice
Those in attendance at the 45th Annual CECA Convention found plenty of educational opportunities, with nine sessions spread across four days. Topics covered technical issues; adopting technology; and dealing with building owners, general contractors and employees.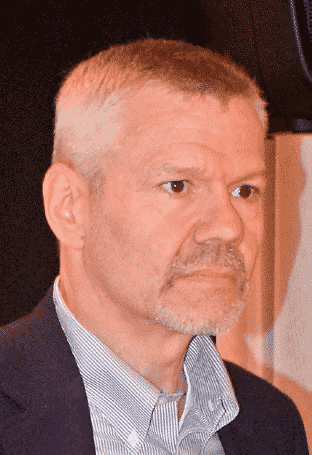 Monday's first session featured J. Andrew Koontz, vice president for vertical transportation with Related Cos., perhaps best known as one of the developers behind NYC's massive Hudson Yards project. During his presentation, "Elevator Project Management: What the Owner Wants," Koontz offered the gathering of contractors some insights from the perspective of the other side: the owner of the project. As vertical-transportation (VT) project manager for Hudson Yards, Koontz is the face of ownership, dealing directly with the elevator contractors, and he offered advice for building successful relationships between the two groups. Koontz has worked on the contractor side, as well. He was project manager for thyssenkrupp on One World Trade Center and previously worked for Millar. His presentation was sponsored by FIELDBOSS.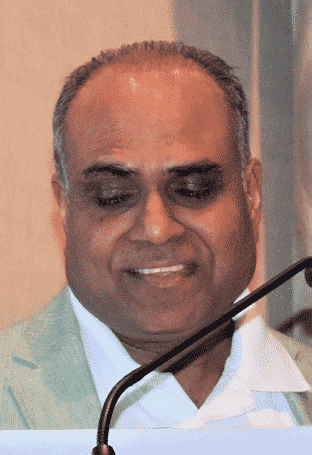 Next was Geet Ramsamooj, managing director of the Norm Benn Training Centre, Inc., whose presentation, "Making Sense: Why Young and Experienced Mechanics Have More Accidents and Injuries," focused on disturbing statistics regarding death rates by age group. While one might expect a high rate of accidental deaths for workers in the 25-29 age group, the work-related death rate for the 45-49 age group still outpaces the general societal death rate. Ramsamooj, a professional health and safety trainer with 40-plus years of experience (23 in the VT industry), stressed that all involved must take a proactive approach to accident prevention.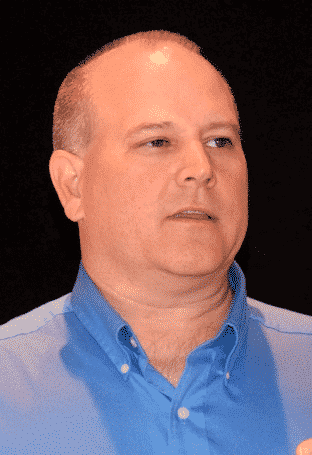 Michael Johnson, director of operations for Gorman Co., Inc., spoke on "The Necessity for Oil Analysis & Oil Filtration in Hydraulic Elevators." In a lively, high- energy session during which he was peppered with questions from the gathered elevator contractors, Johnson said oil contamination is responsible for about 80% of all oil system failures. Such contamination, he added, causes overheating of the oil and reduced life of the hydraulic system's seals. It can also affect the system's valves; Johnson noted that 20% of valves returned for repair under warranty and 90% of those returned after the warranty period show contact with contaminated oil. These failures can lead to unintended car movement, vibrations and noise, foul smells emanating from the oil, and a spongey or springy feeling at the upper floors. A major contaminant of hydraulic oil is water, but proper filtration can remove the water and restore the oil to like-new quality, Johnson said. He recommends a purpose-built device that can filter particles down to 3 microns.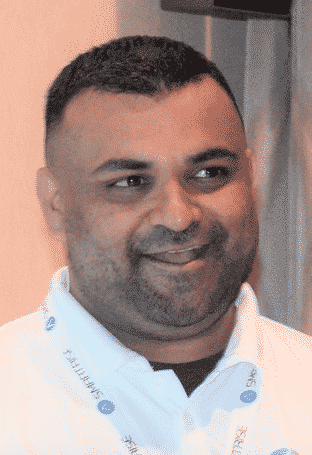 Tuesday's sessions opened with Pratik Desai, vice president of Operations, Expert Service Solutions, whose presentation covered "Enterprise Resource Planning (ERP) for Elevator Contractors," specifically, how to utilize software for better business management. Key concerns, Desai said, are technology, cost, resources, integration, employee learning curve, change management and return on investment. The advantage of cloud-based apps, he said, is that the data is available anywhere via mobile device. Desai recommends a subscription model as being more affordable. For integration, the business owner should consider whether the ERP software will work with existing programs.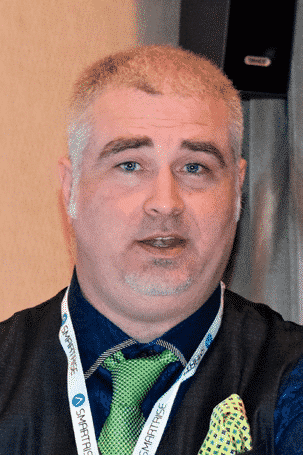 Next up was Lonnie MacKenzie, a third-generation elevator man and founder and owner of Abco Elevator in Regina, Saskatchewan, who spoke on "Employee Engagement." MacKenzie said it's important to have involved employees, and business owners should start by formulating a personal definition of success. As an example, he noted what success means to him: to have a company that can "run without me"; that is profitable; and that allows him time to create and dream and to have time for the things he loves — family, passions and ambitions. What he realized was that, as the business owner, he could not do everything and still meet his definition of success, so it was vital to have engaged employees. To have engaged employees, you should have a clear mission statement — the "why" behind your company. Then, you set your company's core values, which describe what you hold dear. When the core values are aligned with the mission statement, it becomes possible to define the ideal employee, and it's possible for employees to know where they fit.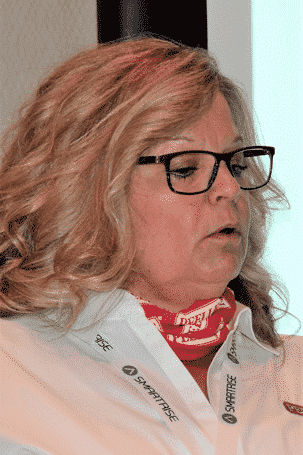 In Wednesday's first session, Karen Long of Peelle discussed "Vertical Door Safety Upgrades." Peelle is a longtime manufacturer of vertically opening freight elevator doors, so Long's presentation dealt at depth with what can make a door unsafe and what should be done to upgrade substandard entrances. Door dangers can be linked to any of a number of components. Among them:
♦ Worn neoprene or old steel landing door astragals — Long recommended these be replaced with double-flap protective cushion astragals.
♦ Pull straps — no loops or knots, and not too long
♦ Unlocking devices — should meet current requirements of ASME A17.1/CSA B44, Section 2.12.6, provided at every landing; if they don't, consider upgrading to one that has an electrical contact that, when activated, disables power door operation.
♦ Locks and contacts — existing locks and fixed cams should be upgraded to interlocks and retiring cams, which ensure doors are locked.
Companies providing maintenance and service for freight elevators were urged to implement an inspection and maintenance schedule.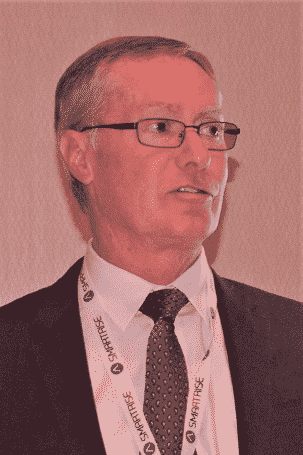 Next, Peter Rampf, operations manager of EmerCom Technologies, Inc., a company that develops emergency communications systems for elevators, discussed the current state of such systems, including typical installations, the key points of phone line evolution and the development of noise- reduction technologies. Technology changes, he said, require new skills and knowledge upgrades for those responsible for installing or monitoring new communication systems for elevators. He discussed the various types of emergency phone, noting the features and issues of each.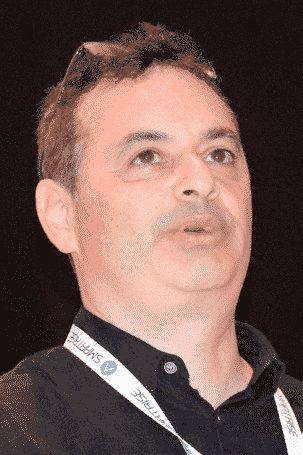 The final two educational sessions took place on Thursday. First, Jonathan Taub, president of FIELDBOSS, discussed "Four 15-Minute Process Redesign Strategies for Operational Excellence and Risk Mitigation." Taub discussed issues faced by companies that have both office and field staff, including an overload of paperwork, disconnected (or a shortage of ) field workers, obsolete or inflexible software, and scheduling and time-tracking. He went on to describe new software solutions that can automate many aspects of a business and elevator telemetry that provides constant data, "like having a guy ride the car top all day."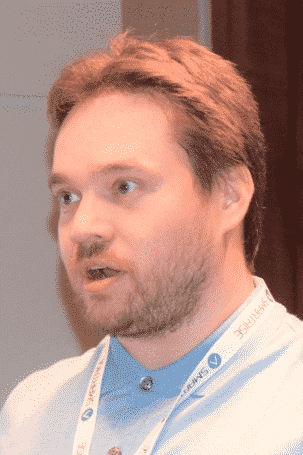 Sean Bilodeau, senior mechanical designer with Flavesco Inc., discussed "Elevator Machine Guarding." We live in an age when safety concerns are paramount within the vertical-transportation industry— not only for the riding public, but for the technicians, mechanics and inspectors who service the equipment and certify it meets standards. To help ensure safety for these professionals, protective guarding is a must: to protect life, minimize risk and, for the building owner, eliminate liability.
He went on to describe the various types of guarding solutions (global and component), noting the advantages and disadvantages of each.