Striking images distinguish ninth annual iteration.
ELEVATOR WORLD Photo Contest time never fails to generate excitement around the office. Submissions are — more often than not — impressive, showcasing the uniqueness of skyscrapers, cities and people, with the beauty and art of vertical-transportation (VT) installations and equipment around the world on full display. For our ninth annual contest this year, we received more than 300 entries from cities that include, in North America, Chicago; Detroit; Nashville, Tennessee; San Francisco; and Toronto and Vancouver, Canada; in Southeast Asia, Manila, Philippines, and Kuala Lumpur, Malaysia. We also received entries from Australia, Spain, Turkey and the U.K.
The Middle East — specifically, Dubai — figured big. The first-place winner in the City Skylines & Tall Buildings category, "Up Above the Ground So High," by Toshiba Elevator Middle East (TELME) Sales Engineer Mahir Mohamed, provides a thrilling overhead view of Dubai Creek Harbour, which the photographer describes as "one of the most-happening developments" in the U.A.E. The megadevelopment has ambitions to be home to the world's tallest tower in the form of the Santiago Calatrava-designed Dubai Creek Harbour Tower, which, at 2,717 ft, would capture the title from Burj Khalifa — another Emaar property in Dubai.
At TELME, Mohamed is a colleague of both Managing Director MJ Mohamed Iqbal and engineer Mohammed Muhsin, who is no stranger to the photo contest. Muhsin took several prizes last year and won first place this year in the Hoistways category with "Leading Lines from Toshiba Elevator." The gray, shimmery silver and white image has depth, looking down into a shaft. Muhsin's "Dubai Creek Entry Point" took third place in City Skylines & Tall Buildings, and "CEO Unwinding," a picture of Iqbal enjoying an issue of EW, honorable mention in "Who Reads EW?"
Toronto-based elevator interior designer and photography buff Josh Nelson grabbed first place in the Elevators (Commercial) category for "Sheraton Grand Nashville," showcasing a hotel tower that recently underwent a multimillion-dollar renovation. Conceptualized by New York-based designer Anna Busta, the work involved giving a soaring new look to the 27-story atrium, of which the elevators are an integral part. Nelson's photograph shows the cylindrical, panoramic units traveling up and down in an open shaft in the white, futuristic atrium. The hotel opened in 1975, and its Brutalist design by John Mastin & Associates echoes those of John C. Portman Jr. with its focus on modernism and showcase atriums (with elevators), which Jim Morrison likened to "Victorian rocket ships" at the Hyatt Regency Atlanta (EW, May 2014).
In our new category, Projects in Action, a Turkish photographer took both first and third place, for "The Beginning" and "Silent Slices," respectively. Based in Antalya, Turkey, 30-year-old Kağan Gürhan works as a photographer for Ake Elevator and Escalator Trade Co., Ltd., despite having a degree in public finance. He tells EW that photography has always been his passion and that he joined the photography community in college, where he learned skills such as analogue photography, printing and lab techniques. "And, for now, it's my profession," Gürhan says.
Gürhan has always preferred shooting in black-and-white. "I tend to use dramatic structure in photography," he says. "My main purpose when taking a photo is saving that moment and making people feel what I feel. I'm always looking for real emotions."
There is no question that Gürhan captured emotions in his entries. Of "The Beginning," taken at an Ake subway station jobsite in Antalya, he says:
"That escalator is the longest escalator in Antalya City. It consists of six parts, and you see the first one in the photo. [The Ake employee] was waiting there, looking to start the operation. He knew it wouldn't be easy. I saw this moment and took the photo."
Of "Silent Slices," he says:
"It was taken at our factory in Antalya. The gentlemen in the photo work for Ake, too. It was breaktime, I guess, since most of the lights were out. They hadn't used their break because they were trying to finish their work. During working hours, the factory can be quite noisy. But while I shot that photo, there was no sound; they were cutting that rubber material in complete silence. So I decided to reflect that in the photograph's name."
While Gürhan's photographs impart quiet, intense emotion, others simply dazzle. "KL Rising," Rosley Majid's first-place entry in the Industry Art & Illustrations category, uses a double-exposure technique to showcase Kuala Lumpur's Petronas Towers. Surrounded by stretched-out skyscrapers that glitter neon yellow, white and blue, the 1,382-ft-tall twin towers sparkle in white and shades of orange under an aubergine sky.
Equally dazzling is Majid's first-place winner in the Escalators & Moving Walks category for "Resorts World Genting." From above, Majid captured a striking trio of three-escalator banks in the central atrium of the venue in Pahang, Malaysia (close to Kuala Lumpur). Majid describes the multi-tiered escalators at the holiday destination as "beautiful and lively." Passengers are seen riding the stainless steel units, set atop circular wooden platforms that extend out into the resort where people mill about. Colors here include shades of blue, pink, yellow and bright green.
With a subdued white-and-blue color scheme, Rhedel Cabrera Sy's "Tree of Life," which took second place in the Elevators (Commercial) category, is no less dazzling. Photographed at least one previous time for our photo contest, the image showcases the striking elevator that travels between the ground and fifth floor of the National Museum of Natural History in Manila, Philippines. Sy says:
"As you enter the museum, a giant helix will welcome you. Museum guides said the elevator is patterned after a DNA helix. The ceiling gives off the vibe of a tree canopy, designed to make use of the light that enters the room, which saves energy, as well."
For his second-place entry in City Skylines & Tall Buildings, Greg Hardeman shares a peaceful view of San Francisco in "Morning Atop the Salesforce Tower." The sky behind the hills of Mount Tamalpais State Park transitions from blue to gold to red as a vessel traverses the bay. In the foreground are the glittering, white downtown skyscrapers with the white peak of the iconic Transamerica Pyramid clearly visible. It is both a dazzling and colorful scene.
Color is a big part of the appeal of "Vintage Otis Controller Voltage Meter," landing Alex Laliberte, an elevator consultant with Canada's Rooney Irving & Associates Ltd., first place in the Historical & Legacy Equipment category. The bright, kelly-green device is from an early 1900s drum machine, and looks almost as sturdy and strong today as it did when it was new.
Another colorful scene was captured by Karen Yuen, consumer marketing manager at Savaria in Toronto. The second-place Projects in Action entry, "Installing the Savaria Vuelift," looks down into a bright-red-and-white ringed shaft as a mechanic performs calculations below.
Not even mentioned here are winners in the Elevators (Private Residence) and Machines & Components categories, which each could warrant stories of their own. Please enjoy these winning pictures and all those recognized.
Elevators (Commercial)
Elevators (Private Residence)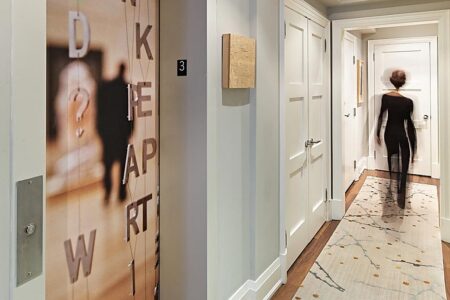 Escalators & Moving Walks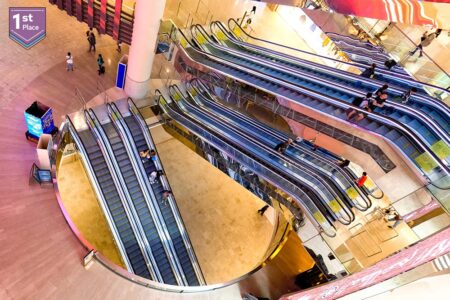 Hoistways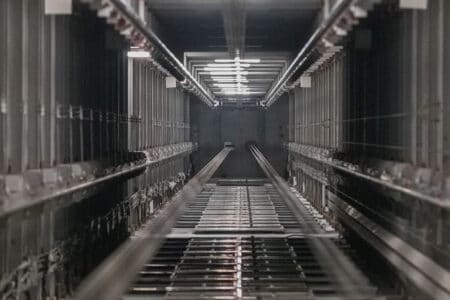 Projects In Action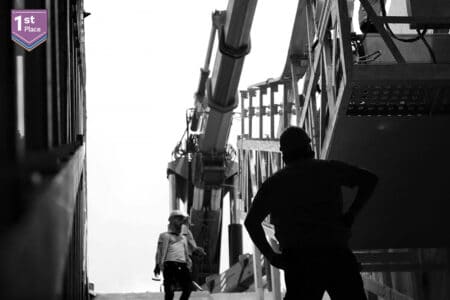 Historical/Legacy Equipment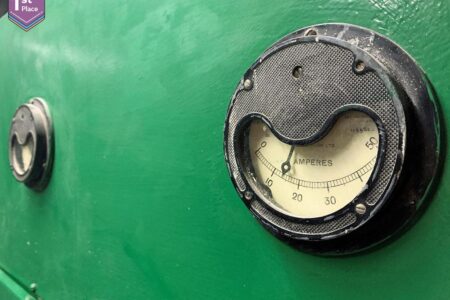 Machines & Components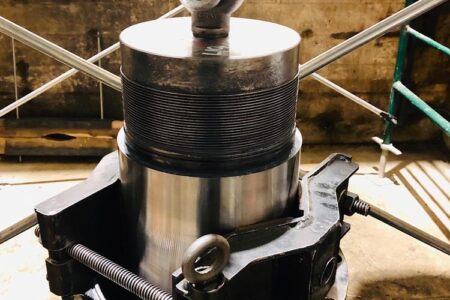 Skylines & Tall Buildings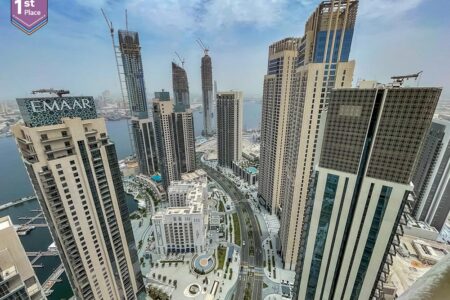 Industry Art & Illustrations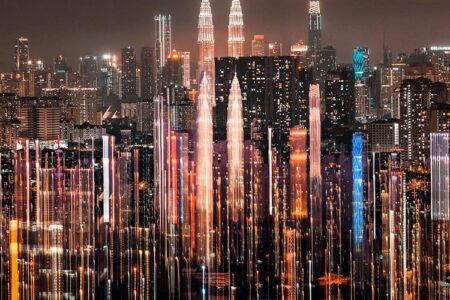 Who Reads EW?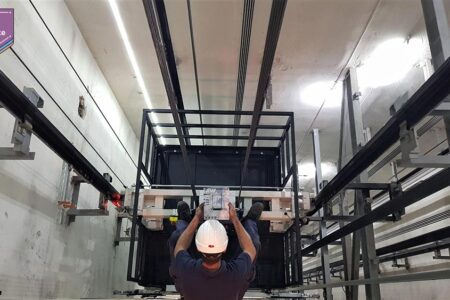 Get more of Elevator World. Sign up for our free e-newsletter.