Event returns with hybrid model.
After a three-year hiatus, European Lift Association (ELA) held its General Assembly in Frankfurt, Germany, in May. ELA members, who last met in person in London before Liftex in 2019, now met for a gala dinner at the historic Logenhaus zur Einigkeit, which is one of the oldest and biggest lodge houses in Germany, before the great reunion on May 19. The guests had a pleasant time with music being played on a giant piano.
First, ELA President Roberto Zappa made a welcome speech at the dinner and then invited Mechanical Engineering Industry Association (VDMA) Vice President Björn Kollmorgen to the stage. Kollmorgen provided information about the history of the lodge house and Frankfurt. Then, Fermator Global Sales Director Eduard Amigo informed the audience about the death of Antonio García de Alvear (In Memoriam: Antonio García de Alvear), director of Spanish-based MP Lifts.
Conference
The conference on "Lifts and Escalators: A Road to the Future in a Safe, Digital and Energy Efficient World" was held in three sessions on May 20 at Messe Frankfurt Fairground's Hall 4.0. Before the first session, ELA Secretary General Luca Pezzini shared information about the program, and Zappa began his speech with acknowledgments to Messe Frankfurt and VDMA. Zappa introduced the speakers and then talked about ELA's collaboration with related associations and institutions, especially with ISO (International Organization for Standardization).
First Session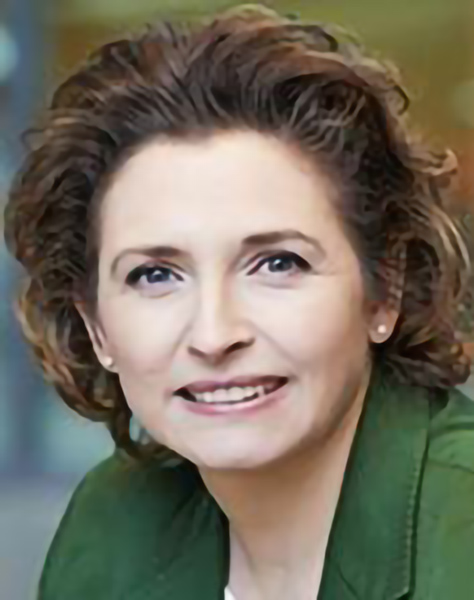 At the first session of the day chaired by VDMA and ELA member Peter Hug, the speakers were introduced, and then the first two presentations were held online. During the first presentation, Nicola Beer, European Parliament vice president and member of the German Free Democratic Party, stated that the European Union (EU) needs new entrepreneurs and small and medium-sized enterprises (SMEs) to be more competitive for sustainable digitalization in the world, especially economic independence, within the new conjuncture that contains COVID-19 and Russia's attack on Ukraine. Beer also stated that they strive for refining SME definition within the EU and supporting them more both bureaucratically and financially.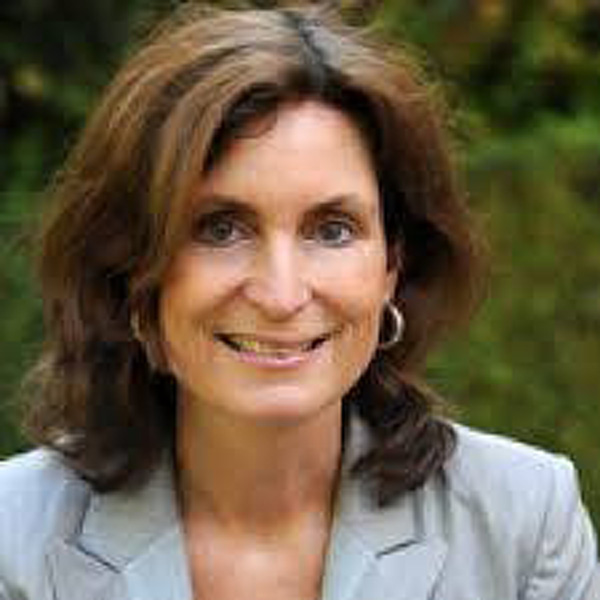 The second online presentation was by Kerstin Jorna, who is director-general responsible for SMEs and entrepreneurship at the European Commission. Jorna stated the construction sector generates 10% of the European economy and provides employment to 25 million people, adding that the construction sector should be digitalized and more environmentally friendly and flexible. According to Jorna, "35 million buildings will be renewed within the EU until 2030. It will generate new employment opportunities despite its challenges."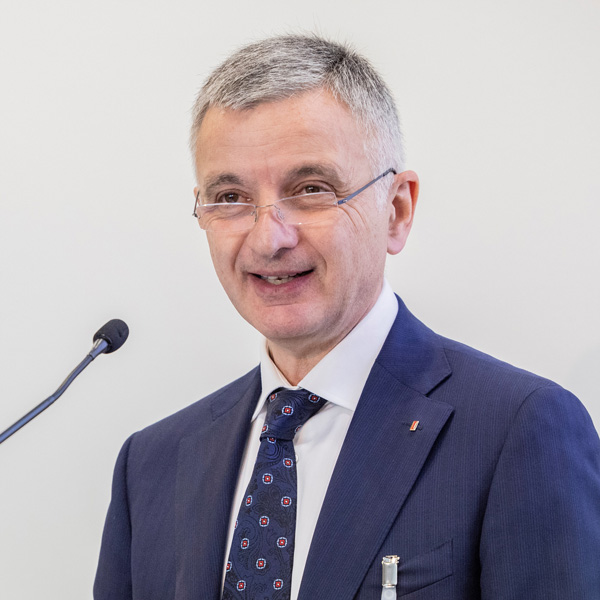 Following online presentations, the first in-person presentation was delivered by CEN (European Committee for Standardization) President Stefano Calzolari. Calzolari first shared information about CEN and CENELEC (European Electrotechnical Committee for Standardization), including that they presented a total of 25,716 standards with 43 members from 34 countries, and 1,617 of them were presented in 2021. Then, Calzolari spoke about the European Standardization Strategy and five goals of the 2030 strategy.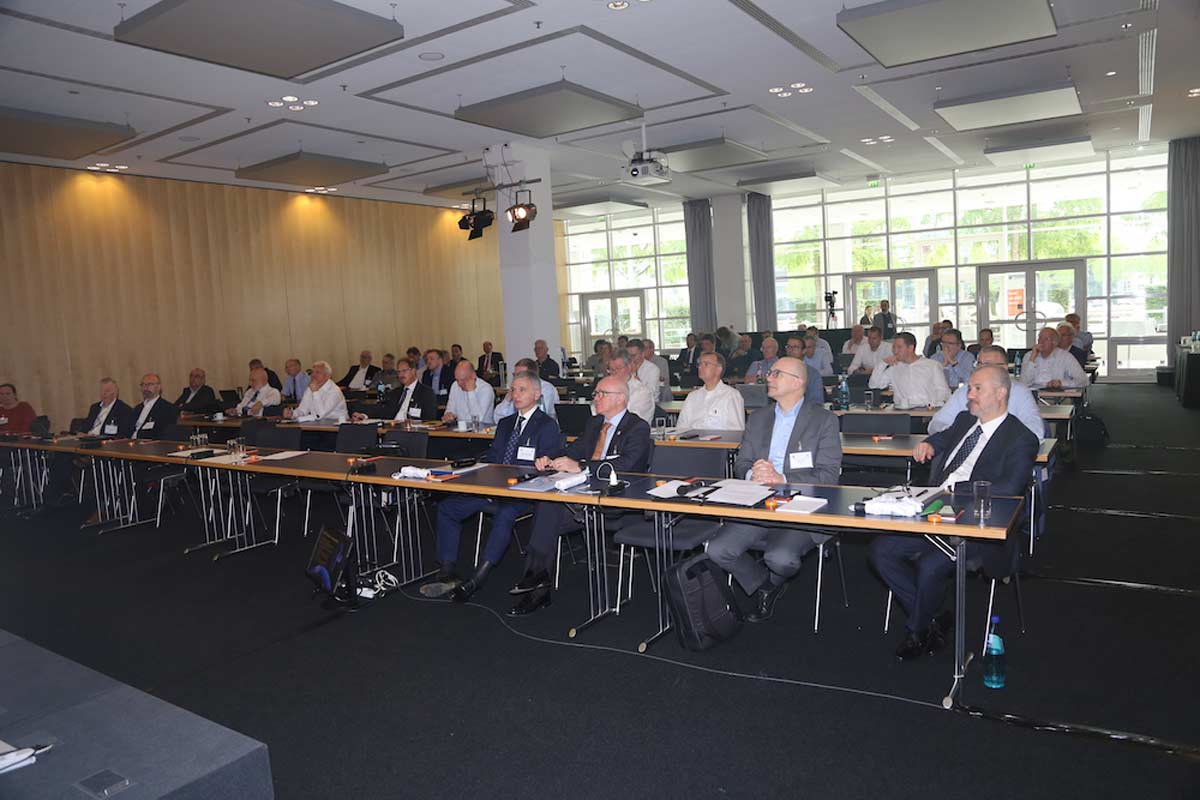 Gero Gschwendtner, from ISO, then took to the floor for the second in-person presentation of the session. As his presentation was titled "Innovation and Standardization — A Contrast or an Ingenious Duo?", he gave information about ISO's Technology Readiness Levels (TRL) and its nine phases.
The last two presentations were held online. First, Secretary General of the European Construction Industry Federation (FIEC) Domenico Campogrande was connected. Campogrande, who speaks five languages, gave general information about the FIEC structure and its members and stated that the construction sector generates 10.6% of the Gross Domestic Product (GDP) within the EU with a turnover of EUR1402 billion and 12.7 million employees. He also said their aim was to reduce greenhouse gas emissions by 55% (compared to 1990) by 2030 for a sustainable and greener future, while EUR1 trillion will be transferred from the EU budget for sustainable investments within this scope.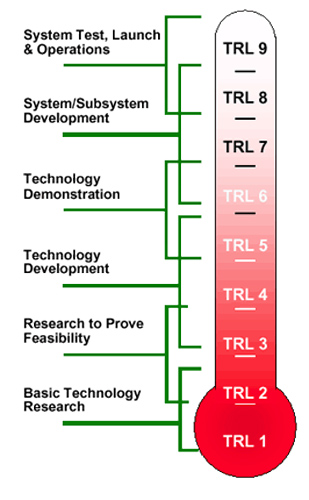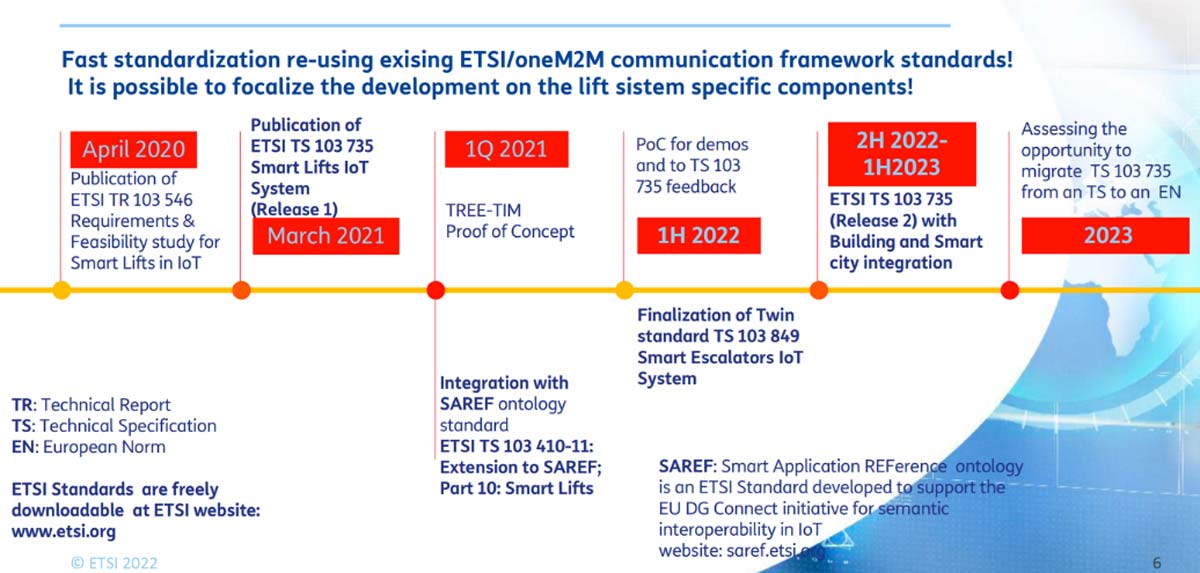 After Campogrande, European Commission Policy Officer Ilektra Papadaki, responsible for growth, presented on Sustainable Industrial Policy and Construction. She said the construction sector was the second-largest value in the ecosystem in terms of workforce and added value. She also explained the roadmap for a more environmentally friendly, digital and flexible sector.
After the first session of the day, host Messe Frankfurt gave general information about the company profile and events it organized for the sector.
Second Session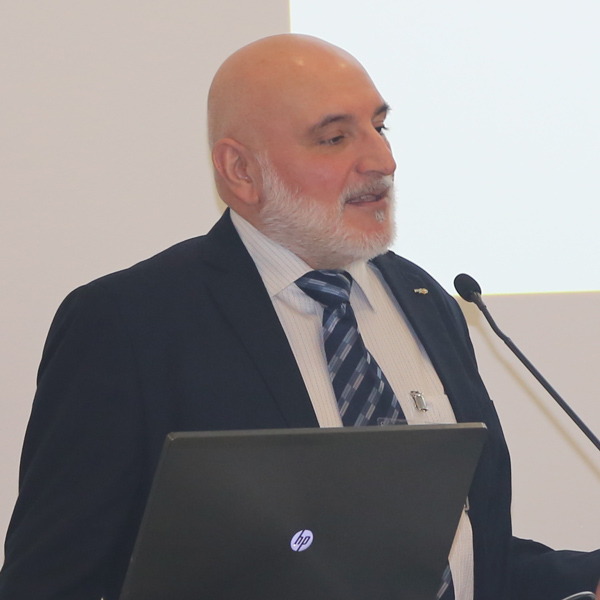 After the coffee break, the first presentation, moderated by ELA Digitalization and Cyber Security Committee Chair Kari Suihkonen, was made by ELA TELCO Working Group Convenor Frank Roussel. Roussel discussed EN 81-28 (Remote alarm on passenger and goods passenger lifts).
The second presentation of the second session was delivered by OneM2M Steering Committee and European Telecommunications Standards Institute (ETSI) TC SmartM2M Chair Enrico Scarrone and covered "ETSI/OneM2M standards for the lift and escalators sector." Scarrone shared information about the formation process of M2M Standards developed for smart elevators and escalators and said their aim is to convert them into European Standards as of 2023.
The next presentation was held online and delivered by Zhang Lexiang, secretary general of the China Elevator Association. Lexiang first shared some general information about the Chinese elevator sector and then made a presentation on the impact of digitalization and Internet of Things on the lift and escalator sector. This was followed by a question-and-answer session.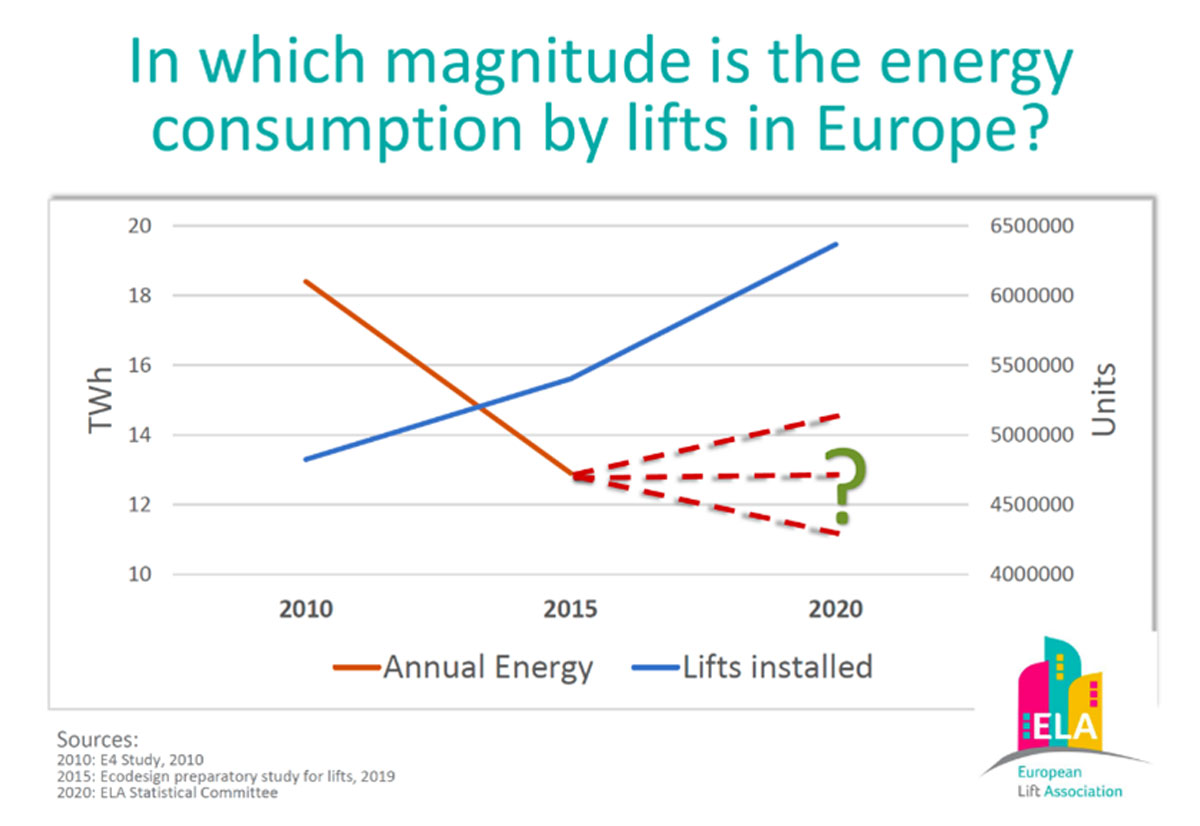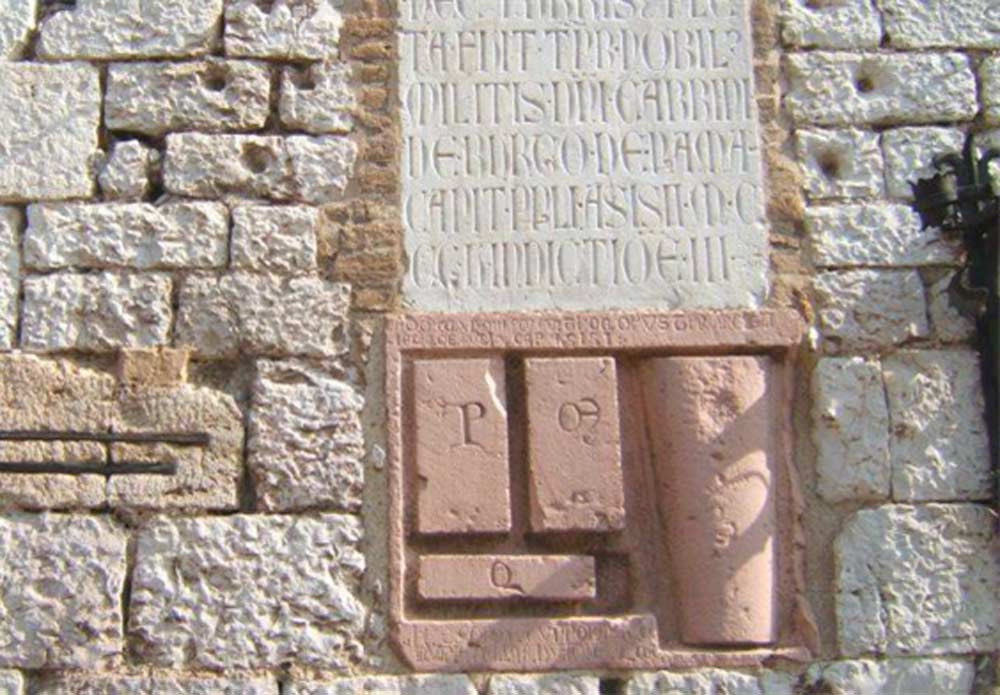 Third Session
The third session in the afternoon was chaired by ELA E&E Committee Chair Massimo Beccarini. The first presentation was made by ELA Smart Readiness Indicator (SRI) Working Group Convenor Alper Çalışkan on SRI. Çalışkan presented information about SRI methodology and the technical categories, such as heating, cooling, domestic hot water, ventilation, lighting, dynamic building envelope, electricity, electric vehicle charging, monitoring and control, for rating the smart readiness of buildings.
At the next presentation, Gusts Kossovıčs, the technical communication director of the European Building Automation and Controls Association, connected online and talked about the construction ecosystem. He stated that in Europe approximately 20% of the energy consumed in buildings is wasted, which corresponds to approximately EUR270 billion annually. He also shared the details of the roadmap for reducing carbon emissions by 55% by 2030.
The last presentation of the day, titled "Contribution by the Lift Industry," was made by ELA Product Ecology Working Group Convenor Roger Beuret. Beuret explained (with the help of graphics) that the share of elevators in energy consumption in buildings, which gradually decreases thanks to the progresses in technology, is actually between 3-7%. He also talked about efforts to reduce this consumption even more. He listed suggestions, such as shortening the waiting time, automatically closing ventilation and lighting, using LEDs and synchronous machines and frequency-controlled drivers.
At the end of the day, Zappa acknowledged all participants during his closing speech.
Get more of Elevator World. Sign up for our free e-newsletter.