Elevator Production in Russia –A Look at the Russian and Hungarian Elevator Industries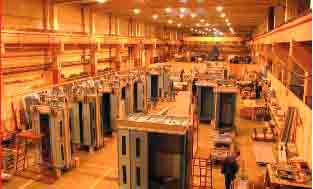 A trip to a Moskow elevator factory sheds light on the countries' reconstruction of more than 30-year-old buildings
The economic crisis has been detrimental to elevator renovations and rebuilding in Hungary. Reconstructions are slowing down, despite the fact that there are thousands of 40- to 50-year-old elevators that should be replaced. This situation is urgent, especially in prefabricated Soviet buildings. While working for ÉMI-TÜV SÜD Ltd., TÜV SÜD's Hungarian subsidiary that deals with safety controls and testing, I took a trip to the MEL elevator factory in Moscow in January.
MEL founded a subsidiary and service base in Budapest this year, in order to develop its export activities, under the name "MEL Elevator Service." At the same time, it signed a contract with ÉMI-TÜV SÜD to certificate the EK 95/16 elevator policy, specifically the products made according to the relevant EN 81 standard series. To use these elevators in Hungary per its plans, MEL has to undergo European Union (EU) type testing by ÉMI-TÜV SÜD. While visiting MEL's elevator factory, I had a chance to learn more about the elevator industry and its history in Russia.
Twenty years ago, there was a significant two-way elevator and escalator trade between Russia and Hungary that collapsed after the Council for Mutual Economic Assistance ceased to exist. Today, however, due to a nearly inexhaustible amount of raw material, Russia has recovered from the crisis following its political transformation. Modernized industrial sectors have become suitable for exporting, public supply has improved, and large-scale industrial and infrastructure constructions have begun. Russia did not escape the emerging global urbanization. Increasing masses are moving to cities, and civilized accommodation is needed. Moscow's resident population increased to 15.5 million in 2012, and its number of commuters can be estimated at three to five million. Due to the limitation of space within the city, urban growth has caused an increase of 20-30 story buildings, with some even higher.
To ensure uninterrupted vertical transportation, serious quantitative and qualitative requirements for the elevator industry are needed. The demands are increased by the fact that the current half million operating elevators were mostly produced between 1960 and 1980. They are significantly worn out and need to be replaced. According to the opinion of technical supervisors, more than 15,000 elevators are completely worn out, and their replacement can no longer be delayed. These factors have made it necessary to develop and expand the elevator production and service on a national scale.
MEL joined the elevator industry to satisfy these complex market demands, and was originally founded in 1953 to produce electrical network equipment. Since 1976, the company has dealt with the production of elevator system controls. In compliance with the increasing demands of the Russian market, the company started the production of complete elevators in 2004 with a core of 600 employees. It created, in parallel, an elevator supply network in the territory of the Russian Federation from the Baltic to Kamchatka.
The first step was the development of a production structure for existing residential and industrial elevators produced according to GOST (State Standard of the Soviet Union) standards: conventional Vmax = 1.6-mps average traveling speed and electromechanical control. However, the new high-rise houses and high export demand required the development of high-performance elevators according to EN standards. In order to accelerate development and production, MEL entered an extensive manufacturing cooperation with German elevator parts manufacturer Wittur.
MEL's central Moscow factory and 40,000-m² workshop produces 2,500 new conventional elevators annually. While traditional elevators are GOST compliant, the elevators produced in cooperation with Wittur are manufactured according to EN standards and sold by Wittur in other countries. They are manufactured with EU-certified safety devices, Selcom doors and Sicor driving machinery. The elevator controls are developed by MEL, as the company has a long tradition in the production of electrical equipment.
An important developmental area is in the hotel and hospital elevator design for the Middle East, which needs a higher level of comfort and adequacy present in numerous MEL products. Main export areas are the Commonwealth of Independence States, including Ukraine and Azerbaijan. The target area includes Turkey, more countries in the Middle East and, even more recently, Eastern European countries. The most important area of cooperation in Hungary is the reconstruction and modernization of elevators in prefabricated blocks of flats. Their elevator-shaft floor space enables the installation of accessibility and heavy-duty elevators able to transport more people with greater comfort and performance. MEL is also providing elevators to five-story prefabricated blocks of flats buildings made without elevators or buildings obliged to have one as a result of adding a story. MEL has an elevator type developed specifically for this purpose. MEL and other elevator companies are part of this reconstruction, replacing thousands of worn-out elevators that have functioned for more than 30 years.
Get more of Elevator World. Sign up for our free e-newsletter.