One of the world's most notable events in its field, organized for the 45th time this year, the Building Fair (Turkeybuild Istanbul) opened its doors to visitors under the roof of ICA Group.
ITE Group organized pioneering fairs in Türkiye before changing its name to Hyve Group in 2019 and transferring the Building Fair (Turkeybuild Istanbul) to ICA Group at the end of 2022. The Building Fair, which was organized by ICA Group for the first time and considered as Türkiye's largest event in its field, brought all important domestic participants and manufacturers of the sector together with thousands of visitors at TÜYAP Congress and Exhibition Center on 26-29 April.
Celebrating its 45th anniversary, Turkeybuild Istanbul is not only the most effective business platform in the region but also the longest-running fair of the Turkish building industry. The fair serves as a main platform where both local and foreign participants can reach a very targeted group consisting of buyers, decision-makers and opinion leaders. The fair attracted buyers from the Middle East, Central Asia and North Africa, in addition to Türkiye, and over 450 domestic and foreign companies from 17 countries including Austria, Belarus, China, TRNC, Czech Republic, Germany, Indonesia, Italy, Kazakhstan, Qatar, Romania and Russia opened stands. Elevator Industrialists' Association (ASSDER), Elf Asansör, Mars Elevator, Tork Asansör and Wolves Asansör were among companies that opened stands in the fair, which drew ever-increasing attention toward the elevator and escalator industry.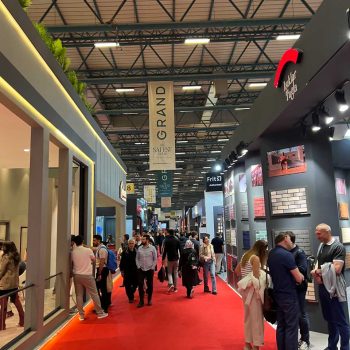 Banu Keskin, director of the Building Fair, said, "I would like to point out that foreign participants, buyers and visitors have been continuing to show an ever-increasing interest in the Turkeybuild Istanbul fair. Last year, we managed to create a business volume close to EUR400 million. We expect the fair to create a business volume close to EUR1.5 billion this year." Keskin added: "Fairs are a critical success factor for maintaining economic buoyancy and ensuring sustainability of cooperations. To support this, we prepared a highly efficient and informative event program. Industry leaders will explain new opportunities and the industry's direction with their experience, while entrepreneurs will present new business models, products and ideas for the future of the building sector. In this respect, I would like to draw attention to the importance of the Building Tech Garage area. It is extremely important for the sector to get together with entrepreneurs and obtain more innovative, solution-oriented and effective results, to boost Turkey's strength in the field of building. We believe in sustainable success. The Building Fair, which is held for the 45th time, is an example." Keskin also said, "Every year, we support a non-governmental organization on behalf of the fair's participants. This year, after the earthquake disaster, we decided to take action for our children in need of educational support in the region. By contributing to the Quality Education Program carried out by the Educational Volunteers Foundation of Turkey (TEGV) in the disaster region, we will support quality education for 250 children for one year." 
The Building Fair Shapes the Sector's Future
The Building Fair, where tips for alternative building trends and innovative construction practices with sustainable materials will be discussed, sets the agenda of the sector with its extensive event program and draws the road map for the next period in the construction and building sector. The fourth ZeroBuild Summit – International Zero-Energy Buildings Summit was held as part of the extensive event program of the 45th Building Fair. Visitors showed great interest in the summit that had approximately 100 speakers over four days and the motto of "ZeroBuild possible" through better architecture, better engineering and earthquake-resistant zero building. It was hosted by the Construction Fair (Turkeybuild Istanbul). Another attention-grabbing event of the Building Fair was the Building Master Class – Architectural Master Classes. A devoted area next to the Summit Stage at Hall 8 was allocated to building and architectural entrepreneurs who attracted interest with the latest products and technologies in the exhibition area, as part of the Building Tech Garage program on 27-29 April in the fifth year of the Building Master Class – Architectural Master Classes, just like every year. In this area prepared in cooperation with ContechVerse, technology entrepreneurs who attracted great attention from participating companies and visitors met the sector's professionals, promoted the solutions they have developed with innovative and creative ideas and created new business opportunities.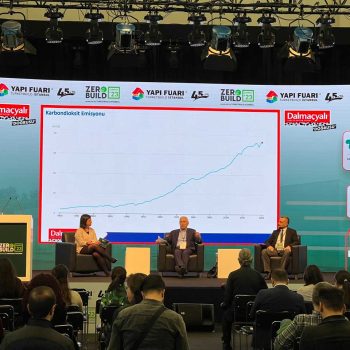 The Fourth International Zero-Energy Buildings Summit
The session titled "Zero-Energy Buildings and Public Approach" was organized by ZeroBuild on the first day of the fair with speakers including Senior Mechanical Engineer Murat Bayram, head of Energy Efficiency and Installation Department under Republic of Türkiye Ministry of Energy and Natural Resources, directorate general of Vocational Services; Levent Yazıcı, energy manager at Bursa Governorship Energy Management Department; Şerdil Dara Odabaşı, mayor of Kadıköy municipality; and Associate Prof. Dr. Selmin Ener Ruşen, director of Karamanoğlu Mehmetbey University Energy Efficiency Research and Application Center.
Murat Bayram attracted attention to what has been done and what is planned on the journey towards zero-energy buildings. In his speech, Bayram said, "We should find ways to reduce the damage we cause. We are here to discuss zero-energy buildings. There are so many different concepts and definitions related to these buildings, but they all refer to the same thing. At the end of the day, the building will generate and consume its own energy need. There will be these kind of buildings in the future."
The first day continued with the panel titled "Zero-Energy Buildings and Financing." Prof. Dr. Emre Alkin, CEO of Energy Efficiency in Buildings Association-VERİMDER and Prof. Dr. Kerem Alkin OECD Türkiye ambassador and president of Renewable Energy Research Association-YENADER took part in the session. Kerem Alkin started his words, "We are observing the impacts of the global climate crisis with the drought problem in a large part of Europe." Alkin stated that OECD has made great strides for the last two years, especially in terms of subjects discussed within the framework of the Paris Climate Accords and the United Nations Climate Summit. He underlined that the focus is on the question of how energy efficiency can be improved further at the international and country level for managing the climate crisis and minimizing carbon emissions. He said concern should be raised about innovative works and exemplary reports that may be put forward on building chemicals and products.
On the second day of the event, professionals continued to look closely at significant subjects such as energy efficiency in buildings, approaches supporting zero-energy, thermal insulation and its effects on health, sustainable architecture and re-urbanization targeting zero carbon emission at the Fourth International Zero-Energy Buildings Summit. In her speech, Dr. Merve Atmaca, academician at Beykent University Department of Interior Architecture and moderator of the session titled "Zero-Energy Buildings and Architectural Approaches," said, "We see very assertive buildings when we say zero-energy buildings, because we are talking about sustainable buildings that have much stronger features than only zero energy, are completely self-sufficient and generate all energy for the required comfort conditions from its own resources. Within this framework, I would like to talk about the importance of architecture. Designing a building is a very integrated work. Looking from the starting phase, architectural approaches gain enormous significance, and important roles fall upon architects."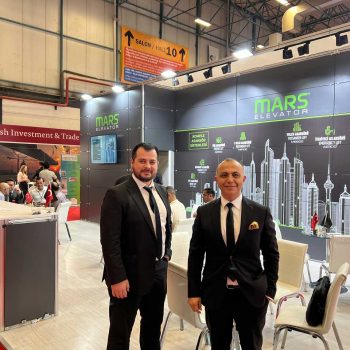 On the third day of the Summit, key details on energy efficiency were brought to the table. Prof. Dr. Mikdat Kadıoğlu, academician at Istanbul Technical University Meteorology and Disaster Management Institute who spoke in the event's first session titled "Zero-Energy Buildings, Thermal Insulation and Effects on Human Health," shared important information on climate change, and said, "Climate change used to occur due to natural reasons, but now is a result of human behaviours. In such a case, struggling with the rapidly progressing climate change has become our greatest concern. From this point of view, we should reduce energy based on carbon concentration and greenhouse gases leading to climate change. In developing countries like Türkiye, the most affordable way comes to the forefront as the reduction of energy used in buildings."
Just like every year, participants who created the most effective visitor experience by intertwining sustainable elements, innovation and technology in their designs were awarded with Golden Magnet Stand Design Awards," one of the classic activities of the Building Fair.
Get more of Elevator World. Sign up for our free e-newsletter.