Hitachi, thyssenkrupp look to the future of growing markets.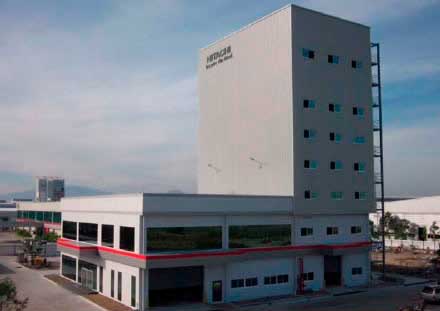 Hitachi: Thailand Training Center, Cambodia Joint Venture
Hitachi, Ltd. and Hitachi Building Systems Co., Ltd. have opened their Asia Training Center, a facility that includes classroom, virtual and hands-on training, in Chonburi Province, Thailand. It is expected to support the delivery of approximately 5,000 units — including machine-room-less elevators Hitachi launched in the region in September 2016 — each year throughout Asia. The seven-story, 3,785-m2 complex has six elevator shafts, two escalator installation areas, a safety training room and two additional classrooms. It is geared toward developing mid-level engineers in Asian countries to ensure higher quality and safety, and is part of a revised training structure that involves the center working with Hitachi's Human Resources Development Center to foster advanced training.
Additionally, Hitachi Elevator Cambodia, Ltd. has been established. A joint venture with Siam-Hitachi Elevator Co., Ltd. and CMED Group Co., Ltd and headquartered in Phnom Penh City, Hitachi Elevator Cambodia is focused on sales and service of elevators and escalators. The company states that in the rapidly growing country, urban demand for vertical transportation is expected to increase by 10% each year. First entering the Cambodian market in 1982, Hitachi now plans to focus not only on sales to Cambodian customers, but also foreign companies doing business there. Engineers will be trained at Hitachi's new Asia Training Center in Thailand (ELEVATOR WORLD, April 2016). Sakchai Worrasangasilpa is director of the new joint venture.
thyssenkrupp Adds Cyient to Its MAX Partner List
Cyient Ltd., a global, India-based provider of engineering, manufacturing, data analytics, network and operations solutions, is now a thyssenkrupp partner on MAX, thyssenkrupp's preventive maintenance-technology (EW, January 2016). thyssenkrupp and Cyient entered into a longterm agreement in March that entails Cyient developing algorithms and integrated solutions to leverage data from elevators, thereby "enhancing thyssenkrupp's ability to diagnose potential problems. . . ." Observing MAX is an integral part of thyssenkrupp's plan to transform the elevator industry and enhance urban mobility, thyssenkrupp Elevator CEO Andreas Schierenbeck stated:
"Building on our collaboration with Microsoft, Vodafone and Celestica, we are glad to have found another strong partner for this solution in Cyient. We are confident that their expertise in analytics will help further develop MAX's competencies, supporting our 24,000-plus technicians in the field and taking elevator service into the digital era."
Proposed Toronto Tower Would Be Canada's Tallest
Cresford Developments has proposed a 98-story mixed-use tower designed by Kohn Pedersen Fox (KPF) at Young and Gerrard streets in downtown Toronto that would be the tallest in Canada at 343.9 m, Urban Toronto reported. The project is called YSL Residences, but would also have office and retail space. The building has a sleek profile without balconies that indents slightly at the midway point. The project would be diagonally across from Canada's current tallest building, Aurora at College Park, and include preservation of a low-rise heritage building.
Get more of Elevator World. Sign up for our free e-newsletter.