Hyundai Elevator invests in emerging technology, and Hitachi Elevator wins prestigious award in China.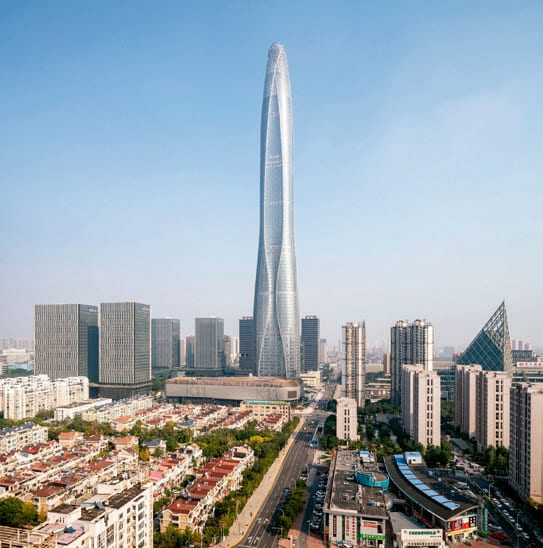 Hyundai Elevator Going Big on AI, IoT, Robotics
With a memorandum of understanding with South Korea telecom giant KT Corp. signed in November 2019, the country's Hyundai Elevator will adopt artificial intelligence (AI) and Internet of Things (IoT) technology to enhance its vertical- transportation and robotics offerings, Pulse reported. The companies plan to connect elevators with smart devices and service robots, develop monitors for in-elevator advertising and develop new predictive-maintenance offerings. Hyundai Elevator plans to build a factory run by AI and IoT technology on a 150,614-m2 site in Chungju, South Korea, and previously partnered with the operator of a major South Korean food- delivery app to develop delivery robots that interact with lifts.
Hitachi Elevator China Wins Manufacturing Award
Hitachi Elevator (China) Co., Ltd. was awarded the 2019 China Manufacturing Golden Great Wall (CMGGW) Award — Industry Benchmark Company of the Year — at the China Smart Manufacturing Annual Summit in Guangzhou, China, on November 18, 2019. The summit is organized by the 21st Century Business Herald, which, each year since 2016, has recognized companies for innovations in technology, investment in R&D, accumulation of intellectual property rights, revenue attributable to high-tech products and organizational structure. The company observed it was honored for its "efforts promoting industrial intelligence across the elevator industry and integrating intelligent elevator technology into a variety of scenarios."
The OEM is working with technology giants focused on the Internet of Things (IoT) to expand intelligence beyond elevators to IoT solutions for smart buildings and cities. It explained:
"Hitachi Elevator is building its own IoT solutions for elevator management by leveraging 5G technology and artificial intelligence. This is not only the 'intelligentization' of elevator products, but also the automation and digitization of the elevator production chain."
Towers up to 29 Stories for Santo Domingo Development
A mixed-use development with 18-, 23- and 29-story towers is planned in Santo Domingo, Dominican Republic, by the World Trade Center (WTC) brand, the Council on Tall Buildings and Urban Habitat reported in December 2019, citing Revista Construir. Located in the Caribbean nation's largest city, BlueMall Santo Domingo will consist of two 23-story BlueMall Luxury Suites towers with residences of various sizes and amenities like an infinity pool, a gym, a double-height boutique lobby and a reception area. The WTC Santo Domingo north and south towers will stand 29 and 18 stories, respectively, offering corporate office space, including full floors. Also on the drawing board is the JW Marriott Santo Domingo hotel, which presumably would be in one of the towers. A construction timeframe was not provided.
CTBUH Provides 2019 Overview, 2020 Projections
In December 2019, the Council on Tall Buildings and Urban Habitat (CTBUH) released "Tall Buildings in 2019: Another Record Year for Supertall Completions," a document that provides detailed, interactive data about tall building construction worldwide in 2019 and projections for 2020. The source observed there were 26 supertall completions in 2019, versus 18 in 2018. For the fifth consecutive year, China completed the tallest building: the 530-m-tall Tianjin Finance Centre, now tied with sister tower Guangzhou Finance Centre for the third-tallest building in China and the seventh-tallest worldwide.
2019 was the first year since 2010-2011 that the overall completion of buildings at least 200 m tall declined — from 146 to 126 — which CTBUH attributed to the "lag effect" of projects canceled after the 2008 recession. Of the 126 completions, China had 57, or 45%, and the U.S. was second-most prolific, with 14, or 11%. In terms of cities, Shenzhen, China, topped its own record for the fourth time in a row with 15 completions, or 11% of the global total. The next most prolific city was Dubai, with nine completions.
The document provides insight on regions, countries and cities. It looks at trends including transit-oriented tall building development in cities like Shenzhen, NYC and Tokyo. CTBUH includes projections for this year, in which a similar number of 200-m-plus-tall completions are expected, and massive projects in the Middle East and China could skew numbers. To access the full document, visit skyscrapercenter.com/year-in-review/2019.
Get more of Elevator World. Sign up for our free e-newsletter.