KONE and Hitachi help lead the industry with contracts, event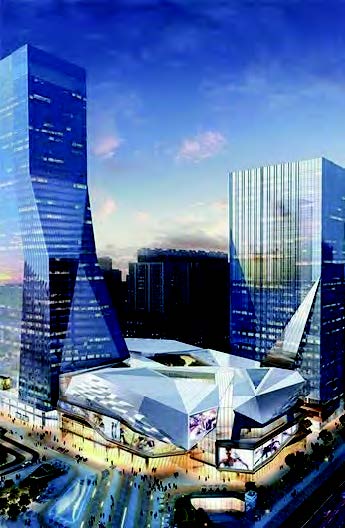 KONE Wins 95-Unit Order for Mixed-Use Project in Xi'an
KONE has won a contract to supply 95 elevators and escalators for Nanfeihong Plaza, a mixed-use development in Xi'an, the capital of Shaanxi province in Northwest China, the company announced in October. The 470,000-m2 development, centered in Xi'an's Yanta district, will include a shopping mall, a boutique hotel and two Class-A office towers that will stand 196.2 and 134.6 m and sport a design inspired by Hua Shan mountain, a nearby peak considered one of the five great mountains of China. KONE will supply the project with 25 MiniSpace™ and 25 MonoSpace® elevators, and 43 TravelMaster™ 110 and two TravelMaster 115 escalators. The buildings will also be equipped with KONE's Destination Control System and E-link™, which will enable centralized, real-time monitoring of all the equipment. Nanfeihong Plaza, being developed by Xi'an Yancheng Real Estate Co., is projected for completion in 2022.
Hitachi China
Contract for Large Project in Nanjing
Hitachi Elevator (China) has won a contract to supply elevators to the multiple-tower, mixed-use Jinling Central complex in Nanjing, the company announced in October. Located in Xinjiekou, Nanjing's CBD, Jinling Central will bring 342,600 m2 of new construction divided into plots A and B. Plot A will include a 44-story, 235-m-tall grade-A office tower, a 36-story, 161-m-tall high-end apartment-style hotel and a seven-story commercial podium. Plot B will have a 99-m-tall grade-A office building and a four-story commercial podium. Hitachi will provide 65 elevators to the project with speeds up to 6 m/s. Construction has already begun on Jinling Central, which is being developed by Hongkong Land at a cost of CNY12 billion (US$1.8 billion). This is Hongkong Land's second high-end project on the mainland, the first being the WF Central development in Beijing. Jinling Central is targeted for completion by the end of 2024.
Maintenance Promoted During Guangzhou Event
Hitachi Elevator (China) held an event in Guangzhou in September to promote upgraded service solutions and products using the Internet of Things, the company reported. Li Shoulin, chairman of the China Elevator Association, told the gathering that the country's maintenance market is growing about 10% annually and will exceed CNY80 billion (US$11.8 billion) within five years. Government officials in April encouraged all elevator stakeholders to offer on-demand maintenance, and Hitachi Elevator's General Manager of Engineering Xu Junjie said the company is developing a "comprehensive maintenance portfolio" that uses remote inspection and other technology to reduce manpower and hours needed for elevator management. With a service portfolio of 380,000 elevators, Hitachi said AI helps the company to detect up to 90% of faults.
Also during the event, Hitachi discussed LGE-E, a modular elevator designed for installation in China's aging housing stock, and noted the formation of a wholly owned subsidiary that has received approval to offer engineering and construction services for adding elevators to older buildings. Hitachi also noted a range of upgrade solutions, including pit flood operation, multibeam light curtains, AI cameras, regenerative energy systems and more. Finally, Hitachi used the event to showcase BIVALE, a cloud-based integrated building-management system that uses 5G and AI to provide such services as environmental monitoring and security.
KONE Wins 72-Unit Deal for Bangkok Metro Project
KONE has been awarded a deal for 72 elevators and escalators for Contract E3 of the Bangkok metro's MRT Orange Line (East Section) project, the company announced in October. KONE will supply three stations, from Yaek Lam Sali to Khlong Ban Ma, as well as three intervention shafts, with 17 MonoSpace® elevators and 55 TransitMaster™ 120 escalators. They will be connected to KONE's E-Link™ monitoring system. In total, the Orange line spans 39.8 km and has 28 stations (21 underground) along a route from Taling Chang to Min Buri. The project is owned by Mass Rapid Transit Authority of Thailand. The general contractor is Italian-Thai Development Co. Ltd.
ZHA-Designed Tower in Hong Kong Pulls Out All the Stops
Contactless elevators and a smart building-management system that creates a contactless path "from street to workstation" are only the start of the remarkable features being incorporated into a 190-m-tall, 36-story office tower designed by Zaha Hadid Architects (ZHA) in Hong Kong, Architects' Journal reported in September. Under construction in the Financial District on a former parking facility near iconic towers such as I.M. Pei's 72-story Bank of China building and Cesar Pelli's
63-story Cheung Kong Centre, the building will have high-tensile steel and a curved glass façade inspired by a Bauhinia
(Hong Kong orchid tree) bud.
Following a bidding war in 2017, Henderson Land Development paid the equivalent of approximately US$2.79 billion for the plot — a record-breaking amount — at 2 Murray Road. ZHA's proposal beat others by firms including Foster + Partners and OMA. Connecting with adjacent public gardens and parks, the structure will feature a raised base sheltering courtyards and gardens, a Sky Garden outdoor recreational space and a "hybrid ventilation" system allowing all offices to be naturally ventilated and dehumidified. Developers are working with Arup to achieve Leadership in Energy and Environmental Design and WELL Platinum certifications.
Get more of Elevator World. Sign up for our free e-newsletter.