KONE leads the way with big orders across the globe.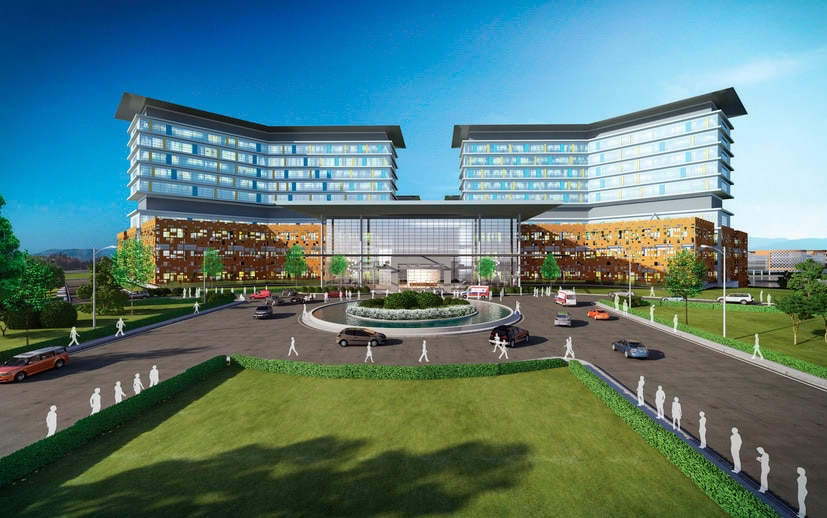 Huge Order to Supply Doha Metro
KONE has been selected to supply more than 500 pieces of equipment to the Doha Metro's Red Line South and Gold Line in Doha, Qatar, part of the Qatar Rail project. The planned rapid-transit system in Qatar's capital consists of four lines with 100 stations over 215 km. An integral part of the larger Qatar Rail Network, the Doha Metro project will link Qatar to the Gulf Cooperation Council countries and Lusail City's light-rail transit. Three of the Doha Metro's lines are scheduled for completion in 2020, with the fourth line expected to open in the fourth phase of the project. KONE is providing 189 Monospace® Special and TransysTM elevators, 253 TransitMasterTM escalators and 102 TransitMaster moving walks.
130 Units for Turkish Health Complex
KONE has been awarded a contract to install 130 elevators and escalators at the Adana Integrated Health Campus in Adana, Turkey. Incorporating innovative earthquake-resistant features, it will be the largest health campus in the Middle East, consisting of three hospitals — including a four-tower main facility — containing 1,550 beds. The complex is scheduled to be complete by the start of 2017 and will have 100 MonoSpace® and four TranSysTM elevators and 26 TravelMaster® escalators. The project is being done in a public/private partnership, the first in Turkey, with developer Meridiam.
54 Units for Chinese Mixed-Use Project
KONE has been selected by Poly Property Group to provide 33 elevators and 21 escalators to the Liuzhou Poly International Center, a mixed-use development in Liuzhou, China, that includes a 54-story office tower, 248-m-tall hotel and shopping mall. KONE plans to deliver two MonoSpace® and 31 MiniSpaceTM elevators and 21 TravelMasterTM escalators, along with the PolarisTM destination-control and E-LinkTM remote-monitoring systems. Completion is anticipated in 2017.
41-Unit Order for KONE in Indonesia
KONE has won a 41-unit order to provide the vertical-transportation system for the Sopodel Office Tower+Lifestyle buildings in the central business district (CBD) of Jakarta, Indonesia. Developed by PT. Toba Pengembang Sejahtra, the buildings, one housing offices and the other a hotel, are scheduled for delivery in 2017. The order consists of 26 MiniSpaceTM and nine MonoSpace® elevators, six TravelMasterTM escalators, a destination-control system and E-LinkTM remote monitoring.
World's Fastest Elevator Now Even Faster
Mitsubishi Electric announced on May 10 it has increased the speed of one of the elevators within the 632-m-tall Shanghai Tower to 1,230 mpm, or 20.5 mps, which will be the fastest elevator in the world. It will travel from the second-basement level to 119th floor in 53 s. The previous top speed of the Shanghai Tower elevators was 1,080 mpm. In this new, fastest elevator, which serves the observation deck, the operator will be able to switch between 1,080 and 1,230 mpm, depending on passenger traffic. Mitsubishi Electric achieved the new top speed through new equipment, including a control panel that maximizes the traction machine's performance and an improved speed governor, brake device and buffer. The company told ELEVATOR WORLD installation is scheduled for this month.
Otis to Outfit Tallest Residential Building in Sri Lanka
Otis has been selected to provide 19 5-mps elevators to the 240-m-tall, 68-story Altair in Colombo, Sri Lanka. Upon completion, it will be the tallest residential structure with the fastest elevators in Sri Lanka. Seven of the 19 units will be manufactured at Otis' Bengaluru, India, facility. Indocean Developers Ltd. is developing Altair, which consists of one tower leaning against another and is described by Indocean Director K.M. Sathian as "an architectural marvel." Sebi Joseph, president of Otis India, observed: "Otis' proven high-rise elevator technologies and capability to execute complex projects with unusual structural elements were important factors in our selection."
Get more of Elevator World. Sign up for our free e-newsletter.