L.A. continues its roll, inspections are an issue statewide, and a mixed-use structure is planned in San Francisco.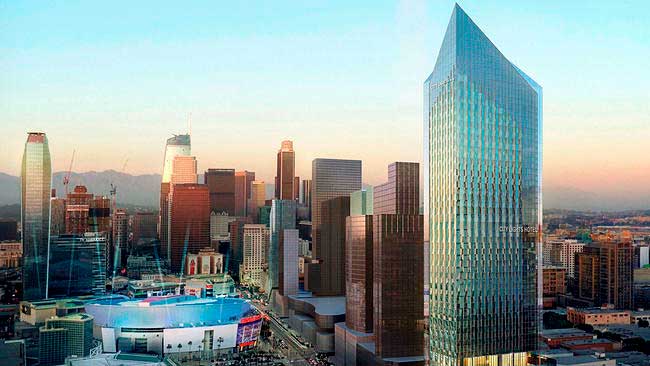 L.A.: 53-Story Convention Center Hotel Proposed
TriCal Construction Inc. hopes to build a 53-story hotel across from the Los Angeles Convention Center's South Hall at 1300 S. Figueroa Street, the Los Angeles Times reported. TriCal would demolish a 12-year-old low-rise apartment building on the site to make way for the hotel, which would also have restaurants, meeting rooms, parking and other amenities. With more than 1,000 rooms, the structure would help address what experts say is a hotel-room shortage in L.A., which, as of September 2016, had 3,172 rooms with another 2,000 under construction. City officials have set an 8,000-room goal to help fill a void in what is "one of the top hotel markets in the country."
L.A.: Shorter Wilshire Project With Lots of Podium
A mixed-use development originally planned at 31 stories at 2900 Wilshire Boulevard in Los Angeles' Koreatown is now set to be 23 stories with plenty of podium, The Architect's Newspaper reported. Designed by L.A.'s Large Architecture and developed by Jamison Services, the L-shaped structure will have a paneled, variegated façade and contain approximately 640 residences, 10,000 sq. ft. of commercial space, 5,500 sq. ft. of restaurant space and 1,124 parking spots in a six-story podium, despite the fact the structure will be close to a new metro station. Construction is expected to take 32 months, but, as of March, a groundbreaking had not yet been set.
Elevator Inspections Lag
A FOX 2 News investigation found that elevator inspections across California and in San Francisco are lagging, with more than 10,000 of the state's approximately 150,000 elevators having "outstanding issues." The state, which is responsible for inspections, said by the end of 2016, 11,252 elevators (756 in San Francisco) had such issues. They ranged from a broken light to a poorly maintained hoist rope, and inspection certificates were found to be anywhere from eight months to more than four years expired. Some building owners said they had current certificates but had not yet posted them. The San Francisco Fire Department performed 836 elevator rescues in 2016, a 40% increase since 2010. Still, a state spokesman said he doesn't believe lagging inspections are a critical issue, and that inspector performance has improved 15% in the past four years. Earlier this year, California had a total of 70 inspectors, with eight in San Francisco and an additional three in training.
Piano Design for San Francisco Mixed-Use Tower
New York City-based Renzo Piano Building Workshop is behind the boxy-yet-airy design of a proposed 36-story, 385-ft.-tall tower containing more than 250 hotel rooms and approximately 70 residences in San Francisco's Transbay neighborhood, Architect's Newspaper reported. If built at 555 Howard Street, it will be the fourth-tallest building in San Francisco and take the place of low-rise, turn-of-the-20th century structures deemed historically insignificant. Clad in transparent glass, the rectangular building would have an outdoor terrace at the 21st floor and a triple-height ground-floor lobby with retail.
Get more of Elevator World. Sign up for our free e-newsletter.