NAEC 70th Annual Convention & 2019 Exposition is a memorable one thanks in part to the enchanting Midwest location.
by Kaija Wilkinson
Low humidity, balmy weather and a dazzling sunset over the Grand River seemed custom-ordered for the National Association of Elevator Contractors (NAEC) 70th Annual Convention & 2019 Exposition annual Dregs Party, held on the historic Gillett Bridge between host venue DeVos Place Convention Center and the Gerald R. Ford Presidential Museum in the heart of downtown Grand Rapids, Michigan. With a red flashing light punctuating a colorful sky as the sun set, a drone flew overhead as guests mingled, danced to live music by the excellent band Brena, played games including giant Jenga and cornhole, feasted on burgers, pie and ice cream (from an onsite ice-cream truck) and sampled the craft beer, for which the city is becoming famous, from tents set up all along the bridge, decked out in sparkling white lights.
The pedestrian bridge was alive with laughter, representing a fine finish to four days symbolizing a reinvigorated NAEC. Highlights included the Elevator Escalator Safety Foundation's (EESF) inaugural Karaoke Challenge fundraiser (which ranged from remarkable hidden talent to something akin to the yelps of tortured dogs), an offsite Studio 54-themed 70th Anniversary Celebration (a marked departure from the relatively formal dinner dances of yesteryear) and, of course, the exhibition itself.
With lots of — you guessed it — beer, the 2019 tradeshow was remarkable for exhibitors' attention to detail, with Joe McNally of McNally Elevator Co. calling it "very impressive." Parts Specialists Inc., winner of the Best Single Booth Award, for example, built a 70th NAEC birthday cake out of electrical spools, and Webb Electronics distinguished its booth with a bright blue Shelby Cobra sports car. The Mathis Electronic team displayed an American flag made entirely of circuit boards.
More than 200 exhibitors drew approximately 2,000 attendees to their areas with such offerings as fresh-squeezed juices and high-end spirits (Relayr); giant pretzels and beer (The Peelle Co., which had a football tailgating theme); clever T-shirts, such as ones with the MAD Elevator, Inc. logo made to look like the University of Michigan logo; black mittens in honor of Michigan being known as the "mitten state," because its lower peninsula is shaped like a mitten (Vator Accessories); a pegboard panel offering colorful, delicious donuts instead of tools (Vantage); unbreakable pint glasses (KONE Spares); high-end aluminum water bottles (Alimak Hek); along with the ever-present tote bags, drink huggers, pens and candy.
Presentations of trophies for ELEVATOR WORLD's second- annual Ellies awards (which sparked a lot of excitement), numerous offsite parties that gave attendees an up-close look at Grand Rapids' historical buildings and red-brick streets, lots of education, a thanks-filled awards breakfast and a memorable meeting of the Vertical Initiative for Elevator Escalator Women made this year's event unforgettable.
Monday, September 16
Many arrived at their hotels. The host hotel was Amway Grand Plaza, restored by Amway founders to its 1913 Beaux Arts glory and then some (they added a 29-story glass tower in 1981), and the overflow hotel was the 23-story JW Marriott Grand Rapids a few blocks away. Amway Grand Plaza is connected to DeVos Place by the enclosed, second-floor Grand River Promenade, which made going back and forth between the hotel and tradeshow easy. Attendees could opt to play in the annual golf tournament, With lots of — you guessed it — beer, the 2019 tradeshow was remarkable for exhibitors' attention to detail, with Joe McNally of McNally Elevator Co. calling it "very impressive." with a bus transporting them from the hotels to Thornapple Pointe golf resort. Registration and exhibitor setup continued throughout the day. In another indication of NAEC's forward-looking attitude, an app enabled attendees to easily view the schedule, exhibitors, speakers, educational opportunities and more on their smartphones.
That evening featured the Welcome Reception in the Pantlind Ballroom, where attendees enjoyed drinks and such food as prime rib, shrimp cocktail and cake under an opulent 24-karat gold-leaf domed ceiling. On a balcony overlooking the guests, a jazz combo played low-key favorites that served as a tuneful backdrop to the many conversations and greetings taking place below.
With lots of — you guessed it — beer, the 2019 tradeshow was remarkable for exhibitors' attention to detail, with Joe McNally of McNally Elevator Co. calling it "very impressive."
Then, it was on to the two-tiered Victorian-style Imperial Ballroom, where guests enjoyed miniature pastries under a meticulously restored walnut ceiling while watching EESF's inaugural Karaoke Challenge. Boasting a wraparound mezzanine from which EW Editor-at-Large/Publisher Ricia Sturgeon- Hendrick, President T. Bruce MacKinnon, Vice President of Sales/Marketing Brad O'Guynn and your author enjoyed the fun unfolding below, the soaring room was a perfect location for the inaugural event.
The fundraiser involved a person making a donation to EESF by challenging another attendee to sing. The person being challenged could opt out of singing by forking over his or her own EESF donation, but most who were challenged gladly took their challengers up on it, revealing hidden vocal talent ( John Curzon, "Piano Man" by Billy Joel), not-bad renditions (Patrick Bothwell, "Sweet Child O' Mine" by Guns N' Roses and NAEC's Alesa McArthur, Megan Regan and Jennifer Simmons, "Fancy" by Reba McEntire), and singing so bad that a group teamed up to pay them to stop (Lisa Grimes and Ryan McNally, "Bohemian Rhapsody" by Queen). "I thought my enthusiasm would make up for my lack of talent, but I guess not!" Grimes said. This event was lots of fun and well worth staying up for. Best of all, it raised more than US$25,000 for EESF. As always, Glenn Duncan of the Elevator Riders Riding Club (ERRC) organized a split-the-pot-raffle on the expo floor that raised another US$2,500 for EESF.
Tuesday, September 17
For fitness buffs, the annual Fun Run began at 6 a.m., followed by a breakfast buffet, registration and continuing exhibitor setup. General business sessions were held for contractor, associate and supplier members behind closed doors. Discussion at the contractor member session, led by outgoing NAEC President Gary Schuette, revolved around new member benefits that came about directly from member requests. They were:
An association healthcare plan
An industry compensation report that members can purchase
The launch of QEI member services
Attendees at the supplier session, led by supplier member and NAEC board member Cornelius Walls, discussed future NAEC expo dates, now posted on the NAEC website and in its Mainline newsletter, an expo question-and-answer session led by NAEC's new exposition manager, and the strong United 2020 booth sales. Discussion at the associate member session, led by associate member Chris Strawn, focused on similar topics, with the healthcare plan and QEI as the main topics of conversation.
A reminder was issued about next year's United, which will bring NAEC, the Canadian Elevator Contractors Association, the International Association of Elevator Consultants and Elevator U together in Houston for a joint expo, and upcoming NAEC locations. The day wrapped up with an invitation-only leadership reception in the G.R. Ford Ballroom, a beautiful historic space with Oval Office-inspired carpet and another magnificent domed ceiling.
Wednesday, September 18
Exhibits opened at 9:30 a.m. to usher in a day packed with networking and education, capped by the 70th Anniversary Celebration offsite at music and entertainment venue 20 Monroe Live. The venue boasts Art Deco architecture, pop art in the style of Andy Warhol and an impressive sound system. A statue of a white horse like the one ridden by Bianca Jagger into the famed NYC disco Studio 54, acrobats swinging from the ceiling, celebrity impersonators and the pulsing disco beat of songs performed by The Simone Vitale Band set the mood.
Rather than a traditional sit-down dinner, various stations with such offerings as baby lamb chops, jumbo shrimp kabobs and mini muffulettas were situated around the room for guests to take back to tables surrounding a large dance floor. Bartenders stationed around the large room's perimeter kept the drinks flowing. "They hit it out of the park last night," Schuette observed during the next morning's Awards Breakfast, offering particular props to NAEC Director of Meetings and Member Services Shawn Cowden.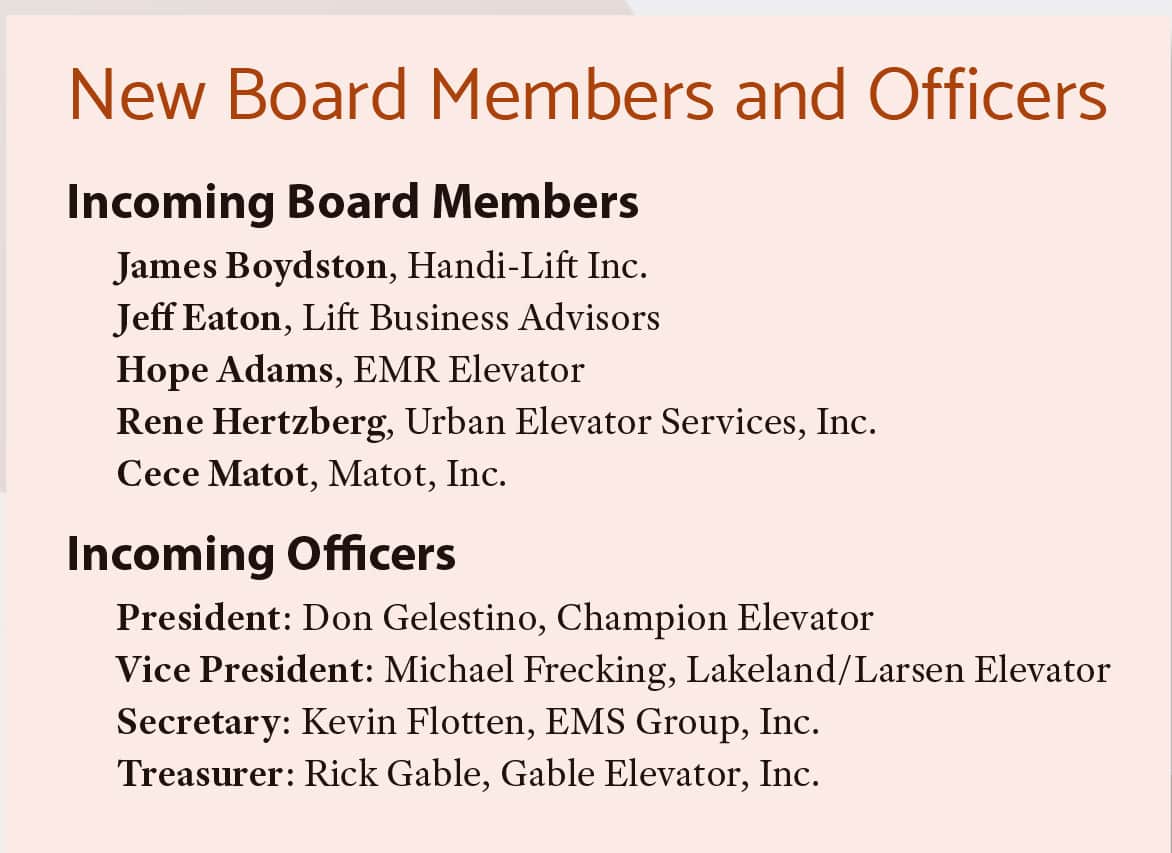 Thursday, September 19
The day began with the Awards Breakfast, during which many accolades were given and stories, thanks and appreciation were shared. Schuette introduced 2018-2019 NAEC board members and officers and recognized outgoing ones. He also asked for a moment of silence to remember industry friends who recently passed away, including past board President Fred Farnsworth and past board member Ken Garst.
Asking supplier members and sponsors to stand, Schuette thanked them for all the "time, energy and dollars" they put toward NAEC. "You are the lifeblood of this organization," he said, to a hearty round of applause. He then asked all past NAEC presidents to stand, and said, despite it being a really rewarding year, he is looking forward to joining the "retired presidents" group.
I firmly believe it's not what you know, but who you know. Thanks to being NAEC president, I have a lot more 'who you knows' in my life than I did when I started."— Outgoing NAEC President Gary Schuette
He urged all new board members and officers to support NAEC Executive Director McArthur, who took over from Teresa Witham, who had served as director for close to 30 years and is now deputy director. Schuette reflected on his tenure as president, stating:
"I really think I gained more than I offered. I was able to see things from a national perspective and an international perspective, and there are a lot of things I learned from those experiences — including important things about safety — that changed my thoughts on how I can lead [Midwest Elevator] and make it even better when I get back home.
"I firmly believe it's not what you know, but who you know. Thanks to being NAEC president, I have a lot more 'who you knows' in my life than I did when I started. It's amazing how many times we had a problem that couldn't be solved by our operations or field teams that was solved by just picking up the phone and calling someone right here in this room."
"Some people golf, some paint, and some install complex elevator systems. It's what he loves, and he has always done it with the highest safety standards and ethics." — Ryan McNally on his father, Joe McNally, recipient of the 2019 William C. Sturgeon Distinguished Service Award
Schuette then called McNally to the podium to announce the booth awards. McNally said it was very difficult for the Awards Committee to make some of the decisions, including for Best Island, which was awarded to Vantage. The rest of the winners are:
Parts Specialists, Best Single Booth
EHC Global (with 3D displays of escalator handrail offerings), Best Multiple Booth
Rocky Mountain Elevator Products (which featured a glass elevator cab, information screens, lots of gold and silver birthday balloons and an edible cupcake arrangement), NAEC Spirit Award Schuette presented the President's Award to his wife of 37 years, Dianne, who he said has been instrumental in growing St.Louis-based Midwest Elevator to a healthy company with branches in three Schuette presented the President's Award to cities. Observing his wife, Dianne brings a "human side" to all business dealings, Schuette said:
"When she first came onboard 18 years ago, she took on payroll and union benefits. She had no formal education in that but figured it all out. She was instrumental in setting up our software and got a lot of our systems running and managed our bank accounts, all while raising three kids. She is the spirit of our company and the love of my life."
The Contractors Choice Award, given by contractor members to a supplier member in appreciation of outstanding service, was presented to Monitor Elevator Products, Inc.
Schuette gave brief shoutouts to outgoing board members Walls ("one of the funniest people I've ever met, but also very helpful in complex or touchy situations"), McNally ("one of the hardest working on the board with five years"), Kencor's John Dodds ("for his hard work on numerous committees including QEI member services") and Columbia Elevator's Louis "L.J." Blaiotta, Jr. (who "brought the financial health back to this organization").
All outgoing board members were presented with plaques, and incoming members were welcomed and sworn in by Steve Wurth. Incoming officers then joined Wurth and Schuette onstage and were sworn in.
Lifetime Membership and Distinguished Service
Sturgeon-Hendrick was honored with the Lifetime Honorary Member Award, which Schuette pointed out is reserved for "special people who have dedicated a lot of time and energy to the industry." This is only the 10th time in NAEC's history such an award has been given, he said, sharing:
"Ricia began her career in the elevator industry as a little girl working alongside her father, William Sturgeon, at EW. She has more than five decades in the industry. She is a strong supporter of NAEC, our educational programs and of the EESF. [She] is a true friend to everyone in this room." McNally added:
"It was her father's vision to establish the NAEC and devote his life to the betterment of the elevator industry. As the years passed, we found ourselves transitioning into each of our respective roles at our companies. Ricia has taken over for her father at EW, while I shifted into my role at McNally Elevator. Ricia, congratulations on your honorary membership, and please know I will carry your father's award with dignity."
McNally was referring to his receiving the 2019 William C. Sturgeon Distinguished Service award, considered the industry's highest honor. It was fitting it was presented to a native of Grand Rapids, where McNally Elevator is headquartered. Joe McNally was introduced by his son, Ryan McNally. The elder McNally is one of the longest-serving board members of NAEC and was NAEC president in 2017. That year, a hurricane forced moving the convention from Orlando, Florida, to Atlantic City, New Jersey, at the 11th hour, and Joe McNally was instrumental in making that happen, his son said, sharing:
"The elevator industry has been part of this man's life for as long as I can remember and something he takes great pride in. I remember asking what [my dad] wanted to do when he retired, and he said, in his stoic fashion, 'Son, my business is my hobby. Some people golf, some paint, and some install complex elevator systems.' It's what he loves, and he has always done it with the highest safety standards and ethics. He came from a generation when a handshake was the only type of contract you needed. If he did a job for you, you knew it was going to get done and done right.
"The reason I said it was hard for me to think of a person more deserving of this award, is because of the humble way he speaks so highly of his friends at NAEC — all the hard work of the board members, executive directors, contractors, suppliers and manufacturers. He always said that any one of these people would be more deserving than him.
"Growing up, [dad] always quoted the great hockey player Wayne Gretzky who said, 'No matter how good you think you are, there is always somebody out there who is a little bit better.' That might be true 99% of the time, but, in this case, it doesn't look that way. So, on behalf of my family and all my friends here at NAEC, I would like to present this award to one of the hardest-working people I've ever known. He is not just a boss, but a mentor; a father; and, above all, a friend."
Joe McNally said he was "humbled and grateful" to be honored by an industry that has played a significant role in his and his family's lives, starting with his grandfather, who had a 40-year career with Otis. He said McNally Elevator has been supported by NAEC since it joined in 1976. "This business provided the opportunity to surround myself with knowledgeable individuals who not only understood the inner workings of elevator equipment, but also the neverending code changes that keep them safe," he said.
Incoming NAEC President Don Gelestino, president of Champion Elevator Corp. of Long Island, New York, was then introduced by Schuette, who shared that before Gelestino founded two successful elevator businesses, he was in a rock band and sported long, curly hair. Schuette said it has been a pleasure getting to know Gelestino and his family and that NAEC is "truly well served with Don coming in as president with a very strong cast of leaders."
After presenting Schuette with a plaque thanking him for his service, Gelestino joked that he plans to add money to the NAEC budget for "an interpreter for my Brooklyn English." Jokes aside, Gelestino shared he has been building relationships through NAEC since Champion became a member in 1993 and that industry members like Bobby "Bobby Dee" DeFrancesco have been instrumental in his becoming a greater part of the industry.
Gelestino thanked the suppliers, sponsors and vendors he called "the lifeblood of our association's finances and funding." The tradeshow, he said, is a big part of that. Remarking on NAEC celebrating its 70th year, Gelestino observed that few businesses on the New York Stock Exchange have been in business for seven years, much less 70.
He read the NAEC's mission and vision statements, which emphasize safety, education, training and networking. He stressed that companies' greatest assets are their employees and urged NAEC members to invest in training and safety. It's a great time to be in vertical transportation, he said, which is a US$22.8-billion industry made up primarily of independent companies. He said:
"There are 19,178 elevator businesses, and majors represent only 32.1%. Nearly 68% are independents. When I see those numbers, I say to myself, 'Wow. That leaves a lot of responsibility in the hands of a lot of independent contractors.' A lot of people here in this room have great safety plans and invest in their processes. But, there are a lot of businesses out there that really don't have a safety plan or provide education. They just try to put people out there to work on complex equipment, and [those people] have to kind of figure out it for themselves. I ask everyone here to be cognizant of anyone who is starting a new company to reach out to that person and ask them to join NAEC."
That's a win-win, he said, as it not only promotes user and employee safety, but also builds NAEC membership numbers. Networking — contractor to contractor, supplier to contractor — is a huge part of NAEC membership, he observed. Networking and communication lead to new products, processes and relationships. "The more we communicate at events like this, we'll make our industry better, safer and more prosperous."
McArthur said she couldn't have been happier with the event, adding:
"My staff did an amazing job of both preplanning and onsite execution, including changing up a few events to try out new ideas. And, Grand Rapids was a great venue with lots of nearby activities and attractions, as well as perfect weather, for guests to enjoy. The evening events and receptions were well attended, and many members said they loved the week and the city."
As the Devos Place staff and exhibitors sprang into action dismantling their booths and rolling up carpet to get ready for the next tradeshow, the Shelby Cobra rumbled out of the building, putting an exclamation point at the end of a very fulfilling show.
A Forward-Looking VIEEW
If good things come in small packages, the meeting of 10 professionals involved in the Vertical Initiative for Elevator Escalator Women (VIEEW) in Grand Rapids, Michigan, on September 16 — the first day of the NAEC 70th Annual Convention & 2019 Exposition — was one for the books. The presence of Martha Hulgan, a driving force of the VIEEW, was greatly missed, but she was there in spirit — and on speakerphone — for the gathering in the Amway Grand Plaza hotel.
The Elevator World, Inc.-sponsored affair featured an impressive spread of gourmet cured meats and cheeses, olive tapenade, artichoke hearts and, of course, wine. The group's small size lent itself to attendees talking about how they got into the industry, what they love about it, challenges they've faced and where they are based, with women hailing from the Deep South; Pasadena, California; Pittsburgh; and the Chicagoland area. Discussion revolved around the need to reorganize the group, update the mailing list, bring back the VIEEW newsletter, get more outstanding speakers (like Dot Moynihan, Otis senior director of field operations), and schedule future meetings at a more convenient time for expo attendees.
ELEVATOR WORLD Editor-at-Large/Publisher Ricia Sturgeon-Hendrick gave a presentation titled, "Why I'm in the VIEEW," sharing that a Facebook quote posted by Judy Uliano and Lisa Nicki-Perry about women supporting each other prompted her to wonder why more women don't. Sturgeon- Hendrick talked about her 50 years in the male-dominated industry in which she succeeded, often by being "just like one of the guys."
Sometimes, however, it's good to be among fellow women and enjoy a little conversation and wine. That, of course, involves supporting one another. "It's the one place no one is trying to prove themselves," Sturgeon-Hendrick said. And if some men feel threatened by that, well (to quote Hulgan), "Bless their hearts!"
Continuing-Education Sessions
Held on Wednesday and Thursday in the Education Pavilion, continuing-education sessions offered a wealth of knowledge. This year, they included:
"Drilling Hydraulic Homes of Consequence: Problems & Solutions," Mark Ortman, Ortman Drilling
"Private Residence Elevator Maintenance and Applicable A17.2 Sections," Bill Richardson, Savaria
"Key Changes in the 2019 ASME A17.1/CSA B44 Safety Code for Elevators and Escalators," Bruce Horne, National Elevator Industry, Inc.
"The Advantage of a Complete Control System Package," Tom Reamsnyder, Virginia Controls, Inc.
"Vertical Material Handling Systems & Methods," James Peskuski, Matot
"Conversations: The Lifeblood of Your Business," Larry Hart, KEV, LLC
"IBC Emergency Communications — ASME A17.1 Code Changes and How This May Significantly Impact Mechanics, Contractors and Buildings," Calvin Linde, MAD Elevator, Inc.
"Data Communications Options for Elevator Cabs," Dillard Green, Draka Elevator
"Code-Required Maintenance & Replacements," John Rearick, CodeDataPlate.com
"Elevator Door Safety: Light Curtains," Cornelius Walls, Formula Systems
"Elevator Machine Guarding: Mitigate the Risk," Darko Cugalj, Flavesco
"IoT and Sensor-Based Elevator Monitoring," Rob Wurth and Bruce Geise, LiftAI
"Vertical Express ICON, Robert Bowman," thyssenkrupp Elevator
Roundtables
Roundtable discussions promoted lively discussion on Tuesday. They included:
"Setting Up a Safety Program," Ray Downs and Dave Smarte, NAEC Education & Safety Committee
"DC Gearless Maintenance and Troubleshooting Procedures," Ken Houser, Electrical Motor Repair Co.
"To LU/LA or Not to LU/LA," Patrick Edwards, Access Elevator
"Secondary Brake Systems," Rick Kallenborn,
J. Cadwallader and Jeff Hourihan, Hilliard Corp.
"Internet of Things: How to Prepare Your Business for Digital Transformation and Ensure Long-Term Success," Bill Peters, Relayr
"Disruption and Becoming Customer Focused in an Ever-More Competitive Field," Sanjay Kamani, Upvate.com
Leading a Multigenerational Workforce," Ellie Webb, Delaware Elevator, Inc.