Milestones achieved, deals made, expansions take hold and more.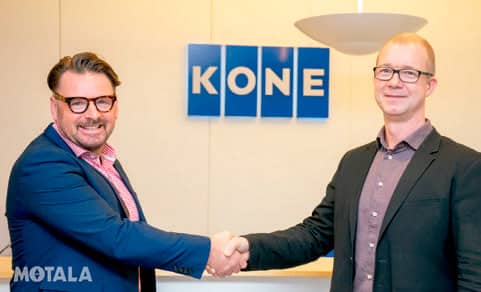 Hitachi China
Guangzhou Test Tower Completed
Hitachi Elevator (China) Co. Ltd. has completed construction of the H1 Tower, one of the tallest elevator test towers in the world, Yahoo Finance reported on January 17. The tower is part of the company's R&D and manufacturing facility in Guangzhou, China. The 288.8-m structure — which has 273 m above ground and a 15-m-deep basement — will be used to develop elevators and demonstrate leading-edge technologies and will function as a global base for Tokyo-headquartered Hitachi's elevator and escalator business. It is equipped with 15 test shafts, including one 250 m long, and can test such technologies as ultra-high-speed elevators, high-capacity elevators, double-deck elevators and control systems.
In 2010, Hitachi opened its G1 Tower in Japan, which, at 213.5 m, was then the world's tallest test tower. That tower was used to develop and test the Hitachi elevator that was delivered to the Guangzhou CTF Finance Centre in September 2019, which has since been certified by Guinness World Records as the fastest elevator in the world, reaching a speed of 1,260 m/min.
Production Topped 100,000 Units in 2019
Hitachi China signed a contract with Evergrande Group on December 24, 2019, pushing the company's sales of vertical conveyances past the 100,000-unit milestone for the year, Yahoo Finance reported. The new contract calls for Hitachi to provide 110 elevators and escalators to Evergrande's Hongqiao International Airport project in Shanghai. Hitachi Elevator and Evergrande have been working together since 1997, when Hitachi began supplying elevators for the real estate developer's first property project, Guangzhou Jinbi Garden. To date, Hitachi Elevator has provided more than 25,000 elevators and escalators to Evergrande, with total value exceeding CNY7 billion (US$1 billion). Hitachi Elevator is one of the first vertical- transportation (VT) companies in China to support the development of a real estate supply chain. At present, China's top five property developers are all Hitachi Elevator's strategic partners. Other 2019 milestones included contracts to provide VT for Guangzhou Poly Zeng Cheng Finance Headquarters, Changsha Ping An Wealth Center, Chow Tai Fook Finance Tower in Qianhai, Shenzhen, Guiyang Zhongtian Future Ark, ArtPark9 in Beijing and other high-rise landmarks. The company won the Guiness World Records notation for the fastest elevator in the world, a 1,260 m/min unit at the Guangzhou CTF Finance Centre. In another December 2019 milestone, Guangzhou Metro Line 21 entered into full operation, the source reported. The 61.5-km, 21-station line uses 273 Hitachi VT units — 255 escalators and 48 elevators.
Schmersal Turkey Opens in Istanbul
K.A. Schmersal Holding GmbH & Co. KG has opened Schmersal Turkey Otomasyon Ürünleri ve Hizmetleri Ltd. Şti in Istanbul, expanding its global machine-safety network that consists of standalone companies and distributors in more than 60 countries. Led by Schmersal Turkey Managing Director Bariş Yücel, the new branch is focused on the Turkey and Azerbaijan markets. Through a sales partnership with Satech Safety Technology SpA, Schmersal offers customers devices such as safety fences and complete safety systems from a single source, Yücel observed. In addition to safety-related products, Schmersal offers its tec.nicum safety-services program supported by TÜV Rheinland-certified engineers. Schmersal Turkey may be contacted at Gardenya Plaza 5 Kat: 2 Daire: 2, Atasehir, Istanbul, Turkey; phone: 90 534 033 33 96; or email: [email protected] The website is schmersal.com.tr.
TJEI Establishes Training, Distribution Facility
Toshiba Johnson Elevators (India) Pvt. Ltd. (TJEI) has announced the opening of its Training Centre and Distribution Centre (TCDC) in Chennai. The newly established facility is designed to enhance the competence and expertise of field engineers for elevator sales, installation and maintenance, the company says.
"With the establishment of this new distribution center, we will continue to focus on quality-improvement activities and provide highly reliable products to the market, with safety and quality as our top priority," TJEI Managing Director Junichi Kyushima said. "We aim to further improve the efficiency of onsite work by advanced stocking and assembling parts facilities."
In addition to educational facilities, TCDC will have a storage area for elevator components to be used for elevator installation and maintenance. The complex will also function as a reliability center equipped with various quality-control facilities.
The company said it established the center with an aim to provide advanced engineering solutions and to continue to focus on the development of human resources and ongoing investments for engineering facilities.
U.K.'s The Platform Lift Co. Partners With Motala Hissar
The Platform Lift Co., headquartered in Andover, U.K., with offices in London, Manchester and Glasgow, Scotland, has partnered with Swedish platform lift manufacturer Motala Hissar AB, part of KONE. In a January announcement, The Platform Lift Co. said the partnership positions it as "a key U.K. distributor of Motala Hissar's range of platform lift products to other trade lift companies, commercial clients and end users." The Platform Lift Co. will also provide parts, service, maintenance and repair for Motala lifts, including Motala 2000, 200 Home and 6000 LS. Motala's products include safety features and design options like panoramic lifts. Sean O'Sullivan, managing director and owner of The Platform Lift Co., said:
"Motala Hissar AB has been long recognized within our industry for their manufacturing excellence and premier platform lift solutions. This partnership agreement will help transition our family-run business into its next stage of growth."
EHC Expands Partnership With Moscow-Based Distributor
EHC Global has expanded its partnership with Moscow-based authorized distributor MyZiP (MyLift) LLP to include supply and field splicing of its NTTM handrail for escalators and moving walks in the Russian market. MyZiP has been an authorized distributor of EHC's TufFlexTM rubber handrails in Russia since 2016. EHC bills its NT handrail platform as an environmentally friendly, technologically advanced alternative to conventional rubber-based products that provides "enhanced safety, wayfinding, aesthetics, brand activation and ease of maintenance." The NT line includes ColourRailTM, SafeRailTM, MotionRailTM, BrandRailTM, AMRailTM and ADRailTM.
Alimak CEO Gunleiksrud to Leave Company This Year
Alimak Group President and CEO Tormod Gunleiksrud has informed the board of directors that he plans to leave his position this year, the company announced in January, adding that its board has begun evaluating potential successors.
Gunleiksrud, who took the position in November 2012, came to Stockholm-based Alimak from ABB in Switzerland, where he was manager of Operational Excellence for the Robotics Business Unit. Prior to that, he had served as president and regional manager North Asia for ABB Robotics, stationed in Shanghai. At the time of his appointment, Alimak said Gunleiksrud was "a perfect match to the future challenges of the group," citing his background in industrial businesses and his experience in China.
Alimak made several strategic moves during Gunleiksrud's tenure, effectively doubling the size of the company. In 2014, it acquired Heis-Tek, a Norwegian traction elevator company mainly serving the offshore oil and gas industry. In 2015, Alimak Group AB was listed on Nasdaq Stockholm. In 2017, it made two major acquisitions: Avanti Wind Systems, a vertical-access provider for the wind power industry; and Facade Access Group, a maker of permanently installed building maintenance solutions.
KONE Earns Two Global Sustainability Recognitions
KONE recently earned two recognitions in climate and sustainability performance: a spot on CDP's "A List" for Climate Change and 32nd place on Corporate Knights Inc.'s 2020 Global 100 Most Sustainable Corporations world ranking. The OEM was the only elevator/escalator company on CDP's A List. CDP is a global nonprofit organization that runs an environmental disclosure system enabling companies, cities, states and regions to measure and manage their environmental impact. KONE has disclosed through CDP for 11 years, receiving a score of A or A- for seven consecutive years. In the Corporate Knights ranking, KONE improved its position on the list from 43rd last year.
thyssenkrupp Provides 234 Units to New China Metro Line
thyssenkrupp Elevator is providing 234 elevators and escalators to Metro Line 1 in Luoyang, central China, one of four historical capitals where 15 dynasties ruled. The first metro line serving the region, Metro Line 1 has 19 stops along 23 km, covering the main passenger flow in the east-west direction north of the Luohe River. Escalator installation is slated for completion in August, with the metro line set to go into operation in 2021. thyssenkrupp observed the contract underscores its focus on the Chinese market, where it inaugurated a new test tower in Zhongshan in 2019 and opened a multipurpose facility in Shanghai in 2016. Throughout China, thyssenkrupp has four factories and approximately 11,000 employees.
52-Story Kuala Lumpur Residential Tower Reflects Current Trends
Conlay, a 52-story, 491-unit residential tower being developed in Kuala Lumpur's City Centre by Eastern & Oriental Bhd and Mitsui Fudosan Co. Ltd., speaks to current Malaysian real estate trends, including encouraging foreign ownership and focusing on quality, Luxuo reported in January. Set to open in 2024, Conlay was designed by Kerry Hill Architects with a sleek profile and a cutout housing a heated infinity pool that overlooks the skyline. Prices for the serviced units will start at approximately US$358,000, and the Malaysian government is actively encouraging foreign ownership under the Malaysia My Second Home initiative. Conlay is set to rise on a 0.58-ha site at Jalan Conlay and Jalan Kia Peng.
EFESME Updates
The European Federation for Elevator Small and Medium-Sized Enterprises (EFESME) met with POVESA (Greek federation for the installation and maintenance of elevators) in December 2019. Topics included POVESA explaining its conjunctive actions with the Greek Ministry and its support of Greek small and medium- sized enterprises (SMEs) in dealing with, EFESME said, "the consequences of the economic crisis" as they "present a common front against the recession." POVESA is also participating in tradeshows, including the Greek industry event AscenTec. EFESME spoke on its work with the Small Business Standards organization and CEN/TC 10 and ISO/TC 178 technical groups.
The third EFESME Expert Meeting was held in November 2019. It saw the unveiling of a new EFESME Digital Working Group (WG), updates on WGs and the continuous development of EFESME/European Commission activities. The new WG is open to all organization members and focuses on digitalization and cybersecurity. The number of experts present increased yet again, and they were given the opportunity to ask targeted technical questions. EFESME noted that not only did the meeting serve to have SMEs support each other and share ideas, it also facilitated the spreading of the latest news and coordination.
Finally, EFESME has published a table listing all relevant standards and directives affecting the lift sector. It is broken down by country to enable monitoring on a national level. Details include transposition, translation and implementation of each pertinent document. They include Lift Directive 2014/33/ EU and Machinery Directive 2006/42/EC and EN 81-20,-21, -28, -50, -70, -72, -73 and -77. Updates are made every three months. The tables and quarterly reports summarizing all inputs received are available at bit.ly/36kieDo.
Get more of Elevator World. Sign up for our free e-newsletter.