MTA projects, record-breaking towers and more
MTA
Cuomo Announces East Side Access Civil Construction Completion
On May 27, Gov. Andrew Cuomo announced completion of civil construction on the Metropolitan Transportation Authority's (MTA) East Side Access megaproject. Outfitted with 17 high-rise Schindler escalators, including the longest in the MTA system at 182 ft, the project connects the Long Island Rail Road (LIRR) to a new, 350,000-ft2 passenger terminal under Grand Central Terminal. Conceived in the 1960s, the East Side Access project includes the largest new train terminal to be built in the U.S. since the 1950s and represents the first expansion of the LIRR in more than a century. As part of the announcement, Cuomo and MTA Construction and Development President Janno Lieber led a tour of the project during which Lieber observed that, despite challenges, the MTA stuck to its commitment to complete the project by 2022. "East Side Access is one of North America's largest transportation projects — an audacious US$11-billion idea changing the entire regional transportation system," Cuomo said. Set to open next year, East Side Access will "significantly" cut travel times and ease the commute into Manhattan for "countless" travelers, he stated. For more information about East Side Access, visit: governor.ny.gov/news/governor-cuomo-announces-completion-major-construction-east-side-access.
Wheelchair-Accessible Subway Elevators Are Open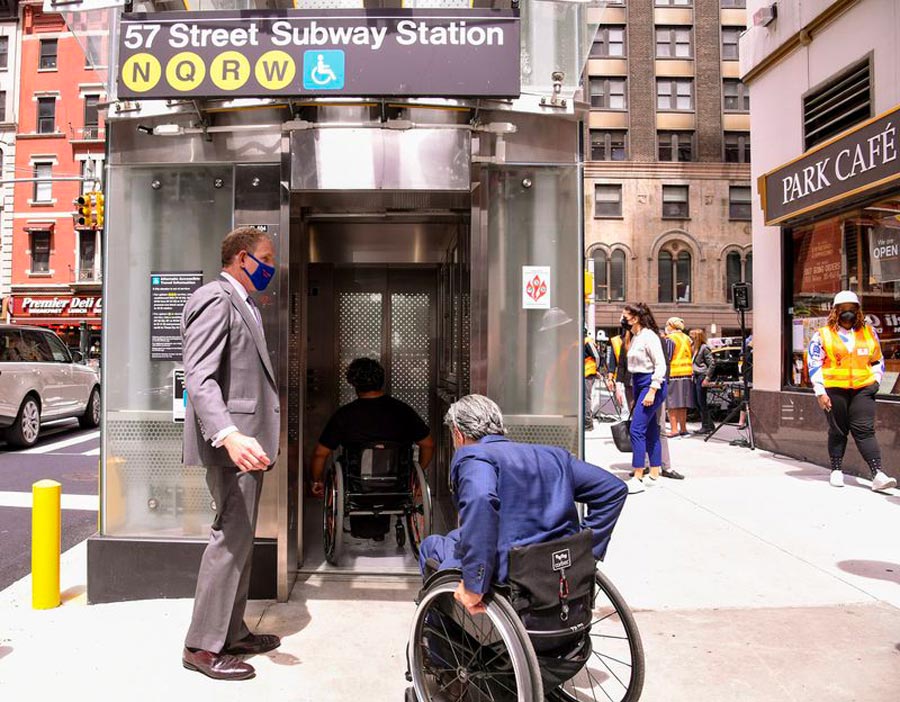 MTA recently opened subway elevators near a Midtown subway shop that are wheelchair-accessible, New York Daily News reported in June. Opened a decade after money was allotted toward their construction, the elevators are a part of what city officials describe as a renewed push to make the city's transit system more accessible after the pandemic forced a halt to many construction projects. The West 57th Street station was one of dozens the MTA agreed to make accessible as part of a settlement reached in the 1990s after the passage of the Americans with Disabilities Act (ADA). Transit officials in 2010 announced the project would be paid for through the agency's 2010-2014 capital plan. In addition to the elevators, new stairways were built, and water mains and gas lines were relocated. The project also includes redesigns to the station's platforms and communications systems. Roughly 60% of the city's subway stations remain inaccessible to people in wheelchairs.
Mid-American Installs Mongrain ADA-Compliant Elevators at LIRR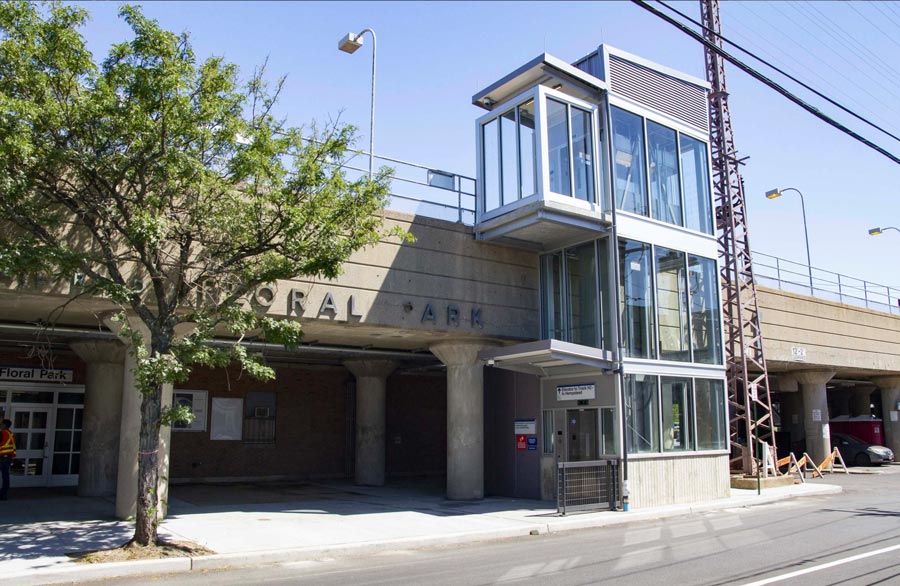 A trio of ADA-compliant elevators manufactured by Mongrain Vertical Transport and installed by Mid-American Elevator Co. were unveiled in mid-June by the MTA at the LIRR Floral Park Station. Part of the LIRR Expansion Project and overall MTA accessibility efforts, the elevators together cost roughly US$10 million, which MTA observes is less than similar subway-system projects that involve moving stairs, utilities and even entire mezzanines. "This value was achieved by following the design-build project delivery system, where projects are bundled to improve efficiency and reduce costs," MTA stated. 3TC was the general contractor for the project, which provides one elevator each between the street and three platforms at the historic station, dating to 1878 and serving nearly 3,000 customers each day.
Towers and More
TEI Group VT System for Nearly Complete Chelsea Tower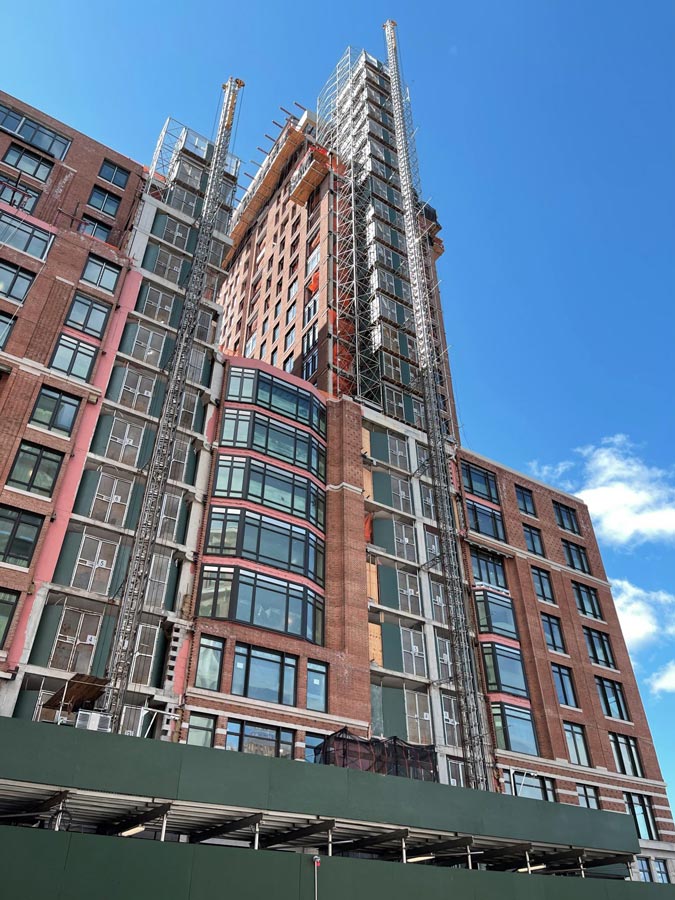 TEI Group shared details with ELEVATOR WORLD about the vertical-transportation (VT) system serving the nearly complete The Cortland, a 26-story condominium building at 555 West 22nd Street in West Chelsea. Designed by Robert A.M. Stern Architects with SLCE as the architect of record and developed by Related Cos., the 141-unit property has six traction elevators. There are four 2500-lb passenger and two 3500-lb service elevators. All travel at up to 700 ft/min. With VDA serving as consultant, the job also includes one hydraulic 8000-lb automobile lift traveling at up to 100 ft/min. The traction elevators are powered by MCE iControllers and Torin machines, while the hydraulic unit utilizes a package from Mongrain Vertical Transport. TEI said it has worked on many projects with SLCE and VDA, and observed, "Related Management is running a wonderful project, right on schedule."
KONE Installation Expert Shares Recent NYC Projects
KONE Escalator Installation Expert Gerry Matawa shared recent and current major jobs with EW. In early June, Matawa and fellow KONE team members were starting the last phase of the VT system for the New La Guardia Airport (LGA) in Queens. The VT system consists of 34 escalators, four moving walks, 36 elevators and four dumbwaiters for the newly expanded facility. Joining Matawa on the LGA project are Project Manager Ryan Kaufman, Elevator Supervisor/Major Projects Chris Mertens, District Manager Joe Connolly and Construction Manager Richard McCartin.
KONE also recently replaced eight units at Grand Central Station, installed three units at Penn Station and installed 15 new units at "the beautiful new Moynihan Train Hall" at 351 West 31st Street in Manhattan. "I am truly blessed to have had the opportunity to work at KONE and be a part of rebuilding the history of NYC," Matawa says.
Nearly Complete, Brooklyn's Tallest New Office Tower Has TKE VT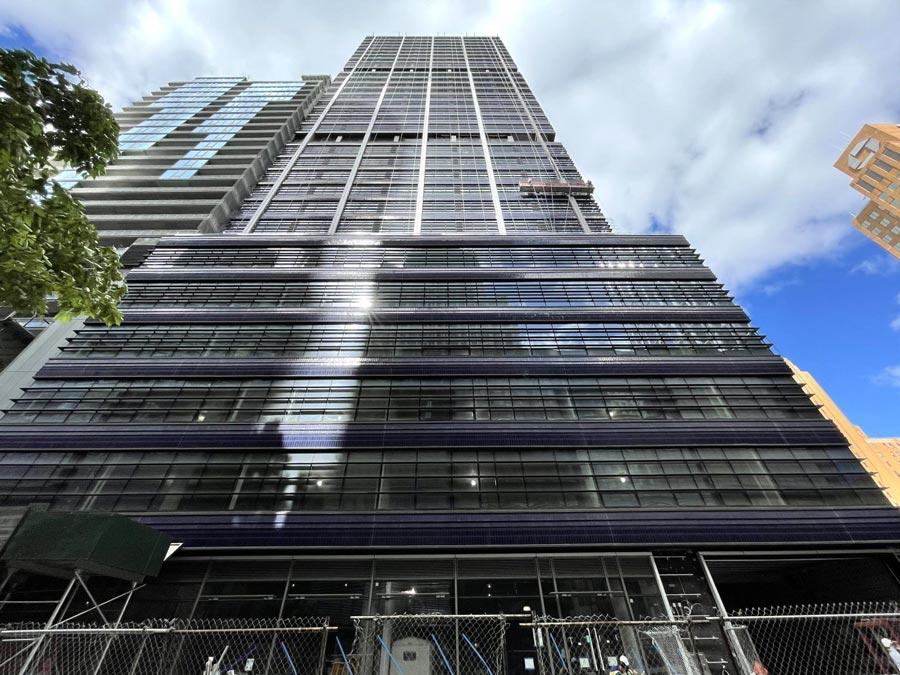 Eighteen-foot-tall ceilings and a private outdoor loggia for tenants on the uppermost levels, as well as a TK Elevator (TKE) VT system, are among the features of the 36-story One Willoughby Square, which, at 495 ft, will be the tallest new office tower in Brooklyn (EW, August 2020), according to New York YIMBY. Designed by FXCollaborative (which will occupy the seventh to ninth floors) and developed by JEMB Realty, the structure's exterior was nearing completion in late May as it was outfitted with a modernist mural by NYC-based street artist Tony "Rubin" Sjöman. TKE tells EW the property will be served by 12 of its elevators: nine gearless, two geared and one conventional hydro elevator. Also known as 420 Albee Square, the tower is expected to be finished by the end of the year.
Façade Nearly Complete at 126 Madison Avenue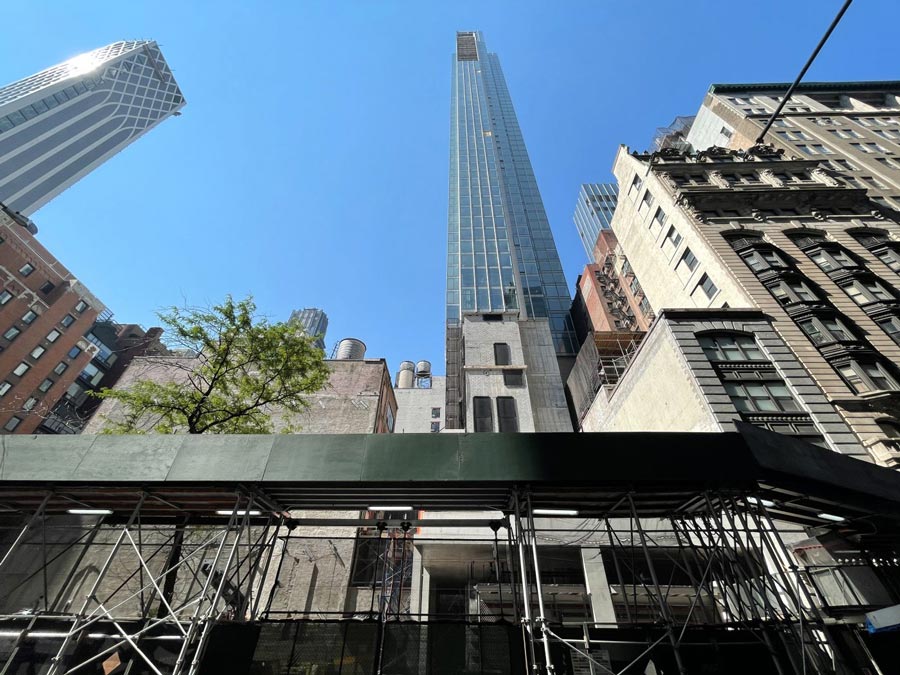 Construction is getting closer to completion on Madison House, an 805-ft-tall residential skyscraper that is the tallest structure in NYC's Midtown NoMad district (ELEVATOR WORLD, August 2020), New York YIMBY reported in June. The slender, 62-story tower, designed by Handel Architects and developed by Fosun Group and JD Carlisle, will offer 199 condominiums — some with private elevator entries — and 7,500 ft2 of ground-floor retail space. The property is located at 126 Madison Avenue between East 30th and 31st streets. Lower levels on the southern side of the tower are being enclosed in a façade made of thin white strips. These emphasize the verticality and slenderness of Madison House, and are going over the ventilation grilles and mechanical levels above the ground floor. To the west, across Madison Avenue, a small, one-story extension of the first floor has been built, while the retail podium at the corner of Madison Avenue and East 31st Street is gradually being built up.
Homes at Madison House will come in one- to four-bedroom layouts. Prices will range from about US$1.5 million up to US$13.7 million, and residents will have access to more than 30,000 ft2 of amenities, including a 75-ft-long multi-lane indoor swimming pool and a spa with a sauna, a cold bath, a hot tub, a lounge area, a fitness center, a billiards room, a golf simulator, 24-hr concierge service and more. The vertical transportation for the project is being installed by TKE. Construction is scheduled to be completed this year.
Penthouse in New Jersey's Tallest Tower Sells for Record Sum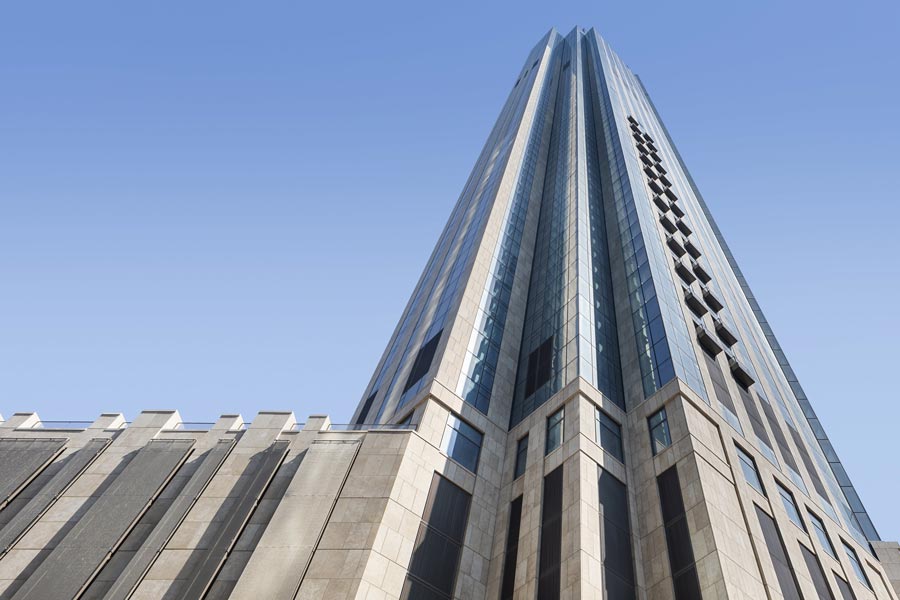 A 2,437-ft2 penthouse in the 99 Hudson condominium tower in Jersey City, at 900-plus ft the tallest building in New Jersey (EW, July 2020 and November 2019), sold for a Jersey City record sum of US$3.9 million, Jersey Digs was among outlets to report this spring. Served by a Fujitec system that includes 12 elevators, the property was designed by Perkins Eastman and developed by China Overseas America. The 79-story structure includes 781 units and ranks as the third-tallest residential building in the U.S., and among the nation's 20 tallest overall. A number of lawsuits reported by Jersey Digs earlier in 2021 apparently have nothing to do with the elevators, but rather the windows, parking garage, flooring and unit size/dimensions. The source reported in late April that China Overseas said it had closed on nearly 200 condos at the property.
New Margaritaville Resort Opens in Times Square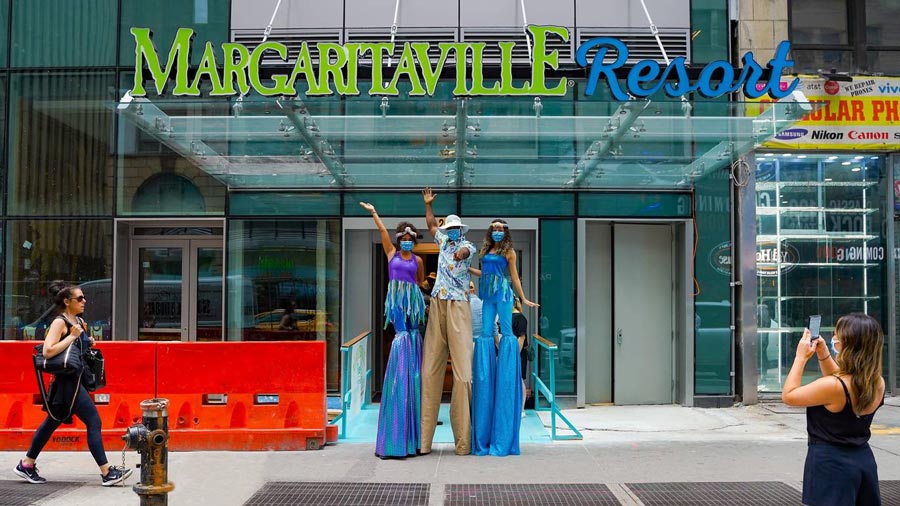 A Margaritaville Resort opened in July on Seventh Avenue at 40th Street in Times Square (EW, December 2020), Time Out reports. The US$300 million, 32-story hotel features 234 guest rooms, five restaurants and bars, a heated outdoor pool, rooftop patio and a VT system by Rotavelle. Rooms are available in standard, deluxe and premium options. The Times Square location marks the 23rd Margaritaville Resort and the first new hotel to open in NYC this year.
NYC Commission Approves Seaport District Plan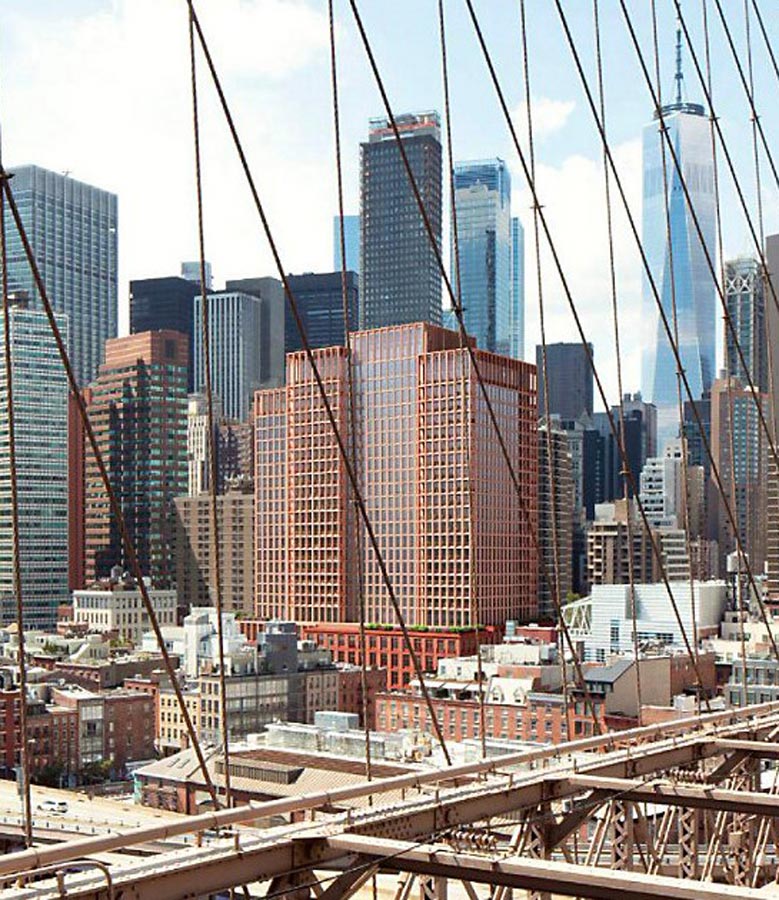 The NYC Landmarks Preservation Commission has approved a plan to replace a 50-year-old parking lot between Water and Pearl streets in downtown Manhattan with a brick-and-stone tower, pushing forward a controversial design that would bring an influx of residential units to the South Street Seaport Historic District (EW, May 2020), NY1 reported in May. The proposed tower, from the Howard Hughes Corp., would bring in hundreds of residential units, including 70 designated as "affordable." The Landmarks Preservation Committee voted 6-2 to approve the project a month after committee members told the developers to alter their designs to bring the building more in line with the character of surrounding buildings, which top out at around five stories. 
The new designs, by Skidmore, Owings and Merrill (SOM), reduced the overall height of the building's residential tower, which rises over Water Street, from 345 to 324 ft, and adjusted the façade and height of the base of the building running along cobblestoned Beekman Street on the Seaport side. No construction timeline has been reported.
Otis' Marks Receives Prestigious CED Leadership Award
Judy Marks, president and CEO of Otis, joins five leaders who include Moderna Chairman and co-founder Noubar Afeyan and CVS Health President and CEO Karen S. Lynch in receiving Committee for Economic Development (CED) 2021 Distinguished Leadership Awards. Headquartered in Arlington, Virginia, CED is a nonprofit public-policy center. Award winners were selected based on corporate citizenship and business stewardship, and are to be recognized during a gala event in NYC in October. In the past year under Marks' leadership, Otis launched its Commitment to Change social-justice initiative, joined the Paradigm for Parity Coalition, started its Made to Move Communities STEM (science, technology, engineering and mathematics) education program, and stepped up donations of personal protective equipment, service and funds in light of the pandemic. CED said in a press release:

"This year's awards pay special tribute to business leaders and their companies that have demonstrated exceptional leadership in very challenging times, including defeating the pandemic, ensuring economic recovery that provides equal opportunity for all Americans and building a more civil and just society."