KONE VT order for new GTC skyscraper reflects an improved business environment and a brighter future.
Kenya continues to attract big investments from both domestic and international companies taking advantage of the country's ongoing government-driven business reforms to open new business operations, especially within the capital city, Nairobi. One international company to set up shop in Kenya's capital is Chinese firm AVIC International. Through affiliate AVIC International Real Estate Kenya Ltd., it recently completed construction of one of the tallest buildings in Africa, becoming the first Chinese company to open its headquarters in the East African country. Construction of the Global Trade Centre (GTC) commenced in 2016 and completed in 2020. It was welcomed during a grand commissioning by Kenya's outgoing President Uhuru Kenyatta.
KONE won the order to equip the GTC with diverse equipment to ease the flow of residents, visitors and customers utilizing the new hotel, shopping mall and other businesses within the tower. The global vertical-transportation (VT) market player supplied 35 KONE MiniSpaceTM high-rise elevators to the 185-m high mixed-use tower located along Chiromo Lane, Westlands, adjacent to Nairobi's CBD. KONE also supplied 14 KONE MonoSpace® machine-room-less elevators, as well as the company's signature destination control system (DCS).
The skyscraper, which will serve as the hub of African operations for AVIC International, boasts, in addition to the 42-story office tower, a commercial podium, four residential towers (the tallest of which will rise to 31 stories) and a 35-story luxury hotel operated by JW Marriott. "I am proud that KONE was chosen to equip this pioneering development, which is bound to be of great significance to business in the region," said Pierre Liautaud, KONE executive vice president for South Europe, Middle East and Africa, when the order was announced.
The GTC tower was constructed by Zhejiang Chengjian Construction Africa Ltd., an affiliate of Chinese company Zhejiang Chengjian Construction Group Co., Ltd., while Nairobi-based Triad Architects and Germany's architectural firm Gerkan, Marg & Partners handled the design.
The building, which sits on some 30,000 m2 with a total construction area of approximately 270,000 m2, was approved for construction by the Nairobi City County government in 2015. KONE's order coincided with the company's ramping up supply of MonoSpace, EcoSpaceTM and TranSysTM elevator models in the Europe, Middle East and Africa region in the third quarter of 2019. AVIC International's order also came at a time when KONE had reported a 5.5% surge in sales in the region to EUR3.79 billion (US$3.84 billion), with the company observing that "new equipment sales grew significantly, and maintenance and modernization sales grew slightly in the region."
The MonoSpace elevator model KONE supplied the GTC skyscraper was initially targeted at the low- to mid-rise market, before the company launched a new range that is "significantly more energy-efficient than before, providing industry-leading ride comfort and featuring award-winning car interior design." With the MiniSpace high-rise elevators, which mostly come with a small machine room, KONE hopes to provide the GTC building with an "ideal solution for the most demanding of high-rise buildings."
KONE's order coincided with the company's ramping up supply of MonoSpace, EcoSpaceTM and TranSysTM elevator models in the Europe, Middle East and Africa region in the third quarter of 2019.
KONE has brought a new experience to Nairobi's VT market with its DCS that is expected to ensure residents and visitors to the GTC building do not suffer inconveniences of unnecessary stops. Unlike conventional elevator control systems, which only register the desired travel direction, KONE's DCS incorporates desired destination floors and the number of waiting passengers "to significantly improve elevator efficiency and convenience," KONE explains on its website about the DCS installed at the GTC building. "This additional information leads to increased handling capacity, shorter journey times, fewer intermediate stops and enhanced passenger comfort," it says. Improved system performance is most evident during rush hours when a traditional DCS might struggle to handle the high volumes of traffic, according to KONE.
The company says with its DCS, passengers can choose their destination floor before entering the elevator, and "don't need to struggle through a crowd to press a button inside the elevator car." Further, GTC residents may use access cards and PIN codes, hence restricting unauthorized use of elevators and enhancing building security.
The changing face of Nairobi's skyline is partly a result of determination by both Kenya's national government and the Nairobi City County government to woo potential investors in skyscrapers to mitigate the diminishing available space in the city. Former Nairobi City County Governor Dr. Evans Kidero said:
"The Nairobi City County government will provide favorable policy and other supporting facilities and services for the upcoming upsurge of real estate development, and will further cultivate and improve the investment environment that attracts foreign participation in Nairobi's urban construction."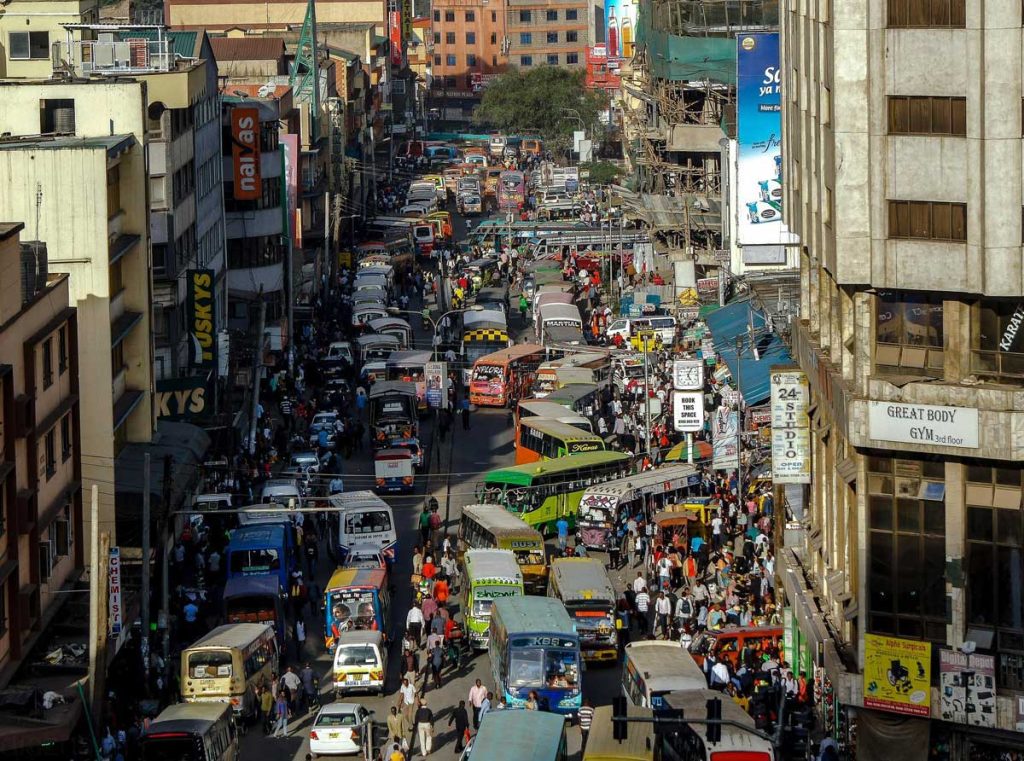 Government-driven business reform initiatives have thus far resulted in improvements to:
Construction permit approval
Access to financing
Paying taxes
Prioritizing minority investors
Resolution of insolvency issues
According to AVIC International Holding Corporation chief representative in Kenya Ma Chengyuan, the "GTC project not only lays a solid foundation for China and Chinese enterprises to improve their brand image in East Africa and expand their follow-up development opportunities, but also reflects China's strength on the background of the Belt and Road Initiative (the Chinese government's global infrastructure development strategy)."
At 184 m (604 ft), the GTC Office Tower is now the seventh- tallest building in Africa after the Iconic Tower (385.5 m, 77 floors-Egypt), Mohammed VI Tower (250 m, 55 floors-Morocco), The Leonardo (227 m, 56 floors-South Africa) Carlton Centre (223 m, 50 floors-South Africa), Commercial Bank of Ethiopia Headquarters (209.3 m, 46 floors-Ethiopia) and Britam Tower (200.1 m, 43 floors-Kenya).
Nairobi City County's prevailing favorable policy and availability of other facilities to international property developers within the city has seen the number of land transactions in the form of title transfers and leases at the Ministry of Lands to September 2021 hit the highest in five years at 5,355, equivalent to 35% compared to 2020, according to International real estate company, Knight Frank.
Due to greater efficiencies at the Nairobi City County's lands registry, many local, regional and international property investors (such as AVIC International) were allowed to finalize transactions carried forward from previous periods, paving the way for commencement of construction and completion of key infrastructure, including tall buildings. This is a positive sign for VT players seeking to do business in the area.
---
Also read: A Shinning Star in Nairobi
---
Get more of Elevator World. Sign up for our free e-newsletter.