Based in the L.A. metro area, Vantage Elevator Solutions West RSC is growing thanks to customer demand.
When Vantage Elevator Solutions West Region Vice President Emery Wilcox was scouting locations for the company's West Regional Service Center (RSC) in California, he created maps of where elevator companies were concentrated and zeroed in on the Los Angeles metro area, where he found the lion's share. In September 2018, the Vantage West RSC opened in approximately 6,500 ft2 of leased space in an industrial park in Santa Fe Springs, one of the gateway cities of southeast L.A. County. The center was one of three initial Vantage RSCs, joining centers in Chicago and Miami. A Toronto RSC was preexisting for the Canadian market, NYC opened in June 2019 and, this month, Vantage plans to open an RSC in Dallas.
Wilcox says:
"Opening one of our first RSCs in L.A. was an obvious choice for Vantage. The region has the highest concentration of elevators in the West. Additionally, L.A. has the highest concentration of elevator companies serving Southern California. The L.A., Inland Empire, Orange County and San Diego markets are easily accessible. From L.A., we can offer one-day ground delivery service to the Bay Area and Sacramento.
"Prior to selecting our location, we found that 90% of the companies are located within 10 min of the Interstate 5 corridor spanning a 60-mi. stretch." — Vantage Elevator Solutions Vice President West Emery Wilcox
"Prior to selecting our location, we found that 90% of the companies are located within 10 min of the Interstate 5 corridor spanning a 60-mi. stretch. The service center is located just south of that midpoint, skewed south toward a heavier customer base. There are six elevator contractors (that we call neighbors) located in Santa Fe Springs, and another four in adjacent cities. Two contractors have relocated to Santa Fe Springs since Vantage opened here in 2018."
The Vantage West RSC serves the mountain states and everything west. Due to strong customer support, in January of this year the center doubled its size to nearly 14,000 ft2. It is staffed by two territory sales managers: Mark Ortiz, who serves California, Arizona, Nevada and Hawaii; and Niels Garcia, who serves the Mountain States and Pacific Northwest. The West RSC staff is rounded out by Mary Romo, Marvin Mejia and Jim Goss.
Project Manager Romo manages order and delivery of bundled orders, facilitates data collection, makes schedules and handles order changes. She is customers' main point of contact throughout the ordering process. As customer service and warehouse manager, Mejia is the mainline conduit for the spares business. He assists in parts identification, quoting and processing orders. Goss is regional field engineer, providing technical support — such as training — on GALaxy and Pixel controllers, Hollister-Whitney products and GAL door-operating equipment. He also makes customer jobsite visits. "In summary, the team has decades of experience, which parlays into a tremendous amount of expertise," Wilcox observes.
That expertise has played a crucial role in many notable vertical-transportation (VT) projects, including in California. "Where there are complex roping or unique dispatching requirements, the regional team will engage engineering experts at the factories to assure accurate solutions," Wilcox says. He provides an impressive list of California projects in which Vantage's West RSC was closely involved.
In L.A., an independent contractor won a major modernization job that included several high-rise elevators. With support from the West RSC and Hollister-Whitney, the contractor successfully installed five GLV-40D1 double-wrapped, gearless, traction machines.
In another case, Vantage and GAL engineers helped a contractor and VT consultant meet the challenges involved in modernizing the VT system at the historic Golden Gate Theatre in San Francisco "by squeezing out a few extra inches on the conversion of a small freight elevator with collapsible gates to a passenger-rated elevator with automatic doors powered by GAL's MONXT door operator," Wilcox observes.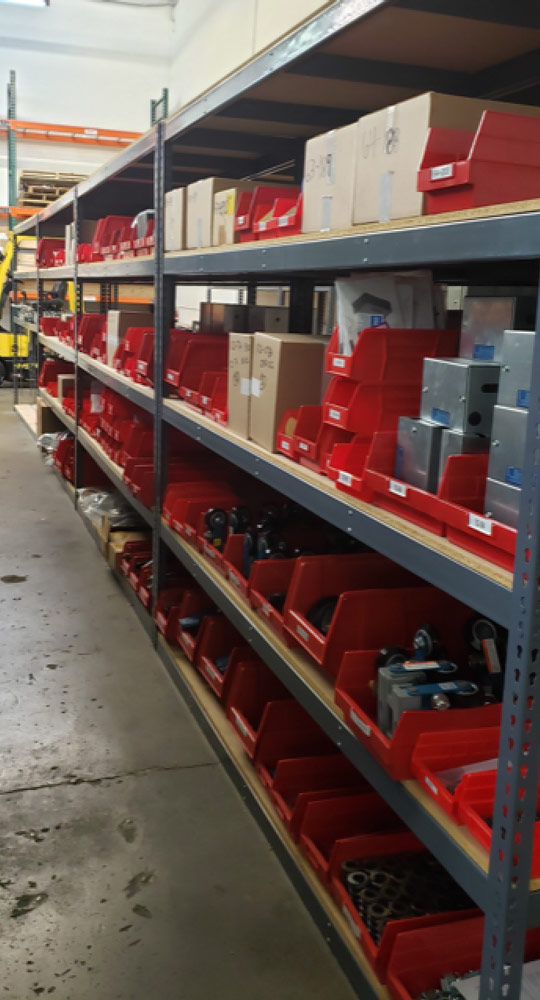 He shares another California VT success story:
"One of our customers was presented with an opportunity to modernize an elevator located in an L.A. flour mill. Several companies had looked at the work, but declined to submit a proposal. With the assistance of the local Vantage team and the engineers at Elevator Controls, Hollister-Whitney and Courion, the work scope was devised with the contractor to deliver on customer requirements, which included specifics for an explosion-proof system. The contractor was awarded the job and will commence installation (in February 2022)."
In addition to supporting its customers both in California and beyond, the West RSC supports the local economy. Besides its six, full-time locally based team members, the center creates supplementary sales-tax revenue for Los Angeles County. The West RSC, Wilcox observes, also requires support from local service providers, such as for logistics.
In January, the center doubled its size to nearly 14,000 ft2.
Not unlike the rest of the world, Vantage and all its RSCs are facing challenges related to the pandemic. The RSCs must deal with supply-chain disruption. Wilcox says:
"Some schedules have been impacted but, by and large, with close customer communication, we have been successful in mitigating this. Over the past few years, Vantage has assembled a world-class supply-chain management team that has served our factories well. We endeavor to make sure that there are no surprises for our customers. With logistics continuing to be a challenge, safety stock at the West RSC (and all our RSCs) has been increased in an effort to maintain parts availability."
Regardless, the future looks bright for the West and all Vantage RSCs, Wilcox says. "Service and customer satisfaction are the keys to our success today and in the future," he states. The company has learned that making itself a key supplier — whether the customer is an independent or a multinational company — creates opportunity for all. The West RSC continues to focus on making reliability and making transactions easy for customers. "Vantage is investing in infrastructure to support those initiatives," Wilcox says. "We continue to evaluate the need for opening new RSCs and perhaps some smaller, local RSCs in California and elsewhere."
---
Get more of Elevator World. Sign up for our free e-newsletter.