Residential/hotel space on the way; terrorism concerns leveled at elevators.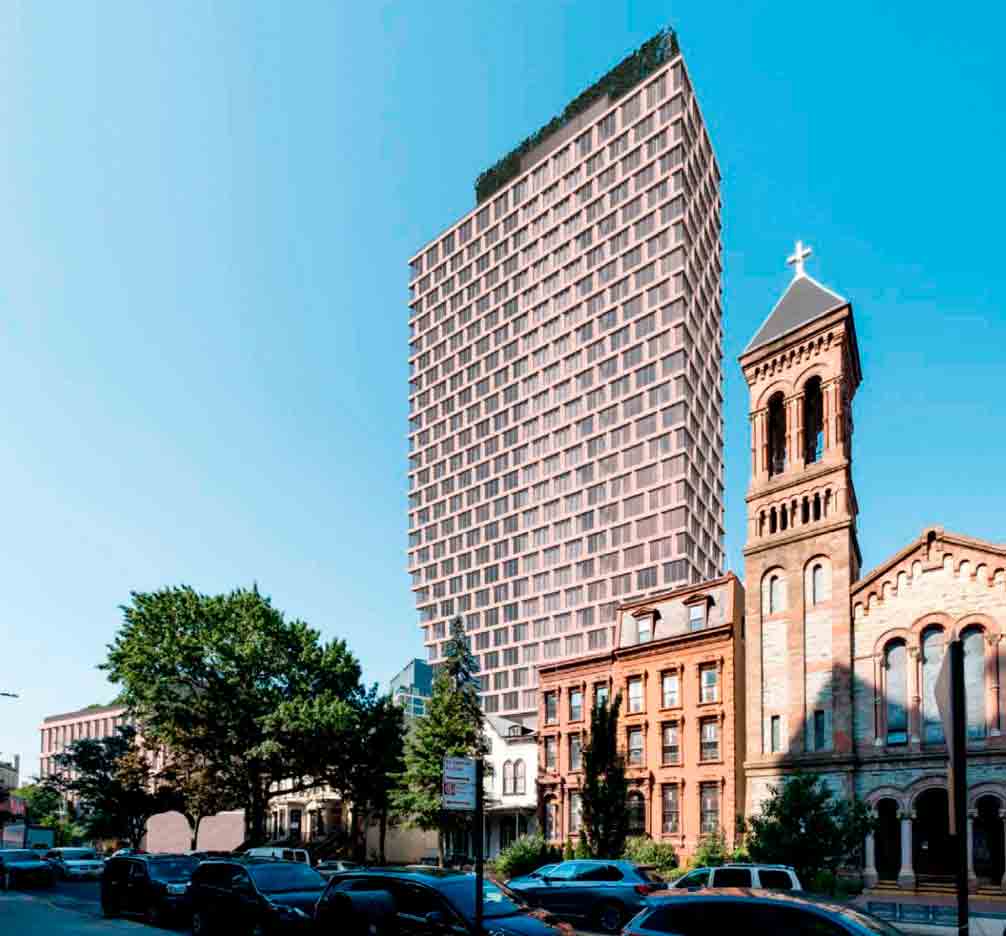 Financing Secured for 45-Story Chelsea Hotel
New York YIMBY reports progress in financing toward a high-rise hotel in the New York City (NYC) Chelsea neighborhood. Developer Eastern Consolidated has secured a US$121.35-million debt-and-equity package for the construction of a 45-story, 526-room hotel at 140 West 28th Street. The 419-ft.-tall tower holding 178,000 sq. ft. of space will include a 1,500-sq.-ft. public arcade, a fitness center and meeting and dining rooms. Lodging space will be divided between two Marriott brands, TownePlace Suites and Springhill Suites, with each having its own lobby but sharing common spaces. The location is within a short walk of several major NYC destinations, including the Fashion Institute of Technology campus, Penn Station, Madison Square Garden, the Hudson Yards District and the High Line park. Building design is by architect Gene Kaufman. The hotel is targeted for opening by the end of 2019.
Subway Elevators Spark Security Fears
Proposed 13-ft.-tall glass-and-metal elevators near the Stock Exchange and World Trade Center that would make the Broad Street subway station handicapped accessible are raising residents' security fears, the Tribeca Trib and The New York Times reported. Madison Equities, developer of 45 Broad Street, a 1,115-ft.-tall structure that would be the tallest residential building in Lower Manhattan (ELEVATOR WORLD, October 2016), has agreed to pay for the elevators in exchange for adding floors to their building. The Metropolitan Transportation Authority acknowledges a "critical need" for better accessibility, and the structures were previously approved by the Landmarks Preservation Commission.
Residents of 15 and 30 Broad Street point out they are not even allowed to place planters outside their buildings due to potential bomb threats, and that elevators will affect both property value and aesthetics. Though an independent security analyst hired by residents determined the units posed a threat, the New York Police Department "does not consider the elevators a concern," The New York Times stated. The project was in the public comment stage in January, with a City Planning Commission vote imminent.
Adjmi-Designed Residential Tower for Brooklyn
A 29-story, 312-ft.-tall residential tower designed by Morris Adjmi with help from historic preservation specialist Li Salzman Architects is planned at 550 Clinton Avenue in Brooklyn's Clinton Hill neighborhood, New York YIMBY reported. The plan was making its way through the Landmarks Preservation Commission earlier this year, as the site is nearly next door to the 1800s-era Church of St. Luke and St. Matthew. Featuring a precast concrete façade and expansive windows, the project would include 202,041 sq. ft. of residential space and 34,258 sq. ft. of retail. The location is prime, with plentiful subway access at the Barclays Center a few blocks west. Hope Street Capital is the developer.
New Rochelle Residential Tower Progresses
A 28-story residential building at 587 Main Street in New Rochelle, New York, is making considerable progress toward its scheduled completion later this year, New York YIMBY reported in early January. The building, which will provide 280 units and 294 parking spaces, had risen to 20 stories, though façade installation had yet to begin. The design incorporates the façade of a historic Loew's Theatre, and the new structure will include 10,000 sq. ft. dedicated to a new theater. It will also house 8,000 sq. ft. of retail space.
Get more of Elevator World. Sign up for our free e-newsletter.