Roberto Zappa, Chairman and CEO of Sematic, Always Finds Opportunity for Growth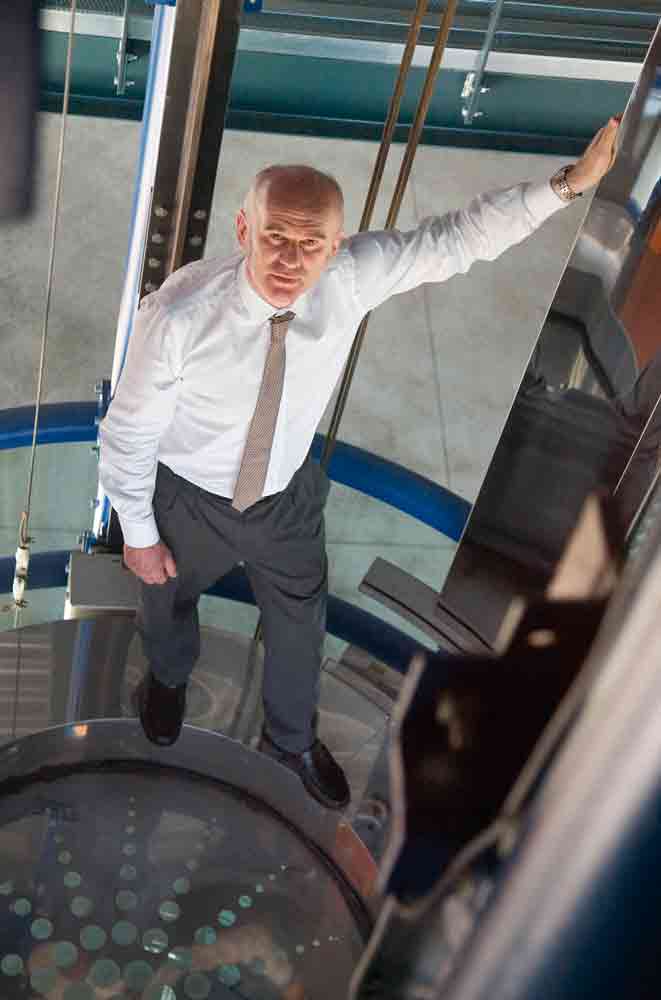 Zappa discusses his journey in the elevator industry and history at Semantic Group.
Chairman and CEO of Italy-based Sematic Group since 2000, Milan, Italy, native Roberto Zappa grew up in the elevator industry. "Elevators are a family business for me: my father founded the company that later became Sematic the same year I was born," he explained. Zappa's passion for engineering, and technical design and processes helped steer him to the industry, as well. Zappa holds a degree in Civil Engineering from Politecnico di Milano in Milan. At work, he enjoys the challenge of finding solutions to architecturally and technically complex problems. Fortunately for him, he faces these at Sematic every workday.
Zappa's work at Sematic began when he was a young man. Over the years, he has held numerous positions of increasing responsibilities within the company to better understand all the facets of the business. He recalls always liking "the smell of grease" in the factory. Near the age of 11, he went to the Sematic plant after school to assemble small parts. This unpaid work helped him understand the basics of mechanics. As Zappa grew up, he worked in the Sales and Manufacturing departments until his two brothers joined the business a few years later. For many years, he had been in charge of the Sematic Engineering Department, directly taking care of the development of the products and technical solutions Sematic offers the market. He did all this while participating in local and international technical committees.
Zappa has also kept an eye toward the international market, as well. He promoted a global company since the 1980s. In 2000, Sematic began using the name "Sematic Group" to reflect this aspect. In addition to having been involved with Italian fire and elevator committee UNI and the Comité Européen de Normalisation, Zappa takes part in International Organization for Standardization working groups; is a Management Committee member of the European Elevator Association; a companion of the Chartered Institution of Building Services Engineers; and a member of the International Association of Elevator Engineers, Associations' Advisory Group and Institute of Directors.
Zappa regards his father as his first and only mentor, training him "to never give up in the belief that there is always a solution to any problem, if treated with passion." Zappa applies this to his career, noting the biggest challenge of which is increasing globalization. He remarks, "My company is at a good level of global positioning, but the speed imposed by some fast-growing markets imposes continuous changes. This can be achieved only with a 'winning team.'" He supports his team by striving to be present and proactive, analyzing the overall industry scenario and adapting Sematic's plans to new circumstances and opportunities. Zappa says of his role:
"In my position, I have to share my vision and direct employees' steps towards it, taking the correct decisions and actions, in order to have Sematic ready to react to unexpected changes in the industry."
His longtime involvement in the industry lends Zappa the experience he needs to gain an edge. "Furthermore, thanks to my academic background and professional career," he adds, "I have [also] gained significant expertise in the technical field, working at the development of innovative and unconventional mechanical and engineering solutions for the design and manufacturing of elevator components." He cites Sematic's launch of the first door without mechanical coupling, the Sematic Wireless System (2000 SWS), as an example.
The most rewarding aspect Zappa finds in his work is taking pride in his company's products that help improve people's lives and safety. Zappa also enjoys facing and solving the daily complex technical problems and projects of Sematic. Engineering challenges, he says, are what keep the business on an upward trend, as it "has always been a company with a technical 'soul.'" Looking forward, Zappa remarks:
"New skyscrapers are outstanding engineering and architectural masterpieces and represent the solution for many of the problems linked to the sustainable growth of our urban habitat."
Sematic Group has made large investments in R&D for developing and testing a wide range of elevator products that can solve the critical problems posed by high-speed vertical transportation. Its products have been used in many of the world's most advanced and significant high-rise buildings, such as the World Trade Center Tower in Beijing; Burnham Tower in Chicago; the How Ming Tower in Hong Kong; Titanium Tower in Santiago, Chile; Greenland Square Zifeng Tower in Nanjing, China; Begovaya Tower in Moscow; and Freedom Tower in [New York City].
More specifically, according to Zappa, much of the industry's future lies in the need for high-volume, low-cost products to India and China. However, he warns:
"This aspect poses a great challenge that could be seen also as a threat: providing cost-efficient solutions without losing quality, safety and reliability. It's for sure something not easy to achieve without compromise."
Zappa plans for his company to continue its recent trajectory. Growing in both revenue and human resources, Sematic is investing heavily to improve its production processes and overall quality. Zappa elucidates:
"The results are already coming: our level of service and our key performance indicators show a very positive trend of improvement, recognized by our customers worldwide. . . . We will try to make all the needed efforts, in terms of solutions offered and services, in order to satisfy the specific needs of each local market."
Zappa credits much of his success to being curious and completely involved with what is going on in the industry. He says, "Knowing and understanding rules and standards can help you [develop] a winning product; participating in conferences and exhibitions can provide you new ideas and business opportunities. Getting involved is the key!" In the current economic climate, Zappa emphasizes seeing the positive side of a negative situation. He explains:
"In spite of all the obvious negative consequences of a recession, it can also be a good time to expand and develop the business, as [much] of the competition will probably be doing the complete opposite. Customers do not completely stop looking for solutions to their problems, but they might begin looking for better value. If your products offer that, then [a] recession could turn into an opportunity!"
An avid reader of ELEVATOR WORLD and ELENET, Zappa also keeps up with other industry magazines and newsletters, and strives to stay abreast of anything he thinks can help his position in the industry, from technical issues and new products to organizational techniques and special projects. He and his company attend Interlift, the World Elevator Escalator Expo, the International Elevator and Escalator Expo, Elevcon and the annual National Association of Elevator Contractors/United conventions. While he considers these useful for networking and being updated on industry news, Zappa believes our globalized world could benefit from fewer exhibitions worldwide, as the effort to participate or to be present can shift companies' focus on innovation, which he feels should be the main reason for an exhibition.
Married with two daughters and one son, Zappa resides in Bergamo, Italy, where he enjoys skiing, motorcycling, golfing and shooting when he's not working. At the age of 53, he remarks, "I am too young to think about retirement and still have a lot of things to do!" Your writer is confident Zappa's passion for elevator technology will carry him much further than his youth.
Get more of Elevator World. Sign up for our free e-newsletter.