Thinking "Outside the Box"
With challenging modernization in the Florida panhandle, the Cavinder family legacy continues.
Tapped by Commercial Elevator Consultants, LLC (CEC), Senior Consultant Jim Van Deusen to bid an elevator modernization in Fort Walton Beach on the Florida panhandle in early 2020, cousins Matt and Todd Cavinder, who lead Myrtle Beach, South Carolina-headquartered Cavinder Elevator Co., Inc., readily accepted the challenge. The challenge involved a single-elevator system serving the seven-story, 24-unit condominium complex Sea Dunes that had created problems for both the complex's occupants and its Board of Directors (BoD), who had spent tens of thousands of dollars over the years to ensure the system stayed up and running — vital, since many Sea Dunes occupants are older and have mobility issues.
Prior to Cavinder becoming involved, CEC performed an independent analysis of the system to better understand what was going on with it. Van Deusen says that analysis included:
Maintenance Control Program
Van Deusen recalls:
"The BoD's main goals were to reduce the amount of shutdowns, downtime, liability and repair/replacement expenditures, while increasing the reliability of the system and ensuring that the equipment could be maintained by multiple elevator contractors. An intent/challenge was soon born for a full nonproprietary system and components designed to hold up better in extreme environmental conditions."
An intent/challenge was soon born for a full nonproprietary system and components designed to hold up better in extreme environmental conditions."


— Senior Elevator Consultant Jim Van Deusen
Environmental Challenges
All along the Florida coast, those extreme weather conditions include heat, humidity, sand and (at times) hurricane-force winds. That's rough on vertical-transportation (VT) equipment, which can deteriorate quickly.
To address that and other issues, Cavinder Elevator distinguishes itself by providing VT systems that go above and beyond standard specifications, such as at Sea Dunes. Todd Cavinder says:
"This elevator is completely bulletproof. Many elevator companies put in VT systems at coastal properties that are more suited to Class-A office buildings. In a beach environment, that just doesn't work. After moving to the area, one of our mechanics said he had never seen rust like this before. It's just insane what happens in a beach environment. So, what we try to do is provide a system that's going to last. At Sea Dunes, for example, we went a step further than having upgraded, galvanized door headers; we used a stainless steel 316 finish. Even the door equipment is in a NEMA-rated enclosure. For indicators like emergency fire instructions, we installed slots into which the property manager can insert brand-new fixtures when needed. A lot of companies use stickers, and they just wear off and look bad."
Before elevator work could begin at Sea Dunes, the elevator's electrical system was monitored and tested by a licensed technician. To meet environmental challenges, a new location for the elevator control room was determined. The BoD also desired open-air elevator lobbies, which were worked into the plan.
Van Deusen says Cavinder Elevator was determined to fulfill the client's needs, and was a "perfect fit" due to the company's experience, particularly with proprietary-to-non-proprietary conversions; long industry relationships; familiarity with installing components suited to a harsh oceanfront environment; and "dedication to customer satisfaction."
Evolution of an Elevator Family
Observing that growing an elevator company is "more like chess than checkers," Matt Cavinder says "outside-the-box" thinking and relationships with manufacturers, associations and colleagues are vital. Watching his dad, grandfather, uncles and cousins execute their strategies and grow their businesses "instilled a passion for the elevator industry in our entire family," Matt Cavinder states.
Matt and Todd Cavinder's grandfather, Paul Cavinder, founded Fairhall Elevator Inc. in Danville, Illinois, in the early 1960s. In 1975, Paul Cavinder purchased the Indianapolis operations of Armor Elevator Co., adding to Fairhall's existing operations in Danville, Lafayette and Terre Haute, Indiana; and Bloomington, Champaign, Kankakee and Peoria, Illinois. In the 1970s, Paul and his son, Tom (Todd Cavinder's father), purchased Economy Elevator of South Bend, Indiana, which later became Cavinder Elevator. The Cavinders' entry into the Florida market came in 1987 when Paul and Tom purchased General Elevator Sales & Service in Orlando.
Soon after the acquisitions-driven growth spurt, Tom Cavinder sold his shares to his brothers: David (Matt Cavinder's father), Bill, Paul Jr. and Mike. All had worked in the elevator business from a very young age. Matt Cavinder says his father worked at General Elevator with his brothers until he retired in the early 2000s. General was then sold to Jordan Investments, which in turn sold General to ThyssenKrupp.
Watching his grandfather, uncles and cousins execute their strategies and grow their businesses "instilled a passion for the elevator industry in our entire family,"

Matt Cavinder states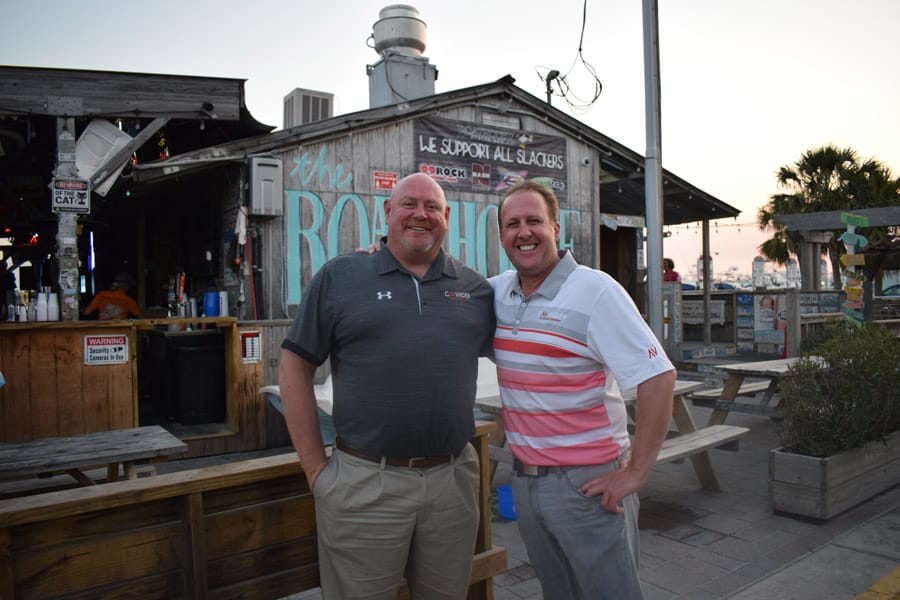 Matt Cavinder began his elevator career in the field at General Elevator prior to taking a district sales manager position at ThyssenKrupp, overseeing Virginia, the Carolinas and Georgia. In that position for 13 years, Matt Cavinder was recognized as ThyssenKrupp's top sales agent in 2010. Tom's two sons — Todd and Tommy — worked for Otis for less than a year after Cavinder Elevator was sold to Otis. That didn't suit them, though, so Tommy and Todd formed Southwest Elevator with locations in Phoenix and Fort Worth, Texas. With Tommy Cavinder at the helm as president, Southwest still operates and has many major jobs under its belt, including modernization of the VT system serving the 40- and 38-story towers comprising Sundance Square in Fort Worth in 2009. Like Sea Dunes, that was a proprietary to non-proprietary conversion.
In 2013, when Matt Cavinder was still leading sales in the Carolinas, his cousin Todd expressed interest in coming to the Carolinas, where Matt was based as regional ThyssenKrupp sales manager. "After much discussion, we decided to form an independent union called Cavinder Elevator Co., Inc., in Myrtle Beach, South Carolina, in 2015" after Matt's resignation from ThyssenKrupp.
In addition to Matt and Todd Cavinder, the Myrtle Beach operation had one mechanic and one office manager when it began. It has grown quite a bit in the past six years, now with three branches covering coastal areas from Top Sail, North Carolina, to Savannah, Georgia, and across the Florida panhandle from Panama City Beach to Navarre Beach. Opened in conjunction with the Sea Dunes job approximately two years ago, its Florida branch is based in Santa Rosa Beach, about 26 miles east of Sea Dunes.
Rising to the Challenge
Upon getting the call from Van Deusen about the Sea Dunes elevator job, Matt Cavinder recalls:
"Todd and I took on the challenge, and Todd started calling our vendors. Torin was among those that said they had the solution, and they estimated the Sea Dunes job, after which I sold the job to the Sea Dunes BoD. Upon completing surveys, we hit a wall because the Torin product did not work out.. . ."
"That's where Imperial came in," says Todd Cavinder, who called higher-ups he knew at Imperial and learned the company was working on a prototype that they would allow Cavinder Elevator to be the first to install. "This was the first of its kind in the country, and ended up being a fantastic solution," Matt Cavinder says.
Spending time in the Florida panhandle area, Matt Cavinder spoke with several local property groups and learned about a lack of service in the area, as many providers were driving more than two hours to service their customers. "I decided to take a leap of faith and start another branch in Santa Rosa Beach," Matt Cavinder says. "In one year, we have grown at a rapid pace and continue to daily."
As of June, Cavinder Elevator has more than 1,200 units under service with 15 mechanics, eight assistants, one service manager, an office manager, an assistant office manager and two sales managers, in addition to Matt and Todd Cavinder, companywide. From his home base in Myrtle Beach, Matt Cavinder continues to oversee sales and operations in all branches, with a focus on new sales in the Florida market. Todd Cavinder, who lives in Arizona, assists with bidding modernizations.
Matt Cavinder says:
"The passion of the elevator industry has been instilled in our entire family, originating from Paul Cavinder's love for the business. Now the third generation, we are taking that knowledge to another level while still keeping customer service and integrity at the forefront, as our grandfather did all those years ago. Our fathers and great leaders, David and Tom, better known as 'the legends,' have always been interested in the success of Cavinder Elevator and offer valuable insight and advice whenever we need it.
"Sea Dunes is a prime example of using out-of-the-box thinking to find solutions to meet customer needs. We owe a great deal of thanks to the manufacturers in the National Association of Elevator Contractors, with whom we work closely, who are always finding solutions for the elevator industry. I love this industry and the competition it brings, and wake up every day wanting to help owners meet their next challenge."
This [machine] was the first of its kind in the country, and ended up being a fantastic solution."

— Cavinder Elevator Vice President Matt Cavinder