Toronto and Greater Vancouver see high-rise construction progress, a plan and an approval.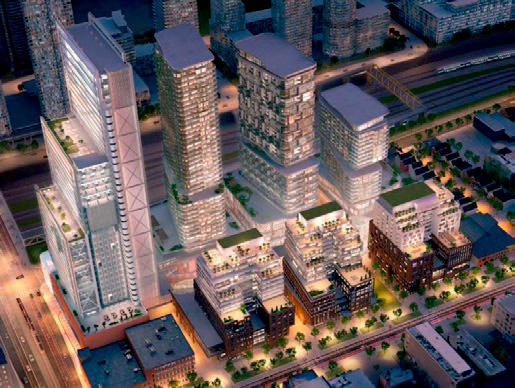 The Well Megaproject Progressing in Toronto
Construction work on The Well (ELEVATOR WORLD, August 2019), occupying nearly a full city block at Spadina Avenue and Front Street in downtown Toronto, is showing good progress, Urban Toronto reported in August. The mixed-use megaproject, being put together by a team of developers and architects, will eventually see a 36-story office tower and residential buildings — both rental apartments and condominiums — of 14, 16, 22, 39 and 46 stories. The office tower, designed by Hariri Pontarini Architects for developers Allied REIT and RioCan REIT, will be the tallest building in the community and is currently the furthest along in construction. It added 10 stories in height between January and August, then standing 23 stories tall. The first panels of a green-tinted curtainwall system had been applied to much of the podium's third floor, and cladding installation had progressed beyond the podium to the tower above. Immediately west of the office tower, the fifth podium level was taking shape for the complex's 46-story RioCan Living rental tower, while farther west, the fourth podium level was in progress for the 39-story Tridel condo tower. Additionally, the ground floor was under construction for the 22-story Tridel condo tower.
31-Story Condo Tower Plus Affordable Rentals for Burnaby
Young Women's Christian Association (YWCA) and Qualex Landmark unveiled plans for a 31-story, 247-unit condominium tower plus 32 non-market-rate rental units at 4275 Grange Street in Burnaby, part of the Vancouver metropolitan area, Daily Hive Vancouver reported in July. RWA Architecture handled the relatively basic design. In line with YWCA's mission to serve women and children, the low-rise rental homes will be priced at only 20% of Canada Mortgage and Housing Corp.'s median rents. Currently housing a 1970s midrise structure, the site is close to major bus routes and a SkyTrain station, but four levels of underground parking for 279 vehicles are also on the drawing board.
Vancouver Council OKs Controversial Residential Tower
Despite controversy, the City Council in Vancouver approved a 28-story, 258-unit residential tower at 2538 Birch Street, Vancouver Is Awesome reported in July. Jameson Development Corp. originally pitched a 17-story, market-rate rental tower, which was approved by the council, but went back to the drawing board to incorporate units for moderate-income families. Under Vancouver's new Moderate Income Rental Housing Pilot Program (MIRP), 58 of the units will be set aside for households earning between CAD30,000 (US$22,414) and CAD80,000 (US$59,773) per year. Dissenting council members want more MIRP units and worry about gentrification of the neighborhood. The tower is set to take shape on the site of an old Denny's restaurant at West Broadway.
Get more of Elevator World. Sign up for our free e-newsletter.