U.K. trade publication changes hands, KONE honored, and partnership made in Moscow.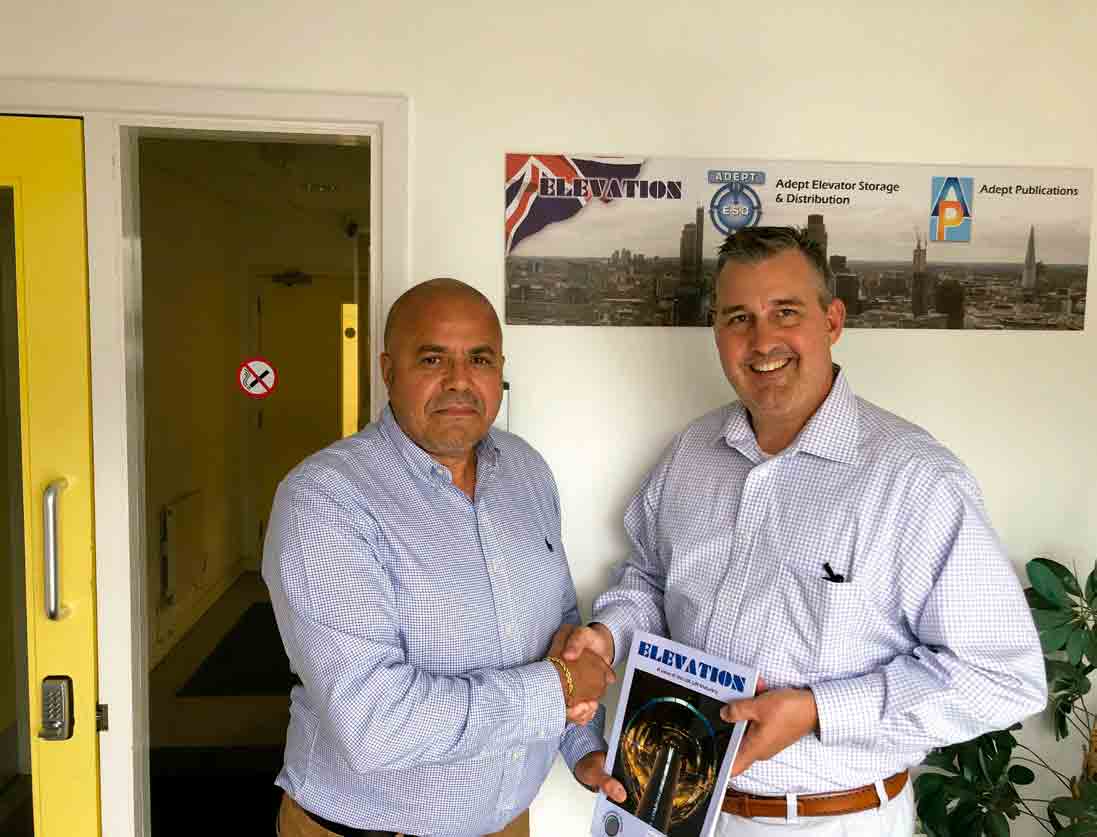 Elevator World Acquires U.K. Magazine Elevation
Elevator World, Inc. has acquired the U.K.-based magazine Elevation. Launched by industry veteran Ish Buckingham as a quarterly publication in 1994, Elevation specifically targets the British lift industry. Buckingham served as managing director and editor from the publication's inception until his retirement earlier this year. It is the U.K.'s only lift trade magazine and reaches more than 2,000 readers.
Executive Vice President of Elevator World T. Bruce MacKinnon commented:
"Elevator World, Inc., saw this as an opportunity to fully represent the U.K. lift industry and build upon Elevation's 24-year history. As an organization, we are excited to begin working and meeting with the local industry to better understand how we can help their businesses, while providing the relevant and trustworthy news for which Elevator World is known."
David Cooper, ELEVATOR WORLD correspondent, managing director of U.K.-based consultancy LECS (UK) Ltd. and longtime Elevation editorial contributor, will serve as its editor. He is the contact for editorial submissions and inquiries within the U.K. at [email protected] For international editorial submissions and inquiries, email [email protected] Elevation staff member Suzanne McCoy is the contact for editorial and general inquiries within the U.K. at [email protected] For advertising inquiries, contact MacKinnon at [email protected]
Forbes Names KONE Among Most-Innovative Companies
In a May 31 announcement, Forbes magazine listed KONE among the world's 100 most-innovative companies for 2018, placing the Finland-based elevator and escalator company 59th on this, the eighth annual list of companies that demonstrate creative disruption and innovation. The ranking made KONE the seventh-most-innovative company in Europe, and it was the only elevator and escalator company on the list.
Some of KONE's recent innovations include KONE 24/7 Connected Services, designed to bring safety, transparency and predictability to services for elevators and escalators; predict faults before they happen; and monitor equipment in real time. The company also introduced a new digital platform to create integrated and tailored solutions. Finally, the company noted development of its UltraRope® elevator hoisting technology.
Other well-known companies on the list include electric carmaker Tesla, online retailer and tech company Amazon and social-media giant Facebook. The full list can be seen at forbes.com.
Belarusian/Russian Elevator Production to Launch in Moscow
Belarus-based Mogilevliftmash and Russia's Vozduhotehnika have agreed to start producing elevators in Moscow this year, reaching an annual capacity of 10,000 units, Belteleradiocompany reported. The source observed more than 40,000 lifts were installed in Russia last year, with 90% produced domestically. All obsolete elevator equipment must be replaced in Russia by 2020 per Eurasian Economic Union technical requirements. Head of the Russian Lift Association Sergey Chernyshev said production of elevators in Moscow will "create healthy competition for existing Russian manufacturers, which will lead to an increase in the quality, quantity and technical characteristics of our elevators."
Get more of Elevator World. Sign up for our free e-newsletter.