Unorthodox architecture faces opposition, and new housing is coming online.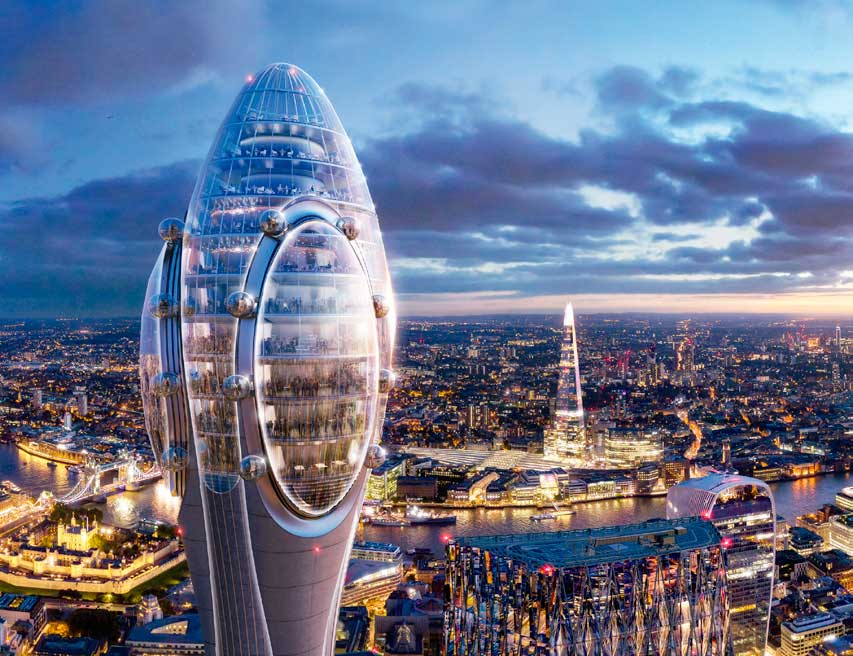 The Tulip Cultural Attraction Proposed in London Faces Hurdles
The owner of 30 St Mary Axe (also known as the Gherkin) (ELEVATOR WORLD, February 2016) in downtown London is working with architect Foster + Partners on plans to build a cultural attraction shaped like a tulip next door, the Architect's Journal reported, but the plan faces several hurdles, including concern from Historic England that it would detract from World Heritage Site the Tower of London. The London Airport Authority also wants the plan examined to determine whether it would interfere with its radar systems. At 305 m, The Tulip would be among the tallest structures in the city, standing slightly shorter than the 306-m-tall Shard but taller than the proposed, 290-m-tall 1 Undershaft (EW, February 2016). A cultural center, a sky bar and restaurants are planned for The Tulip's glazed observation levels. Rides in gondola pods and glass slides are also on the drawing boards. Completion could be as early as 2025.
Multitower Project Proposed in Greater Manchester
A masterplan for Michigan Avenue in the Salford Quays area of Greater Manchester foresees as many as 1,500 new homes across a series of towers that could rise as high as 45 stories, Architects' Journal reported in December. Jeffrey Bell Architects, a Manchester-based firm, submitted an outline planning application on behalf of developer Peel Land and Property and its parent company, Tokenhouse. The submission suggests three to six towers of 14 to 40 floors with the "potential" for 45 stories. The towers would include ground-floor commercial, topped by residential apartments, student accommodations and co-living units.
The application was given in the form of a "development framework" and listed the site as being adjacent to MediaCityUK, a 200-acre mixed-use "work, live and play" project developed by Peel Media, another Tokenhouse subsidiary.
Jeffrey Bell Architects said the development would create "a high-quality and coherent urban quarter," adding, "The revitalized area will have new streets and public spaces with more direct and seamless connections to surrounding neighborhoods." The firm was previously involved in a project to double the size of MediaCityUK.
World's Tallest Modular Buildings Mark Milestone in London
Tide Construction Ltd. in December 2018 marked a milestone in construction of what will be the world's tallest modular towers, at 44 and 38 stories, in the London borough of Croydon with completion of their concrete cores, Planning & Building Control Today reported. Tide's construction arm, Vision Modular, delivered the cores and is installing the modules — manufactured by Vision in Bedford, U.K. — around them. Developed by Greystar and Henderson Park, the development at 101 George Street will offer 546 rental homes and amenities including a winter garden, an art gallery, a business incubator and a café. With a construction timeframe of just over two years, 101 George Street represents "the future of construction," according to Greystar.
Lloyds Loan Paves Way for 33-Story Birmingham Tower
A US$34.8-million loan from Lloyds Bank is paving the way for Tower II of Aprirose's The Bank development in Birmingham, The Business Desk reported. Standing 33 stories and containing 217 apartments, it will join the 189-unit Tower I, a 21-story structure completed in June 2018. The shorter building was "the first standalone build-to-rent development scheme we backed in the U.K.," Selina Dicker, director of Lloyds real estate and housing division, said. Aprirose CEO Gary Jones said The Bank's Tower II will enhance Birmingham's skyline and help cement its reputation as a U.K. hub. Completion is anticipated by the end of 2019.
Orona Unveils Elevators Offering Zero Net Energy Use
Spanish company Orona has developed elevators that have achieved zero net energy consumption, the company announced during the eighth European Lift Congress Heilbronn, held October 16-17, 2018, in Villingen, Germany.
During a presentation entitled "Zero Energy Buildings and Self-Sustainable Lifts," company representatives gave details about two elevators installed at Orona's Hernani, Spain, headquarters. The elevators are installed in the Orona Zero building, a structure designed with energy storage systems and photovoltaic panels used as a source for generation of renewable energy. The elevators use these systems to achieve zero net energy consumption.
An analysis of data recorded over a five-month period by the project team suggests the building's energy storage capacity and reduced electricity requirements brought significant savings. The independent lifting principle allows for up to 85% savings on electricity costs and zero net energy consumption.
Buildings account for approximately 40% of energy consumption in Europe. The company said that, over the past few years, it has successfully reduced the energy consumption of an ordinary lift by as much as 75%, making an important contribution to the fulfillment of the European Union's (EU) Directive on Energy Consumption in Buildings, which stipulates that all new structures within the EU must be "nearly zero-energy buildings" by the end of 2020.
In addition to the European Lift Congress, Orona gave a presentation on the project at the Go Mobility Trade show, held on November 27-28 at the Gipuzkoa Trade Fair Centre in Irun, Spain.
Get more of Elevator World. Sign up for our free e-newsletter.