TKE modernization brings VT system serving corporate St. Paul HQ building into the 21st century.
photos by Ron Acord
Ecolab is a global leader in water, hygiene and infection-prevention solutions and services. Its products are available in 170 countries. Every day, Ecolab's goal is to make the world cleaner, safer and healthier by protecting people and vital resources.
Ecolab wanted a global headquarters building that reflected that mission, so it purchased a 1989 postmodern-designed tower from Travelers Insurance in downtown St. Paul, Minnesota. The building features 17 floors of office space, a learning center, a cafeteria and a company store for its 1,800 employees. Updating the building to meet the needs of a modern workforce required Ecolab to add enhanced acoustic treatments for soundproofing and lower workstations, as well as environmentally friendly upgrades such as LED lighting, motion sensors and low-flow restroom faucets and toilets. In total, Ecolab achieved a 30% reduction in energy use.
No less important was the need to modernize the tower's vertical-transportation (VT) system, which consisted of eight gearless, three hydraulic and one geared service elevator and two escalators. The original 20-year-old VT system experienced frequent shutdowns. Due to elevator delays, employees would have to build in 45 min of travel time to meet with the Ecolab executives, whose offices are located on the top floor.
When TK Elevator (TKE) began the modernization in March 2019, three of the elevators were completely inoperable. Another key challenge was accessibility. In the original VT system design, the only way to reach the main lobby was via an escalator, creating challenges for wheelchair-bound or otherwise disabled individuals, as well as those transporting anything not conducive to safe escalator use.
The Minneapolis/St. Paul office of VDA performed consultancy work for the project, which included the following specification components:
Adding an entrance to the low-rise elevators to achieve Americans with Disabilities Act (ADA) compliance
Replacing Westinghouse controllers with new regenerative drives to save energy.
Integrating card readers into each Destination-Dispatch (DD) fixture for inter-floor security
Installing an EMIS (energy management and information system) for enhanced security and operating features
Customizing service elevator cabs
Achieving increased performance via new controllers and drives
Replacing pump units and controllers on the hydraulic garage elevators
When TKE undertook this job, its first priority was to get all elevators up and running while still moving forward with the project. Multiple crews worked throughout the building during off-peak hours to avoid tenants in the morning and afternoon. Noise had to be managed strategically to ensure no disruption for employees. This meant moving materials and the machine room in the early mornings, before staff arrived onsite.
After the last car in each group was enabled, TKE replaced the Westinghouse dispatcher with its DD system that reduces traffic congestion, improves elevator performance and enhances aesthetics — even security — within buildings. Agile DD allows Ecolab to move its large tenant population during peak hours with little elevator wait time. Instead of 45 min. of building-movement planning, tenants set aside only 45 s to reach their destinations.
Prior to the modernization, it was common to have 20-30 people waiting in the lobby for an elevator. Now, there are no lines. As part of the modernization, two low-rise elevators were extended one floor down from the lobby so select visitors would no longer be required to take the escalators to the lobby.
Prior to the modernization, it was common to have 20-30 people waiting in the lobby for an elevator. Now, there are no lines.
To avoid future shutdown challenges, each elevator was also equipped with the MAX real-time, cloud-based predictive maintenance solution. The elevator enhancements improved uptime and passenger travel times without sacrificing speed and capacity.
For the escalators, TKE performed an in-truss modernization to transform the existing Westinghouse units into Velino ES Power escalators. Before the modernization, the units were noisy and uncomfortable, and existing conditions made working with them difficult — from surveying and fitting equipment to engineering. The new escalators use less lubricant, and accessibility to the controller is much easier as the machines are now located in the pit, instead of below the stairs, as they were previously.
The full modernization was completed in August 2020 and turned over to Ecolab. Now, as Ecolab continues its mission to make the world a safer place, it can rest easier that it has done exactly that for employees and visitors at its global headquarters in the heart of Minnesota's capital.
Dana Rice, VDA Minneapolis area manager, says the Ecolab VT modernization exemplifies the "wealth of knowledge" his team brings to each of the more than 37,000 projects the firm has handled both in the U.S. and internationally. "The Ecolab modernization project included extensive project coordination including upholding the highest standards for customer standards, which, in the end, all came together to improve the reliability, performance, security, energy savings and overall safety of this global headquarters and its occupants," Rice said.
In addition to TKE and VDA, architect Alliance and general contractor McGough were involved in the modernization.
---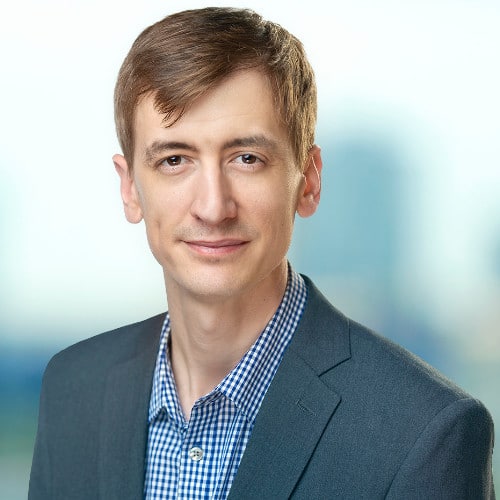 Ron Acord handles photography, videography and digital design for TKE. He is based in Frisco, Texas.