There's Something About Mary
Upon her retirement, KONE Spares' Mary Lewis reflects on a long and rewarding career.
FOCUS ON HYDRAULIC ELEVATORS AND COMPONENTS
Hydraulic Elevators in Europe and the U.S.
In this History article, we learn that VT technology was an international story from the very beginning. The history...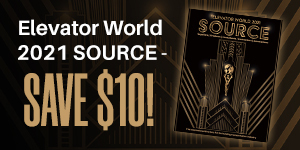 Order the print or digital edition of the Elevator World 2021 SOURCE Directory and SAVE US$10! Just use coupon code "source2021" at checkout. The SOURCE is used worldwide by elevator…
Read More
An Introduction to Industry Solutions Over the course of a year, we have observed a new world where everything seems…
Read More
How to identify and prevent traction sheave damage due to unequal rope tension
Read More