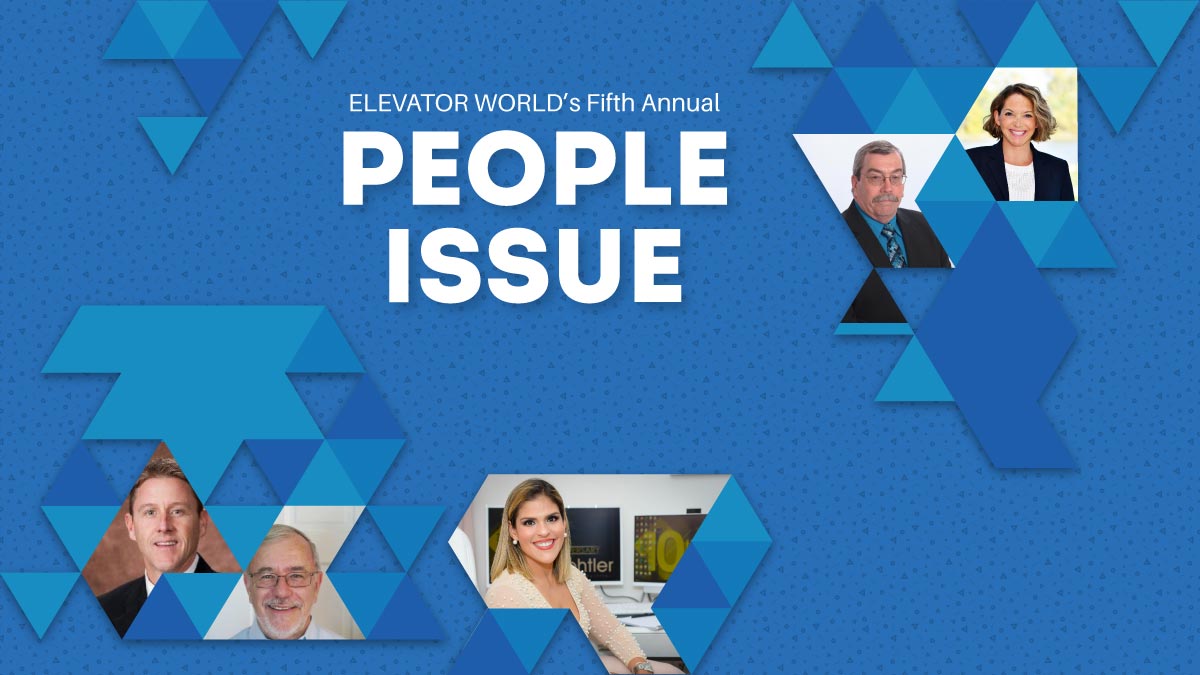 Regardless of physical location or whether they work in the office or the field, with numbers, words or both, the 14 vertical-transportation (VT) industry professionals selected for this year's People Issue have several traits in common. Without exception, they are leaders — lifelong learners and teachers full of smarts and determination who are passionate about the VT industry. More than one third (six) are women ranging from entrepreneurs/company founders to code experts/consultants to sales and HR professionals. Some come from multigenerational elevator families, and some do not. Several came from careers outside the VT industry, but once they became part of it, there was no turning back. Our honorees hail from all other North America and beyond. Two — a man and a woman who each oversee their own departments — are from one company in Salisbury, Maryland.
As always, several VT professionals recognized make an undisputed VT industry hotspot — the NYC metro area — home base. We also have honorees from Boston; Mexico City; Miami; Moline, Illinois; Farmington, Connecticut; Taiwan and Mississauga, Canada.
Farmington might have clued you in that at least one of our honorees is from a major — Otis, to be exact. Two employees of the OEM are profiled here, one based in Taiwan and the other at company headquarters in Farmington, although he is a native of India who grew up in a 300-hut village. That individual is an IT expert (as well as an inventor with 22 patents) who played a key role in developing Otis technology that is used around the world. He has come a long way from that tiny village where farming was a way of life.
Along with remarkable accomplishments despite sometimes tough odds, our honorees sometimes present surprises, such as the CEO of one of North America's fastest-growing independent elevator companies who is also a highly regarded high school football coach. Many of them credit numerous mentors for inspiring and guiding them, and love to stay involved in industry organizations like the National Association of Elevator Contractors and NAESA International. Although 300 words is not nearly enough to honor these individuals, we believe these profiles provide an overview of what makes them special.
Issam Abughali
Schindler
Managing a company's supply chain, exports and engineering is no small task in today's global scenario. For Schindler Middle East and North Africa (MENA) Director of Supply Chain, Engineering and Exports Issam Abughali, supply chain management (SCM) is a passion. "I feel that SCM is the backbone of any successful business," he says, continuing:
"At Schindler, we lead through our core values of safety, quality, code of conduct and customer-centricity. These core values match perfectly with my personal values, and make workflow much more manageable."

The graduate of The American University in Cairo has been with Schindler MENA for nearly 10 years, holding roles of increasing responsibility since 2012, when he joined the company as supply chain director. A "proud Palestinian" who lives in Dubai, Abughali held that position for nearly six years, at which point the export division came under his purview. Three years later, engineering would be added to the mix.
Looking back over Abughali's accomplishments, one word comes to mind: efficiency. He pioneered a new SCM department that resulted in considerable annual savings on local materials and services through "aggregating demand and improving procurement processes, as well as widening our supplier database with a focus on quality, lead times and on-time deliveries." As for exports, Abughali expanded Schindler's reach into Jordan, Iraq, Palestine and Libya.He consistently meets sales targets while implementing ongoing operational improvements.
Abughali shares his knowledge as a professional speaker at trade shows, and says, in addition to SCM, "people management" motivates him.
Amy DiPaolo
Champion Elevator
Amy DiPaolo, senior vice president at Champion Elevator in Clinton, New Jersey, says she views every challenge as a way to grow, which is an asset in the challenging business of vertical transportation, where every day can be different and full of the unexpected.
DiPaolo's elevator industry career began in 1989 when she was a teenager and took a job with Dover Elevator in Manhattan, NY. From there, she was hired as an expeditor with the New York City Department of Buildings. She's held a variety of titles with various companies since those early days. Today, in her role at Champion, she is responsible for all aspects of the operation. When asked to name her favorite aspect of her job, she said, "That's a hard question to answer. I've always loved the thrill of the sale, but I receive great satisfaction out of completing quality projects for our customers."
One such project took place when DiPaolo was working for KONE. She said:
"During that time, I was the point person for the United Nations bid, which involved elevator and escalation modernizations throughout the complex. On my last day of employment at KONE, I was awarded the modernization project. It was a lot of work and a huge accomplishment that I am proud of."
DiPaolo's had numerous proud moments and mentors throughout her career. She counts Ed Defilippis, whom she met at Thyssenkrupp Elevator in 1994, as her most influential mentor. "He taught me the social aspect of the industry, and the importance of relationship building," she explained. "Although it is your personal effort that drives your success, you can't be successful alone. It's important to be humble and remember that."
Chih Ming Lin
Otis Taiwan
Chih Ming Lin joined Otis more than 25 years ago after his national service with the army in Taiwan. With a degree in electrical engineering, he started his career at Otis as an engineer with the field operation team, responsible for examining and repairing printed circuit boards. He then worked as a test engineer for new equipment, gained experience in maintenance and took on a managing role for technical operations. He is now superintendent of the Mass Rapid Transit (MRT) division.
During his time in this role, Lin has participated in several metro projects, including the airport express lines, Xin-Yi Line, Circular Line and Songshan Line, where he obtained his first project management experience. "These projects became part of my Otis memories, and the transportation team is part of my beloved family," Lin said.
His nominator said that Lin likes working for the metro company because of the teamwork, adding:
"He always believes what he does is not only moving people literally but also made to move people. He likes the company's continuous improvement to make life better. The metro is the tool that his family uses every day, and he knows there is nothing more important to Otis than the safety of the people who rely on our products and services."
Lin credits his mentor and friend, Huan-Pu (Paul) Tseng, with his interest in vertical transportation, as well as his personal and professional growth. Lin said:
"I like that Otis keeps us on the move — where I can continue to build my skillset. Otis has given me a lot of opportunities to advance myself for different job rotations. From engineering to managing, I've learned the most important aspect is to put people in the center, to understand the challenges from the fundamental needs. To me, responsibility and a positive attitude toward teamwork are essential mindsets."
Angel Luna
Triumph Electrical Supply
Growing up in a single parent home in Bronx, NY, with a mother who worked two jobs to support five children, Angel Luna knew that college was not a realistic option for him. He decided to enter the United States Marine Corps straight out of high school and, in doing so, said he received "the best education that money can buy." After his tour, he worked for an electrical supply company that started an elevator division. He said:
"I was fascinated with all the different elevator products but, more importantly, the people in the industry. I was pleasantly surprised at how everyone was so friendly and very helpful in teaching me how the products work and how everything comes together. I was instantly hooked with the industry. How could you not be?"
Now, as the president of Triumph Electrical Supply, which he started in 2019, he has more than 30 years of experience under his belt and said that one of his favorite success stories is what Triumph has been able to accomplish with Argus Elevator Products. They took a company that was new to the industry and, now, three years later, they have sold 8,000 units and signed a major OEM to a contract to fulfill national door lock monitoring requirements.
Luna says that at Triumph, they believe in doing business differently, especially as an owner-operated business, and that this has helped the business grow. At the time of this interview, Triumph was in the process of moving into a 25,000-ft2 facility in Mineola, New York.
Luna's nominator agrees with this assessment of what has led to Luna's success: "With Angel's mix of quick wit, humbleness and understanding and the experiences of where he grew from, it is no coincidence his customers speak highly of both him and Triumph."
John Miles
Delaware Elevator
A lot of people enjoy landing as a worker in a busy industry, and John Miles is no different. Yes, he is a dedicated member of the elevator industry and, yes, he started somewhere else. But there are two things about his work attitude he won't change: his love of working, and his love for helping elevator riders get where they're going. "At the ripe age of 15, I had worked various jobs that consisted of lawn care in the spring, summer and fall seasons and automotive repair intermittently throughout the year," he recalled. He enjoyed this so much that at age 16 he started his own lawn-service business. It was good work, but by age 18, he wanted something different. First, it was working in asphalt, but a friend at Delaware Elevator, Inc., told Miles of opportunities waiting there. "My friend's advice was taken seriously, and I found myself sitting across a table from another long-term employee, Jeff Murdock, and some guy named Charles 'Pete' Meeks, who I later found out was the company's president." It was at this moment that Miles knew what he wanted to do with his life. Starting off cleaning the floors, he's worked his way up, today running the company's Quality Assurance Management section.
Early on in his career in the industry, Miles was working as a technician helping modernize electric basement traction elevators in Annapolis, Maryland. More recently, he was involved in working on new elevators at the Museum of the Bible project in Washington, D.C. There are many different positions in the vertical-transportation industry — sales, designing, communication — but for Miles, the most interesting is installation. "The daily challenges with both new and older technology keeps your mind sharp and your skills polished, he said."
Janet Moore
Syska Hennessy Group
In 1975, when Janet Moore was studying to earn her electrical engineering degree, an independent elevator company hired her to help manage new construction and modernization projects. Her study of "all things code" commenced, and her interest never waned. As Syska Hennessy Group's New England director of vertical transportation (VT), the Boston-based professional says consulting is her current passion. She enjoys delving into codes and being instrumental in successful new construction and modernization VT projects. Architects have come to depend on her responsiveness and accuracy, which she attributes to being QEI certified and taking advantage of education offered by NAESA International. Prior to joining Syska Hennessy, Moore led sales at Schindler/Millar Elevator Co. She says her growth at Syska Hennessy was facilitated by many mentors, among them the late G. Gahr Finney and previous supervisor Fred Ilacqua. During her 19 years at the firm, Moore has provided VT services for many high-end clients. Her experience encompasses VT design, traffic and feasibility studies, due diligence, budget analysis and construction administration.
A few projects with which she was involved were particularly memorable. Of one, she says:
"The project was at a major Boston hospital for two critical-usage simplex DC gearless patient-transport elevators. The elevators were to be relocated above. Field measurements required precision to properly design the new machine room. New AC gearless machines were installed, as well as a complete modernization. The feats of coordination required all efforts not only by Syska Hennessy, but also the elevator contractor, the general contractor and the owner. Despite complexities, as well as some nail-biting and deep breaths, the project was completed with success."
Ezhil Nanjappan
Otis
As Otis' chief technology officer, Ezhil Nanjappan plays a key role in, as his nominator says, "using innovative technologies to transform existing business models, products and services." Nanjappan helped develop the Otis ONE™ IoT service platform, as well as a suite of mobile apps that collect and share performance data, aid in diagnostics and speed spare parts delivery. Like company founder Elisha Graves Otis, Nanjappan innovates in his spare time. He holds 22 patents, among them the Smart Wedge (ELEVATOR WORLD, November 2018) — the simple mechanical tool used by mechanics to secure cab doors, but with sensors and Bluetooth® that enable it to launch a safety app — and the Smart Hardhat — imparting similar capabilities to the humble hardhat. Based in Farmington, Connecticut, where Otis is headquartered, Nanjappan says he is proud to be "part of the Otis family," stating:
"It is such a great opportunity to help build smart, sustainable cities with green technology and smart elevators. Enhancing our technology means building better value for our customers and shareholders. Empowering employees and prioritizing safety is part of Otis' mission statement, and technology certainly plays a role in that."
Nanjappan conceived his own Otis acronym: Optimize, Transform, Innovate and Standardize, and that is the mission he intends to continue to follow at the company, for which he has worked since 2012. He has come a long way from the 300-hut village in India where his family farmed and he walked three miles to school each day. He saw his first computer on his second day of college and, by his third year of working toward a bachelor's degree in computer science and engineering, "knew [he] was a full-fledged computer networking person."
Kelly Oberhardt
KONE Spares
A resident of East Moline, Illinois, where she and her husband are raising two young sons, Kelly Oberhardt became hooked on the vertical-transportation (VT) industry when she was a teenager. That was through a school-work program that placed her at Moline-headquartered KONE Spares. In 2003, she began working part time there as a KC3 agent, responsible for taking customer calls, identifying them in the KONE database and connecting them with the proper department. Before Oberhardt got to know the many VT professionals who would mentor her, "at first it was more about KONE, and about realizing how many different opportunities were available." After earning a bachelor's degree in business from Western Illinois University, Oberhardt stayed with KONE Spares, working her way up from KC3 agent to shift coordinator, senior sales representative and, ultimately, sales manager, a position she has held for more than six years. Throughout that time, she has stood out, says her nominator. "She has become one of the most amazing, capable and driven people at KONE," he says. "She is always positive, always looking out for the customer and always pushing the industry forward."
Among those Oberhardt feels fortunate to have worked with during her 18 years with KONE include Christine Julien, John Jaster, Wayne Dowty, Linda Thornbloom, Mary Lewis, Mario Jones, and Mark Witkowski, each mentoring her at one stage or another. Oberhardt loves interacting internally with KONE colleagues and externally with VT industry members at conventions and while collaborating on projects. "I've found that my sweet spot is working with teams to solve challenges, whether that's assembling a sales team or facilitating an escalator rebuild," she says. "Every week brings something different, and that's one of the greatest things about the industry — the variety."
Veronica Querales
Kohtler Elevator Industries
"Amazing" is a word nominators use to describe Veronica Querales, CEO of Miami-based Kohtler Elevator Industries, Inc. A native of Puerto Rico, Querales is the eldest of four sisters who are active, passionate members of the elevator industry, all inspired by their dad, who passed away in 2012. At that time, Querales wasn't sure whether to close his elevator service business or keep it going. "But then something clicked in me," she says, "and I became determined to keep the dream alive." Querales had been working in her family's elevator service company since high school in the early 1990s. Entrepreneurship is no stranger to her: One of her fondest childhood memories is starting a business with her sisters that sold more than 600 cupcakes over a single summer.
Determined to realize her father's dream of running an elevator manufacturing company in Miami, Querales launched elevator cab, entrance and door manufacturer Kohtler in 2008. By this time, she had both education and experience, holding degrees in business administration, accounting and electrical engineering from the Polytechnic University of Puerto Rico, as well as an MBA from the University of Phoenix. Today, she provides strategic leadership and facilitates constant innovations that add value to company products and keep customers happy. She says one of the best parts of being her own boss is being able to spend time with her husband and their two children. Challenges, she says, are "opportunities that will help me grow and learn more," elaborating:
"The biggest lesson I've learned is how to face my fears, be grateful and always go for my dreams. I now know I can achieve anything by having a strong WHY?, having persistence because it removes resistance, educating myself and surrounding myself with the right people."
Chuck Sharp
DC Elevator
Anyone with interest in business knows some workers go from one industry to another. Well-rounded college graduates sometimes spend a great deal of time switching jobs and even careers. In some respects, Chuck Sharp is not so different. He moved around quite a bit before he "graduated tech school in 1981 and worked for GE Fanuc." But, before long, "a friend went to work at the Armor Elevator factory in Louisville, Kentucky, and got me on." That was it. Sharp was instantly drawn to the vertical-transportation (VT) industry.
He entered a career through which crew members learned, and today he's president of DC Elevator in Lexington, Kentucky. With more than 30 years with the company, Sharp found it a great place to train VT workers. But it goes further than that: Sharp believes in the depth of elevator work. "My involvement with the NAEC (National Association of Elevator Contractors) as a member of the Education and Safety Committee marked over 17 years, during which we helped get the CET® program going. I also served as an NAEC board member for three years."
His beliefs partially come from brothers Danny and Charlie Breaden, the pair who launched DC Elevator in 1977 and taught many a person about the elevator repair and installation business. "Both taught me about elevator field work," Sharp notes — something that he now shares with upcoming VT professionals. Sharp may be head of the company today, but he says at heart he is "and always will be an elevator mechanic and adjuster." As for project work, Sharp points to one particular hands-on effort in which he played a key role: upgrading a six-car elevator layout at Patterson Office Tower at the University of Kentucky. Though the project was on a strict time schedule, Sharp and crew got it done. This is true of Sharp in the office or on a jobsite.
Jeremy Snyder
MAD Elevator
Jeremy Snyder was one of the first employees of what was then Mainline Elevator (now MAD Elevator) in 1998, and started at the bottom, so to speak. After a short time, he was building and installing cab interiors, then manufacturing control panels and hall stations. After a while, he went into tech support, custom projects and installations, and is now the special projects manager.
One special project that Snyder gets to take on each year is designing, fabricating, assembling and delivering the National Association of Elevator Contractors (NAEC) trade show booth. He shipped the display for a few years before he began to be the one to actually drive the booth to the location, set it up, participate in the event, take the booth back down and then drive it back to Ontario, Canada, to be put back up in the MAD facility. "It's a tough, challenging job to do, but nothing gives me a better sense of success than — on the last day of the show — knowing all of the stress, pain (probably a bit of blood and tears) and exhaustion that went into putting on another perfect show was worth it," Snyder said.
Snyder's nominator said he came across Snyder when Snyder was working as MAD's field troubleshooter along the product line, and he was impressed that "there is nothing in our industry that Jeremy cannot troubleshoot, fix, improve on or find a better process for its operation." He added that Snyder is a "proficient innovator" and was at the forefront of development of the PHANTOM Touchless Sensor, Wave contactless button solutions and the MosaicONE management software.
In describing his longevity with MAD, Snyder credited Steve Reich-Rohrwig, president and CEO of MAD, and the Strychaluk family, Alex, Carl and Eric, for pushing him to grow, giving him the space to try new things and experiment and for helping him become who he is today.
William "Bill" Snyder
Liberty Elevator Experts
In the 1980s, William "Bill" Snyder, who worked with Naval Facilities Engineering Command and had experience in mechanical, electrical, hydraulic and pneumatic control systems as an engineering technician, was handed a stack of folders and books to "brush up on" by the next morning when he agreed to take over the vertical-transportation equipment (VTE) program at the base. After that, the job "stayed a part of me," and he continued in similar roles. He retired from NAVAIR in 2004 and opened consultancy VTE Solution in 2012. This turned out to be quite successful and was sold in 2019 to Liberty Elevator Experts, for which he still does some consulting and a few inspections a year.
Another major part of Snyder's life and career is his work with NAESA International. He has been an instructor for more than 20 years, on the board of directors/executive committee for 17 years and is a past president. In 2011, he became chair of the Eastern Region and was recently recognized with an award for his leadership in this role.
"Bill is one of our industry's greatest friends and a lifetime supporter. He has accomplished more in his lifetime than many could in two," said Chris Dodds, president of Liberty Elevator Experts and president of the NAESA Executive Committee, who nominated Snyder.
Snyder said teaching is the part of his work that he loves the most, and he tries to leave his students with this idea:
"This industry is very small. As big as the world can be, in this industry we all know each other. My philosophy is that we can be competitors, but we also need to be colleagues, so that we look out for each other and keep each other safe."
Mike Strachan
3Phase Elevator
Described as a visionary, hardworking leader with a knack for accomplishing the seemingly impossible, including growing Canton, Massachusetts-based 3Phase Elevator Corp. from a small regional player to one of the largest independent elevator service companies in the U.S., 3Phase CEO Mike Strachan is nothing if not remarkable. After a successful career with the majors, including running the NYC region of TK Elevator through the vertical-transportation (VT) installation at One World Trade Center, Strachan assumed management of 3Phase, going on to orchestrate a private equity partnership with Berkshire Partners that subsequently facilitated the acquisition of 14 independent elevator companies in the past three years, in turn establishing the largest, independent, union elevator company in the U.S. Under Strachan's leadership, 3Phase continues to forge partnerships and expand across the country. Strachan's leadership is tempered with kindness and caring, numerous nominators say. "Mike may be CEO of the company," says one, "but when you are in his presence he always makes you feel like you are equals."
Strachan says he has been fortunate to work with "so many great people" over the years, describing the team at 3Phase as "the best I've ever worked with."
Prior to his role as CEO of 3Phase, Strachan presided over Dynamic Consulting Services for nearly eight years. He is also a highly regarded football coach, taking over the position at his alma mater, North Attleborough High School, in April. For several years, he was head coach of the Stockholm Mean Machines, leading the Swedish professional team to its first-ever national championship. The third-generation elevator man brings this same determination to win to his career in the VT industry, stating, "I hope to see 3Phase as the largest independent elevator company in North America in 10 years."
Ellie Webb
Delaware Elevator
Charles "Pete" Meeks, president and owner of Delaware Elevator, says that when Ellie Webb started with the company in 2003 as the new human resources (HR) manager, the company was operating with fewer than 200 employees and "she has been a key team member in our growth" to the now nearly 500 employees, six branch offices and two manufacturing facilities. "She handles it all with grace and leads a team of five HR professionals," Meeks said. "She's embraced the industry with drive and passion."
Webb says she joined Delaware Elevator "to build a platform covering all areas of the HR spectrum, from recruitment to performance management to compliance, legal activity and a multitude of non-HR related tasks — which helped me learn the 'ups & downs' of the industry even more."
When asked about her favorite part of the industry, she said she appreciates all aspects of operations but is more experienced in installation, as this is the largest and most demanding division at Delaware Elevator. "Installation brings many phases of the project together, and it keeps me engaged and current with industry trends."
Webb also serves as Delaware Elevator's facility security officer (FSO) — holding Top Secret security clearance and overseeing security operations for domestic and international secure projects. She is active with Elevator Contractors Council (ECC), hosted by Associated Builders and Contractors (ABC) Metro Chapter and is serving on the Board of Directors with ABC Chesapeake Shores for the third term. She recently acquired an HR Consulting Certification to be able to provide volunteer training sessions on business and HR topics for ABC, National Association of Elevator Contractors (NAEC) and other local business institutes.