A consultancy plans for the future, and towers are in the works in London.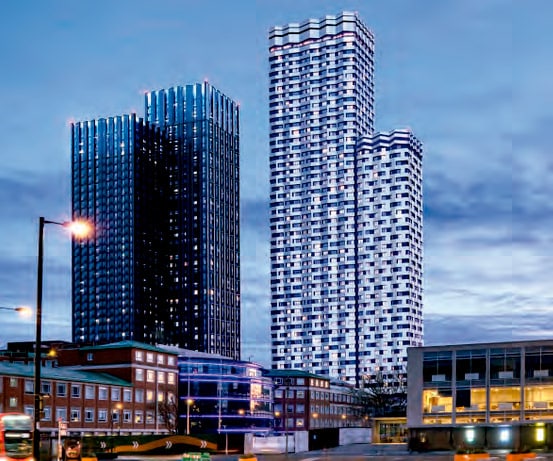 D2E Restructuring Lays Groundwork for Firm's Future
U.K. lift consultancy D2E overhauled its corporate leadership structure to lay the groundwork for an increasingly digital future. The changes became effective on March 2. Founder Bill Evans is now CEO, focusing on team learning, international business and key accounts. Evans has been in the lift industry for 50 years, and was chair of Otis' Codes and Patent committees prior to founding D2E in 2003. Mark Fairweather has moved from director to managing director, responsible for all consultancy services. He has 30 years of project management and marketing experience in the industry.
Fairweather is credited with incorporating Internet of Things into portfolio management services and developing D2E's proprietary asset management system iPAMSTM and project assurance process A2KTM. He was part of the Health and Safety Executive Elevator Safety Steering Committee. Martin Fuller has moved from director to head of operations of D2E's field and projects team, assuming companywide responsibility for safety and quality. Robin
Cheeseright, who was director and served the company for 15 years, has retired to focus on personal business interests. D2E has 32 employees and offices in London, Nottingham and Manchester.
Tower to Join 101 George Street in Croydon, South London
A companion development to 101 George Street, a residential project nearly complete in Croydon, South London, will bring even more units to the area near East Croydon Station, My London reported in March. The first building, 101 George, will bring more than 800 coliving apartments to the area. The tower has 44- and 38-story portions and will offer such communal amenities as a gym, a residents' lounge, a library, party kitchens and a cinema room. Next door, the developer, Tide Construction, is planning a taller tower, with 49- and 34-story sections that will offer 817 coliving apartments and 120 regular apartments. Both developments are being built using modular construction techniques, with sections built offsite and transported to the construction site. The second building is expected to be completed in 2022.
KPF Design Includes London's Tallest Residential Tower
The Ealing Council has given a green light to a development with two linked buildings that includes what would be London's tallest residential building, Architects' Journal reported in February. The project, set on Portal Way in Acton and designed by Kohn Pedersen Fox (KPF), will involve the demolition of a Holiday Inn building to make way for 45- and 55-story towers, linked by a skybridge between their 26th and 34th floors. They will share a podium with a 159-room hotel and office conference space. The towers will hold 702 residential units. The Greater London Authority had earlier raised concerns about the taller building's 237.3-m height, but planners in Ealing recomme
CTBUH Design Competition, Awards Program Set for Octobernded approval, calling the development a "well-designed scheme."
The Council on Tall Buildings and Urban Habitat (CTBUH) has begun accepting submissions for its 9th International Student Tall Building Design Competition. The top-five finalists will present to a jury of judges on October 20–21 at the 2020 CTBUH Conference in Singapore, where winners will be announced. US$21,000 in prizes will be awarded to exceptional projects. Participants must register their participation by July 13. Submissions are due by July 20 at competition.ctbuh.org, and questions may be directed to [email protected].
The goal of the competition, which is open to all students currently enrolled at the university level, "is to shed new light on the meaning and value of tall buildings in modern society," CTBUH said, adding:
"Participants should engage with the exploration and resolution of the synergistic relationship between a tall building and its urban setting; how that tall building can be inspired by the cultural, physical and environmental aspects of its site; how the program of the building is influenced by the micro and macro site/urban conditions; and how the building responds to global issues. Proposals should show evidence of a clear understanding of how considerations of structure, environment, servicing, etc. are as vital to the success of a tall building as the form, materials, aesthetics, etc."
Additionally, due to the coronavirus outbreak, the CTBUH Conference will be including the 2020 Tall + Urban Innovation Conference, the full dates of which are October 19-23. The CTBUH Awards Program is part of the event, which includes presentation and judging of contending projects, as well as the awards ceremony and dinner. A "Regional City Program" during the CTBUH Conference will take place in Kuala Lumpur.
Get more of Elevator World. Sign up for our free e-newsletter.