A Forum on High-Speed Elevator Technology & Global Codes and Standards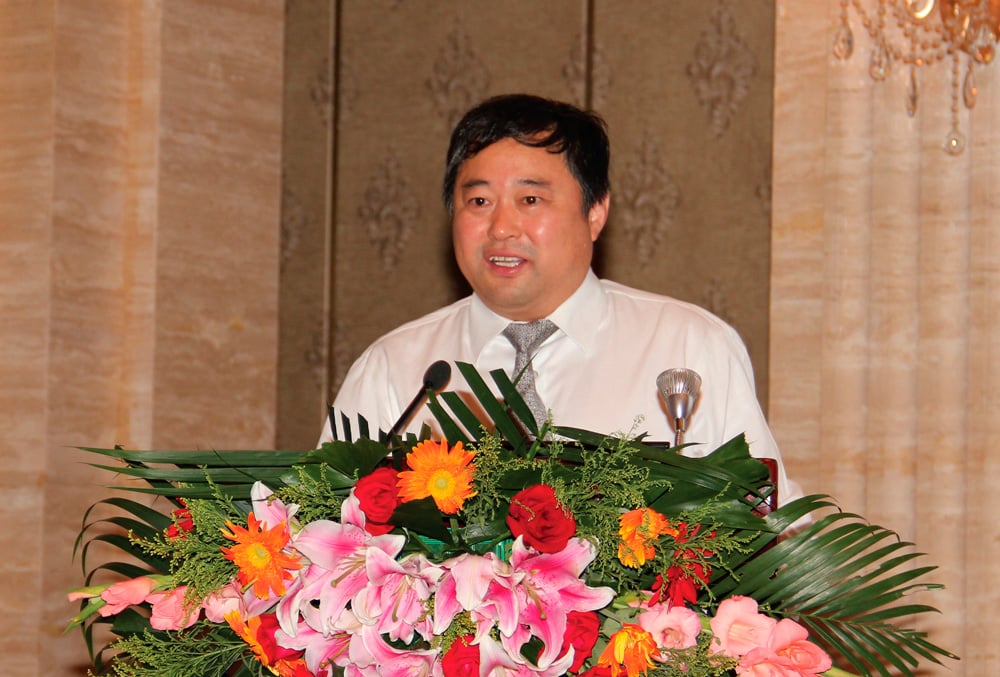 China Elevator Association meets to talk about a changing industry in an uncertain future.
A seminar on high-speed elevator technology and current trends in global codes and standards was convened in a suburb of Beijing on July 8–9, 2015. The future of the global economy seems uncertain, and climate change poses challenges and threats to both developed and developing nations alike. Meanwhile, since urbanization is proceeding steadily as social reforms go in depth in China, the elevator industry needs to adjust to changes in market demand. The years of record sales and competition based on low prices are gone. It is time for members of the industry to figure out what to do next. The China Elevator Association (CEA) planned the event, providing an excellent opportunity for elevator companies and organizations to sit down together and exchange ideas and innovations to promote the healthy and sustainable development of the industry in the face of a challenging future.
More than a decade ago, similar CEA events would entail a pile of printed materials of presentations and speeches of both organizers and participants. Today, the event itself has gone green. At the registration desk, every participant received a bag containing a pen and a timetable of the two-day activities printed on both sides of a single sheet of paper. Nearly 400 people presented at the two-day event. While a presentation was going on, the hall was filled with flash photography from cameras, mobile phones and tablets in the hands of participants, most of whom were in their 40s, 30s or promising 20s.
CEA president Li Shoulin welcomed all the participants from home and abroad, and Zhang Lexiang presided over the event. Seeing some of the audience members repeatedly taking pictures of the contents on the stage screen, Lexiang advised them to take it easy and listen to the speakers attentively. He promised that all the presentations at the event would be made available online for download as soon as the meeting was over. The event, like other CEA gatherings of its kind, served as the glue that held the members of the industry together for mutual development.
High-Speed Elevators
By 2050, the world population will increase by two billion resulting in the acceleration of urbanization worldwide. The year 2030 will see 1.4 billion more people move into cities, leading to more and higher high-rise buildings, which, in turn will increase the demand for high-speed elevators. However, because of human physical tolerances, such as ear-popping due to sharp changes in atmospheric pressure in the car, the specified speed of a super high-speed elevator only refers to its ascending velocity. For example, the express elevators in Taipei 101 travel up at 16.67 mps but come down no faster than 10 mps, which is widely accepted as the maximum down-travel velocity for any super high-speed elevator, including those in the Shanghai Center.
Vibration is another known challenge in designing high- and super high-speed elevators. Solutions such as aerodynamic capsules with streamlined exterior and varied technologies for prevention and reduction of car vibration have been made available. Satoru Kato, from Mitsubishi Electric, addressed the key issues in developing the 18 mps super high-speed elevators for Shanghai Center. He highlighted its 310-kW PM-motor, 21-person capacity traction machines with twin drive-control systems; double-section safety gears with ceramic brakes; solutions to reduce the weight of wire ropes by sfleX-rope and compact, flat traveling cables with steel cores; solutions for atmospheric pressure and ride comfort; and vibration reduction by means of active roller guides and the streamlined air fairing of the car exterior. Yoichi Sakuma addressed, in detail, how car-vibration problems of a super high-speed lift are assessed and solved, ideally by the company.
As we continuously pursue more sustainable urban solutions, high-rise buildings come into focus, and, since the trend of going green is given top priority by the international community, energy efficiency has become one of the key criteria for high-speed elevators. On the one hand, power consumption must be reduced by optimizing the elevator system —especially the drive as a whole—and, on the other hand, the unit's capability of electricity regeneration is regarded as a basic requirement of a (super) high-speed elevator. Power can be retrieved or regenerated by the elevator when the traction system works with differing weights between the car and counterweight; no matter which end is heavier, the one pulls the other up when the lift is slowing down during braking.
KONE's regenerative braking system does not need additional devices to take in the returned electricity, since the Modulated Line Bridge (MLB) automatically adjusts the phase, voltage and frequency to match those of the building grid. The massive weight of the wire ropes, setting a limit to the elevator's rise, presents another challenge. High-speed elevators using conventional steel wire ropes can hardly exceed the height of 500 m due to the weight of the ropes. As KONE's then Head of Technology Johannes de Jong puts it, the weight of the ropes is so large that more ropes are needed to carry the ropes themselves. Therefore, UltraRopeTM, an innovative traction rope made of carbon fiber, was developed by KONE in an underground testing hoistway in Finland to make rides beyond 500 m feasible, while substantially reducing rope weight and power consumption.
Katoh Masaru demonstrated hands-on experience and expertise in vertical-transportation solutions by Otis in many of the tallest buildings in the world. He addressed planning and engineering issues, including: building and rope sway, resonance, the stack effect and impact, lobby congestion, zoning and sky-lobby schemes, as well as making the best use of single cars, double-deck cars and escalators in optimized planning. Continued efforts and advances have led to the improved safety, reliability and riding comfort of high- and super high-speed elevators. Zhu Ruitong demonstrated how VDI 4707 standards are applied to the assessment of energy efficiency such as the Schindler 7000. Analyses of the elevator system focused on drive motors, controls, door drives, and car and hoistway components. Energy-regeneration technology plays an important role. The faster the speed, the more power could be saved. The PORT technology for group operations and the ECO mode are applied in combination with planning for new or existing projects.
Yang Xiaojun, from Toshiba Elevators, presented the working conditions of Taipei 101's two express elevators, which have a capacity of 1600 kg and ascend at 16.7 mps, and descend at 10 mps (Elevator World, September 2005). The overall 10-year anniversary inspection was aimed at making sure the machines remained good enough for future operation without obvious aging and decline in function. The groove wear of the secondary sheave was measured and found to be in conformity with the estimated wear level in the seventh year, so the sheave was replaced. The atmospheric pressure difference between the ground and the top-destination floor measured roughly 48 hPa, which would cause ear-popping discomfort to passengers if nothing was done to bring it under control. The atmospheric pressure in the car is balanced with a regulating system consisting of real-time sensors that control two blowers—one blows air in to increase while the other blows air out to decrease pressure. The car doors' sealing pads were replaced due to aging. The door guides showed little wear. The performance of the pneumatic sensors was examined, and the difference between the values on the fifth and 89th floors proved good without declination. The linear motor magnet and acceleration sensors of Active Mass Dampers, a device mounted on the car to reduce vibration, were found to be in good condition. Car vibration was measured and adjusted for ideal ride comfort. Perfect day-to-day maintenance and sufficient technical support proved essential to the exceptional performance of these super high-speed elevators.
Lori Lu, from Hyundai Elevators, spoke about high-speed elevator technology. A number of speakers addressed the latest developments and innovations from the component supplier's perspective. Yao Qi and Xu Lei, from Wittur, presented on doors and safeties, respectively; Jesus Sanz and Jose Enrique Fernandes, from Savera, presented on guiderails; Mohamed Ezzeddine, from Kinetek, presented on drive-control technology; Xie Baofu, from Shanghai BST, presented on human-elevator interface; Sun Guohe, from Tianjin Golden Sun, presented on wire ropes; Wang Cheng, from STEP, presented on traveling cables; and Wei Wei, from Jiangsu Xinghua, presented on noiseless compensation chains.
Global Codes and Standards
Esfandiar Gharibaan, Chairman of CEN/TC10, addressed the international trends in codes and standards affecting high-speed elevators. International standards reflect the world's current highest standards and harmonize safety and technical requirements. They are developed by CEN, CENELEC, ISO and IEC. Of the 16,000 CEN and 15,000 ISO standards in use, there are 76 specific standards for elevators and escalators and more than 500 other international standards that may be applicable for elevators and escalators, covering electrical and mechanical design, material selection, reliability and quality testing methods and verification. According to Gharibaan, the specific challenges for high-speed elevators include the need for detailed traffic planning, energy efficiency, emergency tenant evacuation, and higher specifications for noise and ride comfort; whereas, the building-design issues include building sway, piston effect in the pit and the stack effect.
The international codes and standards' safety requirements are continuously updated based on experience from around the world, including: the safety of passengers and workers, the correlation of the units' life cycle and maintenance, changes in safety concepts and lower tolerance for risks, and the systematic evaluation of potential risks, using, for example, the ISO 14798 standard.
The cooperation between CEN, SAC, ISO, ASME and JISC proves successful with regard to experience and needs collection worldwide, common understanding of the safety risks, and agreement on solutions to remove the risks and agreement on safety requirements for achieving a higher level of harmonization around the world.
Gharibaan is satisfied with the close cooperation of SAC/TC 196 and CEN/TC 10, as both parties regard the other as a respected and well-trusted partner and give full consideration to what the other is thinking when discussing an issue or proposing a solution. Since the Cooperation Agreement was signed in 2005, the parties have held regular technical exchange meetings, which help develop the EN 81-20/-50 standards in an efficient way.
Countries using EN 81-1 either adopt it as an identical national standard, or use it as the basis for a national standard but with some differences (or as the basic requirement for the national standard), or accept it besides other international standards. ISO is in the process of adopting EN 81-20/-50 and making their standards identical with EN 81-20/-50, with an anticipated publication date in December 2017.
Ian Todkill, from Pacific Asia Lift and Escalator Association (PALEA), has worked on the mission of elevator-safety code harmonization worldwide with great devotion for many years. He introduced the latest development in this issue. The harmonization process is driven by the global marketplace and safety expectations, among other things, concerning the economy and industrial development. It helps remove technical barriers to trade and improve export opportunities. It helps remove differing national levels of safety, which can increase costs but not necessarily safety. It also helps remove confusion for designers and the potential for multiple code interpretations. A harmonized worldwide code suite will include prescriptive code for standard products, performance code for innovative products, conformity assessment procedures (CAP) and risk-assessment standards.
With continued efforts by safety code specialists from around the world under ISO, the global elevator-safety-code system has boiled down to three major codes: CEN, JIS and A17.1. The current situation fairs with an achievement of Performance Code- ISO 22559 Parts 1–4; Risk Assessment- ISO 14798; PESSRAL & PESSRAE- ISO 22201 Parts 1&2; EMC Emission & Immunity- ISO 22199 & 22200; and Ride Quality- ISO 18738. ISO will continue to work on the ISO Prescriptive Code and Comprehensive CAPs, and plans are in place to resolve the Prescriptive Code. The next plan is to use EN81-20/-50 as the basis of the ISO Global Code System to merge the three existing codes. The Elevator & Escalator Single Code Package under the banner of ISO, regarded as the ultimate goal of the safety-code system, will probably make its debut in 2017.
Ma Peizhong, a well-known specialist experienced and authorized in type tests and code interpretation from the National Elevator Inspection & Testing Center (NETEC), addressed key technologies and requirements of type tests for high-speed lifts. Theoretically speaking, the present national safety standards, including GB7588-2003, have taken into consideration the full range of traveling speeds, but, in practice, they are only applied well to lifts with speeds up to 6 mps, because they have not yet taken full consideration of the specific features of super high-speed elevators. For example, shuttle elevators in towers normally have a greater distance than 11 m between two landing-door sills, and the horizontal distance between two adjacent cars is usually greater than 750 mm, which was later changed to 1,000 mm. Both conditions above do not comply with the requirement for using a safety door. Key technologies concerning high-speed elevators include safety protection against the failure of drive signals or the control system itself. Protective measures in both up and down direction over-speed travels, free falls and unintended car movement (UCM) call for progressive safety gears and governors able to react to different speed limits. By programmable electronic systems in safety related applications for lifts (PESSRAL), active protection shall come in place of passive protection, and electronic governors and electronic-triggering safety gears will be used, too. Aerodynamic issues of the car and hoistway include the piston effect, car weight and car deformation, car ventilation, atmospheric pressure control and car-noise damping.
Chen Fengwang, a code expert from SAC/TC196, addressed the latest trends in national elevator-safety-standard development and the risk-assessment procedures for innovative products in China. Three national standards regarding elevator and escalator safety were issued in July 2015. GB/T 31821-2015 Technical Conditions for Major Elevator Components to Go Scrapped (recommended) lists 13 components essential to elevator safety to be scrapped when meeting the conditions due to aging or wear and tear if they cannot be repaired or are not worth repairing at all. GB/Z 31822-2015 Safety Requirement Directive of Escalators and Moving Walks for Public Transportation (directory) provides the contents to be agreed upon between the building owner and manufacturer, guidelines on safety design, selection and planning, safety requirements and protective measures and requirements on operation. The two standards above will take effect on February 1, 2016. Revision No.1 to GB7588-2003 (mandatory) lists essential changes based on EN81-20/-50, covering requirements on the strength of landing doors, car-door opening and UCM. It goes into effect on July 1, 2016. According to Fengwang, working procedures based on Risk Assessment ISO14798 have come into practice in China to enable innovative designs and products to enter the market.
Get more of Elevator World. Sign up for our free e-newsletter.