A timeline of our company's history revisiting the last six decades
From its humble beginnings as a 15-page magazine that was the only of its kind, the publishing company Elevator World, Inc. has grown to include books and educational programs; magazines in China and India; a biweekly newsletter; a comprehensive industry directory; a yearly virtual exposition; and an online bookstore, along with a host of other industry-related websites. The only international elevator-industry magazine in the world, ELEVATOR WORLD enjoys a wide and loyal readership and the exclusive content of its correspondents and contributors. Those of us at Elevator World would like to take this opportunity to thank our readers and writers for 60 successful years. Elevator World founder and longtime editor William C. Sturgeon (WCS) would be proud of what we have accomplished together. Here is a snapshot of the elevator world through the decades.
1953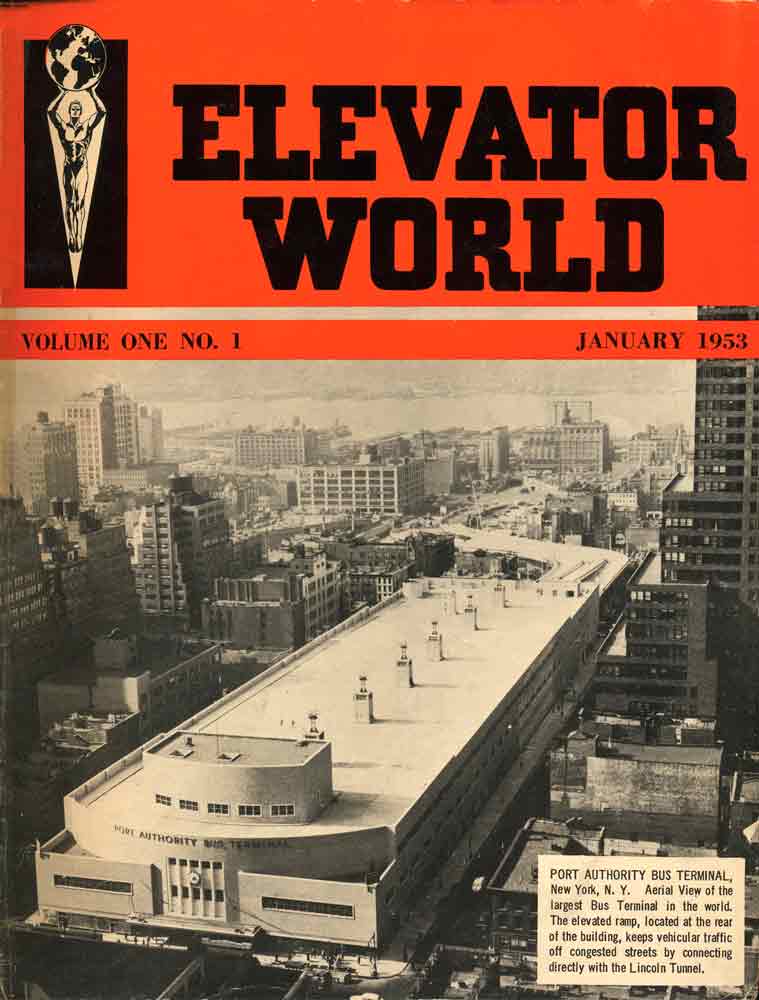 January 1953 Cover Story: "Port Authority Bus Terminal Utilizes Peelle Motorstairs": Five parallel Peelle moving stairways, the most that had ever been installed side by side.
Other featured content:
"National Association of Elevator Contractors (NAEC) Annual Meeting"
"New Arwood Stairlift"
Constructor's Corner
New Products
1960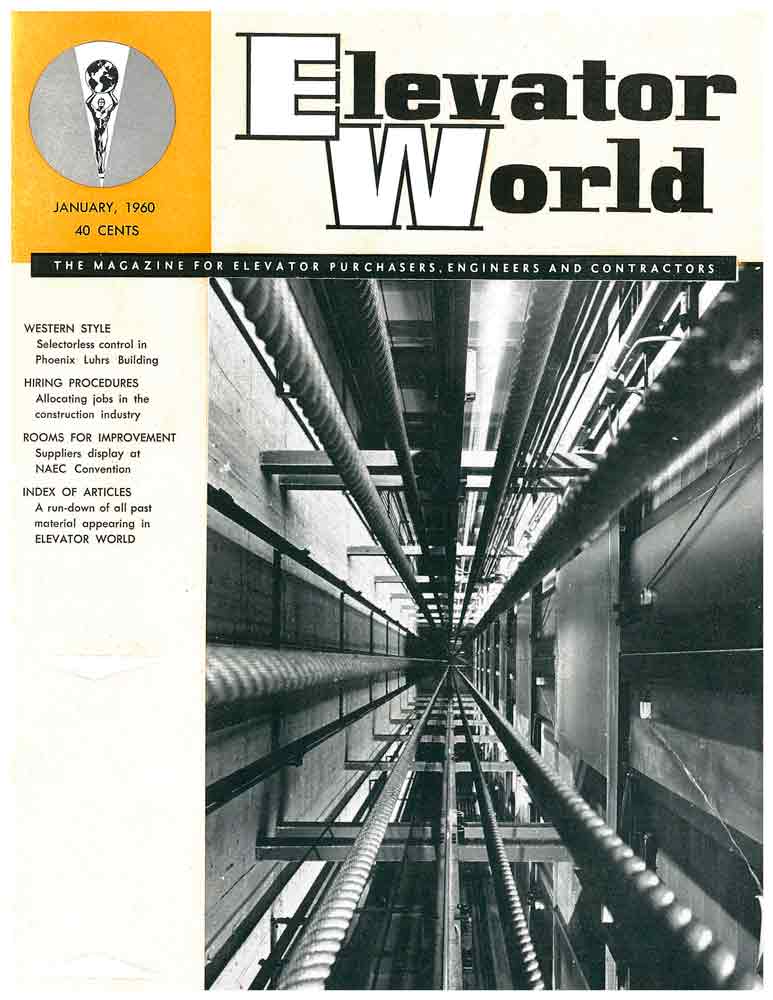 January 1960 Cover Story: "Modernization Western Style": The Luhrs Building in downtown Phoenix was the site of a unique modernization job.
Other featured content:
"Rooms for Improvement": Equipment displays featured in two rooms at the 1959 NAEC convention.
"Hiring Procedures in Construction Industry": How the state of hiring in the construction industry stood and the effects of unions on it.
1970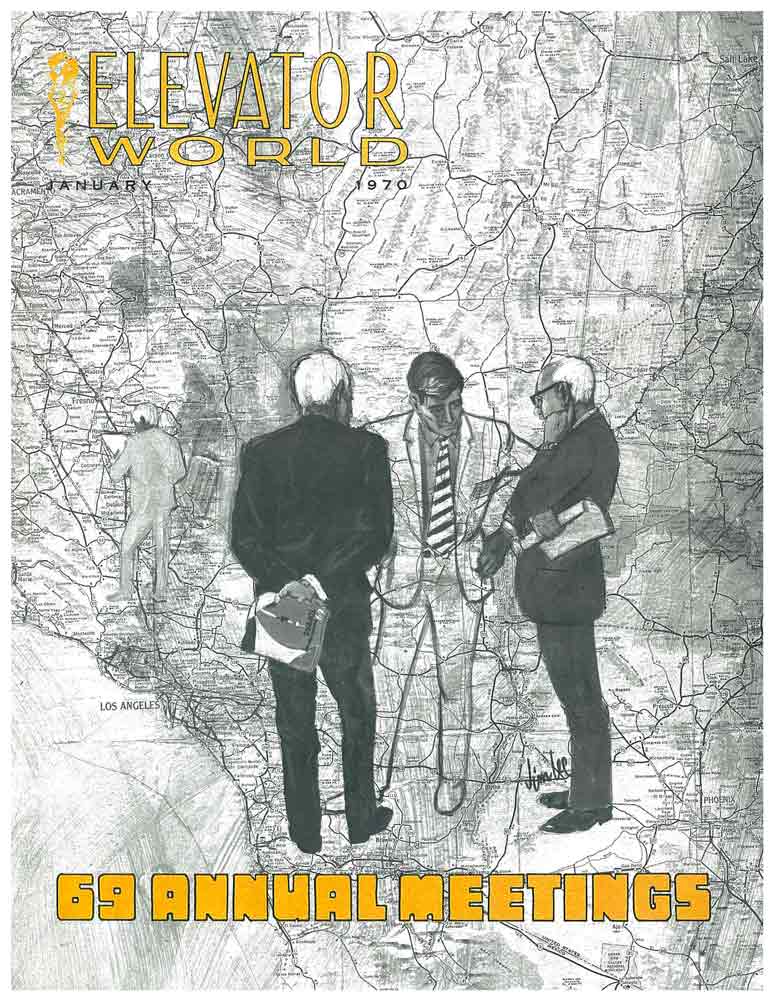 January 1970 Cover Story: "Monitoring Two Annual Association Meetings Back to Back": Ten days of steady convening yield thorough reports.
Other featured content:
"The Industry's Two Associations": WCS holds an exclusive interview with NAEC and the National Elevator Industry, Inc. (NEII).
"Connecticut Contractor Elected NAEC President at Record Convention": Frederick W. Farnsworth takes the mantle of NAEC leadership at the age of 42.
Education: The Elevator World Educational Department helped the company branch out in 1975 by publishing books.
1980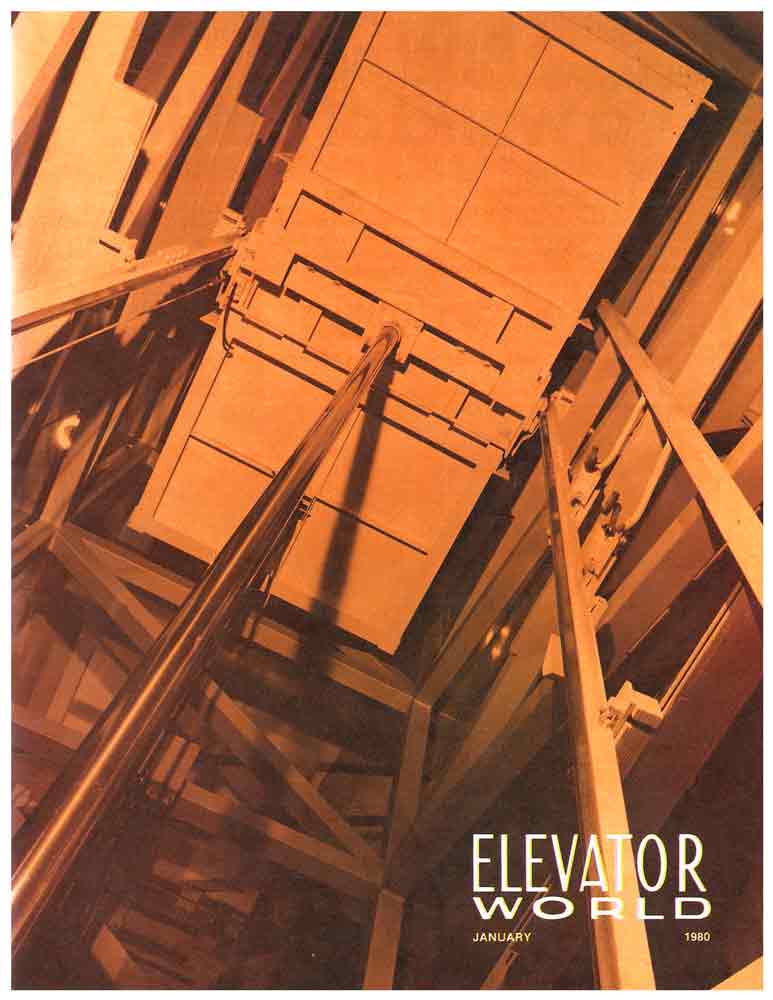 January 1980 Cover Story: "Glass-Clad Shaftways Call for Good Housekeeping in England"
Other featured content:
"Up and Down Exhibit": Westinghouse Elevator Co. "reaches new heights" with its touring hot-air balloon.
"A Data Logger for Lift Traffic Engineering"
"Elements of SCR Drive": An explanation on the important silicon-controlled rectifier (SCR) drive
1990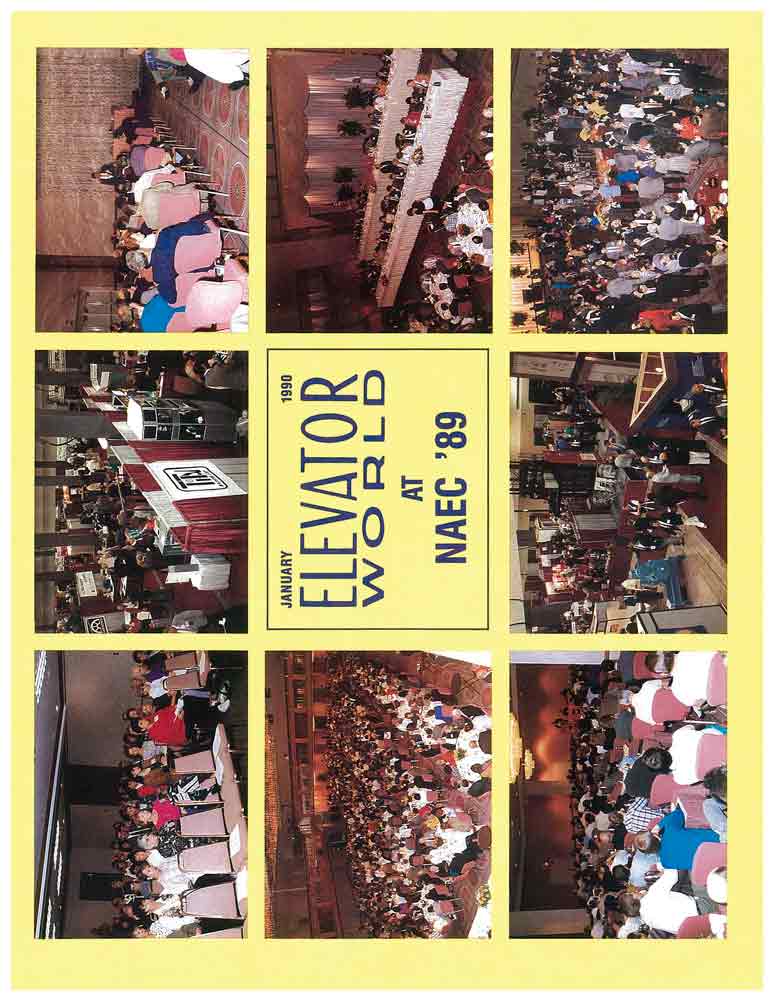 January 1990 Cover Story: "Tennessee Contractor Elected the 40th President of NAEC": The 1989 NAEC convention in Boston attracts another record number of attendees with a well-balanced program of educational opportunities.
Other featured content:
"JEA Members Discuss Safety in U.S. on Both Coasts": NEII and the American Society of Mechanical Engineers host Japan Elevator Association (JEA) members.
"Kinetic Energy of Passenger Elevator Door Systems"
ELENET®, Elevator World's biweekly newsletter begins circulation by fax in 1992.
Online: Elevator World's online presence began in 1995 with the founding of its website.
Project of the Year: The annual Project of the Year contest was begun in 1998 to honor the industry's top achievements.
2000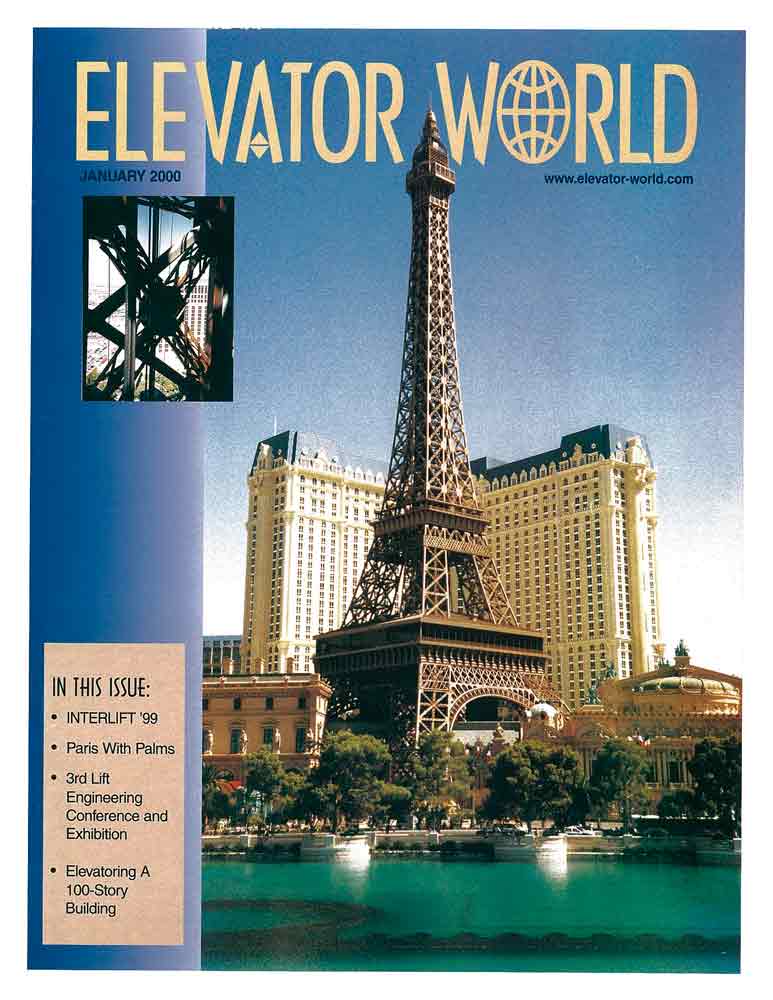 January 2000 Cover Story: "Paris with Palms": Las Vegas' latest landmark is a half-scale likeness of the Eiffel Tower that, like the original tower, is served by Otis elevators.
Other featured content:
"3rd Lift Engineering Conference & Exhibition"
"Interlift '99": This Augsburg, Germany, event offers attendees a unique experience at the Town Hall of Augsburg.
"1999 Heilbronn Elevator Seminars"
"Elevatoring of a 100-Storey Building"
2008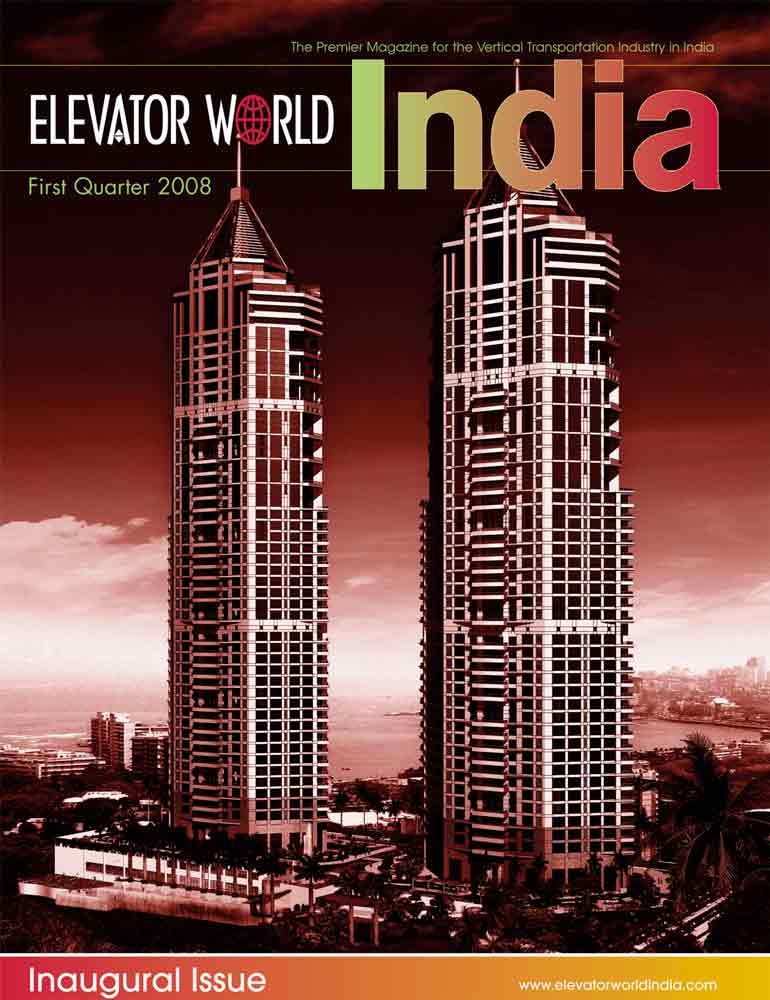 EW India, First Quarter 2008: The inaugural issue of EW India previewed the International Elevator Expo 08 in Mumbai and included columns on a variety of topics. Now in its sixth year, the quarterly publication has grown to a 100-page magazine considered the premier industry publication in India.
2010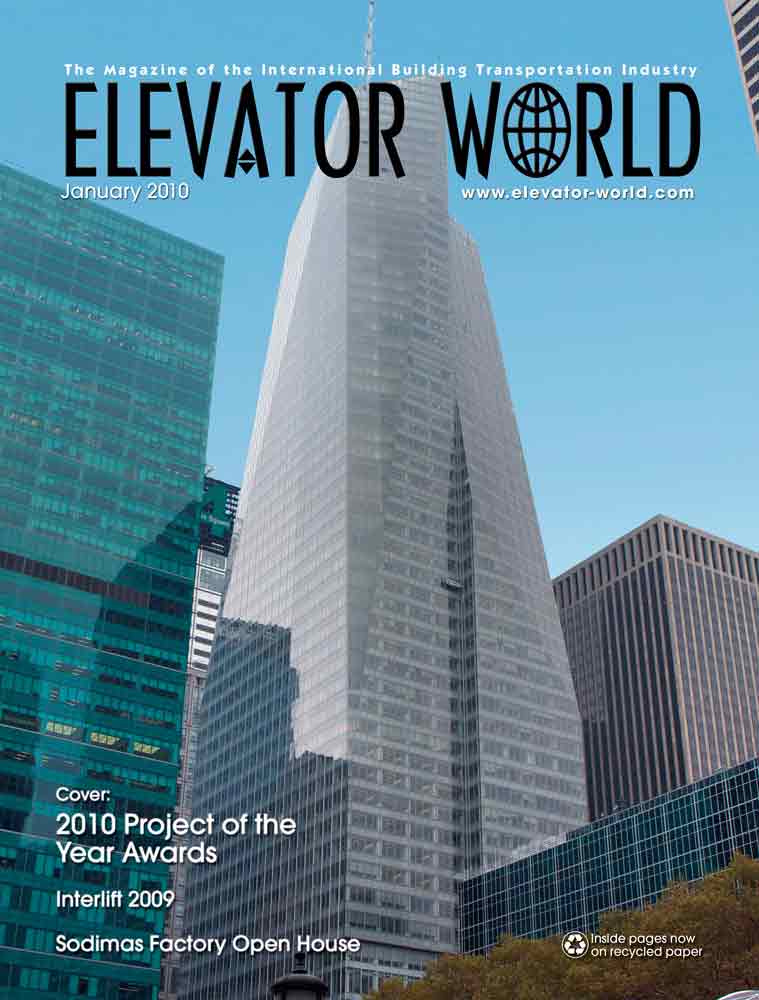 January 2010 Cover Story: "The Bank of America Tower in New York City": The 54-story skyscraper in the heart of midtown Manhattan, New York, receives 52 elevators and three escalators from Schindler, in addition to the company's Schindler ID system.
Other featured content:
"The VMotionBe and Sodimas Factory Open Week"
"Interlift 2009 – Trumpets Blare for a Grand Affair!"
2013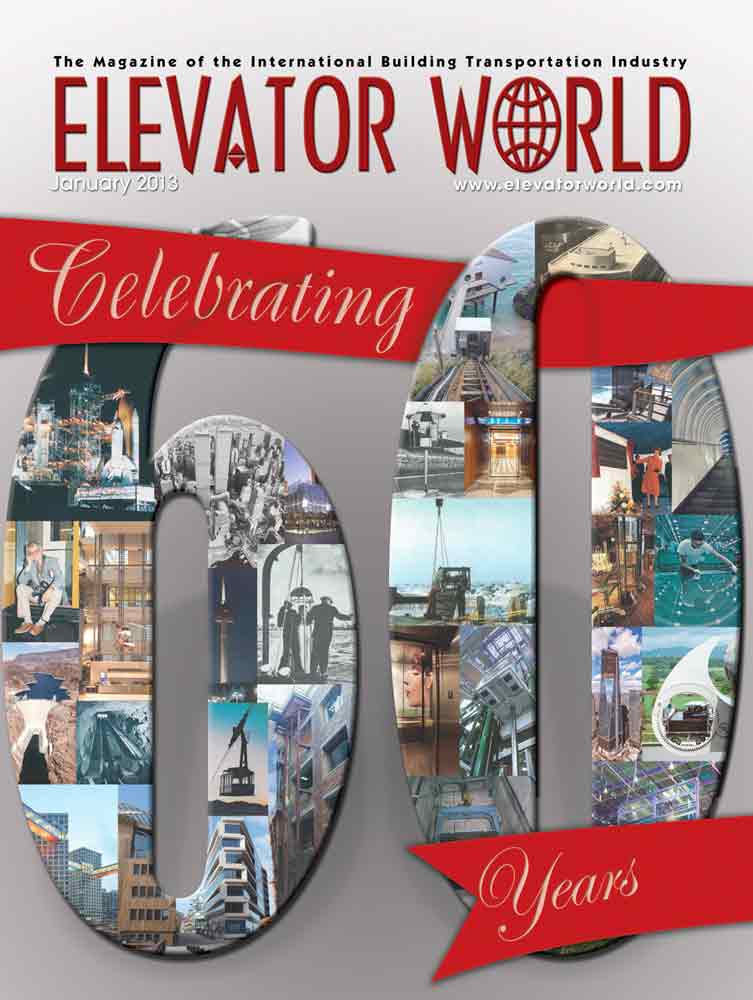 January 2013 Cover Story:
"Celebrating 60 Years: EW through the Decades"
Other featured content:
"2013 Project of the Year Winners"
"CTBUH 9th World Congress 'Asia Ascending: Age of the Sustainable Skyscraper'"