Developments in Australia, Asia, South America warrant notice.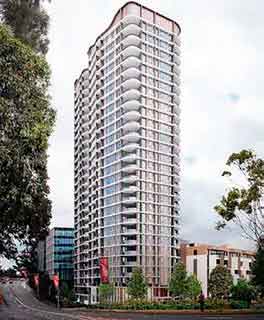 Big Plans in Australian Cities
Developer Beulah International selected Green Spine, a "twisting garden" by UNStudio and Cox Architecture, as the winner of an international design competition that will include Australia's tallest building at 356 m, or approximately 107 stories, various news outlets, including CNN, reported. The two-tower, mixed-use development is set to break ground in 2020 in Melbourne's Southbank area. Cox Principal Director Philip Rowe said the "spine" of landscaped balconies and terraces was inspired by Melbourne's gardens and boulevards and will itself be a "vertical boulevard."
Developer Meriton has submitted applications for a pair of high- rise residential projects in suburban Sydney, The Urban Developer reported in August. The first is a two-tower development designed by Woods Bagot that will sit at George and Charles streets in Parramatta and add to the Meriton portfolio of five buildings at its George Street site. The AUD229-million (US$169-million) proposal calls for 57- and 66-story towers totaling 767 residential units, 216 serviced apartments, 2,329 m2 of retail, a childcare center and a commercial gym. The shorter, south tower will hold 131 serviced apartments, while the taller tower will comprise 486 apartments. The second application seeks to build a 27-story residential tower at Talavera Road in Macquarie Park and represents the first stage of what the source said is a controversial four-tower plan. The initial AUD67.6-million (US$50-million) building would hold 212 apartments and include a 251-vehicle parking deck and a childcare center. If fully developed as planned, the project would include 30-, 45- and 60-story towers and a total of 1,256 residential units. Meriton was granted rezoning to allow the tallest tower; the height limit had been 45 stories.
Vietnamese Resort With 88-Story Tower Wins Approval
A large resort project in Vietnam that includes a conference center, thousands of hotel rooms and an 88-story tower as its centerpiece has been approved by a provincial committee, The Leader reported in August. The project, planned for a 109-ha waterfront site in the Van Don district of Quang Ninh province, will have more than 200 villas; two 18-story hotels with 1,735 rooms; a 42-story hotel with 1,234 rooms; a 43-story conference resort with 1,234 rooms; and the 88-story tower housing 3,061 rooms. The project will include numerous amenities, including a shopping center, a marina and boat club, a water park, green space and a public beach. A construction timeline was not given.
Supertall Mixed-Use Tower Planned in Bogotá, Colombia
Architectural firm Odell announced in July it has been selected as primary architect consultant for the mixed-use FORZA Tower in Bogotá, Colombia. The 460-m-tall, approximately 116-story structure will be situated in the Colombian capital's central business district and house class-A office space, a five-star luxury hotel, managed apartments, retail space and a public amenity plaza. Odell, with offices in North Carolina, Virginia, Texas and China, will lead the design for the building, with other U.S. team members Thornton Tomasetti; Environmental Systems Design, Inc.; Mahan Rykiel Associates; T. Kondos Associates and Paladino and Co., with additional work from Colombian companies, as well as Chinese and Singaporean firms with expertise in supertall design and construction. A construction timeline was not released.
New Office Tower Completed in Taipei
The Taipei Nanshan Plaza project, a 272-m-tall office tower adjoined to a retail building, has been completed, dezeen reported in August. A Japanese architecture studio, Tokyo-based Mitsubishi Jisho Sekkei, won a government-led development competition to design the building for Nanshan Life Insurance. The firm's offices occupy the majority of the tower, which also contains restaurants on the top three floors. The building is situated in the Taiwanese capital's Xinyi district near the Taipei 101 skyscraper, the country's tallest building. Taipei Nanshan Plaza was built on a long and narrow site in a business district that offers shopping, arts facilities and exhibition spaces. It was laid out on a master plan drawn up by the Taiwanese government. In a statement, Mitsubishi Jisho Sekkei said, "In order to attract visitors to the site and create a lively atmosphere, we proposed a new landmark tower to draw people from a distance, paired with a human-scale podium to welcome them in." The tower is adjoined on either side by a low-rise retail annex and a cultural facility containing a multipurpose hall that enhances the site's connection with the surrounding neighborhood.
Vertical Gardens Distinguish Shenzhen Office Tower
New photographs from architecture firm O.H.A. show the nearly complete SBF Tower in Shenzhen, China, a structure designed by Pritzker-prize winners Hans Hollein and Christoph Monchein with vertical gardens to promote "an alternative, more sustainable lifestyle," designboom reported. Located in Futian business district, the Southern and Bosera Funds-backed project stands 200 m (approximately 60 stories) and has two different zones — box levels with an unbroken façade and sky-garden levels with deep setbacks and cantilevers cradling the gardens. With each floor seemingly different, the sky-garden levels provide what the source describes as "highly flexible" workspace.
Get more of Elevator World. Sign up for our free e-newsletter.