Canada's Mohawk College helps provide the workforce to meet VT industry demand.
by Alan Bennink
Mohawk College is responding to the workforce crisis facing the vertical-transportation (VT) industry in Canada with the growth and expansion of its facilities and programs in Hamilton, Ontario.
As one of the largest educators of skilled trades in Ontario, the Marshall School of Skilled Trades & Apprenticeship at Mohawk College launched its Elevating Devices Mechanic Apprenticeship program in August 2019, with both day-release (in which students are released from industry to study on certain days) and block-release (in which students are released from industry for a period — or block — of full-time attendance) models. A new, dedicated lab was opened at that time, with a functional traction and hydraulic elevator and two construction shafts. Through the partnership, guidance and generosity of many industry partners, the training facilities have state-of-the-art labs to deliver all aspects of training, including electrical, electronic, programmable-logic-controller, hydraulics and mechanical training.
A year later, in August 2020, the college introduced the two-year Mechanical Technician — Elevating Devices diploma program, which includes the option of completion in just two academic years (16 months across four continuous semesters). This first-in-Canada program covers the in-class apprenticeship curriculum for students who may want to complete their apprenticeship.
Accredited by Ontario's Technical Standards & Safety Authority (TSSA), the Mechanical Technician — Elevating Devices diploma program focuses on:
Installing, maintaining and servicing elevating devices
Providing an understanding of elevating devices' electrical, mechanical and hydraulics systems
Imparting an understanding of regulatory and industry best practices
Graduates are exempt, with approval from the Ministry of Labour, Immigration, Training and Skill Development, from all the in-school training portions of the apprenticeship program. Additionally, given that the program was launched in the middle of the COVID-19 pandemic, theory classes are delivered in a blend of face-to-face and online lessons, providing students with greater flexibility.
The Elevating Devices program is just one of 35 skilled trades, post-secondary and apprenticeship programs at Mohawk College, which opened in 1966. While the new program has approximately 100 students enrolled in the diploma and apprenticeship stream at The Marshall School of Skilled Trades & Apprenticeship — one of four Mohawk campuses — they learn in an environment with approximately 4,000 other skilled trade students, all focused on careers in their chosen trades.
Mohawk College is one of only two colleges in Ontario training people for the VT industry in a region with 14.5 million people. Recent government employment data projected as many as 700 job openings in the VT field from 2021-25 — just in Ontario — with half of those being new positions. The industry is clearly in need of more certified workers.
Located an hour west of metropolitan Toronto, Mohawk College is in a position to help address the workforce gap. At present, the college can enroll as many as 40 new students in the diploma program each year, with 20 more in each level of the apprenticeship stream. Recognizing that the number of domestic students in Canada has been declining for a number of years (due to age demographics and delayed enrollment in post-secondary programs due to COVID-19 impacts), the college has also opened enrollment to international students who are looking to study in Canada. To date, 40 students have graduated from the diploma program and enrollments are on the rise.
While the program continues to receive students coming directly from high school, as well as from the international stream, a new trend is emerging, with more students in the post-secondary program being second-career learners.
The road from education to employment is being well-paved. Industry employers are taking note, and a number of students in the first two graduating classes received offers of employment before they arrived at their graduation ceremony. Mechanical Technician — Elevating Devices diploma graduates can start their careers in the field and, if they choose, pursue an apprenticeship. Elevating Devices Mechanic Apprenticeship program graduates leave the college equipped to pursue further education if they choose. Graduating apprentices also receive an Ontario College Certificate Credential that is recognized by other colleges and universities for the purpose of continuing their education.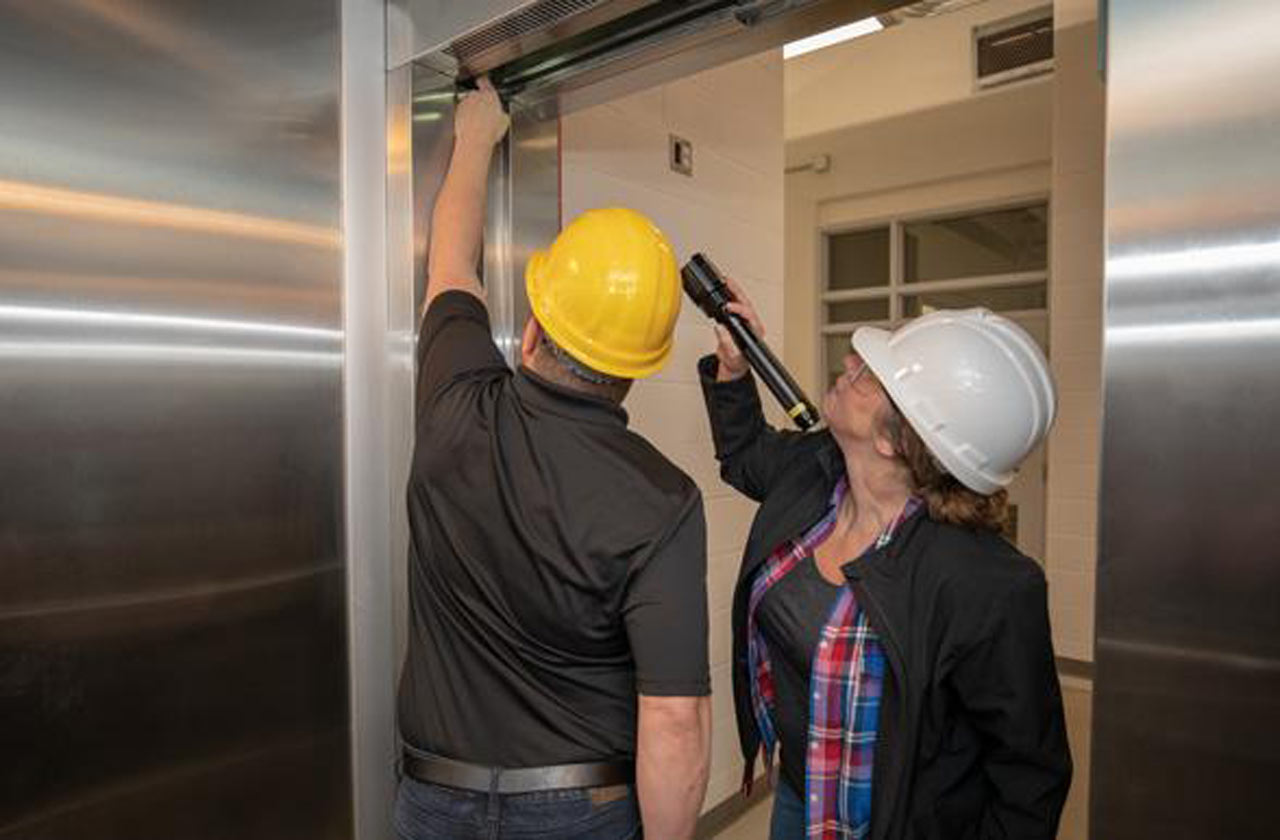 As the diploma and apprenticeship programs mature and expand, so do the facilities in which students are trained. The Elevating Devices Lab at The Marshall School now has a third functional elevator in place and, in April 2023, an escalator was also being installed. With the support of regional partners, students are gaining access to more devices and technology every year.
As the diploma and apprenticeship programs mature and expand, so do the facilities in which students are trained.
Students also receive support from the Canadian Elevator Contractors Association (CECA). CECA established a college bursary/scholarship program for students at Mohawk College and at Durham College, the only other Elevating Devices training college in the province. The Mohawk College bursary recipients for 2023 were Austin DeMelo and Jonathan Potts, both in their first year of the Elevating Devices program, who each received CAD$500 (US$373) toward their education.
As companies work to address the workforce gaps being experienced across the industry, employers have indicated they are looking for new hires who have received solid general training with a significant amount of hands-on electrical training. At Mohawk College, programs have been designed to match those requirements.
As a result, Mohawk College Elevating Devices programs are providing more graduates with the foundation and hands-on training they need to successfully enter the trade on their way to becoming the industry leaders of tomorrow.
Get more of Elevator World. Sign up for our free e-newsletter.