Stockholm Metro, the "world's longest art gallery," enhances accessibility with new TKE escalators.
Seven years after it opened in 1950, Stockholm Metro, also called tunnelbana (Swedish for "subway") and Stockholm Tunnel Rail invited artists to decorate its stations as a means of democratizing art. The first creation, the crisp white and deep blue florals by Finnish artist Per-Olov Ultvedt at the T-Centralen central hub, are just as striking today as they were in 1957. More than 100 artists would join Ultvedt over the years, resulting in 90 of the system's 100 stations featuring artwork, adding up to, according to Architectural Digest, "an altogether fantastic voyage." The more-than-60-year effort has resulted in another nickname for the system: the longest art gallery in the world.
That gallery will be served by 44 new TK Elevator (TKE) heavy-duty victoria escalators, part of a mid-double-digit-euro order placed by SL Metro Stockholm and announced by TKE in July. One of the largest escalator infrastructure projects ever awarded in Sweden, it includes the first 10 years of maintenance and builds on an already-strong relationship: In fall 2018, TKE opened a Stockholm branch to oversee maintenance of all tunnelbana's vertical-transportation equipment — 440 units — divided evenly between escalators and elevators — at 80 stations. That contract lasts through 2026.
Evolution of a Metro
Since it opened more than 70 years ago with a single line — what would eventually become the Green Line — from Slussen in central Stockholm to Hökarängen in the southern part of the city (comprising 14 islands), the metro has evolved into a 110-km-long system with three lines and more being planned. Forty-seven of the stations are underground and 53 are above ground. The three lines form seven actual routes that all use the T-Centralen hub — where the art initiative began.
The decision to build a metro was made in 1941. In the following years, and in some cases before, some routes were built to near-metro standards but operated with trams (or street-level light trains). These included a route along the Green Line through the system's oldest tunnel: Slussen-Skanstull, built in 1933.
Used since the 1970s, the lines' color designations originated from the colors of the trams or trains at the time: green for the older fleet and blue for the newer fleet. Although there is a red line, there were never any red vehicles; the color was chosen simply to differentiate it from the other two.
The Blue Line includes Vastra Stogen (Swedish for The Western Forest) station, distinguished by having one of the longest escalators in Western Europe, at 66 m with a rise of 33. Part of the first stretch of the Blue Line between T-Centralen and Hjusta, the station opened in 1975.
The entire metro carried approximately 353 million passengers in 2017, the equivalent of roughly 1.2 million on a normal weekday. TKE observes that, in addition to more than 1 million daily commuters, hundreds of thousands of tourists come to ride the Stockholm Metro each year, mainly to see the artwork. The variety is impressive. In addition to wall paintings, there are tile mosaics, sculptures and engravings. Many of the stations feature natural rock formations painted in vivid, otherworldly colors.
The artwork, observes the publication Dwell, provides a "tour through five decades of European art history." Author Gabriella Golenda says the creations "capture everything from political upheaval to post-modernism, while simultaneously reflecting Stockholm's long preoccupation with subterranean culture."
She shares that the initiative was a reaction against culture being exclusive to the salons of Sweden's elite. She states:
"Many felt art should be enjoyed by all and available to the public. This sense of moral ambivalence was spearheaded by a new political ideology formed in the 1950s, Folkhemmet, or 'The People's Home,' led by the Swedish Social Democratic party.
"During a time when most of Europe was still recovering from the harrowing economic effects of the Second World War, Sweden was experiencing a collective sense of neutrality and high income tax rates. This meant the Social Democrats had liquid cash flow to fulfill their visions without the restriction of rations. Through the introduction of nationalized health service and welfare for the first time, something of a cultural boom was instigated. As a result, these social democrats integrated art into the fabric of Sweden."
Robust But Gentle
The TKE escalators for the Stockholm Metro promise to be able to handle heavy loads while, at the same time, treading lightly on their surroundings. With rises ranging from 4 to more than 26 m, victoria escalators are designed to minimize impact on existing structures, TKE observes. The units move at speeds between 0.65 and 0.75 m/s and provide special dimensioning with more than 25% overcapacity for motors, and 30% for frequency converters. "These customizations further increase the unit's lifetime beyond its average of 25 years," TKE states. The escalators also include several passenger safety features that exceed the European standard, including a step sag and an auxiliary brake.
The victoria model serves passengers around the world, including in Beijing, Istanbul, Sydney, Moscow, São Paulo, Madrid and, of course, Stockholm.
TKE CEO Peter Walker states:
"We are happy to continue supporting Stockholm's public transport system with our products and services, building on many years of successful partnership. Sweden is well known for promoting sustainable mobility and public transport, and we are proud to know such a quality-oriented customer as AB Storstockholms Lokaltrafik trusts in our products and services."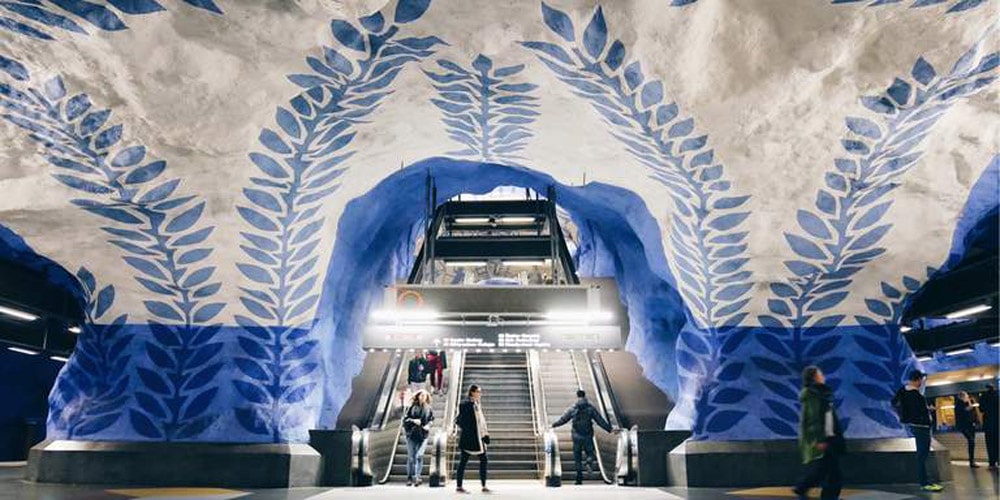 References
[1] en.wikipedia.org/wiki/Stockholm_metro
[2] Zara, Janelle, "Stockholm's Subway is the World's Longest Art Gallery," Architectural Digest, July 5, 2017.
[3] Golenda, Gabrielle, "Explore the Stockholm Metro For a Tour Through 5 Decades of European Art History," Dwell.
Get more of Elevator World. Sign up for our free e-newsletter.