Important developments in Singapore, South Korea, Vietnam and Thailand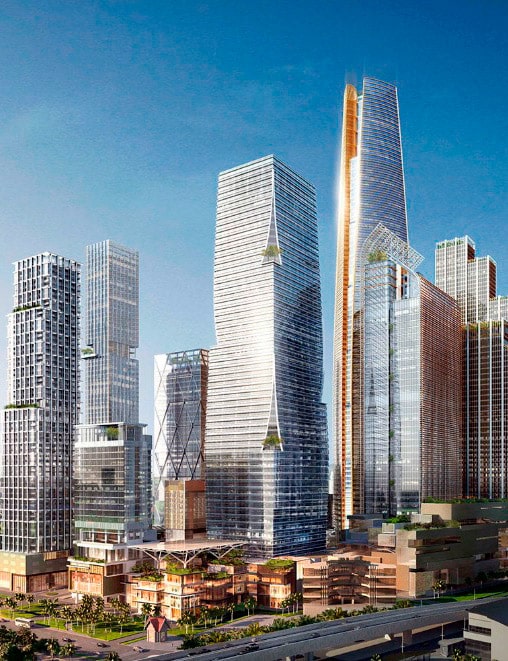 KONE Wins Order for Singapore's Central Boulevard Towers
KONE has won an order to deliver 47 elevators and escalators to Central Boulevard Towers, a mixed-use development in Singapore, the company announced in August. Central Boulevard Towers will provide Grade-A office and retail space to Singapore's Central Business District and is being developed by Wealthy Link Pte. Ltd., a subsidiary of IOI Properties. KONE will deliver 37 Minispace™ elevators, six MonoSpace® elevators and four TravelMaster™ 110 escalators to the development. KONE's UltraRope® hoisting technology will be installed on 19 of the elevators, and 24/7 Connected Services will help predict issues for preventive maintenance and increased equipment uptime. Additionally, the building will be equipped with KONE's facility- management E-Link™ system to provide tenant service, and the company's Destination control system, which reduces elevator waiting and travel times. The project is scheduled for completion in 2022.
Hyundai Elevator Invests in South Korea, Vietnam
Hyundai Elevator will be relocating its headquarters and production factory in South Korea, the manufacturer announced in August. A new smart factory will be built on 150,614 m2 in Chungju's Fifth Industrial Complex in North Chungcheong Province. Applying Internet of Things and Big Data technologies, it is expected to produce 25,000 units. It will also include the OEM's logistics center, which will be moved from Cheonan. The company says its current headquarters in Incheon, which has underpinned its history since the company's founding in 1984, will be sold. It adds that it is now the seventh-largest global manufacturer and installed its 700,000th elevator in South Korea this year.
In Vietnam, Hyundai Elevator entered into a strategic partnership with Hoa Binh Construction Group JSC (HBC), one of the largest construction companies in the country. Under the contract, Hyundai Elevator acquired 25 million shares (11.3%) of the group, becoming its third-largest shareholder. HBC will adopt Hyundai Elevator's products for future projects for which it serves as construction developer and prefer them for design, construction and architectural participation projects.
One Bangkok to Boast One of Region's Tallest Towers
Developers TCC and Frasers Property are bringing a massive, multitower mixed-use development to a prime spot in the heart of Bangkok that will boast one of the tallest buildings in Southeast Asia at 430 m, Thailand Construction News reported. With a design team led by Skidmore Owings & Merrill (SOM), the multibillion- dollar One Bangkok will include five office towers, three residential buildings, five hotels, four shopping complexes and numerous public areas, supported by new infrastructure being built by the Thai government. The development is expected to partially open in 2023, with full completion anticipated in 2026. Approximately 50,000 office workers, along with international tourists, are expected to flock to One Bangkok.
Get more of Elevator World. Sign up for our free e-newsletter.