Manhattan continues to sizzle, and big plans unfold across the Hudson River.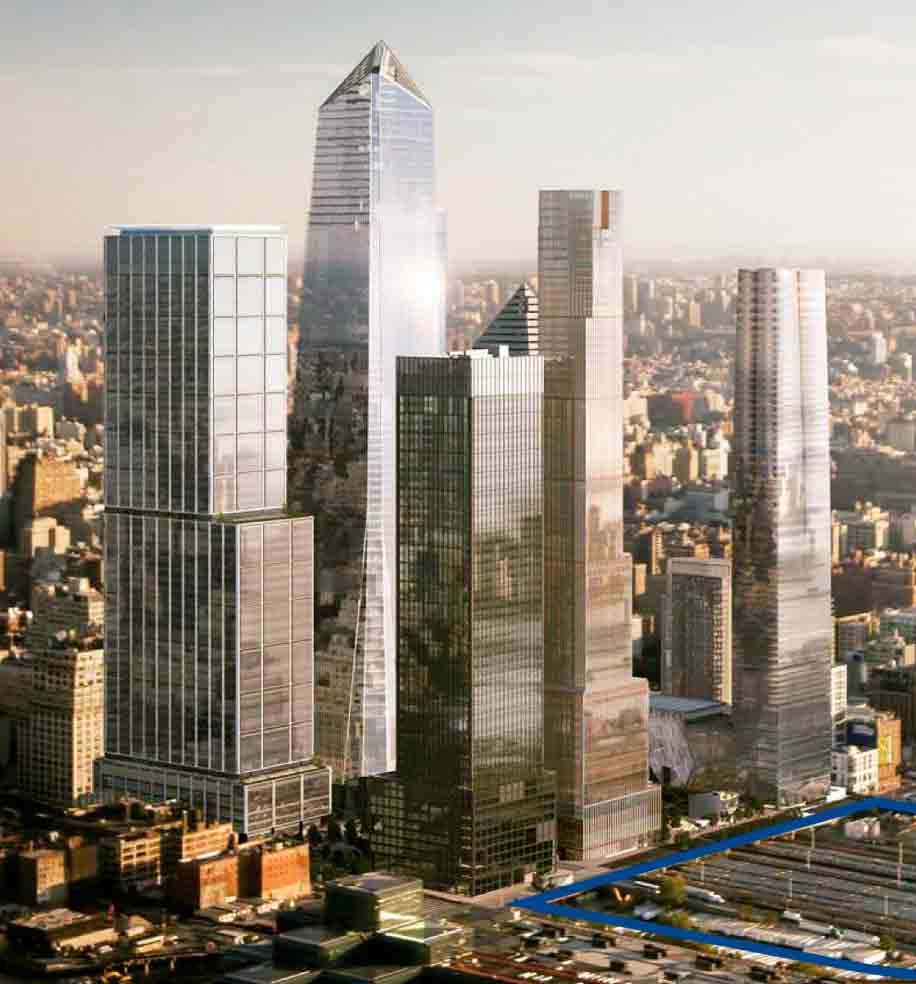 Brooklyn Supertall Poised to Rise
Concrete pouring for the first supertall outside Manhattan, 9 DeKalb Avenue in downtown Brooklyn, is likely underway as JDS Development and the Chetrit Group look toward a 2021 completion, New York YIMBY reported. SHoP Architects designed the tower, which will stand 1,066 ft. tall and contain approximately 500 relatively affordable apartments and ground-level retail. Formerly known as 340 Flatbush Avenue Ext. (ELEVATOR WORLD, January 2016), the project includes restoration of the historic Dime Savings Bank building, which will be incorporated into the base. The building itself resembles an elongated, skinny crystal.
Hudson Yards: One Tower Tops Out, Another Revealed
Construction activity is brisk at Hudson Yards in Midtown West, New York YIMBY reported, with one office tower topping out and another unveiled this past summer. Renderings of 50 Hudson Yards, set to take shape next to the rising 15, 30, 35 and 55 Hudson Yards, reveal a profile resembling a chunky obelisk that the source fears could "visually overwhelm" its neighbors. Norman Foster is the design architect, and Adamson Associates is the architect of record. At full buildout, which is expected in 2022, 50 Hudson Yards will stand 300 m and contain approximately 2.9 million sq. ft. 50 Hudson Yards' neighbor, 55 Hudson Yards, topped out at 51 floors and 780 ft. in August. Developed by Related with Oxford Properties Group, 55 Hudson Yards (owned primarily by Mitsui Fudosan) will have approximately 1.26 million sq. ft. and ground-level retail. Completion is anticipated in 2018.
"Wedding Cake"-Style Residential Tower for FiDi
A 54-story, 710-ft.-tall tower at 23 Park Row with retail on the lower floors and residences above will complement the style of the historic Municipal and Woolworth buildings nearby with a "wedding cake" limestone façade by COOKFOX Architects, New York YIMBY reported. Located on the northern edge of the Financial District (FiDi), the building promises to become a prominent neighborhood landmark once completed by 2021. In August, foundation work was underway. L&M Development Partners and the founders of J&R Music Store are behind the plan, bordering the construction site for the 25-story 1 Beekman.
Step Aside, Penn Station: Moynihan Train Hall Designed to Dazzle
Ground was broken in August for Moynihan Train Hall, a US$1.6-billion facility across Eighth Avenue from Penn Station that promises to be everything the dark, underground station is not: spacious, bright, visually appealing and easy to navigate, various news outlets, including Railway Age, reported. Governor Andrew Cuomo, who was at the groundbreaking, said the new station, which includes a 255,000-sq.-ft. concourse and 700,000 sq. ft. of commercial, retail and dining space, will stand the test of time, handle increased passenger volume and "say, 'Welcome to New Yok.'" He expects it to become a destination in itself, much like Washington, D.C.'s Union Station. Natural light from a skylight containing an acre of glass will filter through 11 escalators bringing Amtrak and Long Island Rail Road passengers directly down to the platforms. Completion is anticipated in 2020.
45 Park Place Finally Seeing Progress
After three years, a new condominium tower is finally getting the go-ahead to join Downtown Manhattan, New York's tallest residential building, New York YIMBY reports. Soho Properties made its initial applications for 45 Park Place — a 43-story, 665-ft. tower — in May 2014, but only this summer were the planning and financing in place to proceed. Foundation work was making headway in August, and the source surmised that the building would begin rising within a few months. Renderings show a slender design for the tower, which would include 50 units that average 2,300 sq. ft. About 1,000 sq. ft. of retail space will be housed on the ground floor. New York YIMBY noted that onsite signs show a completion date of October 2018, but said 2019 seemed more realistic. Michael Abboud of SOMA is 45 Park Place's design architect, and Ismael Leyva is the architect of record. When complete, it will sit one block west of 30 Park Place, which, at 82 stories and 926 ft., is the tallest residential building downtown.
57-, 59-Story Silver Towers for Jersey City
Fourteen Florence Street Corp. has won approval to build 57- and 59-story towers near the Holland Tunnel at 560-580 Marin Boulevard in Jersey City, New Jersey, Jersey Digs reported. Renderings show slender, shimmery, silver towers that will contain 750 residential units and 240,000 sq. ft. of nonresidential space. Approximately 1,100 parking spaces are also planned. There are concerns about traffic and lack of greenspace, but, should the towers be built, they will be the tallest on the Jersey City waterfront. They would take the place of a brick industrial building and further the area's transition from industrial to residential/commercial.
Nouvel-Designed Tower Ascends to Full 1,050-Ft. Height
53W53, a 1,050-ft.-tall, 82-story residential supertall in Midtown Manhattan designed by Jean Nouvel (EW, November 2015), had ascended to the 58th floor in September, World Architecture News reported. With interiors by Thierry Despont, the progressive yet classic structure will incorporate three new gallery levels for the adjacent Museum of Modern Art (MoMA) at its lower levels and boast remarkable resident amenities. These include a full-floor wellness center, two large vertical gardens, library, theater and temperature-controlled wine vaults, to name a few. 53W53's 154 residences will range from one to five bedrooms and include duplex penthouses with private elevators. Hines, Pontiac Land Group and Goldman Sachs are the developers.
TEI Wins Contracts for Four NYC Projects
TEI Group recently received contracts for elevator installations at four projects in New York City (NYC). The first is with LendLease to install five elevators for a residential building at 1865 Broadway. The job calls for three overhead gearless passenger elevators and two hydraulic elevators. The building will rise 33 stories, including a six-story podium topped by a 27-story tower, and will hold 180 apartments. It is being developed by AvalonBay, and the architect is Skidmore, Owings & Merrill.
Another contract, with Dematteis Construction, calls for five overhead geared traction elevators for a new inpatient residential building at South Beach Psychiatric Center in Staten Island. The 250,000-sq. ft., five-story building will sit on nine acres at the center's grounds and replace multiple obsolete residential buildings. The new structure will house up to 250 adult and 12 adolescent inpatient beds.
The low-rise "atrium" building at 601 Lexington Avenue is being closed for an overhaul, and TEI has a contract with Turner Construction Corp. to install four overhead machine-room-less elevators and one custom wheelchair lift, and modernize one geared traction elevator. The six-story structure houses offices and retail, and sits at the base of a 59-story tower.
For the fourth project, TEI was awarded a contract with Tishman Construction Corp. to install three overhead geared passenger elevators for Pace Gallery's new home. Weinberg Properties is planning to construct an eight-story gallery and office building at 534-540 West 25th Street in the Chelsea Arts District. The 50,000-square-foot structure will replace an existing one-story building, the flagship location for Pace Gallery. The architect for the project is bonetti/kozerski.
Get more of Elevator World. Sign up for our free e-newsletter.