Mixed use is the name of the game: news from The Architect's Newspaper.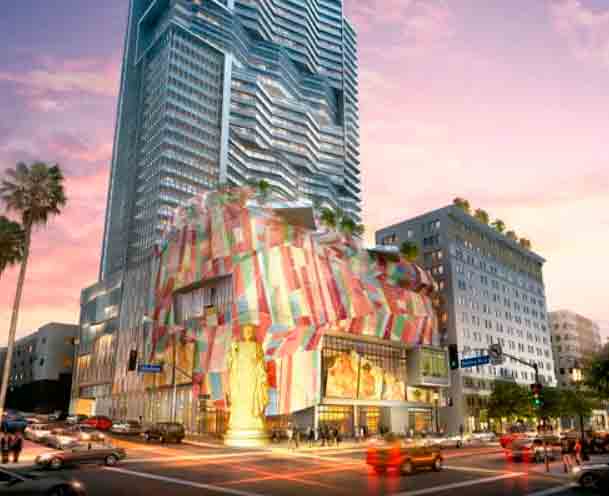 Planners Approve 41-Story Tower
The Los Angeles City Planning Commission has approved the Lake on Wilshire project, a 41-story mixed-use housing tower complex. The project, proposed by Archeon Group and developer Walter Jayasinghe for the city's Westlake neighborhood, would offer 478 market-rate apartments and a 70,000-sq.-ft., 850-seat performing arts center dedicated to Sri Lankan culture. A large statue at the corner would adorn the five-story center, which would be wrapped in multicolored mosaic panels. An adjacent medical office building would be converted into a 220-room hotel.
The US$213.8-million project would be around the corner from the Westlake/MacArthur Park Purple Line Station and represents one of the first major market-rate developments for the predominantly working-class and immigrant neighborhood. The Architect's Newspaper noted that there were concerns about the project, including its potential for neighborhood displacement.
33-Story Building Set to Rise in Koreatown
Koreatown in Los Angeles continues its hot streak with plans for the 33-story Wilshire Gate, set to include a 200-room hotel, 250 condominiums, and restaurant and retail space. Jia Long USA is the developer, with Archeon Group as executive architect and Pei Cobb Freed as design architect. Its rather conventional design features a solar-glass and composite aluminum-paneled tower atop a podium. Seven parking levels containing approximately 280 spaces will sit above two floors of retail. Hotel floors will be above parking and condominiums, including some for "very low income residents" on the highest levels.
Get more of Elevator World. Sign up for our free e-newsletter.