Office, residential development throughout the boroughs and beyond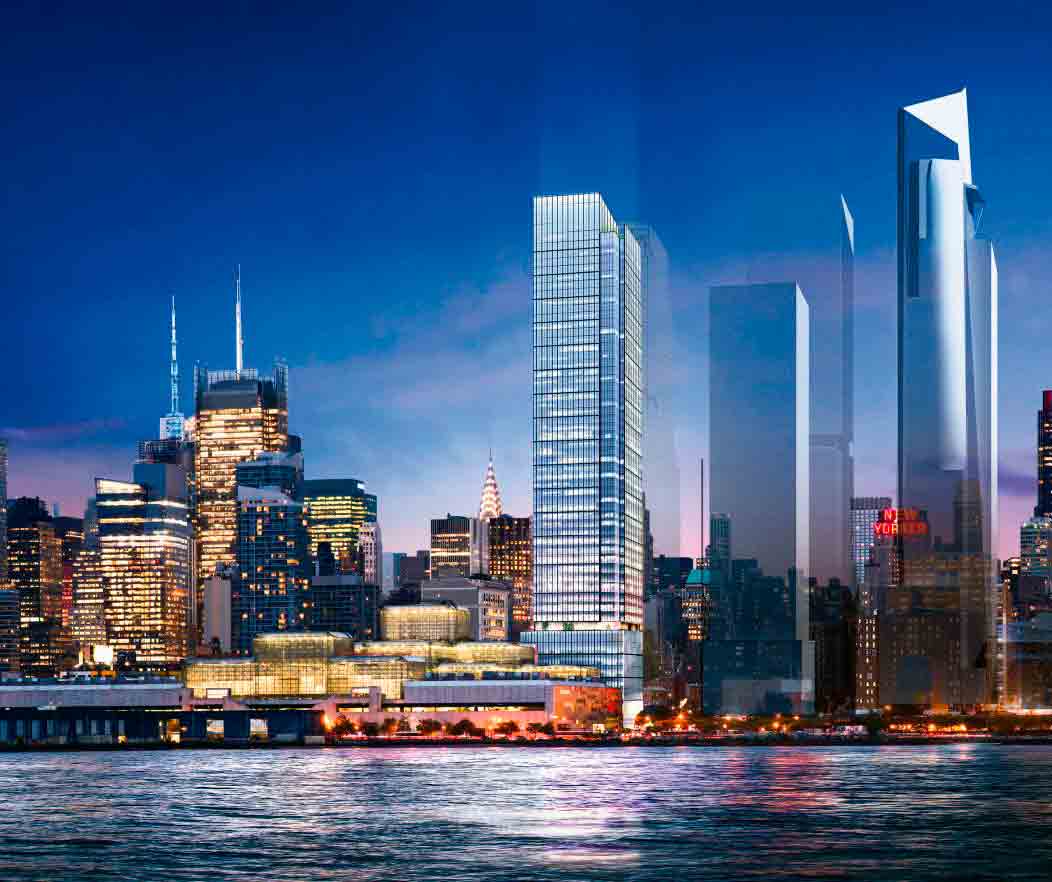 Evolving Plans at Hudson Yards
Plans for two Hudson Yards buildings have evolved, with both getting larger and one tripling its floor count, sources reported. 3 Hudson Yards (ELEVATOR WORLD, July 2016) has been redesigned to "better align with today's office tenants" with more square footage, allowing for bigger floorplates, the New York Post reported. Designed by FXFOWLE and developed by Joe Moinian, the structure went from 1.8 million to 2 million sq. ft. and is shorter, going from 66 to 53 stories, or 1,050 and 950 ft. tall, respectively. Its location across from the low-rise Javits Center at the northeast corner of West 34th Street and 11th Avenue will provide for unobstructed, 360˚ views. JLL guided the redesign, and, as the November 2017 groundbreaking was being held, was trying to land an anchor tenant.
Big changes are also planned at 441 Ninth Avenue, where work is set to start this month, New York YIMBY reported. The Cove Property Group and Baupost Group have added 17 stories to the top of an existing 1960s-era building. While the lower portion exemplifies the "intimidating personality" of that era's architecture, the upper portion will reflect modern design with thinly framed glass. Cove received a US$479-million loan for construction, which is expected to be complete before summer 2019. Leasing for the lower eight floors is expected to begin by the end of this year.
Quartet of Skyscrapers Proposed in Edgewater
If developer Edward Elanjian of Denver-based EnviroFinance Group can overcome local opposition, four residential towers ranging from 595 to 714 ft., or approximately 55 and 65 stories, respectively, will be built in Edgewater, New Jersey, on a narrow strip of land near the riverfront at 615 River Road, New York YIMBY reported. The plan includes a 50-ft. podium with a rooftop garden and other amenities. In late 2017, no completion date or architect had been confirmed, but increased ferry accessibility to Manhattan, along with rapid growth in Jersey City and Manhattan's Midtown West, bode well for the project.
Harborside Tower: Jersey City's First Office Tower in Decades
Jersey City, New Jersey, is set to get its first office tower in decades in the form of Harborside Tower, a 557-ft.-tall, 40-story structure designed by FXFOWLE Architects and being developed by Mack-Cali and SJP Properties at 136 Greene Street, New York YIMBY reported. It will offer 1.2 million sq. ft. of office space, along with a six-story parking garage with 600 spaces and 12,000 sq. ft. of retail on a double-level ground floor. Completion is expected in a few years. SJP's plan also includes renovation of the 69-story Harborside 1 residential development (EW, March 2014).
Get more of Elevator World. Sign up for our free e-newsletter.