One world observatory skypods at one WTC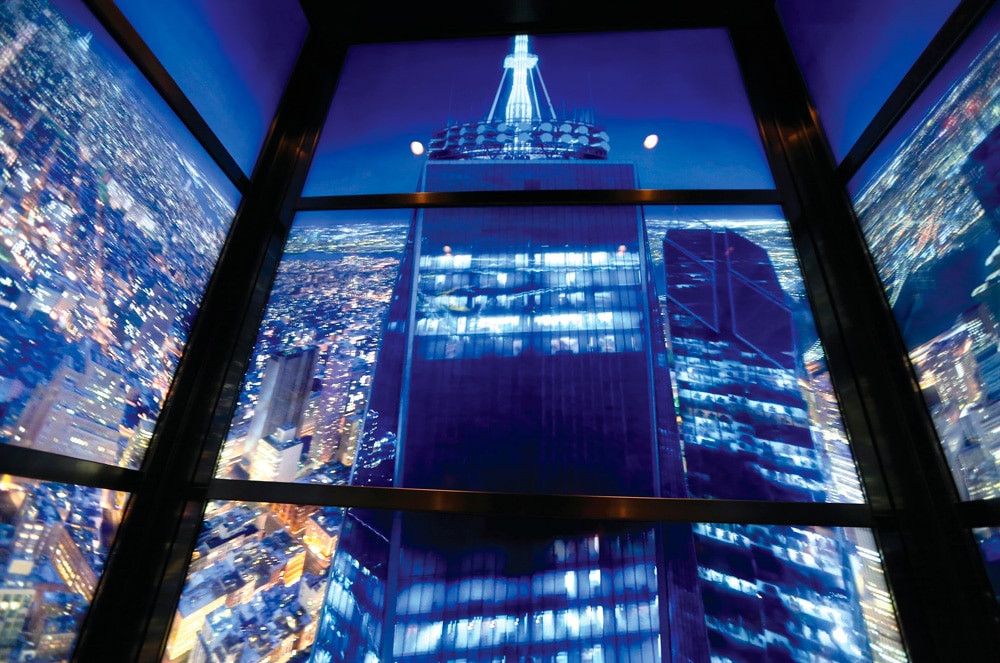 Team creates one-of-a-kind experience for visitors.
New York, New York
submitted by phil hettema, the hettema group
The journey to One World Observatory at One World Trade Center (WTC) in New York City (NYC) transports guests via an unforgettable and immersive virtual flight through time. The elevator cabin travels at 23 mph (2,000 fpm) as it climbs to the 1,268-ft. summit of the building. The five high-tech elevators, dubbed SkyPods, represent the most sophisticated and technically challenging integration of media and elevator system ever achieved, the result of a design and engineering effort of ThyssenKrupp Elevator Americas, The Hettema Group, Blur Studio and Electrosonic AV.
The units are the fastest and highest elevators operating in the Northwestern Hemisphere. The elevator experience utilizes storytelling and historical research to sensitively contextualize the new WTC tower with both the long horizon and 9/11 events that characterize the site. The elevator ride features two distinct experiences. The time-lapse experience created for the ascent is contrasted with a very different one for the descent. On the return to ground level, guests experience a soaring journey where the elevator cabin appears to move sideways out of the building and into a thrilling, spiral descent over the adjacent 9/11 Memorial and plaza before reentering the building and ultimately descending back to the lower lobby.
Both the ascent and descent sequences were rendered in daytime and evening lighting conditions. Depending on the hour of their visit, visitors enjoy a bright, sunlit journey or a shimmering after-dark skyline during their ascent or descent.
Taking Elevator Design to New Heights
The SkyPod elevators designed for One World Observatory represent a series of technological breakthroughs in engineering and design that deliver an extraordinary guest experience. The highly sophisticated base elevator system, which was already in place at the beginning of the project, was modified on several levels to accommodate:
A complex installation of floor-to-ceiling media displays, utilizing nine large, flatscreen high-definition video monitors
An auto-voltage control rack, transformer and additional heating, ventilation and air-conditioning (HVAC) equipment on the roof of the cab
Eight times the typical electrical load, as well as increased data communication for software updates
Custom auxiliary traveling cable with power and fiber-optic conductors for each elevator, representing the longest-, widest- and heaviest-per-foot elevator traveling cable ever installed; this custom ribbon cable nests magnetically into a channel on the shaft wall while traveling to ensure cable support and prevent it from twisting during high-speed operation
Recalibration of narrow tolerance weight and balance requirements for full-speed elevator operation
Recalibration of heat loads and HVAC specifications within cabins and exhausted into elevator shafts
An air circulation system that uses a combination of vents to generate four times the air volume of a typical system to accommodate the additional heat generated by audio/video components to ensure safety and comfort
A custom ventilation system separating hardware-component heat from the passenger area
Compliance with the most stringent elevator regulations and acceptance testing imposed by NYC and the Port Authority of New York and New Jersey
Vandal- and shatter-resistant materials, including custom surfaces on display panels, finishes and fastening systems
An unoccupied moving weight increase of 30% to accommodate custom fit-out, the heaviest in the world for similarly sized elevators
A control system that communicates directly with the elevator system to ensure proper show integration with the closing/opening of doors and elevator motion
LED lighting to minimize power consumption and heat generation
Four speakers and a subwoofer (typical elevators have one speaker) for theatrical surround sound
A custom redundant shock-absorbent mounting system to ensure absorption of cab motion and vibration; this helps ensure equipment's long life
Reliable displays and guest-safety features that respond at all times in even the most extreme fault conditions, such as sudden loss of power, within the cab
Credits
Building owner: Port Authority of New York and New Jersey
Developer: The Durst Organization
General contractor: JRM Construction Management
Architect: Montroy Andersen DeMarco
Experiential entertainment designer: The Hettema Group
Planner: The Hettema Group
Vertical-transportation contractor: ThyssenKrupp Elevator Americas
Equipment manufacturer/component supplier: National Cab Co., Inc.
Get more of Elevator World. Sign up for our free e-newsletter.