Towers planned throughout the region; VT industry framework tweaked in Singapore.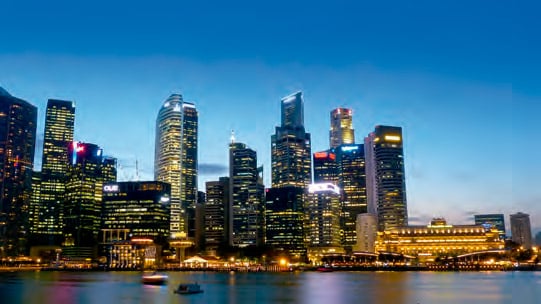 Design Unveiled for Guangzhou Supertall
Architecture firm Goettsch Partners has unveiled the design for a mixed-use project in Guangzhou, China, that will have a supertall tower as its centerpiece, ArchDaily reported in February. The 300,000-m2 development, to be known as Poly 335 Financial Center, will be set in the city's Zengcheng district, placing it on the outer lines of the subway and rail systems and bordering residential neighborhoods and a new regional transit station. The developer, Poly Real Estate Group, conceives the project as a central gathering place for Greater Guangzhou. It will include new homes, office and retail space, and hotel offerings. The main tower will stand 335 m tall, holding 60 stories and 142,000 m2 of office space. The complex will also have two 57-story residential buildings, a 21-story hotel and a 42,000-m2 retail mall at its base. It will feature a plaza with sculptures, space for seasonal displays and a retail court with a "central water feature." Completion is expected in 2023.
Singapore Amends Regulatory Framework for VT
A newly approved amendment to Singapore's building control law updates the regulatory framework for the country's elevators and escalators, The Straits Times reported in March. The change, enacted by the nation's Parliament, requires lift and escalator owners to hire specialist professional engineers to certify design plans, which must then be submitted to the Building and Construction Authority for approval. The submission must show that the elevator or escalator models and their safety components are approved by independent certification bodies. During debate over the rule, several
members of Parliament asked if more could be done, such as creating incentives, to increase the number of vertical-transportation (VT) specialists in the country. Zaqy Mohamad, minister of state for National Development, noted the country has recently seen fewer than 30 safety incidents per year involving the country's 70,000 elevators and 7,000 escalators. Acknowledging the sector's aging workforce, he said the law will allow for a progressive wage model to attract and retain Singaporean residents within the industry. The amendment also requires building owners to improve accessibility when renovating or adding onto older buildings.
32-Story Residential High Rise Set to Rise in Tokyo
Itopia Hamarikyu, a 32-story, 119-m-tall high rise with 422 residences, is set to rise in Tokyo near the Tokyo Metropolitan Expressway, the Council on Tall Buildings and Urban Habitat reported in March, citing Bluestyle. Part of the Itopia Hamarikyu Reconstruction Project by Itopia Hamarikyu Management Association in partnership with Tokyo Tatemono, it necessitated demolition of an existing condominium building. Construction began in March and is scheduled for completion in summer 2023. Within walking distance of the Yurikamome Takshiba and JR Hamamatsucho stations, the high rise will join the under-construction Takeshiba Urban Redevelopment project that includes a 39-story office tower.
Bangkok Tower Developments
Condo Tower First of Four Projects Developer Plans
Risland Thailand has announced plans to launch four new developments, starting with CLOUD Residences SKV23, a high-rise luxury condominium development in the Asoke neighborhood, The Nation Thailand reported in March. CLOUD will be a 43-story residential tower with 372 fully outfitted units meant to offer residents the feeling of staying in a hotel. Amenities will include a swimming pool, a jacuzzi, a yoga room, a sky lounge, coworking space, a meeting room and more than 1,000 m2 of green area. The THB3.6-billion (US$114.4-million) project will occupy a 1,400 m2 site near public-transportation stations, office buildings, hospitals and educational institutions. A construction timeline was not announced, but the developer said more than 50% of the units have been sold. Risland is based in Hong Kong.
Outlook Positive for 29-Story Condo Tower
The Thai-Malaysian team behind the 29-story, 253-unit Na Reva Charoennakhon development on the banks of the Chao Phraya River is optimistic about demand, citing location and proximity to rail services, retail and restaurants, the Bangkok Post reported. Navarang Charoennakhon Co. Ltd., in which Thailand's Navarang Asset Co. Ltd. and Paramount Corp. Berhad of Malaysia each hold a roughly 50% stake, plans to complete the project in late 2022. One-bedroom units will start at the equivalent of approximately US$125,845, and the developer said this price point will add appeal. The relocation of government offices will also bring more than 7,600 new people to the area, which also bodes well for the project, the developer said.
Get more of Elevator World. Sign up for our free e-newsletter.