Elevator U 2023 enjoys a successful, long-awaited conference in Charlotte.
The coolers of fruit-infused ice water in the hotel lobby felt familiar to your author. She had been here before: In June, almost exactly four years ago, for the 22nd Annual Elevator U Educational Conference hosted by the University of North Carolina at Charlotte (UNC Charlotte) at Hilton Charlotte University Place. Elevator U's grand return for the 23rd annual conference on June 26-29 after a long hiatus was welcomed by approximately 150 attendees. Some things remained the same — the heat, the hotel, a fun trip to the Charlotte Motor Speedway and delicious food — while others were new. The association welcomed a few new faces — including members of the next elevator generation — and enjoyed several fresh presentations. Besides the speedway excursion, highlights included more than a dozen in-depth presentations (many for continuing education credit), hilarious Vendor-Mercials, and an elegant-yet-raucous dinner event to open the Vendor Expo that included a silent auction to benefit the Elevator Escalator Safety Foundation (EESF) and provided ample opportunity to network and talk shop. More than 40 companies and associations hosted booths.
Day 1, Monday, June 26
An all-day golf outing at the Rocky River Golf Club in Concord, a short drive from Charlotte, kicked off the event. Nearly 30 golfers participated, with several reporting "hitting some of their best games ever" under sunny skies and temperatures in the 80s. Hijinks were part of the fun with Dima Kazantsev of Mathis Electronics dropping to the green to take a selfie with a large turtle. A full day of golf resulted in some boasting (we're looking at you, Glenn Duncan) during the Board of Directors (BoD) meeting in a ballroom at the hotel later that afternoon.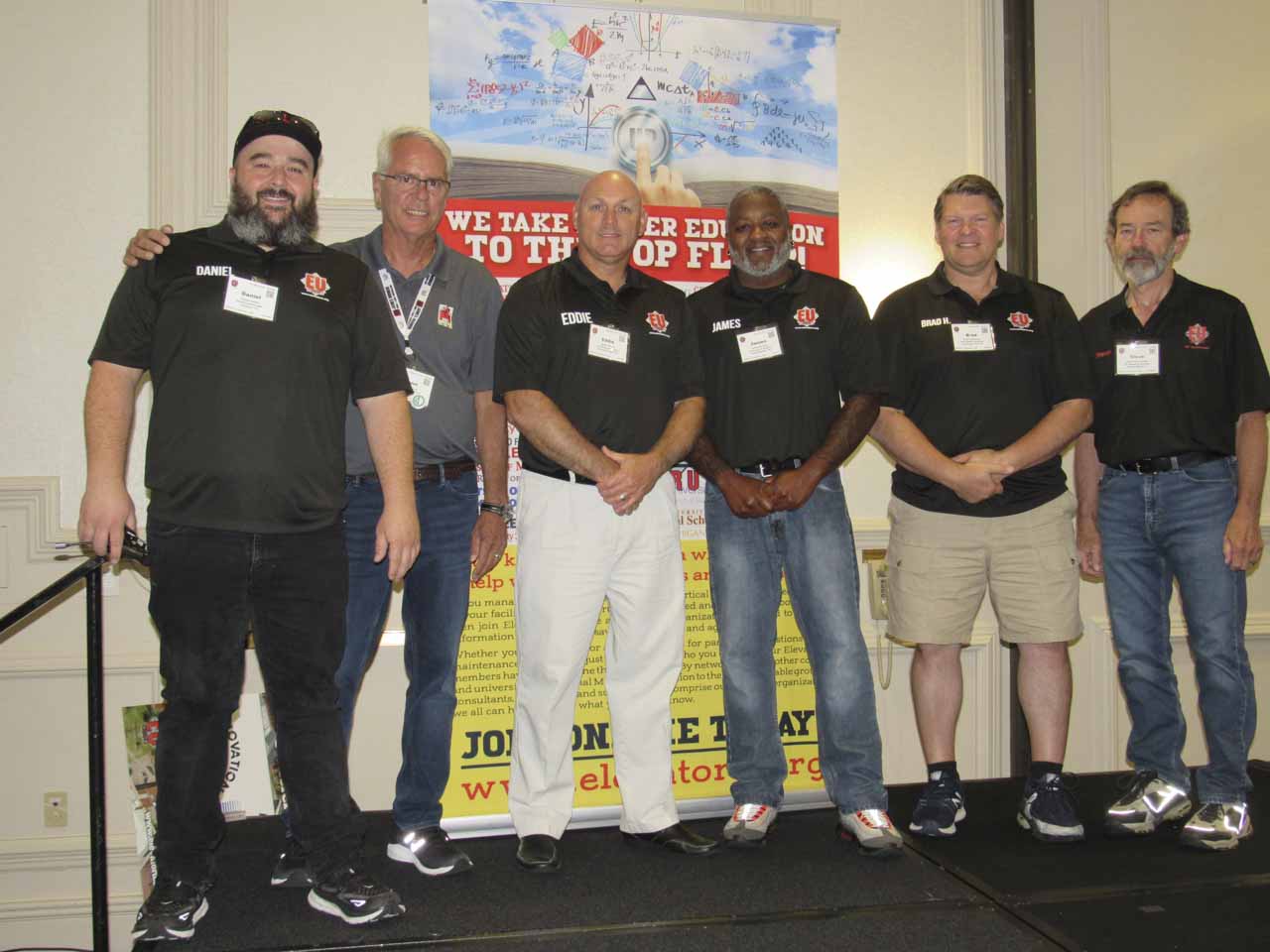 Day 2, Tuesday, June 27
As guests enjoyed what was decidedly not a continental breakfast (contrary to the description in the program, attendees were treated to a meal of chicken and waffles, fresh fruit, eggs, bacon and more), they heard a few words from Elevator U President Eddie Morris of the University of Virginia and UNC Charlotte Associate Vice Chancellor for Facilities Management Rich Steele. Facts Steele shared about UNC Charlotte included that it encompasses 10 million ft2 spread over 1,000 acres with 149 "great elevators" and is an outstanding research university that is home to EW correspondent Dr. Lee Gray, UNC Charlotte's professor of architectural history. The future of the university's facilities maintenance is to streamline the program to make it more effective and efficient, Steele said. The university is implementing autonomous floor scrubbers and delivery drones, among other measures.
Richly illustrated and brimming with humor, Gray's presentation was the ever-popular "Vertical-Transportation History." Gray described how early hand-powered elevators transitioned to steam-powered, hoisting-rope units that "could lift a ton pretty easily." These elevators, he observed, continued to be built well into the 20th century. He went over different rope configurations and observed, "The idea of a rope to pull an elevator persists." Gray's presentation also wove in interesting historical facts about hydraulic, plunger and piston elevators. Displayed on the screen, the historical diagrams were works of art in themselves. Gray praised one, in particular, for its "elegant simplicity."
Besides the speedway excursion, highlights included more than a dozen in-depth presentations, hilarious Vendor-Mercials, and an elegant-yet-raucous dinner event to open the Vendor Expo.
During the question-and-answer session, Morris asked how and when Gray became interested in elevators. Gray explained it came about many years ago when he was writing an architectural research paper. Elevators were not part of much of the information he found, so he began researching elevator patents. He contacted ELEVATOR WORLD in 2003 and has been an EW contributor ever since. Gray observed:
"Elevators are unique in cultural history. They are in movies, poems, songs, children's books and more. One of the things that's always interested me are the people involved — the engineers and the designers. Their stories are so interesting. Some people say Mark Twain was the best storyteller, but I would argue that the best storytellers are elevator engineers."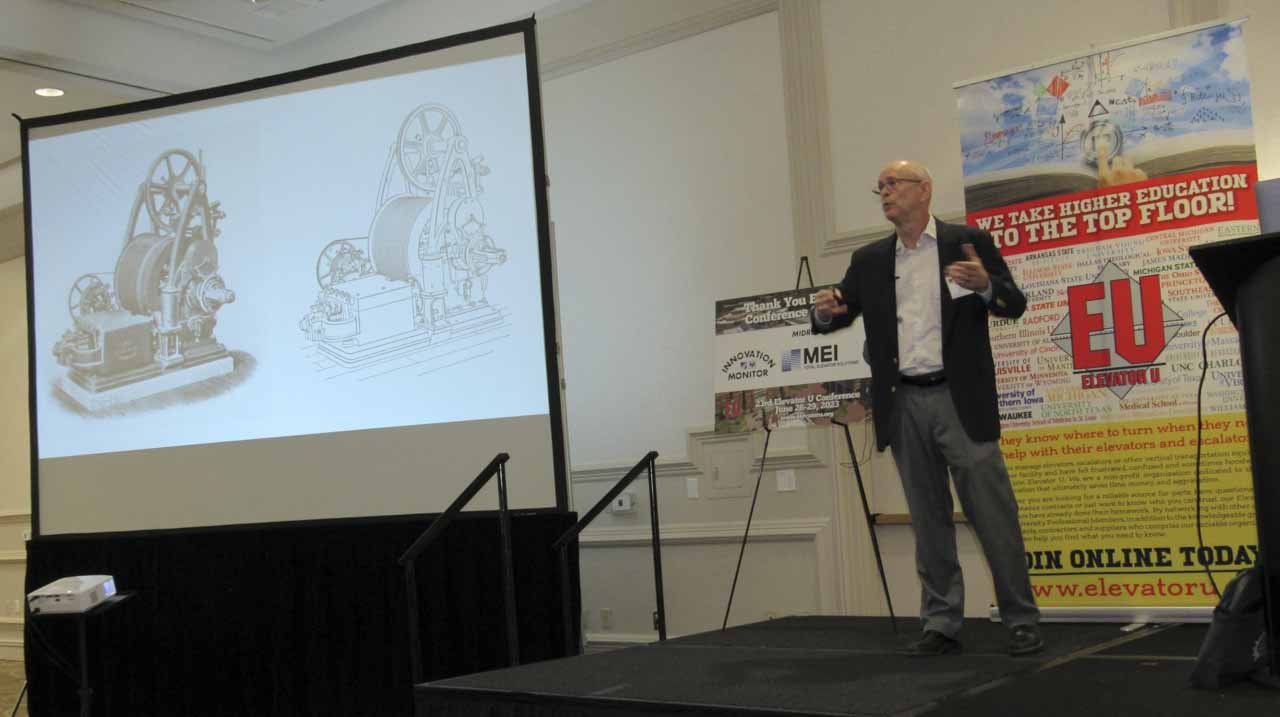 Between Gray's presentation and lunch was NAESA International Director of Education Jack Day's presentation on "A17.1-2019 Code for Door Reopening Devices." Anyone considering looking at their phone or daydreaming was out of luck, as Day made nearly constant eye contact with attendees in every corner of the room as he spoke. Day pointed out what's new in the code. Among the most important changes, he said, is 8.6.1.1.4, which he described as a "game-changer." Day elaborated for your author:
"It requires a newly installed safety device to meet the edition of A17.1/B44 in which it first appeared. This includes the testing documents being placed in on-site documentation. In the past, there were issues where some may not have placed the design criteria or documentation on-site because the AHJ was in an earlier edition of A17.1/B44. This new requirement makes it clear that the design documentation for the device must align with the edition of code that first required the device."
Next up was "Car Emergency Signaling" presented by Mark Yako of Wurtec. He explained that determining whether someone is incapacitated on an elevator floor depends on camera angles, and those in charge of such systems should work with inspectors and AHJs to determine the precise configurations.
In "How to Better Manage Your Next Elevator Project," Alliance Elevator Solutions Managing Director Travis Hall emphasized that project management consists of three basic concepts: preparation, planning and documentation. Difficult information and potential problems should be communicated upfront and as thoroughly as possible, he said. "Manufacturers, consultants and facilities all have different priorities and timetables," he observed. "Time is money."
Next was "Guide to Emergency Personnel (Elevator Entrapments)" by Max Stanley of Elevator Safety & Technical Services. Guidance for emergency personnel, Stanley observed, "is one of the least-looked-at parts of the code." Following code to the letter both protects people's safety and minimizes liability, he said. His talk included the importance of training for fire department, hospital and hotel personnel; proper lockout/tagout (LOTO) procedures; and crucial equipment such as drop keys, platform ladders, pike poles and personal fall-arrest gear.
The day's presentations wrapped up with Michael Johnson of the Gorman Co. with "The Importance of Hydraulic Oil Analysis."
After a short break, three large, air-conditioned tour buses carried approximately 130 guests to the Charlotte Motor Speedway to enjoy auto races (and crashes), bottomless beer and wine; and a feast that included barbecue brisket, chicken and some of the best macaroni and cheese your author has ever tasted. Bleachers in the private, glassed-in Summer Shoot-Out suites were filled with old friends cheering and yelling as a little friendly wagering was going on.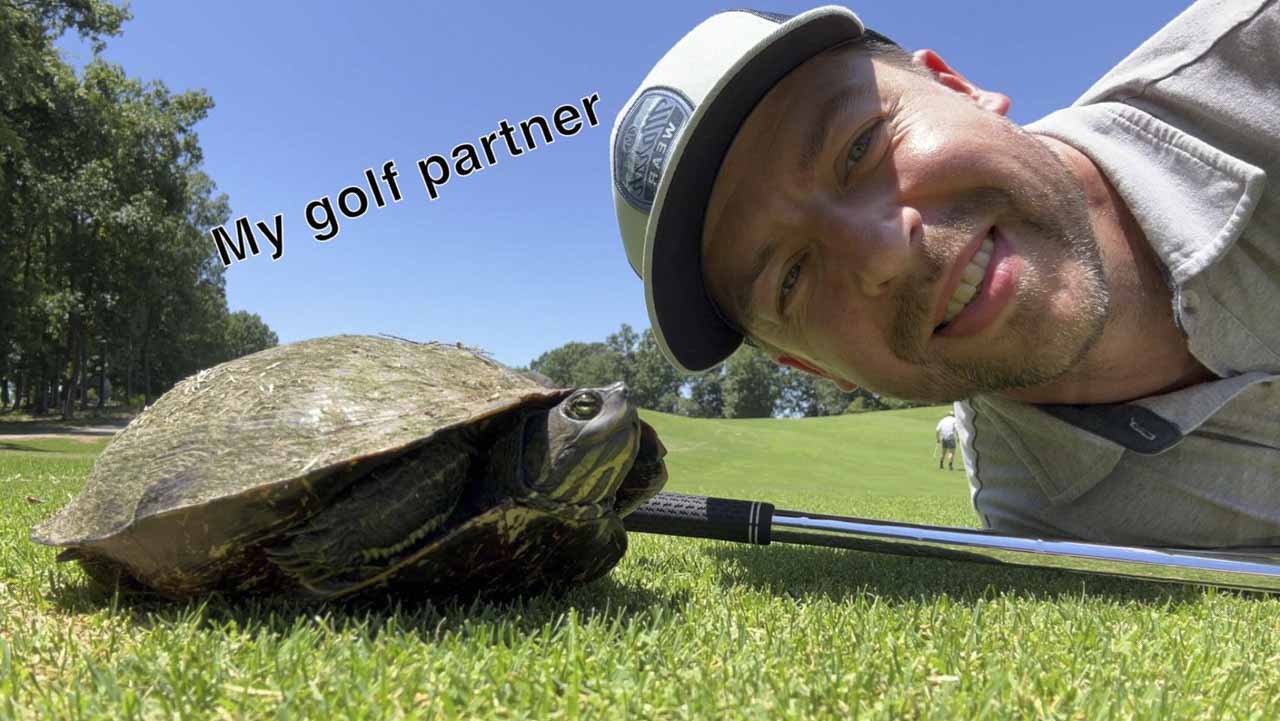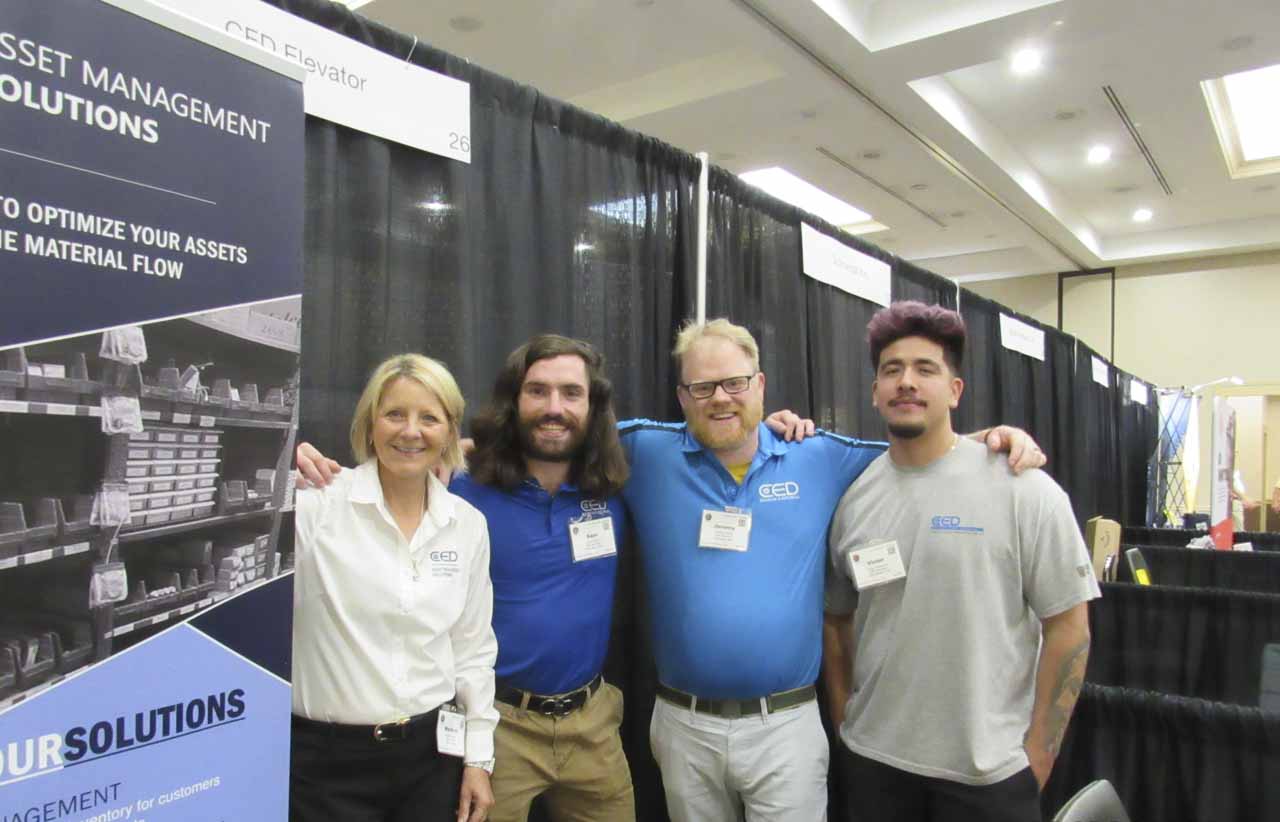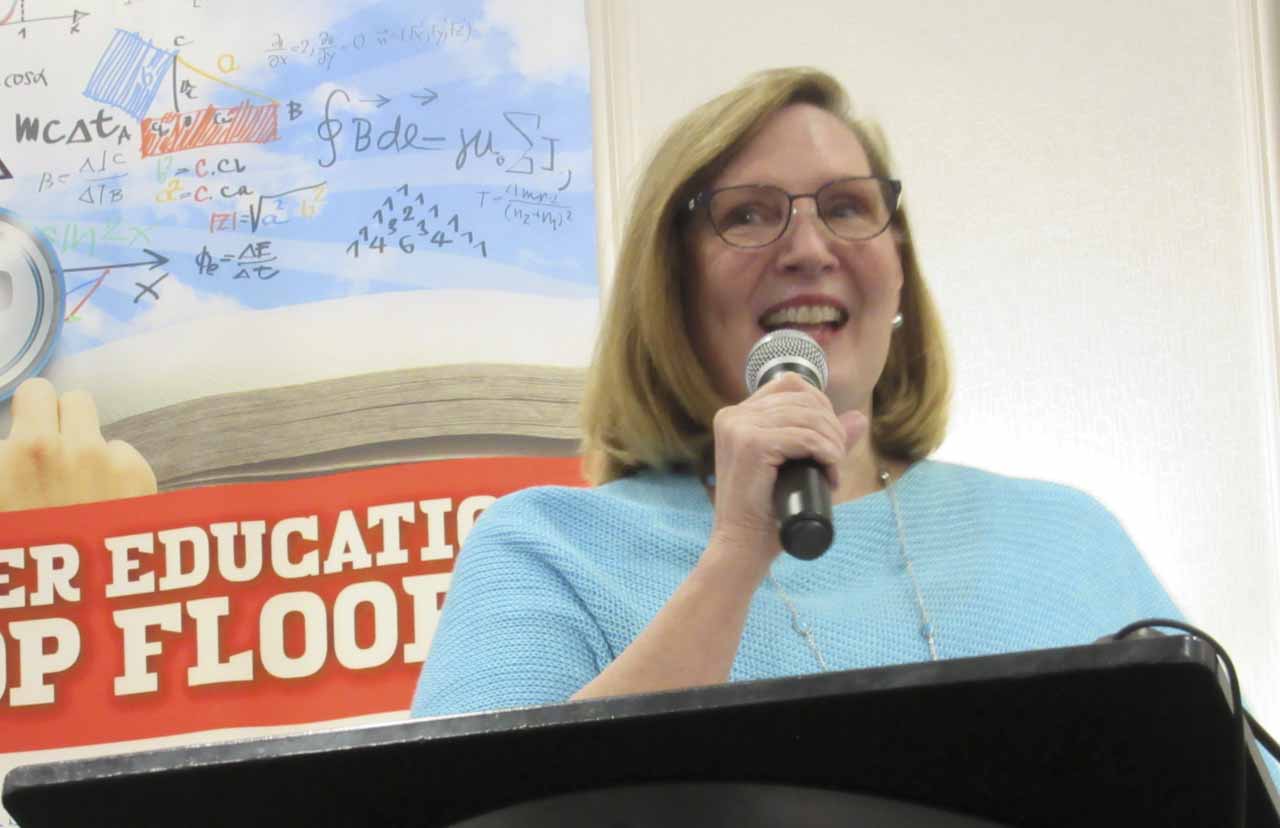 Day 3, Wednesday, June 28
Your author enjoyed breakfast and pleasant conversation with Business Development Manager Marlene Short, and young management trainees Victor Esquivias and Sam Lynch, all of CED Elevator & Electrical Supply, as Morris recognized Elevator U BoD members: James Dowell, Steve Pydynowski, Daniel Swett, Brad Halderman, Dave Smith and Glenn Duncan, "who has been with us from the beginning." BoD members Martin Culp and Tom Sybert (who Morris praised for "doing so much behind the scenes") could not attend for personal reasons. "Coming back from COVID and getting back into the groove of where we left off feels great," Morris said. He said the organization is always looking for educational presenters and volunteers, and anyone interested should talk to Duncan.
Attendees were then treated to a trio of Vendor-Mercials: Brittany Brothers and Doug Wiedor of SnapCab, who tossed out pairs of the "infamous" SnapCab socks to reward those able to identify the correct logos SnapCab had created for various clients — including universities — while only seeing a small portion of them. The duo was followed by Kazantsev with a series of elevator circuit board-related "dad jokes" and "Dr. Barnstein," aka Walter Barnes of Electronic Controls Inc. (ECI America), who rewarded those who could correctly answer circuit board questions with Starbucks gift cards.
Observing the Vendor-Mercials are a "fun way to get to know our vendors," Morris then introduced National Association of Elevator Contractors (NAEC) Executive Director Rená Cozart — a first-time Elevator U participant — to talk about the upcoming United show in Atlantic City next year. "It's like [an NAEC convention] on steroids," Cozart observed, continuing:
"This partnership started in 2021 and brings together Elevator U, NAEC, the International Association of Elevator Consultants and the Canadian Elevator Contractors Association (CECA). We come together to create an exceptional tradeshow that typically results in at least a 35% increase in attendance. Also unique next year is that NAEC will be marking its 75th anniversary and CECA, its 50th. I'm very excited about this show."
Then, Bob Shepherd's "Safety To Live By" emphasized that, when it comes to safety, "you are at the helm, 24/7." As always, Shepherd's presentation was interspersed with personal stories to illustrate the preciousness of life, "war stories" from his 22 years in the field and moving, patriotic songs. "There is no substitute for constant and vigilant safety awareness," Shepherd asserted.
Following Shepherd, EW President T. Bruce MacKinnon presented "State of the Elevator Industry," which included an overview of EW — its history and reach, worldwide locations and future goals — as well as how macroeconomic trends are shaping the vertical-transportation industry. Barnes' presentation, "Elevator Pit Safety & Statistics," picked up where Shepherd's left off by sharing stories about how improper pit safety procedures resulted in injuries and fatalities. ECI's PitSafeTM, which activates pit lighting and the stop switch simultaneously, can help, he said.
Ben Godwin, business manager at Rath Janus, was the day's final presenter with "Elevator Door Safety & Costs." Godwin explained how updated code "made Rath Janus create a better technology": the Panachrome 3D system.
Arguably the centerpiece of the event, the Vendor Expo and EESF auction with dinner and drinks that evening was filled with smiles and laughter. Hot auction items included golf clubs; high-end cigars and spirits; and cool tech gadgets such as Bluetooth® speakers, FitBits and GoPro cameras. Catered by the hotel, a dinner fit for royalty included crab cakes, sushi and lobster balls. With "Captain Obvious" (aka Pydynowski) in tow to pose for selfies with auction winners, Duncan make sure bidding was intense by working the room, microphone in hand. More than US$2,000 was raised for the Foundation.
Following code to the letter both protects people's safety and minimizes liability, Max Stanley of Elevator Safety & Technical Services said.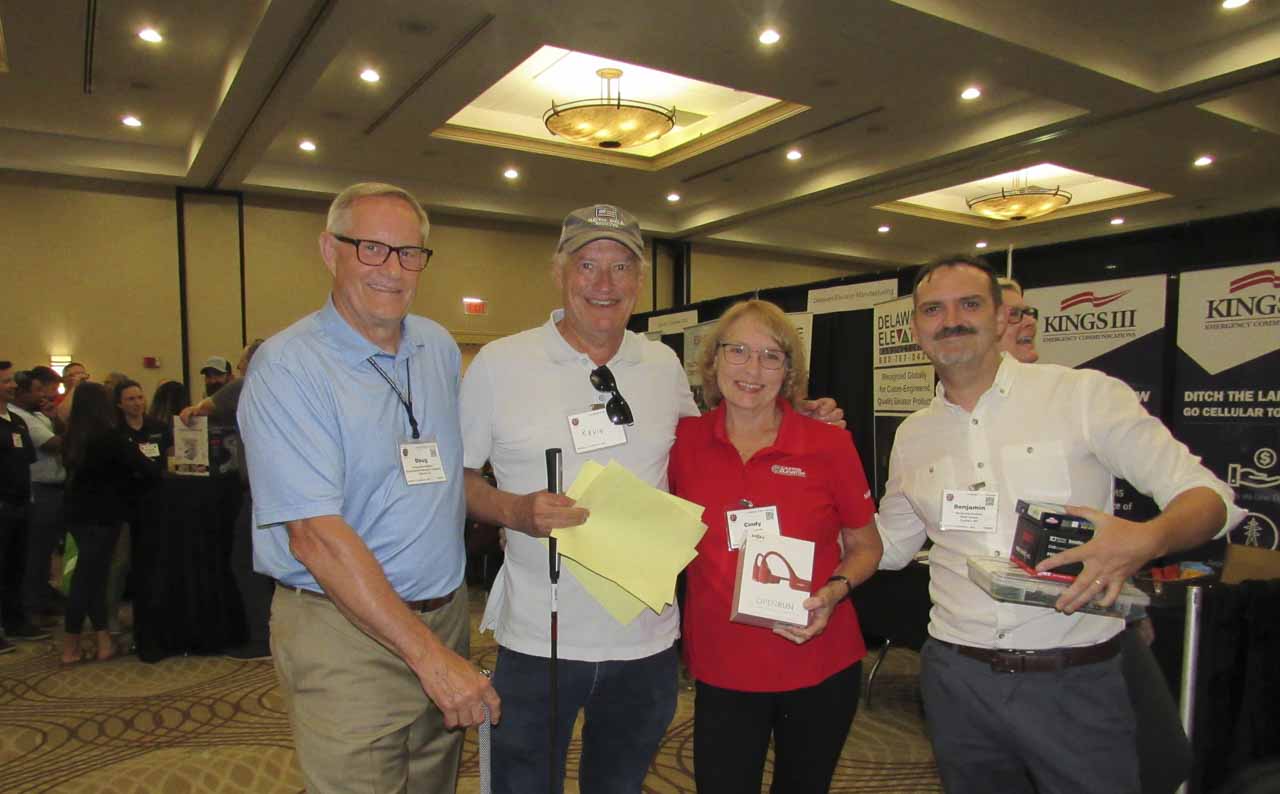 Day 4, Thursday, June 29
The final day's presentations were "Elevator Cab & Interior Selections" by Bobby Haskett of FabACab, "Freight Elevator Safety" by Jeff Rigby of The Peelle Co., "Organizing Elevator Maintenance" by Rob Dirscherl of KONE and "Pit Ladders and Access Safety" by Margaret Lourenço of Smart Elevator Tech, LLC.
When it comes to planning elevator cab interiors, the key is to communicate early and often, Haskett said. The more detail — particularly photos — the better, he said. Key considerations include clientele, foot traffic, environment, use (freight, service, passenger) and accessibility. Perhaps most important, Haskett observed, is code-compliance. "At the end of the day, you want to protect the end user," he said. When planning a maintenance program or modernization, it's crucial that potential contractors be fully vetted, he added. "The key to success is a partnership where everybody is on the same page," he said.
Dirscherl, who has contracted with the University of Pennsylvania for many years, emphasized that his is a hands-on business. "It's about knowing your equipment," Dirscherl said. "You need to document everything."
In his presentation, Rigby provided a detailed look at the evolution of freight elevator door safety both in general and for Peelle. "From 2008 to the present, we have supplied a dual, multibeam light curtain" to protect both people and objects, he said. Following, and even going beyond, code, he noted, minimizes liability.
In introducing herself, Lourenço described Smart Elevator Tech as a "small company that does weird stuff that helps you." Lourenço talked about how national and state code is driving both safety and innovation in the pit ladder business, including at Smart Elevator Tech. She said discussions are underway to get more pit ladder verbiage incorporated into the Field Employees' Safety Handbook. "We need to change how we think about pit ladders," Lourenço said. "A ladder is a machine that needs to be maintained."
At 3 p.m., this year's Elevator U came to a close, with most participants heading out to their respective parts of the country shortly thereafter. Reflecting on the past several days, Morris said:
"We had another successful Elevator U Conference with a lot of learning, networking and fun! There won't be an individual conference for us next year because Elevator U will be partnered with NAEC, IAEC and CECA in Atlantic City as part of United 2024. We all look forward to that event and encourage our Elevator U members to be there."
Get more of Elevator World. Sign up for our free e-newsletter.