Big contracts and plans in Chengdu, Jinan, Shenzhen and Shanghai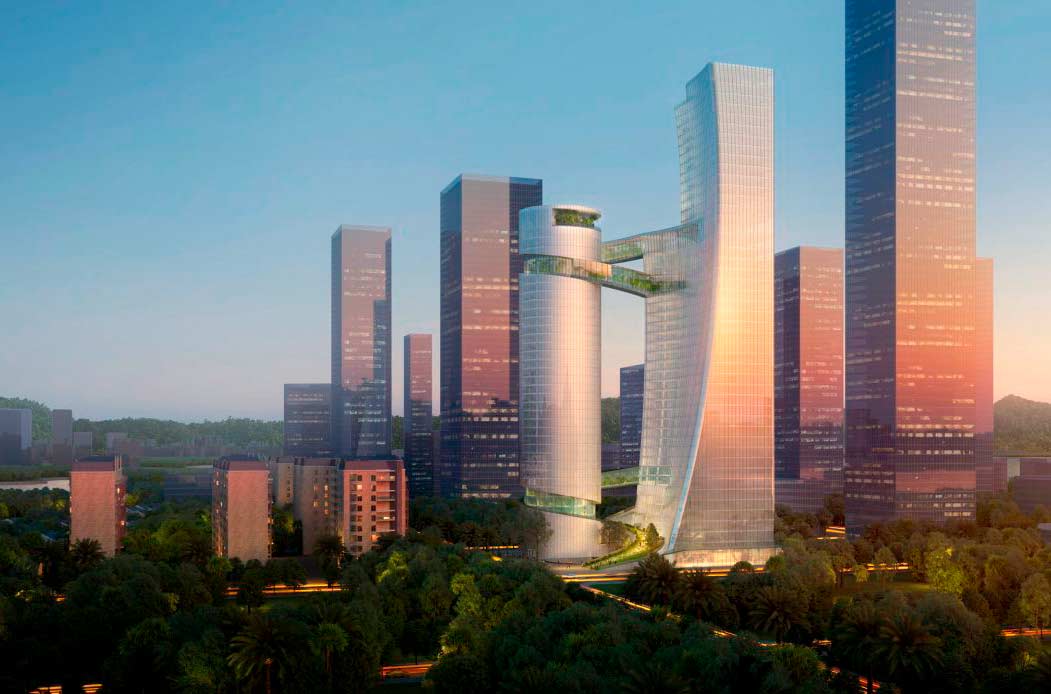 KONE to Equip New International Airport
KONE announced in April it has won an order to deliver 216 elevators to the Tianfu International Airport in Chengdu. The airport, in the capital of Sichuan province, will handle a projected 40 million passengers and 700,000 mT of cargo per year, the OEM said in the announcement.
KONE will provide 135 machine-room-less MonoSpace® and 81 TranSys™ elevators, all using its EcoDisc® hoisting technology. To help cope with such high volumes of traffic and ensure equipment availability, the company is also installing its E-link™ system, which allows real-time monitoring of system status, traffic and faults.
Chengdu, which sits along the ancient Silk Road, has seen its role in international trade grow and, with Tianfu International, becomes the third city on the Chinese mainland to have two international airports, after Beijing and Shanghai. The airport is scheduled to open in 2020.
Hitachi to Supply 118 Escalators to Chinese Rail Line
Hitachi Elevator has won a bid to supply 118 escalators for the phase I portion of Jinan Rail Transit's R2 line in Jinan, Yahoo Finance reported on May 17. Phase I runs about 36 km in length, with about 34.5 km underground. It will have 19 stations, with 18 underground and one elevated. The CNY22.8-billion (US$3.32- billion) project began in January 2017 and is expected to open to riders at the end of 2021. Hitachi's bid, awarded in March, will supply escalators for nine of the stations. Hitachi says its public- transportation escalators are widely used in locales where traffic can become highly intense, such as subway and railway stations, airports and convention and exhibition centers.
DNA-Inspired Design for Pair of Shenzhen Towers
Steven Holl Architects took inspiration from DNA for a pair of 150- and 200-m-tall towers in Shenzhen that will house residences and headquarters for biotech company iCarbonX, respectively, dezeen reported. Set to break ground in the fall, the shorter, cylindrical and taller, carved rectangular towers will be sheathed in translucent glass that lets in varied levels of light depending on the buildings' needs. The towers will be joined by pair of garden bridges resembling carbon bonds at the bottom and top. Lined with native tropical plants, the bridges will house galleries, meeting spaces and a health-and-wellness nutrition circuit.
High Line-Inspired Skyscraper Development in Historic Shanghai
Greenland Group is developing a large, mixed-use project featuring the Greenland Bund Center, a 64-story, 300-m-tall skyscraper that draws inspiration from NYC's High Line with a nearly 1,000-m-long elevated corridor connecting it to its neighbors, Shanghai Daily reported. The development is in the Huangpu District in downtown Shanghai and promises to become a new landmark along the historic Bund waterfront. Greenland Bund Center will include a 280-room hotel on the upper floors, approximately 170,000 m2 of retail and entertainment space, 126,000 m2 for apartments, corporate offices and 50,000 m2 of public green space. The Skyscraper Center said Shanghai Construction Group is the main contractor, and completion is anticipated in 2022.
thyssenkrupp Providing 123 Units for Istanbul Cruise Ship Dock
When cruise passengers are welcomed at Istanbul's new Galataport harbor dock for the first time next year, they will access the facility on vertical-transportation equipment manufactured and installed by thyssenkrupp Elevator, the company announced in April. Galataport, serving as a cruise-ship gateway to Turkey's largest city and world- renowned cultural and heritage center, will offer amenities such as a terminal, offices, shops and food courts. Once completed, the facility will have 123 thyssenkrupp units, both elevators and escalators, to ease the flow of people.
During the first phase of the project, thyssenkrupp will install 66 elevators and 21 escalators. A second phase will include the installation of another 36 thyssenkrupp units.
Galataport is being built on a 1.2-km stretch of coastline from Karaköy to Tophane, currently known as Istanbul Salıpazarı Cruise Port. When it opens in 2020, it will employ 5,000 people and will be able to berth ships carrying more than 6,000 passengers. With a capacity to dock three large ships at a time, the Galataport will serve about 15,000 passengers a day, and up to 1.5 million passengers and crew members per year.
Get more of Elevator World. Sign up for our free e-newsletter.