Big projects focus on Shenzhen; Otis to supply Wuxi Metro.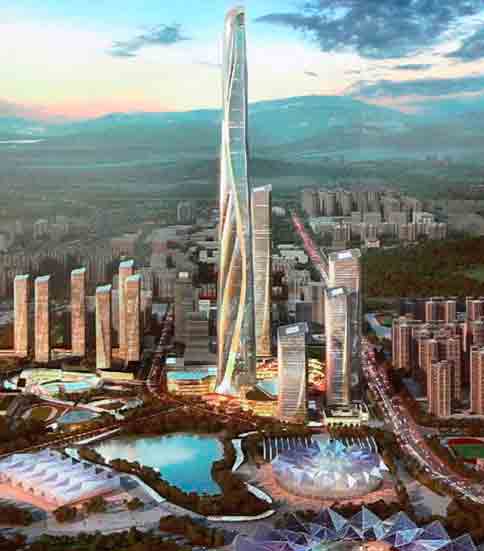 Construction Underway on Country's Future Tallest
Construction is underway on the Shimao Shenzhen-Hong Kong International Centre, a 668-m-tall tower for Shenzhen. The height would exceed China's current tallest building, the 632-m-tall Shanghai Tower, which is also the world's second tallest, dezeen reported. Though several details, such as the architect, are unknown, the building is being developed by the Chinese firm Shiamo Group, which is said to have already invested CNY50 billion (US$6.85 billion) into it. Apartments; offices; a startup incubator; five-star hotels; shopping centers; international schools; and a convention, exhibition and performance center will take up the 321,900 m2 behind a rippling façade.
Located in the Longgang district in eastern Shenzhen, the center could be completed as early as 2024, when it may still be in the running for second-tallest building in the world. In Shenzhen, it would overtake the 599-m-high Kohn Pedersen Fox-designed Ping An Finance Centre.
Shenzhen's "Latest Vertical Icon" by KPF Eyes Completion
The 67-story, 400-m-tall China Resources Headquarters, designed by Kohn Pedersen Fox (KPF) in a new business district in Shenzhen, is almost complete, with the exterior finished and interior fitout underway in April, dezeen reported. Its tapered design resembles Foster + Partners' "Gherkin" in London (ELEVATOR WORLD, February 2016), with 59 steel columns that converge at the base and top to form a diagrid pattern and allow for column-free space for tenants. KPF, which has designed some of the world's tallest buildings, described it as "Shenzhen's latest vertical icon," known locally by the nickname Spring Bamboo due to its resemblance to a bamboo shoot.
Otis Wins Wuxi Metro Contract
Otis Elevator (China) Co. Ltd. will provide 102 escalators and 24/7 maintenance support to Wuxi Metro Line 3 Phase 1, in the Wuxi business hub near Shanghai. The third main line in the Wuxi network, Line 3's first phase will have 21 stations and stretch 28.5 km underground when completed in 2020. It will connect the districts of Huishan, Liangxi and Xinwu to serve key industrial areas, main rail and air transportation hubs, and the city center. Otis China will also provide the Otis Metro Maintenance Management System (OM3S®) to support Wuxi Metro. The company calls OM3S "a specialized service system that provides around-the-clock support for metro customers." Introduced to China in 2013, the system's network includes dedicated metro service offices staffed by specially trained mechanics.
Drone Company HQ a Unique Workplace Taking Shape
Robot fighting rings, R&D areas and office space are part of the new Shenzhen headquarters (HQ) for DJI, consisting of a striking pair of towers designed by Foster + Partners, various news outlets, including New Atlas, reported. Height and construction timeframe were unavailable as of May, but renderings reveal a "unique workplace" featuring towers with multiple glazed boxes and sky gardens cantilevering out from a central steel framework. The towers will be connected by a skybridge, which is also expected to be used for drone testing. Also set to include a theater and gymnasium, the large, column-free floors will accommodate quadruple-height drone flight-testing labs.
Get more of Elevator World. Sign up for our free e-newsletter.