Mainland high-rise news includes contracts let
Tall residential buildings planned, and timber being used in high rises.
High-Rise Residences Multiply in Moscow
Low interest rates, government-backed cheap mortgages and lockdown exemptions for construction companies are fueling a high-rise residential construction boom in Moscow, The Moscow Times reported in February. Citing data from Capital Group, the source observed more residential units in high-rise buildings — those 33 floors or taller — were built in 2020 than ever before, despite the pandemic. The city added more than 860,000 m2 of residential space, the equivalent of 17,200 apartments, in skyscrapers in 2020. A fifth of Moscow's new residences are in high-rise buildings now, and they are becoming more "Americanized" with unique, taller architectural designs. The Kremlin's cheap mortgage scheme was rolled out during the peak of the pandemic in 2020 (and could be extended through 2024), but naysayers fear it could lead to riskier lending practices.
EHC Global Lands Escalator-Handrail Contract for Budapest Metro
EHC Global, part of Prysmian Group, has been awarded a three-year contract by Szikametro89 Kft to supply TufFlexTM escalator handrails to the Budapest Metro in Hungary. Established in 1896, Budapest Metro is the oldest underground railway system in continental Europe and the second-oldest in the world after the London Underground. The system consists of four lines, 52 stations and approximately 250 elevating devices. In 2019, it served more than 350 million passengers. In January, Prysmian Group completed its acquisition of EHC Global, a manufacturer and supplier of handrails, rollers, safety brushes, elevator belts, strategic components and integrated solutions for the vertical-transportation industry. Prysmian Group has a strong presence in Hungary, employing more than 600 at its Budapest head office and cable production facilities in Kistelek and Balassagyarmat. It provides products in major cities throughout central Europe, including Moscow; St. Petersburg, Russia; Prague; Bucharest; Kiev, Ukraine; and Sofia, Bulgaria.
Orona Elevators for Spanish Real-Estate Construction Group
Hernani, Spain-based elevator manufacturer Orona has partnered with ÁVIT-A, the modular construction division of Madrid-based Grupo Avintia, to include its elevators in ÁVIT-A projects, Orona announced in February. Orona's range of gearless machine-room-less elevators are "a personalized solution" that provide an up-to-eight-person capacity, handicapped accessibility and a 3,000-mm top-floor height. Using models including Orona 3G X-10 "represents a reduction in installation time given its modular nature, which fully integrates into the ÁVIT-A philosophy," Orona observed. "This comes with the full commitment of both companies to industrialization of construction, which every day gains greater weight and stands as the future of the sector in Spain." ÁVIT-A states its construction system saves time and money, and that incorporating Orona elevators will only increase that.
thyssenkrupp Supplying 71 Units to Istanbul Metro Project
thyssenkrupp Elevator continued its relationship with the Istanbul Metro with a contract to supply 71 units to the Başakşehir-Kayaşehir line, Railly News reported in February. The company, which has supplied approximately 70% of the metro's vertical-transportation equipment, is now supplying 23 elevators, 44 escalators and four moving walks. thyssenkrupp Elevator Turkey CEO Artuğ Özeren said the equipment is high-capacity, durable and suitable for 24/7 operation. "With these features, our products will be able to meet the technical and safety requirements of the project specifications, while simultaneously responding to the density of the metro line," Özeren said. The new line will facilitate access to the Başakşehir Pine and Sakura City Hospital.
Berlin CLT Tower Has Progressive Aspirations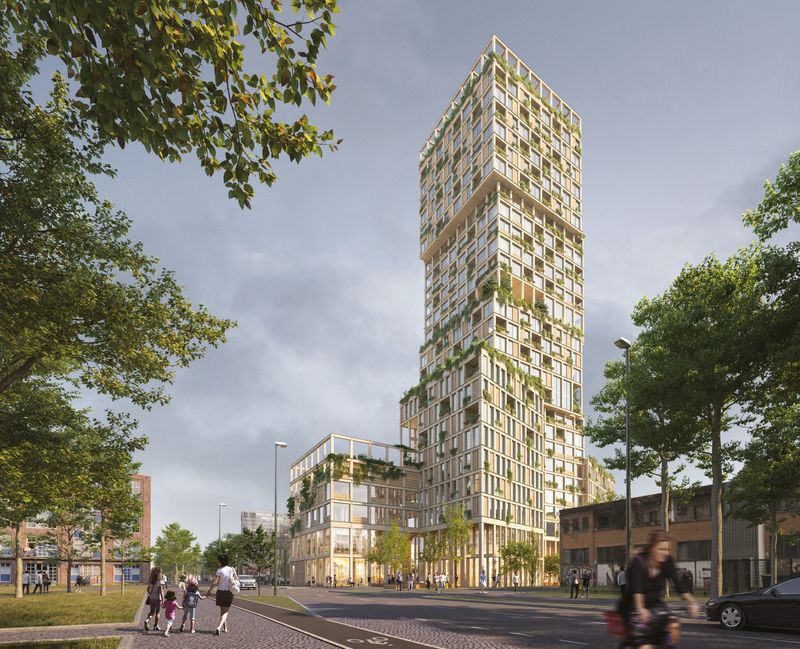 A 98-m-tall, 29-story cross-laminated-timber (CLT) tower planned in Berlin has progressive aspirations, with developer UTB describing it as the "Anti-Amazon tower," a reference to the controversial structure the retail giant is building in East Berlin, Bloomberg CityLab reported in February. Designed by Norway's Mad Arkitekter and called WoHo (short for Wohnhochhaus or "live tower"), the building is set to be comprised of 60% residences and 25% commercial space. A third of the homes are planned to be rent-controlled. It is set to rise in the city's Kreuzberg District, and the State of Berlin and the borough of Friedrichshain-Kreuzberg approved it in January. In line with Berlin's new high-rise standards that call for "high architectural standards and functional sustainability," WoHo would be the tallest timber building in Europe.