Manchester and London are targeted for new high rises and tall redevelopments.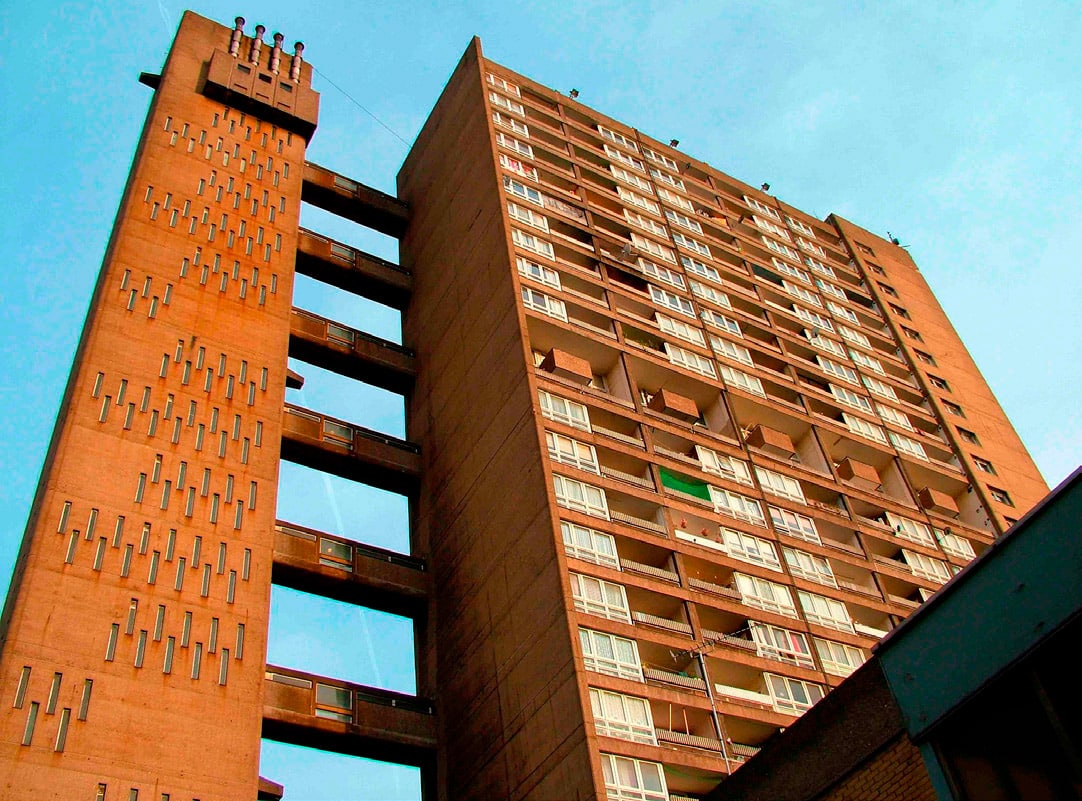 Tower Trio With 1,500 Homes Envisioned in Manchester
Developer Renaker envisions a trio of towers up to 50 stories tall that could deliver more than 1,500 homes to the Greater Manchester area, North West Place reported in October 2019. In the city of Salford in the Greengate area around Collier Street, the scheme would roll out in phases, with the frst phase a 50-story, 559-unit tower and public park.
Two later phases would include towers starting at 41 stories. Renaker hopes to start construction on the frst, glass-clad tower — designed by OMA Architects — in April. A three-story brick podium will aim to "create a neighborhood" at street level, with bars, restaurants and shops.
London
Two-Tower Scheme for Isle of Dogs
Piling and basement works were underway in November 2019 for Consort Place, consisting of 35- and 65-story towers containing almost 500 apartments on the Isle of Dogs, building.co.uk reported. Designed by Pilbrow & Partners, the development is from Hong Kong-based Far East Consortium, which is also renovating Art Deco treasure Hornsey Town Hall in north London. The GBP470-million (US$605-million) Consort Place is slated for completion by the end of 2023, with JRL handling construction.
Redevelopment Plan in the Works Since 2009 Gains Traction
A plan to redevelop the 1960s Elizabeth House ofce building next to Waterloo Station with towers up to approximately 31 stories has been unanimously approved by the Lambeth Council, the Council on Tall Buildings and Urban Habitat reported, citing Architects' Journal.
Developer HB Reavis submitted a design by Allford Hall Monaghan Morris (AHMM) that includes roughly US$130 million in public improvements around the station, the busiest in the U.K. In addition to 111,484 m2 of ofce space, a landscaped promenade, shops and cafés are on the drawing board. The plan takes the place of previous ones dating back to 2009 from Allies and Morrison and David Chipperfeld Architects.
Brutalist Landmark With Elevator Tower to Be Transformed
Balfron Tower, a 26-story former public-housing complex in London's East End designed by Hungarian architect Erno Goldfnger in the Brutalist style, is being transformed by Londonewcastle into high-end housing, the Council on Tall Buildings and Urban Habitat reported in November 2019, citing The Wall Street Journal. Completed in 1967, Balfron is distinguished by an elevator tower connected to the main tower by open walkways. The elevator tower also contains communal rooms, which will be revitalized and retained as part of Londonewcastle's GBP40-million (US$51.7-million) efort. Interiors are being designed by Studio Egret West and Ab Rogers Design, which are drawing inspiration from Goldfnger's original vision with materials like linoleum, terrazzo tile and cork, and bold, primary colors. Only about a mile from Canary Wharf, the development is part of continued revitalization of the Poplar neighborhood.
Leas Lift in Folkstone, Kent, at Risk
Historic England recently released a list of historic sites most at risk of being lost forever as a result of neglect, decay or inappropriate development in the annual Heritage at Risk Register. The list of sites added to the register in 2019 includes the Leas Lift in Folkstone, Kent, which is a rare clif funicular railway built in 1885 to transport people between the Leas promenade and the beach and seafront. It is one of only three remaining water-balanced lifts in the U.K. but closed in January 2017 due to safety issues with the braking system. Since then, the buildings, tracks and machinery have degraded further. A trust has been formed to care for and manage the building in the long-term with the aim to bring the lift back into use by making essential repairs and accessibility improvements. The trust aims to fund some of this work with a grant from the National Lottery Heritage Fund and is in the early stages of planning its bid. If successful, the lift could reopen by 2023. Historic England is working closely with the trust as it develops its proposal to secure the long-term future of the building and water-balanced lift.
Get more of Elevator World. Sign up for our free e-newsletter.