Vertical Transportation: A Primer
New CTBUH e-book focuses on putting and keeping our industry in the minds of supertall designers.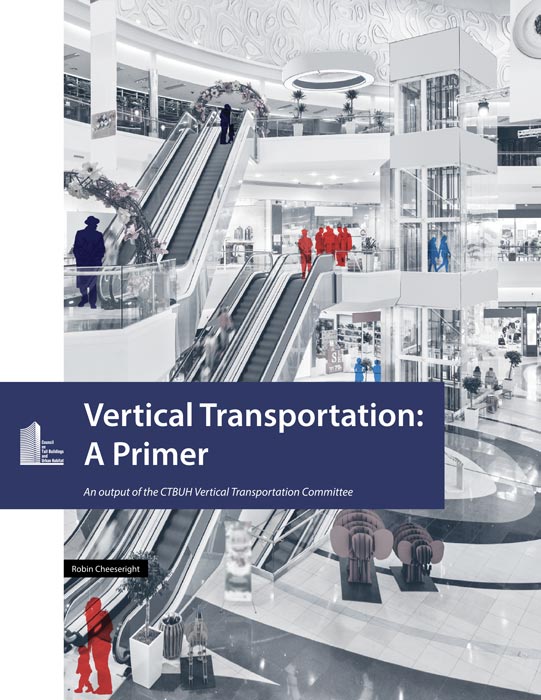 Vertical Transportation: A Primer is a 118-page publication by the Council on Tall Buildings and Urban Habitat (CTBUH) Vertical Transportation Committee. Robin Cheeseright is principal author of the e-book, which focuses on the interconnection of elevators and tall buildings in general and the technology and future of elevators in particular. Its chapter titles elucidate the depths plumbed:
"The Tall Building — Vertical Transportation Interface"
"Elevator Capacity Planning and Shaft Arrangement"
"Critical Issues Affecting Vertical Transportation System Performance"
"Digital Elevator Evolution"
"Elevator Design, Testing and Implementation — Case Study: Guangzhou CTF Finance Centre"
"Fire and Evacuation: The Role of Elevators"
"Installation"
"Escalators and Their Relevance to Tall Buildings"
"Conclusion"
Intended for designers of supertalls, buildings CTBUH defines as being 300 m or taller, the primer is self-described as an attempt "to facilitate the design process by affording stakeholders greater knowledge so as to ask informed questions and efficiently gain insights from vertical-transportation (VT) experts." Instead of serving as an instruction manual, it informs these designers about VT, which, it promises, "will allow them to be more creative as buildings become taller."
While the publication covers a wide range of subjects, its focus on technology advances the topic steadily. This consistency is aided by only occasionally referencing codes and standards, which Cheeseright says should be researched and followed for the AHJ in which the construction is taking place. Additionally, the author explains, there is enough left to cover for future versions, which may examine maintenance, user experiences and elevator/building longevity. On the latter topic, the author detailed:
"As tall buildings are rarely demolished, they will outlast the design life of elevators and escalators. Future editions of this primer will inevitably address the complexities of replacement or modernization of elevators in supertall buildings, noting the importance of their role in maintaining the asset value of the building, while also encompassing the recognition that buildings are largely to be kept operational and occupied during any refurbishment work."
Extensively peer-reviewed and written throughout with a strong understanding of the VT industry, the book was contributed to by industry professionals from around the world and OEMs KONE, Hitachi, Otis, Schindler and thyssenkrupp Elevator, and consultancies D2E International Vertical Transportation Consultants Ltd. and WSP. It is available at store.ctbuh.org and elevatorbooks.com.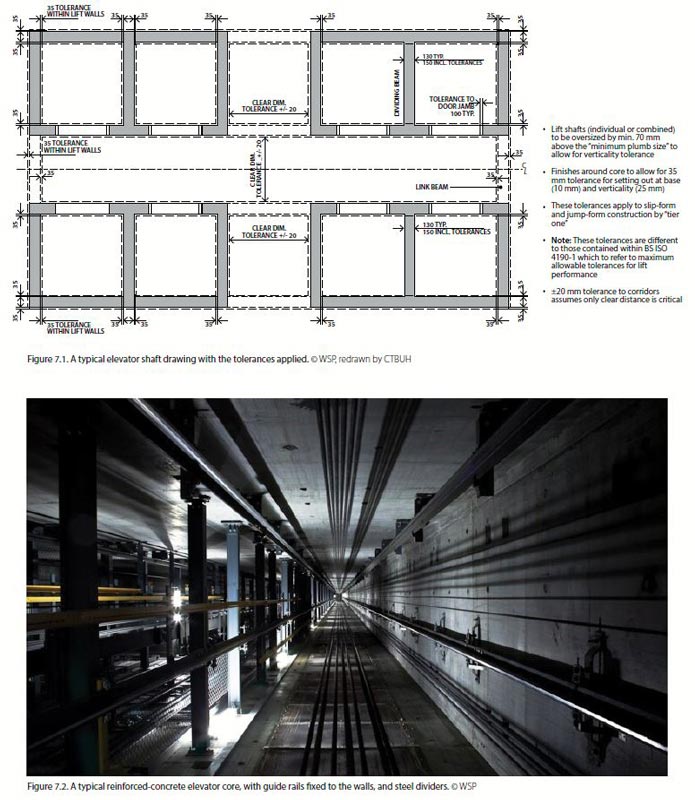 About the Author
Robin Cheeseright has been director at London-based D2E International Vertical Transportation Consultants Ltd. since 2005. As one of the founding partners of D2E, Cheeseright helped grow the firm into an internationally recognized consultancy with many vertical-transportation and façade-access solutions for complex and tall buildings under its belt. He has been influential in the design of the bespoke servicing contracts these types of buildings require. The company says, "This has been achieved through a clear understanding of the clients' requirements, an approach that supports the design of the building and an empathy with client teams."

Cheeseright served as chair of the CTBUH Vertical Transportation Committee in 2016-2020. His experience in the vertical-transportation and façade-access industries exceeds 30 years. At Otis, he progressed through the organization to senior management positions, which required involvement in all aspects of lift and escalator sales, manufacturing, installation and servicing. Through senior operational and staff roles —commercial, service and marketing management — Cheeseright was responsible for the commercial aspects of delivering and maintaining many complex projects. In addition, he consulted on, and was responsible for, launching global products and services in the U.K. and Irish market.