Big plans and projects include infrastructure, supertalls and accessibility upgrades.
Rebuilt, Multibillion-Dollar Midtown Bus Terminal Planned
The Port Authority of New York and New Jersey aims to rebuild its 70-year-old bus terminal at 625 Eighth Avenue in Midtown Manhattan, a project that will cost billions and unfold through 2030, ABC 7 was among outlets to report in January. Supported by both New York Gov. Andrew Cuomo and New Jersey Gov. Phil Murphy, the plan involves getting rid of the terminal's "aging tile floors, creaky escalators and creepy corridors" and replacing them with state-of-the-art facilities over 1 million ft2 with features such as new storage and staging areas for an all-electric bus fleet. Also on the drawing board are four commercial towers of unspecified height and more than three acres of public green space. Expanded in 1981, the terminal has become the world's busiest.
Supertall Plan Involves Madison Square Garden Relocation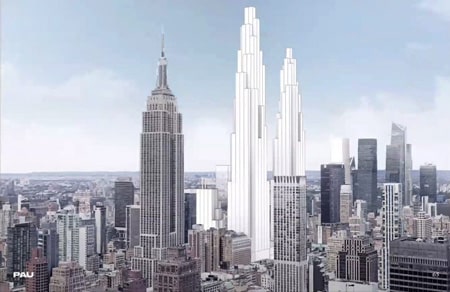 The New York City Council agreed in January to move forward with Garden City, a massive plan to relocate Madison Square Garden between two new supertalls of unspecified height in Midtown Manhattan, New York YIMBY reported. Including two shorter buildings, the plan was initially proposed by Vishaan Chakrabarti, founder of Practice for Architecture and Urbanism (PAU), in 2016. Illustrated by an array of renderings, the latest iteration includes preserving the cylindrical shape of Madison Square Garden but removing several floors, recladding the façade with a double-skin curtain wall and adding entryways. The venue would move to an eight-acre site bound by Sixth Avenue to the east, West 32nd Street to the south, Seventh Avenue to the west and West 34th Street to the north. Despite no heights being given, the source observed the supertalls "would easily eclipse the height of the Empire State Building and 30 Hudson Yards." No construction timeline was provided.
National Elevator Cab & Door Relocates to Brooklyn Navy Yard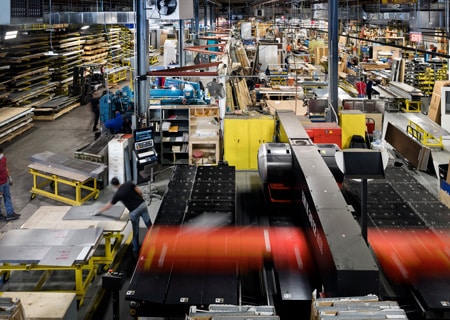 National Elevator Cab & Door Corp. (NECD) has relocated from Woodside, Queens, to 64,000 ft2 of renovated space in the historic Brooklyn Navy Yard (BNY), NECD announced in January. NECD was founded in Manhattan in 1929, moving to Woodside in 1967. The new BNY location boasts ceiling heights of 16-40 ft and spans the first two floors of Building 22 and the entirety of Building 12B, "allowing for ample social distancing," said NECD President John Farella. Third-generation NECD owner Jeff Friedman said the company is "excited to add its 91 years of rich history to that of the BNY."
Grand Central Subway Entrances Unveiled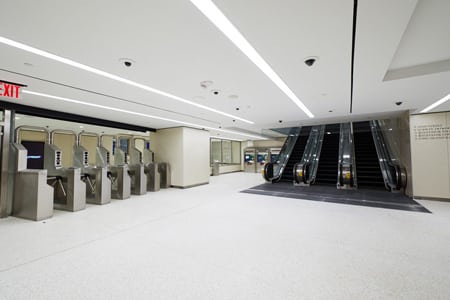 Schindler tells ELEVATOR WORLD it provided five 9700 escalators and three elevators for the new entrances to the NYC Metropolitan Transportation Authority's (MTA) Grand Central- 42nd Street subway station at One Vanderbilt, a 67-story office supertall developed by SL Green and designed by Kohn Pederson Fox in Midtown Manhattan. The elevators are by Mongrain Vertical Transport with CEC Elevator Cab Corp. cabs and entrances. Schindler, which also provided the vertical- transportation equipment for One Vanderbilt (EW, August 2019), described its work with the MTA and SL Green as "part of a historic partnership."

MTA and SL Green held a grand opening for the subway entrance in December 2020, reported by outlets including Mass Transit, which pointed out SL Green invested US$220 million in the new entrances. They will ease access to the 4, 5, 6, 7 and S subway lines and the Metro-North Railroad from one of MTA's busiest subway stations. MTA President of Construction & Development Janno Lieber described the project as an "example of how the MTA is leveraging private investment for public improvement," with entrances served by escalators and Americans With Disabilities Act-compliant elevators.
ADA-Compliant Elevators Debut at Brooklyn Museum Subway Station
Three Americans With Disabilities Act (ADA)-compliant hydraulic elevators opened at the Eastern Parkway-Brooklyn Museum subway stop in Prospect Heights in December 2020, according to the NYC Metropolitan Transportation Authority (MTA) and news outlets such as BKReader. MTA told EW the units were built by Mid-American Elevator Co. They include one street-to-mezzanine elevator on the museum side of the station and two elevators from the mezzanine to both the Brooklyn- and Manhattan-bound platforms. Announced in 2018 and completed within budget, the elevators join upgrades like widened staircases at street level and tactile tiles on the platform edge. Prior to the pandemic, approximately 4,000 riders used the station daily. During a ceremony marking the project's completion, MTA President of Construction & Development Janno Lieber said:

"Over the past several months, we have been able to complete 10 accessible station projects, including this one, even with the challenges presented by the COVID-19 pandemic. [MTA has delivered] projects better, faster and cheaper. But, this progress can only be sustained if the MTA receives much-needed financial assistance from the federal government to keep these projects moving forward."
Central Park Tower Construction Set To Wrap Up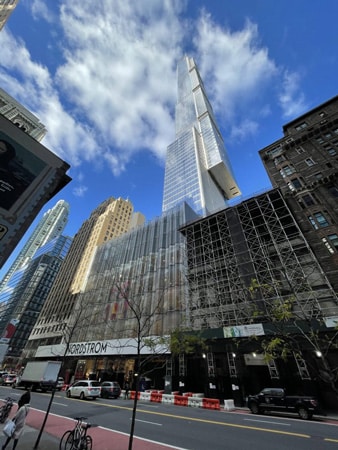 NYC's Central Park Tower (EW, March 2016, July 2015, March 2015 and September 2014), the tallest building by roof height in the Western Hemisphere and tallest residential skyscraper in the world, is nearly complete and should be open sometime this year, New York YIMBY reported in December 2020. The landmark, at 217 West 57th Street in Midtown Manhattan, is a glass supertall lording over Billionaires' Row. With 179 condominiums, developer Extell expects the 1,550-ft-tall tower to bring a US$4-billion sellout. The building, designed by Adrian Smith + Gordon Gill and served by high-speed elevators manufactured and installed by Otis, lacked only minor work around the crown, with an exterior hoist still attached but the construction crane completely removed in December 2020. The adjacent Nordstrom flagship store at West 57th Street and Broadway is open to the public, even as construction work continues.

Central Park Tower's residential entrance is on West 58th Street, next to the hoist. Once it's removed, that section of the glass curtain wall will be completed.
Permit Proposes 70-Story Tower on Fifth Avenue

A permit has been filed to build a 70-story mixed-use tower in NYC's Midtown Manhattan neighborhood, on a site previously speculated for a taller design, New York YIMBY reported in January. Rabina Properties, listed as the owner behind the permit, seeks to build an 896-ft-tall skyscraper at 520 Fifth Avenue that would hold 523,188 ft2: 353,196 ft2 set for commercial use, and 169,992 ft2 holding 98 residences. Kohn Pedersen Fox is listed as the architect of record. Plans for the site in 2019 showed a rendering of a 76-story, 920-ft-tall glass tower, with Ceruzzi Properties and SMI USA developing a mixed-use building that would include retail space and a 208-room hotel. The rendering by Handel Architects was being referred to as the first building on Fifth Avenue to rise above 900 ft. No construction timeline was reported.

<A previous design showed a proposed glass-clad skyscraper for 520 Fifth Avenue in Midtown Manhattan, but new filings call for a slightly shorter tower; rendering by Handel Architects.
Tallest Building in Queens Essentially Complete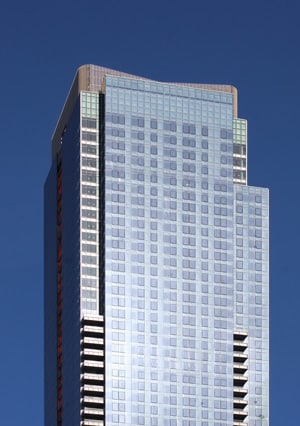 The tallest building in Queens at 68 stories and 778 ft, Skyline Tower is essentially complete, with New York YIMBY describing finishing touches going onto it in December 2020. Located at 23-15 44th Drive in Long Island City, the tower was designed by Hill West Architects and developed by United Construction & Development Group, FSA Capital and Risland US Holdings LLC. A spokesperson for Hill West tells EW its 802 condominiums will be served by a Fujitec America elevator system. Skyline Tower boasts a crown clad in "very thin, narrowly spaced louvers that wrap around the mechanical extensions with elegantly curved corners." The US$1-billion project is slated for completion in the first half of the year.
Renderings of The Set Show Gothic Inspiration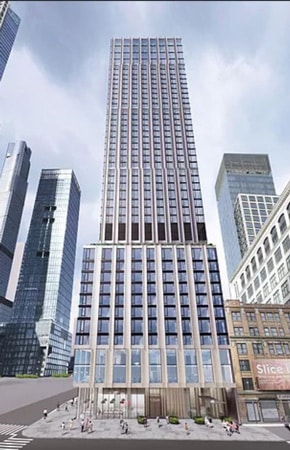 New renderings of The Set, a residential tower under construction at 451 Tenth Avenue in NYC's Hudson Yards, show a 45-story, 587-ft-tall reinforced concrete skyscraper inspired by Gothic cathedrals, New York YIMBY reported in January. The design, by Handel Architects, emphasizes a vertical style that includes curved terracotta panels between floor-to-ceiling windows. The renderings project the exterior elements in light gray and bronze colors, although the source suggests that the final color mix of the outside may change. A diagram shows the tower will include residential units, as well as senior living accommodations. The number of residential units was not reported, though they will be market-rate rental homes. While the structure has already risen several floors above street level, no construction timeline was given, though the source said completion is likely in 2022. The developer is Related Cos.
Renderings Show Design of Planned Brooklyn Tower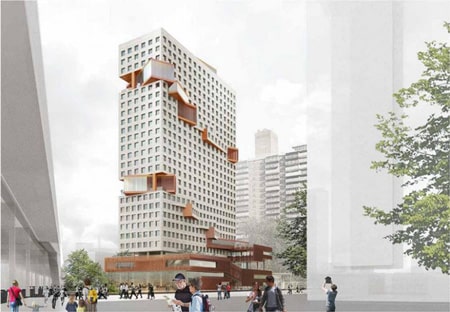 Designer ODA has released new renderings for a flagship mixed-use building planned in NYC's North Brooklyn, New York YIMBY reported in January. The project, a 28-story tower developed by The Collective, is set to rise at 555 Broadway, on the border of South Williamsburg and Broadway Triangle. The building, to stand 319 ft, will offer 254 rental apartments and short-stay rooms, 293 hotel rooms and shared office space, along with retail, community facilities and amenities spaces. With an estimated construction cost pegged at about US$450 million, the project would be one of the largest co-living developments in the city. Renderings illustrate what is being called a "kinetic façade." The three-story podium features a double-height glass enclosure along Broadway, with its remaining corners intersected by ribbed and bronzed cladding. Above the podium, the façade features white masonry and cantilevered bars edging out of the structure. Planned amenity spaces include a rooftop pool, underground parking for 180 vehicles, a Turkish bath, indoor and outdoor lounge areas and a fitness center. The building will also offer large coworking suites, a restaurant, community spaces and a "market hall." Construction permits were filed in June 2019. The developer team has not revealed an official project schedule, but sources say completion is anticipated by the end of 2022.
Excavation Begins for 35-Story Tower in Midtown East

With four buildings demolished and out of the way, excavation work has begun for a 35-story residential tower set to rise at 141 East 47th Street in the Midtown East neighborhood, New York YIMBY reported in December 2020. The tower, designed by Ismael Leyva Architects, will hold 200 residences within its 183,310 ft2. The US$250-million project has changed significantly since the site was first announced more than two years ago. Then, the original developer, New Empire Real Estate, was planning a
49-story, 122-unit building. In 2019, the site was purchased by Hopson Development Holdings, which brought in Silverback Development to shepherd the project. The overall design has been changed, as well, with the new rendering showing a series of setbacks rising to a crown that suggests Art Deco styling. Home sizes will range from studios to two-bedroom units, with prices averaging US$1.5 million. The building will also have 5,000 ft2 of ground-floor retail space. The building is expected to be completed in 2022.
Times Square Marriott SpringHill Hits Halfway Point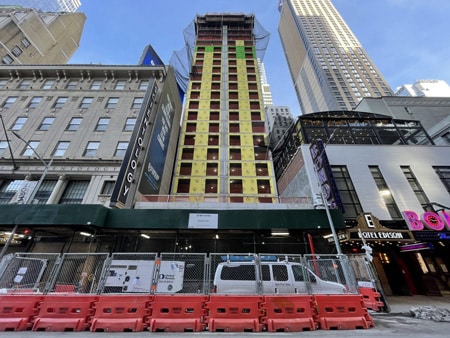 A 34-story Marriott SpringHill Hotel under construction in Times Square (EW, May 2020) reached its halfway point in December 2020, New York YIMBY reported. The 200-room, 70,000-ft2 tower, designed by Gene Kaufman Architects, sits at 223 West 46th Street. As the reinforced concrete superstructure continues to rise, façade work consisting of gypsum panels shows cutouts where windows will be installed. Metal stud frames, to which the edifice's panels will be attached, are being installed between the floorplates. The flat design lacks setbacks, but a pushed-back mechanical extension will be visible from the southern elevation. Ground-level amenities will include a fitness center and a restaurant that also offers outdoor seating. The height of the building will make it roughly the third-tallest on the rectangular tract, but nearby skyscrapers, including the Marriott Marquis and the Morgan Stanley Global Headquarters, will overshadow the SpringHill. The project is being developed by McSam Hotel Group. No completion date has been announced, but it appears that work could finish in late 2021.
U.S. Customer Orders 36 Construction Hoists from Alimak
Alimak Group has received an order for 36 construction hoists from Morrow Equipment of Salem, Oregon, the company announced in December 2020. Morrow, with offices throughout the U.S. and Canada, is one of the largest tower crane companies in North America and has been a longtime fleet owner of Alimak-branded equipment. Morrow President Peter Juhren said the order is important for its ability to expand its business. "As part of our continued growth strategy, our investment in Alimak products complements our extensive fleet," he said. David Batson, head of Business Area Construction Equipment at Alimak, said, "we are excited to announce this order," especially in light of business challenges posed by the pandemic.