A local company gets a boost, and tower plans evolve.
Revised Spire Two-Tower Plan to Move Forward
Big revisions to a plan from Related Midwest for a pair of towers on the former Spire site means the Skidmore, Owings & Merrill (SOM)-designed development on more than two acres at 400 North Lake Shore Drive in the Streeterville neighborhood (ELEVATOR WORLD, July 2018) will move forward, Chicago YIMBY reported in December 2020. Chicago Alderman Brendan Reilly had previously objected to a hotel inclusion, podium size and traffic and security plans. Those have all been addressed, and then some, with both the Zoning Committee and City Council approving the updated plan. Including an 875-ft-tall northern tower and a 765-ft-tall southern one, on the drawing board are 1,100 residential units, 300 parking spaces, US$10 million to develop DuSable Park across the street, new security cameras and lighting and improved pedestrian crossings. Gone are hotel rooms, condominiums and the podium. Construction is planned in phases, with the taller, northern tower set to rise first, perhaps as early as this year.
Urban Elevator Service Gains Investor
Chicago-based Urban Elevator Service, LLC announced in January that Chicago-based private investment firm Skydeck Capital is taking a minority stake in the company, one of the largest independent elevator companies in the U.S. The company will continue to operate autonomously under existing leadership, which includes co-CEOs René Hertsberg and Tim Cook. Urban Elevator has provided installation, modernization, repair and maintenance services to clients in the commercial, residential, educational, retail and other sectors for more than 35 years. Providing financial and operational support, the partnership with Skydeck "will allow the company to maintain its industry leadership in current markets, as well as grow its footprint of more than 180 employees serving customers in six states." Maven Group of Naples, Florida, facilitated the transaction.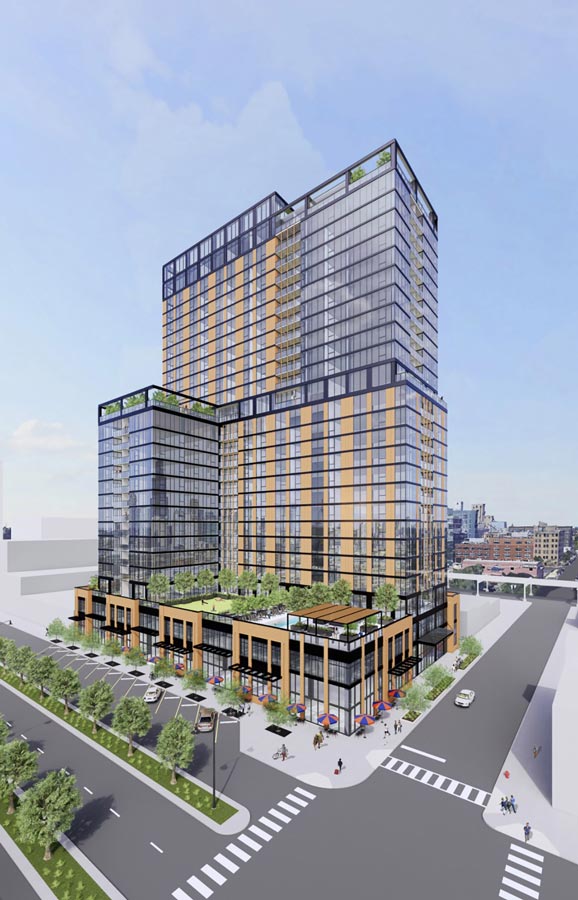 Renderings Released for Mixed-Use Project in West Loop
New renderings show a planned 27-story mixed-use building at 160 North Elizabeth Street in the West Loop area, Chicago YIMBY reported in January. Developed by Moceri + Roszak and designed by Thomas Roszak Architecture, the 293-ft-tall tower is set to have 383 residential units, 9,000 ft2 of ground-level commercial space, and parking slots for 150 bicycles and 117 vehicles. The design shows a three-level glass-and-brick podium topped by a steel-and-glass tower that features a setback on the 14th floor. Balconies are integrated into the structure.
The location, at West Randolph and North Elizabeth streets, is near several Chicago Transit Authority (CTA) L train stations for commuters, plus CTA bus stops. All transit options are an 8-min or less walk away.
Developers are requesting a zoning change from the current C1-3 (Neighborhood Commercial District) to DX-7 (Downtown Mixed-Use District), but the project would then be zoned finally as a Residential-Business Planned Development. The zoning requests were pending before several city boards as of January. A construction timeline has not been announced.
---
Work Begins on Mixed-Use Tower in Downtown St. Petersburg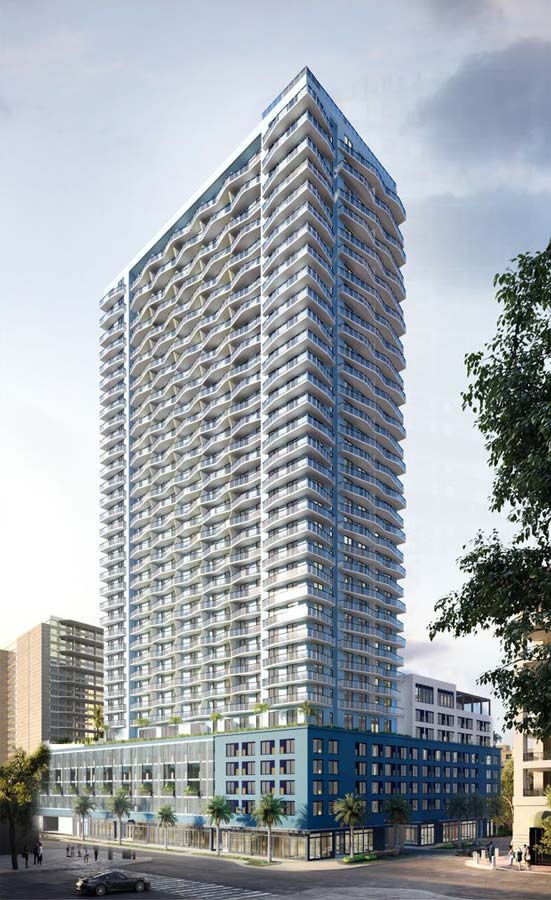 Construction of a 32-story, US$117-million hotel and apartment tower has begun with groundbreaking in downtown St. Petersburg, Florida, the Tampa Bay Times reported in January. The hotel, to be branded as an AC Hotel by Marriott that will feature European-style design and cuisine, is being developed by Greystar Real Estate Partners, a Charleston, South Carolina, apartment developer and investor. Known as Ascent St. Petersburg, the project will include 354 apartments, 172 hotel rooms, 6,700 ft2 of retail space and a four-level, 500-space parking deck. The location, at the intersection of Second Street North and First Avenue North, was purchased for US$15.1 million on December 18, 2020. The hotel is set to open in late 2022, with the apartments available in early 2023.