State-of-the-art NEIEP National Training Center unveiled in Warwick, Rhode Island.
"State-of-the-art" gets thrown around way too easily. While in many cases an apt adjective, it's used perhaps too frequently by companies and manufacturers to describe any and all manner of products, tools and facilities. Ironically, the phrase was not uttered once during the unveiling of the National Elevator Industry Education Program (NEIEP) National Training Center in Warwick, Rhode Island, on September 15. Rather, the multimillion-dollar, two-story, 98,000-ft2 facility spoke for itself. Boasting a lecture hall with top-notch audio-visual capabilities and seating for 160 arranged in concentric rings that bring to mind the grandeur of the room where Congress meets in the U.S. Capitol, eight classrooms geared to both instructor-led and hands-on learning, a more than 3,300-ft2 cafeteria and kitchen, a glass-enclosed hoistway with a fully operational elevator and, attached to the main building, offices and classrooms for the International Union of Elevator Constructors (IUEC) Local 39, the training center is nothing if not state of the art.
There are rooms for training in hydraulic elevators, AC motors, motor alignment, motor starters, consumables (ventilation), augmented and virtual reality, solid-state motor generators, a hydraulic controller lab, first aid (including CPR and defibrillation), IT and electronics. The training center is also outfitted with:
A small reception area with tables made from elevator components that has an airline flight schedule screen like one would see at an airport
Off the dining room, a 1,000-ft2 outdoor area, fully landscaped with a stamped concrete floor and enclosed in stone pillars and artistic wood fencing
A 2,300-ft2 office area for cubicles and a conference room on the second floor
On the ground floor, a 950-ft2 executive suite with a conference room and three offices, including one for VIP visitors, such as trustees, as well as an additional 800 ft2 of office space for support staff
Enlivening an Industrial Corridor
Situated in an industrial part of historic Warwick across from an electrical substation, the training center results in a much more attractive and lively Jefferson Boulevard, said Warwick Mayor Frank Picozzi during the ribbon cutting that kicked off the event. He was joined by NEIEP Assistant Executive Director Tom Breindel, IUEC Assistant General President Jim Bender, NEIEP Executive Director John O'Donnell Jr., IUEC General President Frank Christensen and NEIEP Trustee Chairman Larry McGann to a hearty round of applause from the approximately 100 guests.
As visitors and NEIEP staff mingled and chatted in the reception area, servers from Pranzi Catering served finger foods such as bacon-wrapped potato bites. Then it was on to the lecture hall for a video about the new facility and speeches from O'Donnell, Christensen and U.S. Department of Labor (DoL) Regional Deputy Marty Shanahan. The video pointed out that the center is within walking distance of numerous hotels and restaurants, and only a few blocks from the Rhode Island T.F. Green International Airport. The center represents "a new era of education and training," the narrator said, with labs designed "specifically to deliver training to our trade."
A Long Time Coming
O'Donnell then provided a history of the effort, which dates to the mid-1960s. The National Elevator Industry Inc. (NEII) and the National Association of Elevator Contractors (NAEC) decided back then that the elevator trade needed craft-specific education, he said. In 1967, the IUEC Educational Trust (administered by NEIEP and NEII) was born. "Luckily enough, back then people recognized there was an opportunity for companies that are members of the IUEC to further education with confidence and provide the skills and safety training to get the job done right," O'Donnell said.
O'Donnell went on to thank the players that cooperated to complete the facility "on time and on budget," despite having to work through the pandemic. He said:
"It's very unusual to have a project go through COVID-19. Anyone who has done so knows materials are hard to come by and expensive. However, all this stuff we needed to build the training center was already queued up in the warehouse right next door, ready to go."
NEIEP staff, Edward Rowse Architects and contractor Dimeo Construction Co. collaborated to successfully deliver the project, O'Donnell said, elaborating:
"NEIEP's and Dimeo's staff went through piles and piles of paperwork with the help of Edward Rowse Architects. When bills came in, we had the ability to pay them, and that's thanks to the board of trustees who gave us the funding to make sure we could keep the project rolling. Our success was due to the planning of all the people involved. We had the ability to start construction in April 2020, and had sometimes up to 90 people working in this facility at once, from all the trades. They kept working [through the pandemic], and we kept paying the bills to realize this vision."
O'Donnell gave special thanks to Christensen, with whom he said he spoke several times each month "about the challenges that we faced and some of the changes we had to make because of the project's size."
"Isn't this place beautiful?" Christensen asked when he took the lectern, to audible "yeses" and applause. "It went way beyond anything I could have ever dreamed of, and way beyond anything our forefathers could have imagined for our members," Christensen said, pointing to the hard work and dedication of O'Donnell, Breindell and their staff. Christensen said the facility is a permanent reminder of how far the IUEC has come, and represents the importance of training and education. He said:
"We always have and always will take our position as leaders of an industry very seriously. We have a responsibility to produce the best, most highly skilled and safest mechanics and apprentices. After all, there is a reason why we are the most highly regarded, most unionized of all the building trades. This training facility will allow us to continue to uphold the finest ideals and skills on which the IUEC was built, and ensure future generations can learn and grow and leave their mark on our industry."
Christensen said he finds it hard to believe that NEIEP did not exist until 1967, but there "is no denying that once it was formalized, it took off at full speed and has not slowed down since." From what NEIEP describes as "humble beginnings" in Rochester, New York, and Attleboro, Massachusetts, it has trained tens of thousands of IUEC members. When the NEIEP program was in these places, it involved renting space for training in hotels and storing equipment, as well as trucks to transport that equipment. The training center solves those issues and promises, in the long run, to save money, O'Donnell said.
Like the IUEC Memorial Wall that was inaugurated at IUEC headquarters in Columbia, Maryland, in October 2019 (ELEVATOR WORLD, May 2020), the National Training Center should have been built "generations ago," Christensen said. A combination of hard work on the part of NEIEP, NEII, IUEC and its various partners made the training center a reality and ensures IUEC's "success for years to come," he said.
Shanahan said he's visited training facilities of all the trades during his five years with the DoL, and the NEIEP National Training Center is "the finest facility I've been in." Besides career success, he said, the facility also will help ensure worker safety, which will be "great for your members, their employers and America."
Christensen said the training center is a reflection of the IUEC. He said:
"I truly believe we are the greatest union in the world. We have the largest market share, union-wise, of any trade out there. But there is so much more we can do — so much more we can do with training and safety. We recently went a whole year without a fatality. We're not [at zero fatalities] yet, but we're getting there, and this building reflects the direction we're going. I hope you see this building and think, wherever you live in the U.S., that you need to get your apprentices and mechanics here, at least for a week of training."
About the AC Motor Training Room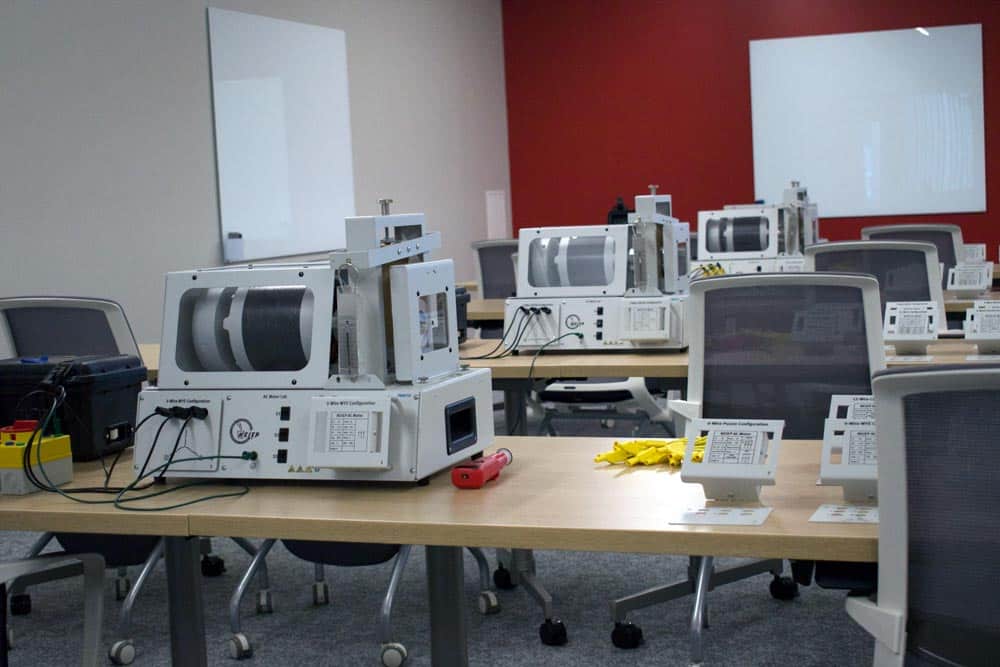 During a self-guided tour of the facility, your author (KW) had a conversation with Frederick Wuelling (FW), NEIEP Region 18 coordinator, and Evan Fong (EF), Region 7 coordinator, about one of the classrooms.

KW: Tell me about this particular training room.

FW: What the student will see here is every motor configuration that we use in the elevator trade. It's all right here: a three-lead motor, a six-lead motor, a nine-lead and a 12-lead motor. When you plug them in, all of the internal wiring, all of the connections for the motor, are there. What the students do is wire it up like they would do in the field.

KW: What are some of the different scenarios presented to students?

FW: We can simulate a shorted or grounded motor. All of the issues that we see in the field we designed into the curriculum. Say a motor comes back from the repair shop and the lead markers are missing. Now, the student doesn't know what lead is what. We've got those here so we can simulate it, and they can troubleshoot it and hook it up properly so it works.

We've got dual-voltage motors that can be run at 230 or 115 V. Anything and everything that we do in the field can be simulated right here in the classroom so trainees have the knowledge to resolve any issues they see on the jobsite.

KW: Tell me more about these modules — their capabilities, where you get them, etc.

FW: These weren't bought from an outside vendor so we could teach a class. They were all designed in-house for our training purposes. A manufacturer built them to our specifications.

KW: So NEIEP did all the hard stuff, i.e., the "thinking" to create these modules?

EF: Right. These things were designed and built strictly for us. You don't really see this kind of setup anywhere else — training for what we see in the field that hits every scenario. The good part is, since the modules were designed in-house, we don't have to worry about some vendor disappearing and not being able to have them made anymore.
Warwick: History, Seafood, Beaches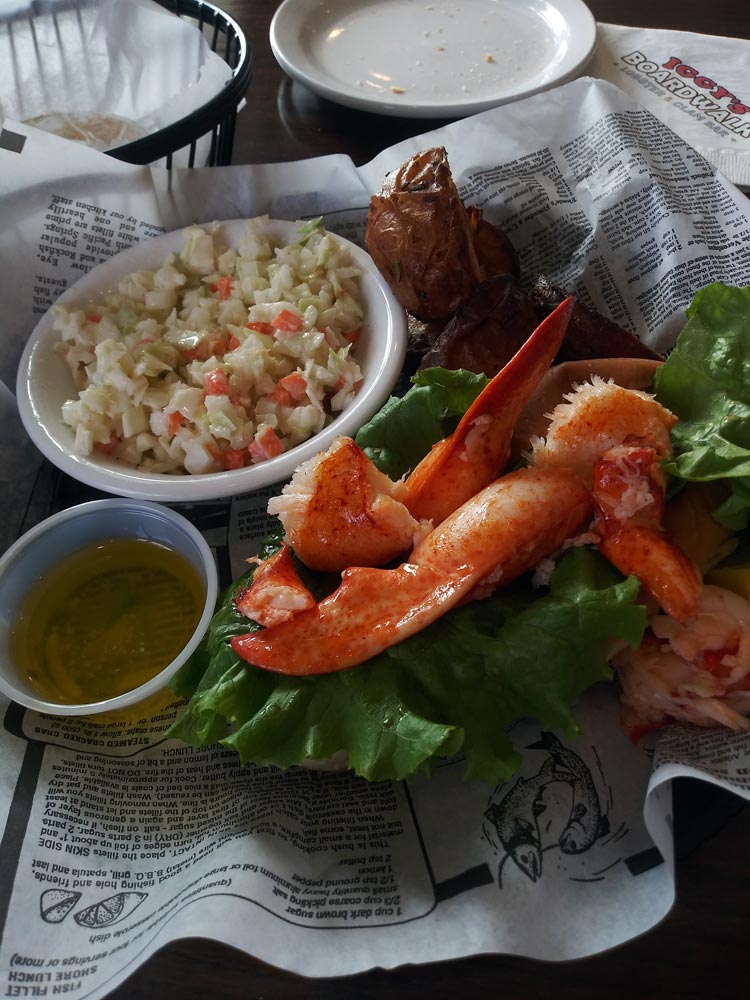 The unfortunate circumstance of a cardboard box being sucked into the engine of the plane your author had been taking from Charlotte to Warwick had a silver lining, as, during the approximately three hours between sitting on the ailing plane and boarding another, she was seated between two native Rhode Islanders ready and willing to share interesting facts and tips about their state and city. As the replacement plane neared its destination, the young man to her left, a submarine mechanic for the U.S. Navy, pointed out where Providence ended and Warwick began. Warwick, a city of approximately 82,800, is roughly 12 miles south of downtown state capital Providence, 63 miles southwest of Boston and 171 miles northeast of NYC.[1]

Serving as an alternative airport to Boston Logan International Airport, Warwick's Rhode Island T.F. Green International Airport is small on size but big on qualities such as access, check-in/security, restaurants, shopping and design. A series of lengthy, efficient moving walks takes a passenger all the way from the airport to numerous hotels via a skybridge, and little touches like automatic toilet-seat covers in the bathroom are noticed. The airport has received seven awards, including international ones, over the past five years. Announced in September, the most recent one was being ranked No. 3 globally in Travel + Leisure's "World's Best" airport awards. One voter described it as "the nicest, cleanest airport I have ever been to," and another, "big enough to have everything you need, but small enough to be easy to navigate."[3]

By land mass, Rhode Island is the smallest state in the U.S., but it's heavily populated compared to other states such as Alaska and Montana.[1] Seafood, specifically lobster, is delicious and plentiful, as much of Rhode Island, including Warwick, abuts parts of Narragansett Bay.

Distinguished by quaint lighthouses, beaches and historic structures, Warwick is a very old and significant city. Founded by Samuel Gorton in 1642 and populated by Europeans, it was the site of the first bloodshed to preclude the Revolutionary War: Before the Boston Tea Party, the Gaspee Affair in 1772 was the first act of armed resistance to the British, where patriots boarded the customs-enforcement cutter Gaspee, seriously wounding its commanding officer, stripping it of all its cannons and arms and burning it. The city was also home to George Washington's second-in-command, Gen. Nathaniel Greene.[1]

Tips from fellow passengers led your author to Oakland Beach, a charming little enclave not unlike Sweethaven in the movie Popeye. The neighborhood is densely populated by small cottages and was developed after World War I as a summer getaway for Providence's middle-class immigrant communities. In its 1930s heyday, it had bathing docks and an amusement park with a Ferris wheel and a skating rink. Hurricanes devastated the area in 1938 and 1954, but it has since recovered as a destination with numerous restaurants.[2] One of them, Iggy's Boardwalk, was recommended to your author as providing a "true Rhode Island experience." Iggy's certainly delivered, with a delicious (and surprisingly reasonable) lobster meal, a wraparound boardwalk, the waters of Narragansett Bay tributary Greenwich Bay sparkling in the distance and gulls laughing as they glided overhead.

Oakland Beach is only one attraction of many in the Providence metro area that includes Warwick. It is a quintessential New England travel destination, and certain to delight any elevator mechanic or apprentice staying in Warwick and studying at the National Training Center.
---
References
[1] en.wikipedia.org/wiki/Warwick,_Rhode_Island
[2] pvdairport.com/corporate/news/09-14-2021-rhode-island-t-f-green-international-airport-ranked-3-in-travel-leisure-worlds-best-awards
Get more of Elevator World. Sign up for our free e-newsletter.