A new Manhattan icon opens, and plans unfold throughout NYC boroughs and beyond.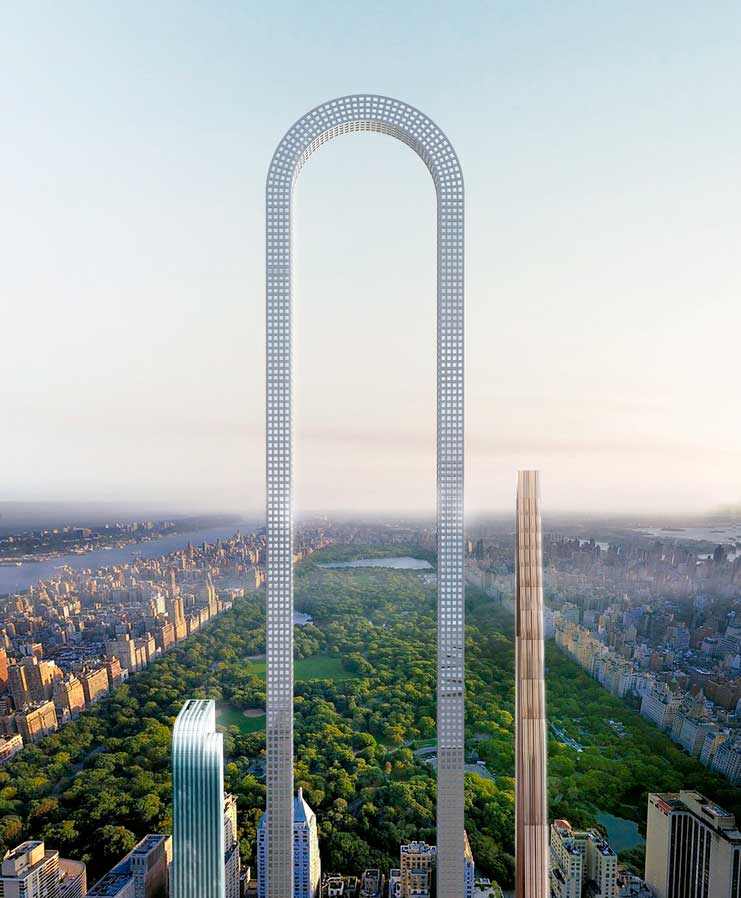 "Dancing" Copper Towers Open
The first tenants have moved in to the American Copper buildings (ELEVATOR WORLD, July 2016), a pair of what are being described as boldly unconventional, copper-clad 41- and 48-story structures on the Manhattan, New York City (NYC) waterfront, various news outlets, including dezeen, reported. Designed by SHoP Architects and developed by JDS Development Group, the buildings' upper and lower portions bend in opposite directions, imparting a "dancing" appearance and making the most of views. A skybridge containing amenities such as an indoor lap pool and lounge spans floors 27-29. Gregg Pasquarelli of SHoP said the use of more than 4 million lb. of raw copper for the cladding was inspired by the Empire State Building, and, like that iconic structure, the buildings will transition from shiny to brown to green over coming decades, "almost like a performance piece."
MULTI Envisioned for Bending Tower
Among the 10-plus supertall projects planned for Midtown Manhattan's "Billionaire's Row" neighborhood, The Big Bend proposal envisions a tower that bends over on itself to create an inhabitable arch. ArchDaily reports it would stretch 4,000 ft. long in total, meeting the ground in two locations and straddling several existing buildings. thyssenkrupp's MULTI would be used to circulate people through it.
Designer Oiio Architecture Studio elaborated:
"NYC's zoning laws have created a peculiar set of tricks through which developers try to maximize their property's height in order to infuse it with the prestige of a high-rise structure. If we manage to bend our structure, instead of bending the zoning rules of NYC, we would be able to create one of the most prestigious buildings in Manhattan. The longest building in the world."
Hell's Kitchen Mixed-Use Project Nears Completion
With construction reaching the 38th floor in April, a 42-story mixed-use complex at 606 West 57th Street (EW, July 2015) in the Hell's Kitchen part of Manhattan is scheduled for completion in 2018, New York YIMBY reported. Designed by Architectonica with SLCE as executive architect, the building will contain more than 1,000 rental units, ground-level retail, amenities and a 400-space parking garage. Resembling a game of Tetris, it is being developed by TF Cornerstone.
37-Story Renaissance Hotel Rising in Chelsea
A 37-story, 432-ft.-tall Marriott Renaissance hotel designed by Financial District architect Nobutaka Ashihara is rising at 112 West 25th Street in Chelsea, having reached two stories in March, New York YIMBY reported. Encompassing 181,998 sq. ft., the building is set to have 330 hotel rooms with restaurants on the ground and 36th floors. Lam Group is the developer, and completion is anticipated in 2018.
38-, 74-Story Towers Planned in Downtown Brooklyn
Alloy Development and the state-run Educational Construction Fund aim to bring 38- and 74-story mixed-use towers, along with schools and amenities, to a triangular downtown Brooklyn site bound by Third, State and Schermerhorn streets and Flatbush Avenue, Curbed NY reported. The first phase of the 80 Flatbush project consists of the 38-story residential building and two schools, expected to be complete by 2022. The second phase would have the 74-story building with both market- and below-market-rate apartments and offices. This phase is scheduled for completion in 2025. In all, there will be 900 residences. The project has won praise from Brooklyn proponents for its preservation of two historic buildings.
Mixed-use Tower Proposed for Jersey City
A Jersey City, New Jersey, developer hopes to make its mark on the local skyline with a proposed 41-story tower. The building, at 331 Marin Blvd., would be the first high rise for Jersey City-based development company Silverman Building, jerseydiggs.com reported. The mixed-use tower would include 448 residential units, plus 5,111 sq. ft. of commercial space and a 116-space valet parking garage. It will stand within a short walking distance of a Port Authority Trans Hudson train station. The site is located within the Morgan Grove Marin Redevelopment Zone, which promotes "smart growth" principles that include residential mixed-use structures with minimal onsite parking to promote the use of mass transit.
The project has been nearly 35 years in the making; the developer began purchasing lots at the site in 1983. The tower was designed by Marchetto Higgins Stieve Architects of Hoboken, New Jersey. The maximum height for buildings in the area is 400 ft., but because of the variances sought by the developer, the building will be shorter.
Get more of Elevator World. Sign up for our free e-newsletter.