Projects, personnel moves and steps toward safer riding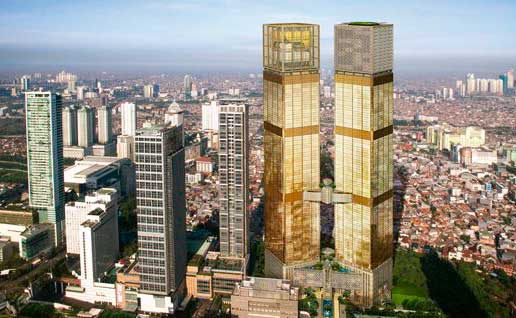 KONE Providing Solutions for Jakarta's Indonesia1
KONE has been selected to provide 76 elevators and escalators to Indonesia1, a pair of 58-story, 278-m-tall mixed-used towers taking shape in Jakarta, Indonesia. Developed by China Sonangol Media Investment and scheduled for completion in 2019, the development will contain offices, serviced apartments and commercial space within 2.2 million sq. ft. Among the tallest buildings in Indonesia, Indonesia1 will have 44 MiniSpace® and 14 MonoSpace® elevators and 18 TravelMaster 110 escalators, along with the Polaris destination-control system. All equipment will be connected to the E-LinkTM remote-monitoring system.
KONE Southeast Asia Appointments
Jérôme Audais has been appointed managing director of KONE Singapore, and Anthony Tan has been appointed managing director of KONE Thailand, Myanmar, Cambodia and Laos. In succeeding Tan, who has relocated to Bangkok, Audais brings to his new role what KONE describes as a "wealth of experience that includes taking various senior management positions within KONE and establishing strong business-performance records in his various appointments." With KONE since 1995, Audais most recently served as Service Equipment Business director for KONE Asia Pacific. He holds a master's in Finance and Management from Orsay University in France.
With KONE since 2012, Tan most recently served as managing director of KONE Singapore, and has been credited with developing and shaping the growth of KONE in the island city-state. Prior to joining KONE, Tan worked with Parker Hannifin Singapore, Watlow and Siemens in Regional Sales & Marketing. He holds a bachelor's in Business Administration from what is now University of West London. Tan succeeds Balaz Branislav, who has relocated to Australia to lead Business Development for KONE Australia and New Zealand.
Sudo Reassigned to Toshiba Headquarters
Takemi Sudo has rejoined Toshiba Elevator Design and Engineering at its headquarters in Tokyo. He now works in the International Operations Division. Sudo served as general manager at Toshiba Elevator Middle East more than five years before the appointment. During this time, he trained dozens of design engineers and a strong engineering team in the Middle East. He said he enjoyed his tenure there and thanked your reporter and other executives for making his stay more comfortable. Reported by M.J. Mohamed Iqbal, EW Correspondent.
Singapore Authority Fights Elderly Escalator Accidents
Singapore's Land Transport Authority (LTA) has initiated a series of public-education activities to encourage the elderly to take elevators instead of escalators. The Straits Times reported that the intention is to reduce the risk of them getting hurt while using escalators at MRT stations. MRT has seen a high rate of escalator incidents among seniors, noting that approximately 70% of escalator-related incidents in recent years have involved passengers above 60 years old.
At the program's March 28 rollout, volunteers dispersed souvenirs to elderly commuters to remind them to use elevators, instead. They consisted of packs of tissues and an "ez-link" card holder with the message, "Seniors, Come Get A Lift, Make It A Safer Trip!" printed in all four national languages. LTA will also be introducing posters in all train stations to reinforce the message. Other plans to spread awareness include radio talk shows and advertisements. Other ways to enhance escalator safety at the stations include the introduction of dual-speed units.
CTBUH Certifies Lotte Tower as Fifth Tallest
Lotte World Tower in Seoul is now the world's fifth tallest building, according to standards established by the Council on Tall Buildings and Urban Habitat (CTBUH). The 555-m-tall multiuse tower offers retail space, offices, a seven-star luxury hotel and "officetel" units. Officetels, popular in South Korea, are studio-apartment-style accommodations with hotel-type services for people who work in the building. Lotte World Tower displaces New York City's One World Trade Center for the No. 5 spot and knocks Kuala Lumpur, Malaysia's Petronas Twin Towers out of the top 10 for the first time since they opened in 1998.
Get more of Elevator World. Sign up for our free e-newsletter.